Bigoted Brother 1, Forgotten Sisters
by: Kim Akass and Janet McCabe
Anyone living in the UK in the latter part of January this year could not open a newspaper or turn on the television without being aware of the Celebrity Big Brother race row. For those of you that might not know about the furore, here is a re-cap. Channel 4's high-profile reality-TV show haemorrhaged viewers almost from the start with its tired concept and bored-looking contestants. Enter Jade Goody and her family. The strategy was clear: bring in the underclass to create conflict and boost viewing figures. It paid off almost immediately as Jade's mother Jackiey Budden clashed with Ken Russell and, after an altercation with Jade, he walked. But worse was to come. Jade and two other housemates – model and 'Wag' Danielle Lloyd and ex-pop star Jo O'Meara – turned against Bollywood film star Shilpa Shetty. The mood turned ugly as vitriol spewed. The three white working class girls joined forces in a shocking display of ignorance, as the Indian star became victim of their bullying in the worst possible way.
It caused a minor storm.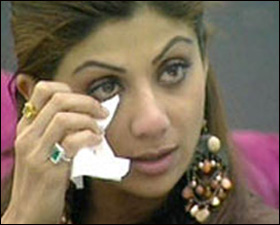 Shilpa Shetty
Big Brother's executives were quizzed over their failure to manage the situation and Carphone Warehouse withdrew their lucrative sponsorship deal. The row shone a spotlight on the channel's remit and its future public subsidy was called into question. The brouhaha ignited international political controversy with protests held across India hijacking a diplomatic visit to the country. Questions were raised in the House of Commons forcing the Prime Minister, Tony Blair, to comment on the situation and leading Alan Johnson, education secretary, to call for teenagers to be taught 'British values' in schools to combat racism and ignorant attitudes. Ofcom eventually logged a record 45,000 complaints against Channel 4.
Before we go any further we need to make a confession. We have been friends for 14-years and writing partners since 2000. We may have quibbled over content, clashed over commas and parlayed over prepositions – but never have we rowed – until Jade Goody. Her appearance on a Friday night chat show threatened a potential friendship schism like nothing before it. Details aside, it was the ferociousness of our disagreement over the 'star' of reality TV that shocked us more than anything.
We are not alone in being passionately divided over this woman.
Jade Goody, ex-dental nurse and council estate girl from Bermondsey, is indeed a polarising figure. Champion of the chav, scourge of the middle classes, she is an easy target. Originally shooting to fame as a housemate on Big Brother 3 Goody became the subject of a frenzied media witch-hunt. Instantly christened 'Miss Piggy' by The Sun, she became the very definition of the modern unruly woman – slightly overweight, outspoken, ignorant, loutish and generally out of control. Her exit from the house followed news headlines like 'Ditch the Witch. Gobby Jade is Public Enemy Number One' and was accompanied by a mob braying 'burn the pig'. Her life since then has been lived in the public gaze. Her pregnancies played out in celebrity gossip magazines, her on/off relationship with her children's father fodder for the tabloids and her various moneymaking ventures turned into series for cable channels. Goody is famous for being famous.
And yet, surely this is not enough to threaten a solid (and otherwise rational) friendship. Good feminist scholars that we are, we should know that what is being played out over the figure of Jade Goody is media manipulation at its best. Is she not, above all, a figure of ambivalence straining at the margins of class, race, femininity and feminine propriety? She may be painted as white trash, as the underclass that will not shut up, but surely we understand how representation works. And, recognising the unruly woman's liminal status we should be alert to what gets mapped onto her.
With her initial appearance on Celebrity Big Brother we found ourselves tentatively circling each other over the 'Jade Goody Row'. Surely after the first time round she would have learnt how the Big Brother script plays. It was her mother that was the liability this time (we argued) and Goody, having been through the first media frenzy, would surely be a bit more savvy. Neither of us are avid viewers of Big Brother. In fact after the pain of Germaine Greer and the humiliation of George Galloway, we were not keen to witness another bunch of minor celebrities making fools of themselves. But once the scandal broke we, like the rest of Britain did tune in.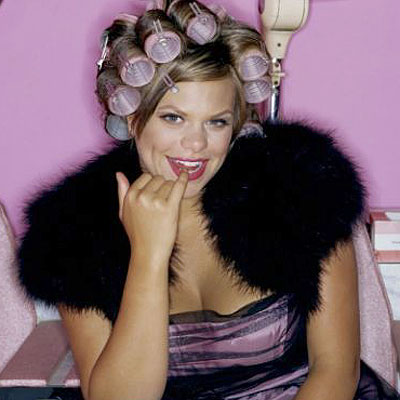 Jade Goody
Let's face it: Nothing justifies what these women did.
Watching Lloyd and O'Meara display appalling ignorance of Indian eating habits, Lloyd suggesting Shetty should 'fuck off home', and Goody calling her 'Shilpa Fuckawallah' and 'Shilpa Poppadom,' was indeed repulsive. Their comments reeked of xenophobia and, particularly at a time when the British government was preaching racial tolerance and social inclusiveness, this was unacceptable. No one could excuse their petty-mindedness but, while The Sun continued to insist that Goody was 'a vile, pig-ignorant, racist bully consumed by envy of a woman of superior intelligence, beauty and class,' the broadsheets began to question the debacle, digging under the headlines and concluding that the housemates' attitudes probably said more about class and cultural inequalities than racism alone.
But in the scramble for the moral high ground, there has been barely a mention of the way these women, and Goody in particular, are talked about.
With the media storm still raging it was almost inevitable that the subject would come up on BBC1's flagship political debating programme Question Time. The panellists were asked to respond to events still emerging on Channel 4. Edwina Currie, former Conservative MP and erstwhile lover of John Major, said of the trio of housemates, 'They are crude young women having a go at another young woman in the most horrendous fashion. She is a beautiful young lady and they are slags.' Her choice of words drew a few gasps from the auditorium but, in general, nobody seemed particularly shocked. Some of the audience even laughed and applauded, arguably echoing O'Meara and Lloyd's earlier Greek chorus in the Big Brother house. Currie was unrepentant. Nothing more was said.
While the battle was being fought over whether Goody was racist or not, headlines reading: '"Ugly" Jade not so Goody' slipped under the radar. And comments such as Currie's went un-remarked.
Let us be clear about this: racism in any society is abhorrent. The media should demand its eradication. And it is admirable that broadsheet journalists expose any class issues. But something has gone terribly awry when there is no mention of the sexism inherent in the Celebrity Big Brother media coverage.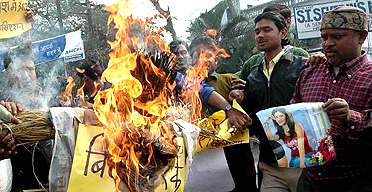 Protestors
We are still waiting for the outrage.
Today's women may be 'growing up in a generation oblivious to the gender struggles of the past' but they ignore today's gender issues at their peril. Warns writer Ariel Levy, 'just because we are post doesn't automatically mean we are feminists … simply because my generation of women has the good fortune to live in a world touched by the feminist movement, that [does not] mean everything we do is magically imbued with its agenda.' This is clearly the case as women on both sides of the Atlantic struggle with an uneven status quo. Many express no need for feminism. With equal access to a good education, successful career and unlimited choice, there is particular stratum of twenty-thirtysomething women who enjoy the gains of the feminist movement without ever having to engage with its politics.
Yet they may do well to beware of complacency.
And ask why it is necessary to constantly compare themselves with 'boob-enhanced trophy Wags … so iconic for doing absolutely nothing but sleeping with a footballer and applying self-tan.' And what of the antagonism this provokes? According to Susan Faludi, this is precisely how patriarchal backlash works, by employing: 'a divide-and-conquer strategy: single versus married women, working women versus housewives, middle- versus working-class. It manipulates a system of rewards and punishments, elevating women who follow its rules, isolating those who don't' (emphasis added). Looking back over the Shetty vs. Goody spectacle and the resulting media storm it is clear that the Big Brother controversy exposed a paradox at the heart of twenty-first century womanhood. In this televisual instance of backlash the upper middle-class Bollywood film star is pitted against the lower working-class British reality TV star; one has a first-rate education and is skilled in the art of representation, and the other clearly is not. We do not need a crystal ball to predict the winner in this particular game of divide and rule.
And we may do well to heed Susan Faludi's warnings when she tells us that despite the fact that backlash is not an organized political movement, this too works to its advantage, 'It is most powerful when it goes private, when it lodges inside a woman's mind … until she begins to enforce the backlash, too – on herself.' If there is any doubt that the Shetty vs. Goody row has touched upon a raw nerve for British women then the words of one young Oxford Graduate should send a chill down our collective feminist spines: 'on the one hand you have this post-feminist message about achievement and on the other, there's the message that the quickest, most secure route to wealth is going on Big Brother and having your boobs done. … Maybe that's just yet another aspirational drive of my generation.'
No wonder we are bemused.
Big Brother maybe able to paper over the cracks and Shilpa Shetty may draw a line under her part in the affair, but things are not that easy for Goody, Lloyd and O'Meara. Within days of leaving the Big Brother house, all three were reportedly on the verge of nervous breakdowns: Lloyd lost bookings and her boyfriend; O'Meara collapsed; and Goody, facing a career in tatters, checked into a private clinic suffering from depression and stress. Police have now questioned all three over their part in the Celebrity Big Brother race row.
And still no one has mentioned the sexism.
Such is the fickle face of television celebrity that Mary Riddle, looking back over the debacle remarks, rather depressingly, 'the spectacle … has licensed a campaign of abuse and bullying against a reality show star manufactured and destroyed by venom.'
And as for us? We stand united. Bruised and battered maybe, hung-over from the fall-out of Celebrity Big Brother and sickened by its ramifications. But ever more alert to the stealth of patriarchy, and the power of the media to institute sexism that empowers women while at the same perpetuating oppression.
And, yes, we're still friends.
Notes:
Barbara Ellen used this phrase in her critique of the Big Brother debacle: 21 January 2007.
Mary Riddle, The Observer. 21 January 2007.
Stuart Jeffres, The Guardian. 24 May 2006.
Thursday 18 January 2007.
Even Germaine Greer's usually strident and unapologetic feminism seems diluted. With an air of resignation she observes: 'it's a funny old world, to be sure. You can call her [Shetty] a "dog". Sexism is fine. What you mustn't do is call her a "Paki". As if to be Pakistani was to be worse than being a dog.'
Louise Carpenter. The Observer 11 March 2007.
Ariel Levy, Female Chauvinist Pigs: Women and the Rise of Raunch Culture. New York: Free Press. 2005: 5.
Carpenter op cit.
Susan Faludi. Backlash: The Undeclared War Against Women, 1992: 17.
Faludi 16.
Carpenter op cit.
Riddle op cit.
Image Credits:
1. Shilpa Shetty
2. Jade Goody
3. Protestors
Please feel free to comment.