Why Do I Love Television So Very Much?
by: Alan McKee / Queensland University of Technology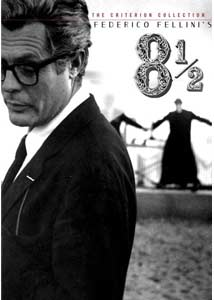 Federico Fellini's 8 1/2
[This document is an RFC. The RFC–Request For Comment–was the mode by which information was shared in the design of the Internet. Designers put out proposals, not claiming that they were the absolute truth, but offering them as suggestions, for others to agree, disagree, or use to think with. The idea appeals to me as a model for discussion in the humanities. By disseminating my own way of seeing culture as an RFC, I can avoid both arrogant assertions that this is the truth about a medium on the one hand; and a solipsistic 'anything goes' attitude on the other. I'm not telling people that this is the truth; I'm asking if anybody else thinks the same way, or finds this a useful approach. If so, let's get together and agree that this is how we see the world.]
Why is television my favourite medium? Moreso than cinema, radio, even than books? An evening on the couch, mug of tea in my hand and the TV guide in front of me, favourite programs marked in yellow highlighter … This I love more than anything.
Why is that?
Can I find any insight in my relationship with other cultural forms? With art, say? Why does art make me so angry, television so joyful? Why is it, for example, that my experiences of art make me want to sign a petition calling for all its public funding to be cut?
No, that's not quite true. Not all art makes me angry. After all, I like The Simpsons and Buffyand The Amazing Race, all of which are clearly art. Rather, it's Art that upsets me – the institutions of turning beautiful things in culture (The Simpsons, Buffy, The Amazing Race) into something that must be regarded with reverence. The museums and galleries and Art magazines, university courses on Art Theory and people who call themselves 'Artists' as though that were an identity – these are what upset me. They make me want to scream.
Why is that?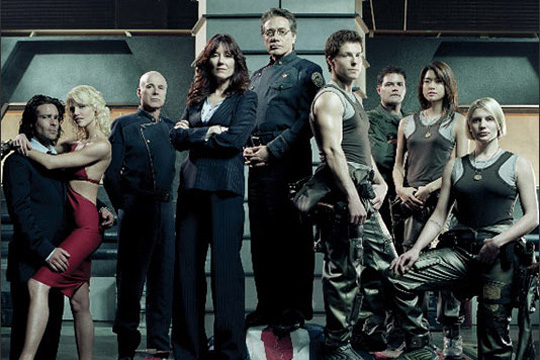 The cast of Battlestar Galactica
I try so hard not to be prejudiced. I try to approach Art with an open mind. But I find, over and over again, that lovers of Art resist explaining their affection in terms of their relationship with their love object. They won't simply say, I love this, this moves me, this excites me, this makes my life better – the kinds of insights that show a person's humanity and promote fellow feeling. Rather, so often, in telling me about their passions they want to frame them in terms of their own superiority. Not only do they want to say, 'I love this', but also – 'and if you don't love this, then there is something wrong with you'. Not only, 'This moves me', but also, 'and it moves me in a way that entertainment doesn't move you'. Not only 'This makes my life better', but also, 'If your life doesn't have this in it, your life is less worthwhile than mine'. And when I say, but Big Brother moves me in the same way as Fellini moves you, I have had Art lovers tell me that it doesn't. That there is no way that my response to that text could possibly be as subtle, as profound, as meaningful as is theirs to 8½. When I tell them that Battlestar Galactica excites me just as much as Barbara Hammer's films do them, they disagree. They tell me that I'm wrong. That I don't know true sublimity. As though they have lived inside both of our heads, and they know from comparison that their sensibilities are more profound than mine. Which makes me want to swear.
Watching television makes me a better person. It reinforces my best qualities. When I'm watching television I'm genuinely interested in the lives it shows me and the ways that are different from mine. I am joyful in the encounters it offers with difference. Because television doesn't make Art's claims that those who have different pleasures are inferior. Television is, as John Hartley puts it so well, the ultimate 'cross-demographic' medium, the host of 'the smiling professions'. Television doesn't want to put anybody offside. Television wants to bring everybody into the audience, smiling. Come in, sit down, laugh with me (except, of course, for Fox News. That's an exception. It doesn't represent television). The Simpsons may, quite rightly, mock intellectuals who think they are superior to everyone else ('But you can't hate me!', yells Homer after his retreating friends, when the removal of a crayon from his brain boosts his IQ to genius levels and renders him an unbearable snob: 'I'm your better!'); but it also includes jokes that only Art lovers will get (Thomas Pynchon appears in the cartoon, but only with a paper bag over his head). It speaks to different people, in different ways, at the same time. Television likes it audience, and flatters its viewers that their opinions matter – tell us what you think, says television, performing the belief that democracy is true and that what the individual thinks is important. And for television, it is true. It is a generous, warm, inviting, kind medium–defined by its desire to reach out and draw communities together. It is the ultimately civilized medium in that sense.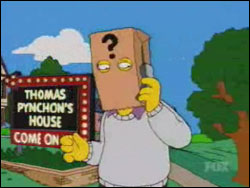 Thomas Pynchon on The Simpsons
Television is civilized. But Art isn't. If television is the natural home of the smiling professions, then Art is the world of the scowling professions. If television flatters its audience, then Art shouts at us. It tells me that I'm stupid, that I'm vulgar, that I'm not as good as Art lovers. That I have no soul and no insight and that therefore my opinions and views and loves and passions don't matter. That I should leave the business of running culture–and, in an ideal world, politics and the public sphere as well–to my betters. To the poets and Artists who hate me and who will tell me what is good for me and what I am allowed to consume. All the while frowning and saying 'should' and waving their fingers at me angrily. Art–as I have experienced it in my years of study and social interaction with Art lovers–is about divisions, drawing lines in the sand–here is Art, here is not–and telling people that they are stupid and shallow and insensitive if they don't like the same things as the Art lovers do. Art is, in this sense, barbaric. It's full of hatred and it's looking for a fight. It does not show us the best of ourselves. It shows us the worst. It makes me angry–pouring out expletives and invective in a way that lowers me as a person. Art brings me down to its own level. It makes me no better than itself.
While television shows us love and joy and intimacy and domestic lives and people listening to others.
Which may be at least one reason that I love television so very, very much.
Image Credits:
1. Federico Fellini's 8 1/2
2. The cast of Battlestar Galactica
3. Thomas Pynchon on The Simpsons
Please feel free to comment.