Prime Time Bullies
by: Gareth Palmer / University of Salford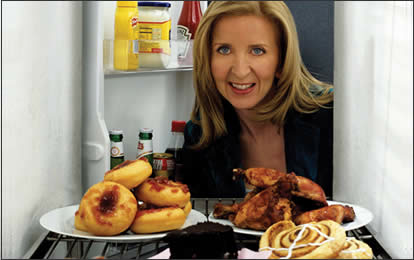 You Are What You Eat's Dr. Keith
Lifestyle television is that space where identity is most openly discussed. In programmes ranging from Extreme Makeover to Ten Years Younger our flexible selves are seen to be empowered by experts striving to bring forth 'the real you.' This hidden entity is called forth in a range of media including websites, newspapers and countless magazines. Indeed one recent import to the UK is Psychologies, a French magazine whose launch cover invites readers to 'Rediscover the real you.'
Given that the real you is commonly believed to be in there somewhere it seems reasonable to discuss what methods television recommends for bringing it out.
Two recent television programmes have aggressively sought to strip beyond the surface to find the real you within. In the UK one of Channel Four's biggest hits is Gillian McKeith's You Are What You Eat. In the US, NBCs third season of The Biggest Loser was such a ratings winner it disloged prime-time sitcom hours for a week. In both shows the object for treatment is the body. Indeed the shared diagnosis is that within all overweight people a real you can be released by the forces of shame and discipline.
While the transformative device is hardly new to television the sort of rapid physical changes demanded by these programmes are shocking and very possibly not healthy. Each format requires the contestants to make themselves completely obedient because changes have to be quite literally seen to be believed. Thus contestants are chosen partly because of their size and partly because they have the dramatic personalities necessary to make their obedience a difficult but involving struggle. If they can come through this then we can, can't we? A range of products and web-services help strengthen our conviction to transform and bring out the real you out of recalcitrant misshapen us.
In the UK Dr Gilllian McKeith's PhD is the subject of much heated debate. But at the core of these discussions are not what McKeith does but her qualifications to do it. It seems that the lessons and indeed the methods of shame are fine as long as one has the correct medical qualifications. This is not merely a moral issue. Since the first series, McKeith has developed a very profitable sideline in Health Foods. Those who believe in the powers of television and have seen her transformations wrought on willing victims may be more willing to pay £5 for the restorative powers of her snacks.
In the US the project is more ambitious. The Biggest Loserhas gone from being a mere television programme to full blown cultural phenomenon. The format has had the distinction of be adapted in Britain, Australia and Israel. The website develops, indeed, makes perpetual the project by inviting a collective effort at slimming down to find the real you via The Biggest Loser clubs. The third series implicated the whole nation by choosing representatives from each state and then photographing 'before and afters' (still on the website). This seems to represent an unofficial extension of Bush's 'Get Fit' program designed to energise the nation by getting citizens to 'take greater responsibility for their future health and welfare.' This fits into a wider range of new measures described as…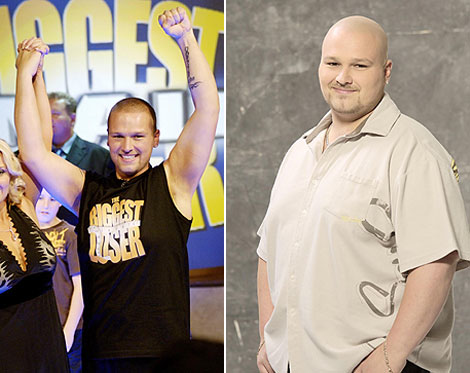 Biggest Loser "Before and After"
'the "tough love" of compassionate conservatism' through a proliferating network of private and personal trainers (e.g financial planners, home-security experts, smart cars, the Web as customized reference-guide for do-it-youself-ers, professional life-organizers' on TV, and of course Dr. Phil (Hay and Andrejevic, 2006: 338).
In both programmes the aim is to teach people to become managed, responsibilized selves. And what better, more validated space could there be for this process than television where all dreams come true?
One crucial new factor is this search for the 'you' within is the use of Science. Before its treatments can be recommended television has to prove that it is responsible and so it provides the facts about being overweight which cannot be called into question. And so we hear that anyone slightly overweight has a higher risk of heart disease, anyone with more than 25% body fat is close to obese etc. These statistics are presented as if they were indisputable and indeed they are not disputed: science is facts! With a series of scientifically-validated methods outlined for our approval subjects have no choice but to obey. Because science has 'proved' what needs to be done (and is validated every week through televised success stories) all manner of punishments, shames and indignities can be visited on
the individuals.
A second allied justification can be found in how 'fat' is made to mean in western culture. As responsibilized selves we have a duty to keep in shape. To be big is not only aesthetically displeasing but it's also cheating the nation. These days the overweight are most often seen in programming such as talk shows which feature the working class as bodies in need of treatment. An association is made between being overweight and a relaxed attitude to sexual morality and employment. Those who become overweight are defective creatures snubbing the project we should all be involved in–making ourselves streamlined engines for leaner fitter nations.
The work of these prime-time bullies validated by science, endorsed by the new common sense and promoted through every possible channel may yet spawn myriad psychological dangers.
'Identification with the aggressor and privatization can combine to create an insecure psyche that, in attempts to bolster itself, leans on clichés and common sense to the extent that reflection is impossible and…finding security n closing off dialogue with self and other basic needs' (Sloan, 1999).
Rose has written of the 'specialists of psy (who) have emmeshed themselves inextricably with our experience of ourselves.' The pseudo-science inspiring this breed of programming promote health-through-normalization–another example of the spread of governmentality…
Looking for the real you? Just say no.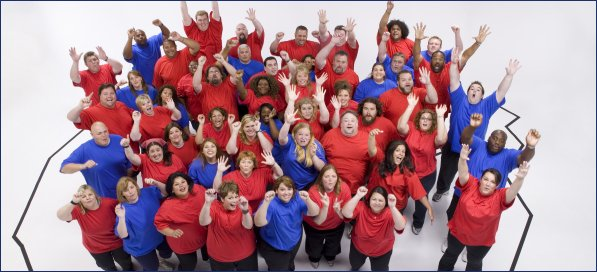 Biggest Loser Season 3
Image Credits:
1. You Are What You Eat's Dr. Keith
2. Biggest Loser "Before and After"
3. Biggest Loser Season 3
Please feel free to comment.