Catfight in My Name is Earl as a Site of Feminist Resistance
by: Debbie James Smith / Wayne State University
IN ADDITION TO OUR REGULAR COLUMNISTS AND GUEST COLUMNS, FLOW IS ALSO COMMITTED TO PUBLISHING TIMELY FEATURE COLUMNS, SUCH AS THE ONE BELOW. THE EDITORS OF FLOW REGULARLY ACCEPT SUBMISSIONS FOR THIS SECTION. PLEASE VISIT OUR "CALLS" PAGE FOR CONTACT INFORMATION.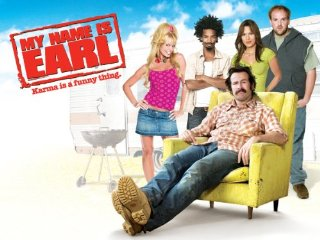 The cast of My Name is Earl
In the situation comedy My Name is Earl, a catfight occurs in the episode "The Bounty Hunter" between the main female lead character Joy Turner (played by Jaime Pressly) and Jesse (played by Juliette Lewis).1 This is not a clichéd catfight over a man or just an act of revenge. Here it facilitates the discourse of a continuous cultural battle where poor women repeatedly fight against the limited definition of mother and, for that, are labeled as whores (Dow 173). In this catfight, Joy challenges the nostalgic stereotypes of motherhood and refuses to be shamed for not fulfilling imposed gender roles and social expectations of gendered behavior (Inness 6).
My Name is Earl centers on the character Earl, whose quest is to make up for a life of petty crime. Joy is Earl's ex-wife and friend, a modern day moll who is defiant of the law and moral values that would have her feel shame for exercising personal agency (Yaquinto 208). In "The Bounty Hunter," Joy learns that Jesse, her former sexual rival, is looking to collect on Joy's unpaid traffic ticket. The underlying conflict between these two women is shown to originate from a catfight six years earlier when pregnant Joy left Jesse, Earl's girlfriend, toothless on the Crab Shack bar floor.
In flashback to the Crab Shack we become privy to Joy's dire situation. Pregnant with no money and no place to live, she has to find a husband soon. Desperate for an alternative to going to the shelter, Joy scans the bar for candidates, her eyes settling on two men playing pool. She dismisses the first for licking the cue chalk. The second only sniffs the chalk and Joy decides that he is her best chance. In collusion with her friends, Joy tricks Earl into marriage that night. In the days after the wedding, Earl and Joy are confronted by a confused Jesse. Joy flaunts her wedding ring in Jesse's face and when called a whore, she punches Jesse in the mouth, knocking out her front teeth. The camera angle provides a worm's eye view of Jesse's reaction.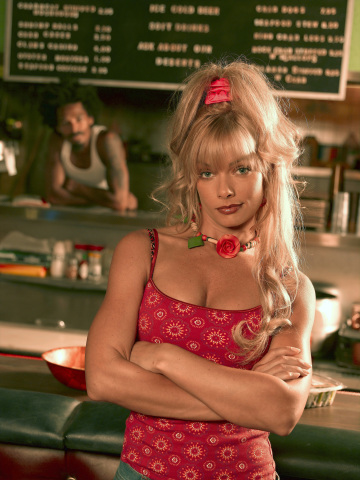 Joy Darville
Flash forward to Jesse, a bail bondsman's secretary who is presented with an opportunity for revenge with the arrival of an arrest warrant. After months of martial arts training, the addition of ill-fitting gold teeth and a training seminar, Jesse the bounty hunter is ready to bring Joy to moral justice by returning the punch. This is confirmed when she tells Earl that she is going to knock out Joy's teeth for resisting arrest.
Tracked down on a dirt road away from society, their final confrontation takes place. Displaying a range of "emotions, skills and abilities" in the moments leading to the showdown, the stereotype of Joy as a boyfriend stealing whore is deconstructed, leaving her as a woman who is defending herself against social judgment (Inness 8). Foreshadowing that this confrontation is about her moral character rather than merely a transgression of the law, Joy decides to face Jesse alone, telling Earl to stay in the car.
Standing on the road, Joy plays the role of fugitive by wearing Earl's ill-fitting boots, which also symbolizes her apparent need for male protection in this seemingly straight forward didactic and comedic drama. Joy tells Jesse there is no need for violence and offers to go quietly to jail. Jesse refuses this offer telling Joy that she is going to knock out her teeth. Once Jesse's true intentions are confirmed, Joy kicks off the boots of the fugitive and become her authentic self, the woman who refused to be judged a whore six years earlier.
As they begin to circle each other, "La resa dei conti" from the spaghetti western For a Few Dollars More confirms that a duel is beginning.2 The music suggests that what is happening is more than just a fight rather this is a traditional confrontation of good versus evil (Dow 172). The music also reiterates the injustice of the bounty hunter, who in For a Few Dollars More chases the outlaw for reasons other than a transgression of the law.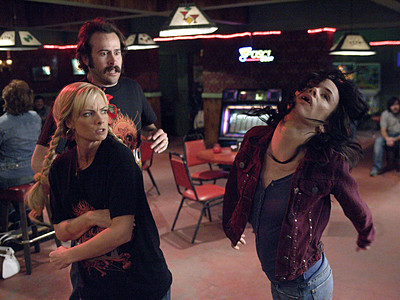 Joy punching Jesse, "The Bounty Hunter"
Once the action picks up, the song "Kung Fu Fighting" adds an element of comedic relief that mitigates the violence.3 The lyrics do not reflect the actual action which includes a few "Springeresque" left-hook punches, ending with Jesse lying in the dirt, teeth knocked out, again.4 We get another worm's eye view of her bleeding gums and missing teeth, suggesting a range of emotions including shame (Johnson 1363). As her authentic self, Joy naturally fulfills the role of master in defeating Jesse for a second time, confirming that she is no whore and will not be shamed by succumbing to societal judgment of her behavior (Botting and Wilson 15).
Throughout the battle the camera cuts infrequently to Earl's cringing expression, as he apparently deems the fight violent and unpleasant, not stereotypically erotic. Earl appears fearful and a little in awe of Joy as she gets into the truck. He asks her where she learned to fight, and Joy answers "I watch a lot of Springer," placing the bloody gold teeth in his palm and telling him to melt them down and bail her out of jail. Earl's face expresses an unpleasant reaction to the teeth, but he places them in his pocket. In an interesting turn of events, the bounty hunter's authority, in this case her teeth, become the currency that will enable Joy to pay her ticket. As Joy and Earl drive away, we see Jesse role over and start to do push-ups, suggesting perhaps that this battle is not yet over.
The confrontation between Joy and Jesse manages to turn the genre of the catfight upside down by having the women represent opposite sides of the cultural debate over what is acceptable behavior for lower class mothers. Rather, the confrontation represents a discourse on how women are labeled for transgressing accepted female roles. Joy, as a pregnant unemployed woman, is forced to find herself a husband or go to a shelter. To do so she takes advantage of middle class values because, as a poor woman, she has to, and it is in this act of defiance that she exhibits agency.
Notes
1 "The Bounty Hunter." My Name Is Earl. Episode 21, Season 1. NBC. Original air date Thursday April 6, 2006.
2 Music written by Ennio Morricone for A Few Dollars More, a Film by Sergio Leone. 1965.
3 Carl Douglas' hit single from 1973.
4 Pressly's other roles include starring in the Jerry Springer mock-documentary Ringmaster, a comedic look at a talk show where lower class people have the opportunity to humiliate themselves on TV.
Works Cited

Botting, Fred and Scott Wilson. Tarantinian Ethics. London: Sage, 2001.
"The Bounty Hunter." My Name Is Earl. Episode 21, Season 1. NBC. Original air date Thursday April 6, 2006.
Douglas, Carl. "Kung Fu Fighting." Produced by Biddu Appaiah, 20th Century Records, 1974.
Dow, Bonnie. Prime-Time Feminism. Philadelphia: U of Pennsylvania P, 1996.
Inness, Sherrie A. "Introduction. 'Boxing Glove and Bustiers': New Images of Tough Women." Action Chicks: New Images Of Tough Women In Popular Culture. Ed. Sherrie A. Inness. New York: Palgrave Macmillan, 2004. 1-15.
"Jamie Pressly Bio." My Name is Earl. NBC. Accessed November 30, 2006.
Johnson, Liza. "Perverse Angle: Feminist Film, Queer Film, Shame." Signs. 30.1 (2004): 1361-84.
Lee, Janet. "Subversive Sitcoms: Roseanne As Inspiration For Feminist Resistance." Gender, Race and Class in Media. Eds. Gail Dines & Jean M. Humez. London: Sage, 1995. 469-75.
Lotz, Amanda Dyanne. "Segregated Sitcoms: Institutional Causes of Disparity Among Black And White Comedy Images And Audience." The Sitcom Reader: America Viewed And Skewed. Eds. Mary M. Dalton and Laura R. Linder. Albany: SUNY Press, 2005. 139-50.
Morricone, Ennio. "La resa dei conti." Music for A Few Dollars More, a Film by Sergio Leone. 1965.
Spigel, Lynn. "Women's Work." Television: The Critical View. Ed. Horace Newcomb. Oxford: Oxford UP, 2000. 73-99.
Yaquinto, Marilyn. "Mamas, Molls and Mob Wives." Action Chicks: New Images Of Tough Women In Popular Culture. Ed. Sherrie A. Inness. New York: Palgrave Macmillan, 2004. 207-29.
Image Credits:
1. The cast of My Name is Earl
2. Joy Darville
3. Joy punching Jesse, "The Bounty Hunter"
Please feel free to comment.