Angelina Jolie, Madonna, Oprah and African children: On Media Fairy Tales, Personal Blessings and the Ongoing Curses of Africa
by: Olivier Tchouaffe / FLOW Staff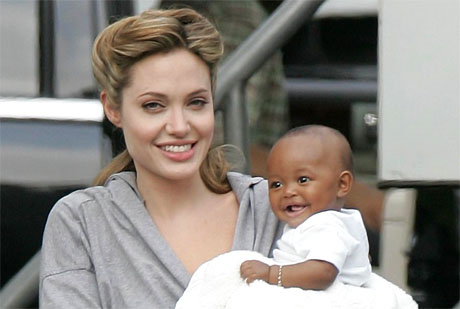 Angelina and Zahara
The recent adoption of African babies by the high-priestesses of Western pop-culture and reputable international human-right dignitaries, such as Angelina Jolie and Madonna, are powerful demonstrations of their thought-through positive actions against any negative preconceptions of African children. These acts are neither banal nor are they cheap, political attention-grabbing stunts. Rather, they are powerful interventions that have the potential to inject, inspire, embolden, and accelerate processes of cross-cultural understanding between the West and Africa. Moreover, these adoptions could engender a deeper mutual beneficial process of cultural exchange. It is likewise understandable to, at the same time, marvel at the spectacle of Jolie and Madonna flying their newly adopted children out of the continent so that they might now live the American Dream (happily ever after, of course).
This piece is neither intended as a diatribe against adoptions in Africa nor is it demanding that these kinds of adoptions be suspended. The aim of this column is admittedly quite modest: I wish to point out the important symbolic ramifications and the paradoxes embedded in these adoptions; complications that are significant enough to render them counterproductive. Specifically, these adoptions carry with them the linkages between colonization and neo-colonialism in contemporary Africa. The continent's racist colonial political-economy past lives on in these gracious acts. Specifically, Africa's long history of enslavement has been counteracted by the colonial myth of the "exceptional negroes" which is the difference between the negroes who are allowed to live and those who are merely allow to exist [i].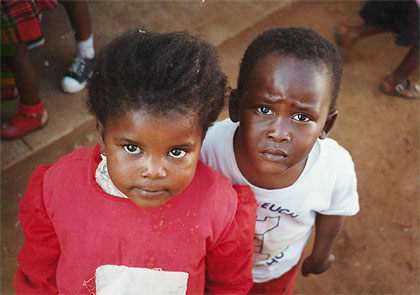 "Exceptional Negroes"
This culture of exceptionality confirms the rule of colonization and neo-colonialism. In the Darwinian colonial culture, the truly "blessed" are the ones allowed to survive. It is not farfetched then to think that these adopted babies are somehow "exceptional" and "blessed" since they alone were handpicked by two goddesses of Western pop culture. These cultural dynamics are at work since these children are now media celebrities and they are positioned as being "unlike" the other negroes and therefore somehow deserving their piece of the American Dream. Obviously their random selection does nothing to explain why their compatriots remained mired in their native continent "[ii].
These adoptions are read as being unfair because they perpetuate the overplayed myth of the "exceptional negro" which unfairly characterizes the remaining African youth as somehow being less exceptional and therefore less worthy of aid. These cultural antagonisms play out within the colonial imagery of the "white man's burden"; or, in this case, the "white women's burden". Arbitrarily selecting "exceptional negroes" from their native communities, and then granting them access to upper-Middle class privilege emphasizes that life is merely a game of chance. So as these select few will never again be hungry, the remaining African children continue to sweat out their day-to-day struggles in their poverty-ravaged continent. Additionally, these adoptions do not suggest that these humane extractions will galvanize a social movement that might result in a better life for those left behind.
It is untenable to demand that Jolie and Madonna adopt all of Africa's babies, or to prohibit these kinds of media-centric adoptions altogether. The key question here is, what do these celebrities adoptions really do for African children?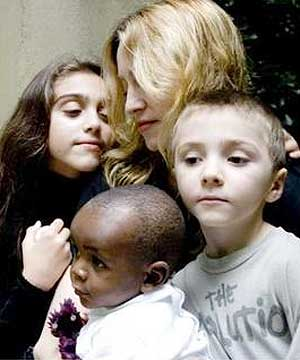 Madonna and David
Adoption as a form of extraction does not address the problem because retrieving children from their homes in no way contributes to making any community better. On an individual level these children, and perhaps even their biological families' situations might improve, however, the larger community rarely if ever benefits from celebrity beneficence.
One might legitimately ask, why didn't Madonna simply give the boy's family money, or start a business and give it to them there in Malawi? Why did she take a child whose family is still alive and living in poverty? Angelina Jolie and Madonna's Human Right activities are indeed admirable. They have both addressed important issues like land mines and HIV/AIDS before the UN. I believe, however, that their contributions could have been considerably more powerful if they had instead made strong cases against Africa's many health/political/economic atrocities. By adopting needy babies, these women suggest that the only way to help the situation is for responsible and affluent whites to rescue "worthy" African babies. This charity reinforces the fallacy of neo-liberal individualism; namely, singular interventions are a panacea to an entire corrupt system. In the end, the "exceptional negroes" are not really blessed because they become complicit in their peers' suffering as they are unwitting accomplices to this kind of shortsighted ideology.
The "Oprah Winfrey Leadership Academy for Girls in South-Africa", inaugurated on Tuesday, January 2, 2007, aspires to improve the educational hopes of poor girls in South Africa. Building schools in Africa has a better impact on the whole community because it allows more than one negro to become "exceptional". (I understand that Oprah's action is controversial because she has been accused of not doing enough for Black inner-city children here at home[iii]). Additionally, Oprah's method may very well prove to be more beneficial for African communities as the children educated at her school will stay/return after they receive their higher education and function productively within their native communities. This stands in stark contrast with the very few children who are airlifted from the continent, will (likely) become estranged from their home continent and native language and culture.
These celebrity African adoptions are complex cultural gestures that come packaged with their own sets of historical dramas which foreground racial exclusivity, personal blessings, continental curses and the everyday life. Paradoxically, these complexities guarantee that these adoptions are not simple moments of hope but of the expression of reified colonial power relationships between Africa and the West.
Notes
[i]Jerry Gafio Watts: Amiri Baraka: The Politics and Art of the African intellectuals. P.57-58
[ii]According to The Independent, there are more than 1 million orphans in Malawi alone. About 1 in 5 of all children are orphans: The Independent.co.uk
[iii]See Oprah Winfrey, Bill Cosby Face Growing Challenge by Black Professors – Marc Lamont Hill and Boyce Watkins Appear on CNN to Discuss Concerns: webmetricsguru.com
Image Credits:
1. Angelina and Zahara
2. "Exceptional Negroes"
3. Madonna and David
Please feel free to comment.