Wall to Wall
by: Alan McKee / Queensland University of Technology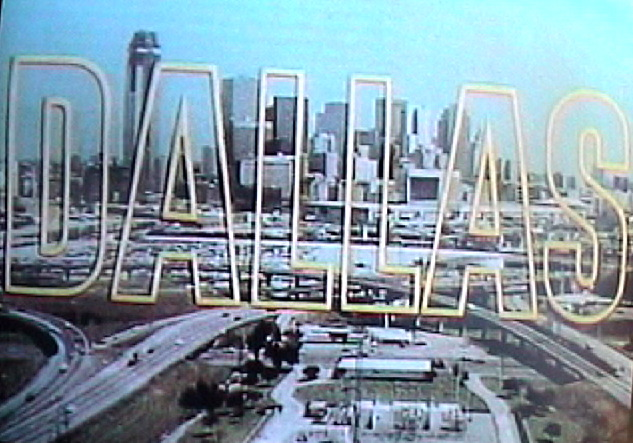 Dallas
We never did get 'wall to wall Dallas', in the end. That was the phrase that was commonly heard during the early 1980s, as America's premier prime-time soap moved from country to country, gaining hundreds of millions of viewers around the world. The vision of 'Wall to wall Dallas' represented the fear of educated intellectuals about the future of television – indeed, the future of culture more generally. They worried that this trashy, sensational vulgar entertainment showed us what would happen if America's cultural imperialism were not stopped, if we did not fight the good fight for 'quality' television.
And yet, despite reaching over ninety countries at its peak, we never did get it wall to wall.
Yes, there was Knot's Landing, that became its own, extremely valuable, piece of television real estate. And Dynasty, the show that pushed the genre just … one … more … NOTCH! from hysterical to self-combusting. And Beverly Hills 90210, which took Dallas to the kids, and Melrose Place that took it to the young adults. But all of these are gone now, leaving only fossils and The OC. And in the end, even Dallas ended – after only thirteen seasons (or twelve, if you don't count season eight, where Bobby was dead, the whole season later revealed to be Pam's nightmare …).
Dallas has been on my mind recently. There are the ongoing casting controversies of the movie version to keep it in the headlines. But more than that, I'm teaching a course on 'television's greatest hits', and Dallas is, of course, right up there. And so, for the first time in my life, I've watched a full episode of the mommy of the prime time soap operas.
I approached the DVDs with an odd sense of apprehension. Like I Spit on Your Grave, this was a text whose reputation preceded it. Whereas Grave promises to be too disturbing for the average person, the reputation of Dallas was to be the herald of the end of civilisation. What could it look like? How bad would it have to be in order to draw the amount of vitriol that it has been subjected to over the years? When it started I was eight years old. Its reputation kept me away from it until the end of its run – it was a program that my mother watched; with all of the cultural sneering that implies for a young man. This was the program that terrified a generation of Euro-intellectuals, the program that confused and threatened them with a success they simply couldn't comprehend. Downmarket, melodramatic glossy trash. Why would hundreds of millions of people around the world watch this? What strange hypnotism could it exude? It must, of course, be an expression of the unfettered power of America to impose its own culture on that of other countries. What other reason could there be for its success?
Watching the original 1978 series now, a quarter of a century later, a strange possibility emerges. Perhaps the reason this show was so successful the world over was because it was good. Really, very good.
For those who don't know, the initial set up for Dallas was this: young, slightly white-trashy girl Pamela Barnes marries into the rich Ewing oil family. The twist? The Ewings destroyed her family years earlier when daddy Ewing stole an oil field from daddy Barnes (in a 're-envisioning' of Romeo and Juliet). The stage is set for plots and double crosses and hysteria and love affairs and helicopters and expensive cars and everything that is great about melodrama.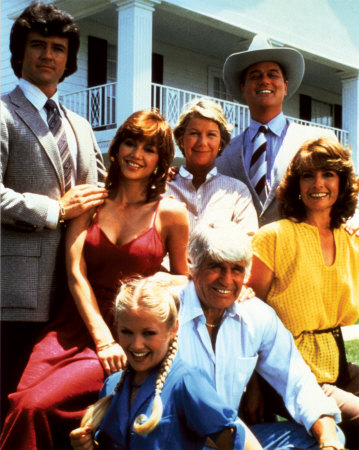 The cast of Dallas
The production values are wonderful. This in itself is not a precondition for success, or for making good television, but it is an important accomplishment – which critics often forget. Dallas looks beautiful. The lighting, the sets, the costumes are all of the most professional standard (even if they have a decidedly seventies hue – watch out for those collars!). This is also true of the acting. I wonder sometimes if television critics are aware how difficult it is to produce a television series which has a consistent tone in the performance of even a single actor – never mind an entire cast. This becomes clear if you try watching any British sitcom, for example (except for Fawlty Towers, Blackadder, or The Office), where you will commonly find some of the cast playing vaudeville, some doing naturalism, and others simply not bothering to act at all. The acting in Dallas is indeed melodramatic – that's part of its charm. But it's consistently melodramatic. It never sounds as though a cast member is simply standing there, reciting a line. There's little in the way of subtext or psychological subtlety – but again, that's generic. The program features great, consistent, hysterical melodramatic acting.
The narrative structure of the stories is fascinating – a series/serial hybrid where each episode has a self-contained story that contributes to the ongoing narrative (who would have thought that Dallas had anything to teach Buffy?). The melodramatic expression of emotion is passionate and moving. The cast are often beautiful to look at (particularly Steve Kanaly and Victoria Principal). For a mainstream success, the program also has a surprisingly ambivalent relationship to conventional morality – as in The Sopranos, our heroes are people who routinely flout the law and conventional ethical systems – although they may have their own ethical systems, based around family ties, in place. There are no truly good characters here – even Pam, who initially seems to be the virtuous outsider, is happily blackmailing Ray Krebbs by the end of the first episode in order to protect her marriage.
Now anybody who actually watched Dallas at the time will probably be disgusted by my tone of surprise here – because the viewers knew how good it was. I suppose that's the point of this column. Looking back now, we can make a more mature judgement about the success of Dallas. Critics thought there was no rational, logical, justifiable reason for liking the program. They were wrong. The viewers were right in their viewing choices. This was good, melodramatic, television.
Perhaps in making aesthetic judgements about television, in short, we need just a little bit more populism? Let's listen to the experts – the viewers who regularly watch the programs – and see what we can learn from them about good and bad television.
Image Credits:
1. Dallas
2. The cast of Dallas
Please feel free to comment.