How Network Branding, Promotion and Scheduling Determine the Success or Failure of Network Shows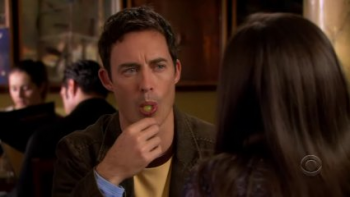 Love Monkey
The idea for this column began as I composed a letter to Les Moonves in my head. (Not a letter I'd actually send, but I maintain a running chronicle of programmers' ill-considered moves as part of my unofficial capacity as armchair programmer for all television networks). The news that CBS had placed its new drama Love Monkey on hiatus after just three airings initiated this particular entry. Now admittedly, Love Monkey is probably not the next coming of great TV drama — it is/was, however, of a different disposition than most current dramas (particularly those on CBS) and its character-driven story had piqued my interest. Focused on Tom Ferrell's (Tom Cavanagh) misadventures as a record executive and his circle of friends, in its first three installations the show offered non-stock characters that I'd like to get to know better. Love Monkey coincidentally had a great deal in common with the only other CBS show that I count myself a fan of, How I Met Your Mother — which brings me back to the point of the column at hand.
Although How I Met Your Mother remains on the CBS schedule, it too has struggled to find an audience. This situation should surprise no one (including Mr. Moonves), as these shows co-exist on a schedule often featuring episodic crime drama in half of its twenty-two hours of weekly programming. (One might say CBS now stands for the Crime Broadcasting System). As audiences have fragmented and become polarized in demographic and psychographic silos of self-interest, programmers have faced the challenge of branding their network specifically enough to be identifiable to viewers, while maintaining the breadth required by their particular economics. These program decisions and brand identities have broader implication than winning ratings on certain nights. Too many hits of a particular nature begin to narrow the audience that samples the network — the primary location for promoting other series. CSI might be the ideal location for promoting Cold Case, Criminal Minds, and even Close to Home (to say nothing of the other CSI's), but these shows are less likely to draw the audience most likely to be interested in Love Monkey or How I Met Your Mother.
Few have considered the promotion the networks do for themselves as a fundamental part of the circuit of cultural production. Indeed, in the previous era of three networks and correspondingly broad and heterogeneous audiences, the process was simpler and the sheer lack of programming options made it likely that viewers would happen across each network at some point in their regular viewing. But as channel options have expanded (to say nothing of the DVR empowerment to skip all non-program content), making viewers aware of shows has become more difficult than ever. This has long challenged cable networks that have a less regular viewership, but also is increasingly pressuring broadcast networks to reconsider their promotional strategies. Networks place increasing promotional dollars off-air, evident in ABC's use of dry-cleaner bags to support the launch of Desperate Housewives, or CBS's embrace of "coolertising" (placing ads at the bottom of publicly located water coolers) in promoting Out of Practice and Courting Alex. I even recently received a flyer promoting CBS shows in a Val-Pak coupon mailer.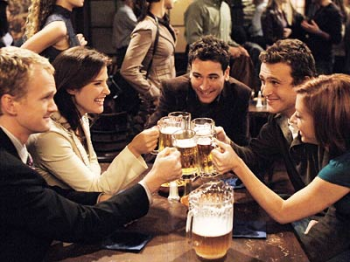 How I Met Your Mother
In a fragmented viewing context, the few remaining television events (Super Bowl, American Idol, Olympics) derive value not only from the size of the audience they deliver, but as a site for promoting other series. Broad hits (such as those just mentioned) are particularly valuable because of the heterogeneity of their audiences and the fact that their event status draws people to the network who may not watch it otherwise. Certainly, top weekly series such as CSI also provide a valuable promotional site, but the increasing demographic and psychographic specificity of many successful shows disables cross-promotion of non-similar programming. The content and themes of Love Monkey and How I Met Your Mother are fundamentally different from the great majority of CBS content, and because CBS programs few other shows that match them, it makes it difficult for the network to use its airtime to expose likely viewers to these shows.
Instances of networks replicating hit formulas over and over to the eventual detriment of the network exist as cautionary tales too numerous to count (Who Wants to Be a Millionaire providing the most obvious example). It is difficult to turn away from a winning formula (say, crime dramas), but too much of any one thing makes it difficult to re-diversify the schedule. Of course the challenge is knowing when a trend becomes excessive, or rather, stopping before you get there. As CBS prepared to launch the fewest new shows of any network this season (Criminal Minds, Close to Home, Ghost Whisperer, How I Met Your Mother, Out of Practice, Threshold), conventional wisdom suggested the crime drama's presence across all networks' schedules had over-inundated viewers. Yet, CBS's new shows in this genre rank among this season's successes. The network's difficulty launching solid shows that are differentiated from the crime brand, however, suggests evidence of impending problems.
This scenario played out slightly differently across the dial at NBC earlier in the decade. After television critics complained that Jeff Zucker was diluting the NBC brand with Fear Factor in the summer of 2001, Zucker retorted that he headed a broadcast network, a reality that prevented him from scheduling twenty-one hours a week of The West Wing1. Indeed, Zucker was correct in noting the specific challenge that competing in a niche brand environment provides for broadcasters. Yet consider, for example, ABC's recent ratings resurgence and the tools they used to build this success. The rapid ABC ascension resulted from the network's success with four new dramas: Boston Legal, Lost, Desperate Housewives, and Grey's Anatomy. Although each show differs significantly from the others in subgenre and other formal characteristics, the shows feature a consistent quality of writing and general level of innovation. After five years of police procedurals and the intricate examination of corpses on all networks, these four shows dared to tread entirely different territory, and in many cases, returned components of serial storytelling and character depth that had been eliminated by the procedural surge of the preceding years. Yet these shows did not circumscribe a narrow audience with these characteristics, but achieved the precarious balance of consistency and variation that allows a network to remain a site for promotion of varied content.
So, while Love Monkey might not have returned sizable audiences, I'll always wonder if its fate would have been different if it had premiered after ample promotion during the young and male skewing Final Four tournament. This show had a much more difficult plight than many of the others CBS has launched in recent seasons (and scheduling it against SVU and Boston Legal wasn't exactly a walk in park — I can guess what the crime drama viewers were watching). Love Monkey and How I Met Your Mother are valuable to CBS for reasons other than ratings, they maintain breadth in the CBS brand and provide a reason for people who have had enough of crime drama to stop by the network. (Catch the unaired episodes of Love Monkey on Tuesdays at 9:00 on VH1).
Note:
1 Mark Robinson, Brought to You in Living Color: 75 Years of Great Moments in Television and Radio from NBC (New York: John Wiley and Sons, 2002), 205.
And a Note on Method and Assumptions
Given the comparative informality of Flow columns and their emphasis on immediacy, I have not researched this situation in the depth appropriate for more conventional academic venues — such as by interviewing series' creative staff and network programmers. As it stands here, it seems my article may reproduce one of my least favorite tropes in popular and academic discussions of television: setting up the television worker as dunderhead. Often decisions that appear short-sighted and unconsidered on the surface or to outsiders (such as the quick cancellation of Love Monkey), are well reasoned or result from obscured and complicated factors identifiable only through deliberate and extensive research. (But my point about promotion in this era still stands).
Image Credits:
1. Love Monkey
Please feel free to comment.