Coming Soon: A Supplement to The Velvet Light Trap: An Interview With Student Filmmakers/Teachers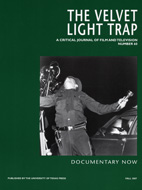 The Velvet Light Trap, University of Texas Press
When we were working on The Velvet Light Trap issue exploring authorship (Issue 57, Spring 2006, published by The University of Texas Press), we imagined a variety of ways in which such a topic might be construed. After compiling and editing submissions that covered a wide range of perspectives, many of which have been published in the Spring issue, we found that we had little that addressed how "authorship" is learned and how it is taught. Becoming an "author" of any sort usually demands intensive training as well as years of practice. How do film schools and similar programs contribute to the development of authors? And how might scholars critically approach this question?
We asked three graduate students from the production areas of the department of radio, television, and film at the University of Texas to meet with us to discuss teaching authorship. As both authors-in-training and teachers of authors, the interviewees offer distinctive perspectives on how authorship is learned, what qualities contribute to the development of authors, and what students need to become authors in their own right.
Jeremy Brown, Alison Eakle, and Jenn Garrison met with us on a sunny April morning (2005) and shared their thoughts over coffee and muffins. In the forthcoming interview, we share with our readers their ideas and insights into teaching authorship. Look for it here in the May 12th issue (Vol. 4 Issue 5) and the May 26th issue (Vol. 4 Issue 6).
Image Credits: