Hysterical Horowitz and The Culture of Television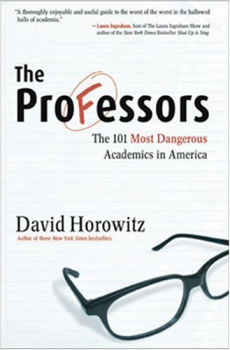 The Professors: THe 101 Most Dangerous Academics in America
When the editors of Flow invited me to write the guest column for the inaugural issue of volume 4, I enthusiastically agreed. I saw it as an opportunity to take another light-hearted look at some aspect of our media culture. But I'm afraid this column is going to be neither clever nor funny despite the fact that its subject matter is hysterical. When people hear the word "hysterical" today, they often associate it with uncontrollable laughter. And I must admit that when I first picked up David Horowitz's new book, The Professors: The 101 Most Dangerous Academics in America, and began to page through it, I couldn't stop laughing. Now, that would scarcely be worth stating if the book was intended to be funny. I assure you, it's not. On the contrary, it's "hysterical" in the traditional, dictionary sense of the term: "behavior exhibiting overwhelming or unmanageable fear or emotional excess."
Before I go any further, let me briefly describe this book for those readers fortunate enough not to have seen or heard about it yet. The Professors is a (black)list and brief biography of 101 left-leaning professors in the U.S., though the book refers to them as "radicals." Now if books could crap their pants in fear, this one would be shitting itself by the inside flap, which barks, "Coming to a Campus Near You: Terrorists, racists, and communists–you know them as The Professors. … Today's radical academics aren't the exception — they're legion. And far from being harmless, they spew violent anti-Americanism, preach anti-Semitism, and cheer on the killing of America soldiers and civilians — all the while collecting tax dollars and tuition fees to indoctrinate our children." As I said, hysterical!!!
The book goes on to "imply" — it doesn't squander its precious pages employing something academics call "logic" — that award winning teachers and scholars the likes of bell hooks, Fredric Jameson, Angela Davis, Howard Zinn, Dana Cloud, Noam Chomsky, and Robert McChesney are indoctrinating students with "evil" liberal ideology and an utter disregard for the truth. As near as I can discern, Horowitz's hysterical rhetoric is fueled by the fear that an immense army of "radicals" is teaching students what to think, rather than how to think (p. xxvi). I, too, think that educators have a professional responsibility to teach students how to think, so that they can form their own opinions and judgments on matters of social importance. But I also think that educators have a responsibility to teach students how to think well (i.e., rationally, soundly, and logically). That said, students should read Horowitz's book. More specifically, they should read it in an introductory argumentation class as an exemplar of fallacious reasoning.
My aim in this column is not to defend the professors on Mr. Horowitz's list. My sense is that most, perhaps even all, of them don't need to be defended. Instead, I'm going to take a few minutes and illustrate how The Professors can productively be used to teach college students the fundamentals of faulty reasoning. Let's start with a definition — a common tool for constructing arguments and something virtually absent from The Professors. "A fallacy," according to William Foster (1917), "is an error in the reasoning process. It is an unwarranted transition from one proposition to another" (p. 190). You may have noticed that my definition comes from an expert — something else conspicuously absent throughout much of the book. If you've read The Professors, then you recognize that there is simply no way I could recount all of its logical fallacies. To quote a book I recently read, they "aren't the exception — they're legion." So, instead, I'm going to highlight four of my favorite fallacies:
1. Hasty generalization – this fallacy arises when a broad conclusion is drawn from too small of a sample, from an unrepresentative sample, or ignores key exceptions (Foster, p. 193). For instance, if I concluded that Mr. Horowitz is simple-minded based upon his "logic" in The Professors, I would be making a hasty generalization, as I have not read enough of his work yet to properly draw that conclusion. For all I know, The Professors is an exception to his otherwise fine thinking. The central, if implied, claim of Horowitz's book is that American Universities are under siege from 30,000 radical professors, who are using their authority to indoctrinate students with leftist ideology (p. xlv). His "data" is drawn from biographical sketches (about 2-3 pages each) of 101 professors that he helped to edit and write (p. xlvi). Even if all of the professors Horowitz identifies actually do indoctrinate their students (a highly dubious assumption), they would constitute only about 3% of the total number of so-called "radical professors" in the U.S. — this according to Horowitz's own numbers (p. xivi). But since he selected faculty that he specifically considers "the 101 most dangerous," they are by definition not representative. You can't study the "most colorful" fish in the sea, and then reasonably conclude that all fish are equally colorful. That's just plain stupid.
2. Ad hominem – this fallacy occurs when one attacks a person's character rather than his or her argument (Foster, p. 204). If, after reading his book, I were to proclaim, "Mr. Horowitz is a lunatic, who should be institutionalized to protect the public," I would be committing the fallacy of ad hominem. Although most of his book is ad hominem, my favorite instance is the repeated character assassination of those professors who have raised questions about the war in Iraq or attempted to understand the motivations of the 9/11 terrorists. To even ask these "questions" gets one branded "anti-American" in The Professors (pp. 3, 7, 75, 110, 164, 178, and 189). Rather than debate the "justness" of U.S. foreign policy, the Iraq War, or even war in general (Horowitz is critical of the entire field of Peace Studies [p. xxv]), Horowitz lobs verbal grenades at the character of these distinguished professors. I suspect this is because if he were to engage them rationally on these issues, he would find himself on the losing side.
3. Ad populum – this fallacy results when one appeals to tradition or prejudice rather than to reason (Foster, p. 205). Were I to imply, without offering evidence, that The Professors is just your typical right-wing, extremist, fear-mongering, irrational malediction that would be ad populum. Likewise, when Horowitz lumps a tremendously diverse array of academics under the label "radical," it is calculated to appeal to his readers' prejudices. Rhetorically, it works to erase their vast differences and to make them "guilty" by association … with each other (they are, after all, on the same list) and activist organizations. The book further appeals to readers' prejudices by "outing" various professors as Marxists, communists, socialists, feminists, and queer theorists (pp. 13, 23, 61, 64, 92, 120, 160, 169, 177, 180, 186, 217, 293, 308, 323, 329, and 346). Given that Horowitz does not define these perspectives or clearly articulate his objections to them, it would appear that they are deployed specifically to evoke fear, rather than as part of a rational argument. As the book is "A Main Selection of the Conservative Book Club," such fear appeals may be effective, if fallacious.
4. Shifting ground – this fallacy involves unreflectively changing the proposition initially offered (Foster, p. 208). Should I posit that Mr. Horowitz loves poor reasoning, but only demonstrate that his book is poorly reasoned I have shifted ground. Horowitz is constantly shifting ground in The Professors. He claims that his objection is not to professors' biases, but to their imposition of those biases on students (p. xxvi), and yet example after example in the book is draw from professors' statements outside of the classroom. He repeatedly quotes their scholarship, public remarks, and other non-classroom sources to illustrate his point. But these things don't illustrate his point; they silently and unreflectively shift the ground of argument, fostering the false impression of evidence.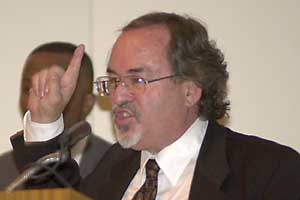 David Horowitz
I could go on and on, as The Professors is filled with logical contradictions, bold unsupported claims, and flat out non-sequitors. But what's my point and what does it have to do with our media culture? My point is that in a society flooded with information, it is more vital than ever that we teach students to critically assess and evaluate that information. If it is built upon faulty reasoning, then we should judge it accordingly. Poorly reasoned, hyperbolic rhetoric such as The Professors undermines healthy public debate. Let me close with a hypothesis of my own, for which I will proffer at least some initial evidence. Feel free to add your own. Thesis: David Horowitz's The Professors mirrors the decline of rational public discourse often attributed to television culture (see Hart; Postman). Argument by analogy: Like television, it is little more than spectacle and tabloid, a distraction from the truly significant social and political issues that deserve our sustained attention. Like television, it is a character driven fiction, not a rational expository argument. Like television, it privileges superficiality over substance, and surface over depth. Like television, it is entertainment, not scholarship.
In The Sound Bite Society, Jeffrey Scheuer argues that television is increasingly altering the very form of political discourse today (p. 9). The rise of sound bites and image politics, he further contends, serves the rhetorical and ideological interests of the Right. Since their messages tend to view the world in simple, absolutist, and binary ways, they are particularly well suited to the new fragmented, electronic landscape. The Republican majorities in the House and Senate, the majority of state governorships, and the occupation of the White House would all seem to support Scheuer's claim and to suggest that if there is a growing ideological hegemony in the U.S., it is not, as Horowitz hysterically decries, coming from the Left.
Works Cited:
Foster, W. (1917). Argumentation and debating (rev. ed.). Cambridge, MA: The Riverside Press.
Hart, R. (1994). Seducing America: How television charms the modern voter. New York: Oxford University Press.
Postman, N. (1984). Amusing ourselves to death: Public discourse in the Age of show business. New York: Viking.
Scheuer, J. (2001). The sound bite society: How television helps the right and hurts the left. New York: Routledge.
Hysterical Rhetoric in the Guise of Argument Cited:
Horowitz, D. (2006). The professors: The 101 most dangerous academics in America. Washington, DC: Regnery Publishing, Inc.
Image Credits:
Please feel free to comment.