Merging With Diversity, or, Got MLK?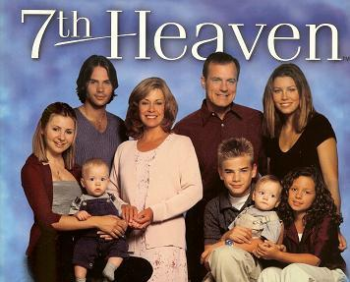 the cast of Seventh Heaven
On Monday, January 23rd, the WB Network's Seventh Heaven tackled An Important Issue in an episode called "Got MLK?" Previews suggested a civil rights riot of sorts, and so, ever keen to see how to solve racial intolerance in forty-five minutes, I made a date to watch it. A new African-American boy, Alex (played by Sam Jones III), moves to town, and his zeal to write a report on Dr. and Rev. Martin Luther King, Jr. (and wooden character Martin's dismay that Alex finds the memory of King more important than baseball) inspires a teacher to make the students rewrite their reports on famous African-Americans. From there, all goes awry — hate crimes directed at Martin's prominently placed Honda Element (yes, even Important Issues need product placement, so it seems), fights, corny dialogue, and painfully patronizing speeches to the camera. But after Alex wins over the town by relating the sad story of his grandpa's death at Hurricane Katrina's hands, the father-daughter minister team and the show end on the note that there is still a lot to be done for the African-American community, and that King's dream must live on. To prove their inspirational commitment, they enact a ritual cleansing of all the town's cars (perhaps because, following Marcuse's fears of a "one-dimensional society," "they find their soul in their automobile"?).
The next day, on Tuesday, January 24th, WB and UPN announced that they would merge, forming a new network called CW. Both networks have struggled individually, rarely pulling in more than a fraction of the total audience that their Big Four competition manage, even if garnering enviable Nielsen ratings with young women and girls, in the case of WB, and with African-Americans in the case of UPN (UPN regularly places 4 or 5 times on the Nielsens Top 10 for African-American audiences). WB has had two profitable years, UPN none. Starting next TV year, therefore, CW's newly anointed head Dawn Ostroff will aim to bring the network's two constituents' schedules together into one. In this column, I ask what would Alex think? Inspired by John Hartley's recent knighting of me as a Ghost of Television Future, here I try to peer into the channel's future, to see if it's "got MLK."
It would be nice to think that this episode of Seventh Heaven was WB CEO Barry Meyer's cute way of telling WB viewers to prepare for their own African-American transfer students. After all, the WB is pretty darned white: trying to spot the Black kid in Everwood, The Gilmore Girls, Seventh Heaven, One Tree Hill, Supernatural, Charmed, Related, Reba, or Smallville is a hard task (though, in fairness it should be said that Smallville used to have a semi-regular African-American character … played by Sam Jones III, no less). With several critical and ratings successes like Everybody Hates Chris and the Tyra Banks-hosted America's Next Top Model likely to make the transfer, loyal WB viewers will find more African-Americans on their screens than they've seen since vampire-with-a-soul Angel found a Black sidekick in an L.A. street gang.
However, rather than see this cute message, I instead see irony. Sad irony. After giving us a well-meaning (even if poorly delivered) message about King's dream, the next morning, WB and UPN woke us up and cancelled the car wash. While Everybody Hates Chris and maybe a couple of other UPN shows with African-American casts (Eve? Girlfriends?) will make the cut, many won't … or, look for a politically correct CW to keep them around for half a season just for appearances. Ostroff has already confirmed CW's interest in keeping Gilmore Girls, Supernatural, Smallville, Reba, Beauty and the Geek, America's Next Top Model, em>Everybody Hates Chris, Veronica Mars, and WWE, which adds up to 9 of her 13 primetime hours. Add two of Charmed, Everwood, and One Tree Hill, and a few new shows, and there's no room left on the ark.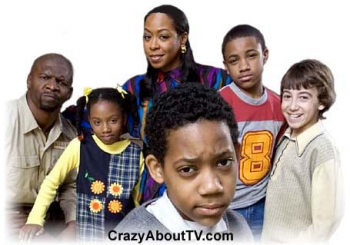 the cast of Everybody Hates Chris
Certainly, if, as is claimed, CW wants to become a successful rival to the Big Four, it won't do so by being an odd combination of two niche audiences — teen girls, and African-Americans. But in the commercial faceoff between the youth market and the African-American market, history tells us who wins: the kids have it. By combining the best of WB and UPN, CW seems quite well poised to challenge Fox as the network of America's youth, a title that would promise it lucrative ad dollars from an industry yearning to find ways to reach the often broadcast-weary teens. Meanwhile, given CW half-owner CBS' success with older audiences, a youth channel would be ideal for this corporate parent to widen its portfolio. In other words, it seems fairly certain that CW will jettison more than just a few shows that are popular with African-American audiences, and more than just a few African-American above-the-line cast and crew. Gone, too, will be a programming interest in and dedication to African-Americans. Call it the Follow in Fox's Foot-Steps Plan.
Such is the sad state of diversity in the industry that CW will still no doubt be one of the more diverse networks. After all, this is the same business where ABC's commissioning of The George Lopez Show literally doubled the total number of Latino/a characters in primetime across all networks (other than Univision). ABC will likely keep the mantle of most diverse programmer, given Lopez, Freddie, and mixed-cast wonderkids Lost and Grey's Anatomy. And CBS, FOX, and NBC are all slowly, slowly edging towards mixed casts. But even if only, say, Everybody Hates Chris, Eve, and America's Next Top Model make the cut, that still represents more African-American primary roles than in CBS's entire primetime schedule.
But what kind of characters are there? Here, we reach a dilemma in discussing hopes for CW's future. Either they drop UPN's commitment to programming for and with African-Americans completely, or they mix it with WB's commitment to young, urban, and funky youth, and in the process give us a very tired stereotypical image of African-American life. As is, UPN has African-American cast members of many ages, but if CW heads in the direction of WB, the majority of its African-Americans left on primetime will be young and hip. What about the older African-Americans, and what about those who aren't paragons of cool? I worry that African-Americans will be welcomed to CW only if they conform to the stereotypes of the guy who'll bring the cool music to the party, the sassy supermodel who knows how to strut down the catwalk with 'tude, or the bur-in-his-saddle jock wanting another Black History Month.
Ultimately, though, CW is only half of the equation here, since we also need to ask after the affiliates left behind. Here my crystal ball grows opaque. And a final, overarching concern regards what this merger does to the media landscape more generally. But the prospects at this time seem grim for a step forward in racial diversity in American primetime. No car wash, no MLK: just An Important Episode every once in a while starring Sam Jones III and a Honda Element.
Image Credits:
2. the cast of Everybody Hates Chris
Please feel free to comment.