On The Set With Degrassi: The Next Generation ~ There's Something to Be Said for Passion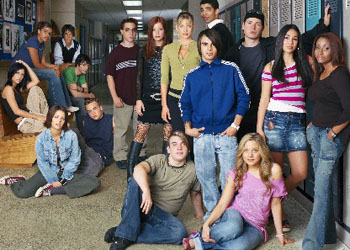 The Cast of Degrassi: The Next Generation
(AUTHOR'S NOTE: In the spirit of FLOW doing things differently, the following is an informal, "academic-tourist-friendly" account of my trip to Toronto this past November, during which I visited the set of the hit Canadian-produced teen show Degrassi: The Next Generation while doing research for current projects involving this show. In the spirit of past calls on FLOW for us academics to take a stand on TV that we think matters — here you go!)
It started with cats in 1979. Honestly. One of the first new things I learned about the teen series Degrassi: The Next Generation (DTNG) when I visited Toronto to do research on this show was that its roots can be traced to a children's book about cats making a movie (written by Kay Chorao). Executive Producer Linda Schuyler (at the time a public school teacher in Toronto) used the book as a tool for encouraging young children to make their own media, turning it into a short film for TV (Ida Makes a Movie — kids instead of cats). The movie became a series, became a series, became a series…The Kids of Degrassi Street became Degrassi Junior High became Degrassi High became DTNG.
I grew up in the 1980s in the good ole' U.S. of A., and I heard about Degrassi Junior High, which aired on PBS here. But it wasn't until this franchise was in its roughly 23rd year that I became invested in what was by then a bona fide global teen TV phenomenon. For me, the hook was two-fold: 1) I work in the area of TV and reception, and DTNG is a stunning example of how TV and the Internet have met to reconfigure for its viewers the very idea of what it means to watch television; 2) having grown up (and older) with first a scarcity of inventive teen shows (e.g., My So-Called Life) and then a network devoted to them (WB), I am always on the look-out for programs featuring teens that actually seem to be trying to do something for their viewers. One night at 2 AM, I was up working and came across a program on the digital cable network The N (affiliated with Nickelodeon) in which a group of teen boys were having a sleepover — and one of them was freaking out because another was gay and sleeping next to him. "Huh!" I thought. "How often do I actually see homophobia among teen boys dealt with on a realistic level?"
So, I kept watching (especially after I figured out that the show airs at a more reasonable prime-time hour) and marveling: date rape, cutting, relationship violence, school shootings, parents with cancer, abortions…all with minimal preaching and maximum information. The kids were played by kids, the issues weren't resolved in a half hour (nor did they involve special characters coming in for one episode to "be the issue" and then disappear)… How in god's name had this show ever made it onto my TV set?
So off I went to Toronto, doing what a good TV scholar does: meeting the people who make this show run and asking them questions about how DTNG works. I'll leave it to the reader to find the show on their own (it's also on DVD for those who don't have digital or satellite) and assess the content and style of the show. Here I would like to emphasize a few things I learned while on set, because this series demonstrates some interesting talking points about the way we think about teens and television in this country. Further, as an educator in the area of TV studies committed to diversity and to the notion of "quality" being a viable TV commodity, I want to get the word out about this show. My trip could fill a book (and will at least fill a chapter in one), but I focus below on two elements that caught me off-guard in the most pleasing of ways: this program is respected nationally both for its entertaining popularity and its educational scope, and the people who make this show come to life believe that television (even when it's for profit) should have a purpose (other than profit). This show is fueled by passion — the passion of teachers, artists, and viewers — and in a TV culture dominated by hundreds of options, finding a series that runs on people's desire to make TV matter…well, there's something to be said for that.
The first sign that I wasn't in L.A. was that our cab driver didn't know where the studio lot was for the show — and that the studio lot was for all of two series produced by Epitome Pictures (the other is Instant Star). My husband/research assistant and I walked in and hit the ground running: on two separate days, we met everyone from the DP to the cast members to the set designers and I was astounded at how many people were willing to sit down and talk with us about their jobs while the shooting of the series' 100th (yes — 100th) episode was going on around us. Stephanie Cohen, Director of Marketing and Communications for Epitome Pictures, set the tone: I was a teacher and at Degrassi education is sacred. Stephanie gave us an all-access pass. We sat with DP Gavin Smith and director Phil Earnshaw, chatting with them between takes about the challenges of working on a shoe-string budget with teen actors being asked to deliver nuanced performances about prayer groups in schools or abusive parents (I'm flubbing here — I'm not permitted to reveal spoilers about what's actually in that 100th episode!). We chatted with actor Adamo Ruggiero (who plays the openly gay Marco) about consumer-oriented media and product placement — because that was the topic of the article he was studying for a class (in-between takes that involved corporate sponsors for the series, ironically). Supervising producer Stephanie Williams gave us time before an Instant Star table-read to talk about the importance of casting DTNG in as diverse a way as possible — from having a range of female actresses with different body types to a range of different ethnicities present so as to reflect the demographic realities of Toronto for teens today. Writers Brendon Yorke and James Hurst spoke about the importance of writing so as to make a point: not "let's do this because it's a hot button issue," but rather, writing to demonstrate that "if you understand your neighbor," you'll see that there is always some other side to a story — some angle you might not have considered. This, dare I inject some academia, is the cultural forum I constantly seek in TV…some sense that TV can and should provoke discussion and debate. (And, if I may offer a personal note, when better to promote argument then in the teen years, when ideological perspectives are most firmly being set?)
Which brings me to another observation about my research trip. On one of the days we visited, members of the Degrassi team (from all its 25 years) were invited to a National Children, Youth, and Media Conference and Stephanie Cohen allowed us to tag along. This conference addressed an array of issues about media and children in Canada (and beyond); Degrassi was featured because it had been awarded the first annual Shaw Rocket Fund prize. This monetary grant is awarded to a Canadian series aimed at children, youth, and/or family that achieves excellence. For this first award, teen students throughout Canada who attended public and private schools participating in a program called "Learning Through the Arts" (developed by the Royal Conservatory of Music in Canada — an entirely different article in the making), were trained in media literacy: from learning about pure aesthetics in production values, acting, and writing to the basics of semiotics (yes, semiotics for teens). The students, after their education, then chose from a variety of shows and overwhelmingly elected DTNG as the winner for its artistic and cultural value. Kate Eccles, one of the teachers in the Learning Through the Arts program, spoke with me recently about the importance of media literacy in today's global TV environment. In a world where students are taught to achieve the almighty test score for continued federal/national funding, the concept of learning itself often falls by the wayside. Teens live in an environment where media is king — but success in school is focused on your ability to "pass the test." Media literacy — which today, let's face it, is cultural and societal and political literacy — cannot truly be tested (however important that literacy may be to becoming an informed and productive citizen), but it certainly can be taught.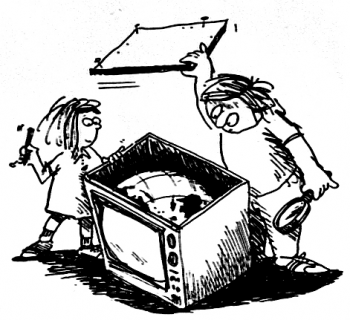 Media Literacy
The fact the DTNG passes the muster for popularity, profit, and media literacy speaks to its importance as a cultural text. Perhaps it's the holiday season passing through me, but I can't help but wonder: where is "our" U.S. Degrassi? Should a show that speaks to teens as if they are actual humans capable of thought and emotional knowing be restricted to those whose families can afford a 100$ plus cable bill? In the Northern climes, this show is a hit on adult TV. Among my Chicago students (a major TV market), this show scores well with "non-traditional" viewers hungry for realism and depth and diversity. This semester I showed an episode about VD to my students and their jaws dropped — and then we talked and I am still getting emails about the "oomph!" of that episode for them. I don't often soap-box about TV (as much as I adore it). But it seems to me that a show that offers substance, entertainment, and passion (not to mention that speaks its passion through its artists when it has no financial need to) should make us wonder about what U.S. TV offers to its teens and how we assess the idea of "teen TV." My Chrismakuhkwanza gift? If you have pre-teens or teens, if you like teen TV yourself, if you teach about youth and media or teach those who are entering into TV…get people to watch this series. At the very least, you'll find yourself watching an invigorating program that entertains, educates, and provokes inspiration and thought.
(Special thanks to the cast, crew, and producers of DTNG for their interviews — especially Stephanie Cohen and Linda Schuyler and Stephen Stohn.)
Sources and Links
1. Ellis, Kathryn. Degrassi Generations: The Official 411. Madison Press Books: Toronto, 2005.
2. Byers, Michele (ed). Growing Up Degrassi: Television, Identity, and Youth Cultures. Sumach Press: Toronto, 2005.
Learning Through The Arts
Shaw Rocket Fund
The N: Degrassi
Image Credits:
1. The Cast of Degrassi: The Next Generation
Please feel free to comment.