Devils in the Details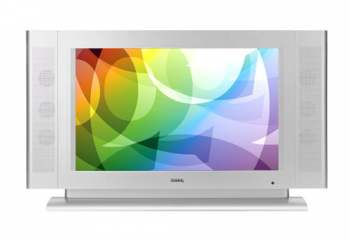 TV
IN ADDITION TO OUR REGULAR COLUMNISTS AND GUEST COLUMNS, FLOW IS ALSO COMMITTED TO PUBLISHING TIMELY ONE-TIME COLUMNS, SUCH AS THE ONE BELOW. THE EDITORS OF FLOW ARE TAKING SUBMISSIONS FOR THIS SECTION. PLEASE FEEL FREE TO CHECK OUT OUR LATEST SUGGESTED CALLS FOR CONTACT INFORMATION.
It ended with just a click. I would have expected a little more, maybe a puff of smoke or a few sparks, perhaps even a forlorn sigh. But no, it was just a mundane click. On Saturday, November 19, 2005, at 6:35pm EST, my television died. It had been acting funny all day, and then in an apparent act of suicide, it simply turned itself off. I went through the expected stages of denial — it will turn itself back on! — and bargaining — maybe it's just a fuse and I can fix it myself! But then in place of acceptance came craving, the urge that all good capitalist subjects have — I've gotta buy an HDTV set! So I headed out first thing the next morning (relatively speaking; it was a Sunday, so I had to sit tight til 11am), and I bought myself a new HD set.
I have been reading about HDTV for years now, and I always use a chunk of my Television History course to discuss the future of television with my students, paying particular attention to the ways in which new technologies might change what we see and how we see it. I've read so many predictions about the potential impact of the HD image-it will dramatically change televisual space, set designs will have to be completely overhauled, news anchors with poor complexions will have to find a different line of work, hockey will become popular — that I couldn't wait to get a set in my living room and start working on my own projections. As I first turned it on, I was surprised that I wasn't immediately blown away by the image. Sure, it looked crisp, I thought, but this is it? This is what the hype is all about?
But after a few hours of viewing the handful of HD channels I could get, I found myself slowly seduced by the sublime images and wholly consumed by the smallest details at the expense of, quite literally, the big picture. I must have stared for a good minute at the sheer beauty of the news logo of a bird before becoming aware that the anchor was telling me how it could kill me. During SportsCenter, instead of watching, and listening to, Dan Patrick, I found myself captivated by his reflection in the anchor desk. Perhaps most problematically, during CSI, I completely missed the backstory of the featured crime as I found myself lost in the dreamy pool of green that is Gary Dourdan's eyes. And I'm simply captivated by absolutely anything in shallow focus; the foreground leaps off the screen, while the background colors look like a vibrant abstract watercolor. I watched a PBS puppet show for three-year-olds for about a half-hour simply because it was primarily shot in shallow focus. Is this what HDTV will be for me, a distraction of detail, a parade of shade and surface rather than characters and stories?
I'm sure I'll get used to it at some point. After all, I often show my Film History students early Lumière films like Feeding the Baby and relate the possibly apocryphal tale that the cinema's first audiences were more fascinated with the fine details of leaves blowing in the background than the foreground action of the child being fed. Of course, after a few viewings of those Lumière films, the images of blowing leaves and workers leaving factories became pretty routine, and narratives began to be told through editing and camerawork. Today, a set of mature storytelling techniques is already in place, so how will the medium as a fictional storyteller accommodate the new possibilities of digital detail? Will the dramatic color saturation that is possible in HD be incorporated into otherwise aesthetically neutral genres like the family sitcom? Will the pacing of programs actually slow down to accommodate the kind of detail gazing that I'm now hooked on? Will dramas take the next logical step from Lost and insert narrative clues of such fine detail into their mise-en-scène that only a 1080i image can reveal them? I look forward to watching the answers to these questions unfold in crisp detail on my new television set. One other feature — the new TV makes a cute trilling chime when I turn it off. This one will go out with a beep, not a whimper.
Image Credits:
1. TV
Please feel free to comment.