The Cost of Not Selling Out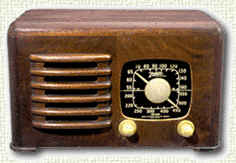 Old Radio
Radio? What's that?
I recently discussed radio in a media technology class and found that it was largely irrelevant to my students, all of who were between the ages of 19 and 21. I asked them how they discovered new music, aside from the recommendations of friends. Many of them said through advertisements or placement on television shows. How is that, I asked. They replied that when they heard an intriguing song in an ad or program, they would catch a snatch of lyric and "google" the phrase to determine the title of the song and artist. In fact, they actually preferred to hear music in ads rather than on the radio: "You can hear the best parts of the song sooner that way."
At the next meeting I distributed an article from the Los Angeles Times describing former Doors drummer John Densmore's refusal to allow "Break On Through" to be used in a campaign for Cadillac Escalades, although his surviving bandmates had agreed after GM dangled $15 million in front of them. "Artists and corporations working together, that's the 21st century. That's the true Age of Aquarius," said keyboardist Ray Manzarek. Densmore countered, "On stage, when we played these songs, they felt mysterious and magic. That's not for rent."
What did the students think? The students (including several aspiring musicians) all thought Densmore was a chump and a fool. And why should they believe otherwise? They've been steeped in an economic fundamentalism all of their lives, a fundamentalism in which virtually everything they see and do has been subsumed to the logic of the marketplace, a logic in which society serves the needs of economics rather than vice versa. They've never known anything else. If it makes money, it's good. There's nothing wrong with selling out; indeed, there's no such thing as selling out, since no alternative exists.
So I went home that evening and listened to a compilation of unreleased live performances by Peter Green's Fleetwood Mac. Peter Green founded Fleetwood Mac in 1967 as a straightforward blues band. I always thought that the notion of "virtuosity" in playing blues was essentially meaningless, akin to "virtuosity" in saying Mass, but these recordings go a long way toward proving otherwise. Although Green trafficked in the traditional braggadocio of a bluesman, his work was marked by an understated power and otherworldly lyricism. Green may have been an unschooled musician, but he was innately aware of a principle in Indian music called the "unstruck," in which the note you don't play is as important as the note you do. Like Miles Davis and a few others, Peter Green knew that one note can speak as much as 20, that silence can say as much as sound. On one of these recordings, Green begins a song with five notes, as soft and dexterous as a lover's caress, that summon a collective, involuntary gasp of pleasure from the audience.
But blues is more than a series of notes; it means accepting a life that you cannot escape, a life for which you are only partially responsible. Growing up poor and Jewish in the East End of London, Peter Green understood the blues better than most of his colleagues. His best work had a stoic sweetness streaked by a blade-cold despair. You can hear it in the loving bite of "Need Your Love So Bad" and so many others, but you hear it best in the terrible, shattered peace of "Love That Burns," which conveys a heartbreak so devastating that it edges into nihilism.
By late 1969, Fleetwood Mac was hugely successful in Britain and making inroads into America. That year they won Melody Maker's listener poll as the most popular band in England, edging out the Beatles. And then the clouds rolled in. Confused by the contradiction of sudden wealth and a working-class background, Peter Green grew increasingly disillusioned with success. He became obsessed with religion and began appearing onstage bedecked in long white robes. Green donated all of his money to charity and tried to convince the other band members to follow suit, but they refused. A bootleg tape from this period features a coda to perhaps his best-known song, "Black Magic Woman," and it is the most terrifying music I have ever heard. Green races ahead of the band, his guitar screaming in rage and pain, until the band gradually drops out. Green plays a simple line high in the register over and over, an icy, spectral phrase that shimmers like the Aurora Borealis, until it too fades away. Five seconds of silence follow, the audience too stunned to respond.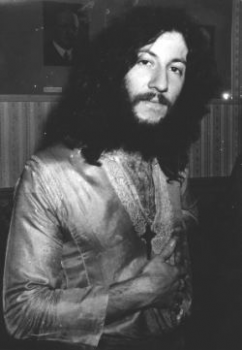 Peter Green
Peter Green left Fleetwood Mac in May 1970 for life as a solitary ascetic, giving away his possessions and laboring as a gravedigger and hospital orderly. He was institutionalized in 1977 for jokingly threatening to wield a rifle against his one-time manager in an attempt to stop royalties from his former life. By the early '80s Peter Green was living as a recluse in West London. He had grown four-inch fingernails to ensure that he couldn't play, paying penance for his stature as the greatest bluesman of his time. A decade later he made a brief comeback. I saw him perform in Chicago. He shuffled onstage (a writer later described him as "Dickensian") and was greeted by a standing ovation. He left most of the solos to his colleagues, still uneasy with his talent. At the end of the beatific instrumental "Albatross," however, he allowed himself a shy, quiet smile.
Eric Clapton, not a man noted for his loquaciousness, once said about Jimi Hendrix,
"I think that that is probably the curse of genius, you know, that you are alone . . . Nobody can understand the depths that you go to when you reach down inside yourself to play or to express — you can't take anyone with you to these places, and sometimes you find things that are very scary. And I think you have to survive that on your own, and that's a very lonely experience and it's not something you choose. It's not something you would necessarily go after, it's something you inherit with your gift . . . "
Like Hendrix, Peter Green had this gift in abundance; like Hendrix (and Kurt Cobain), it was his undoing. I've been listening to Peter Green's recordings for over 30 years now, and I still listen to them at least once a week, and I'll do so for the rest of my life. And every time I listen to them, I remember how much it can cost to not sell out.
Image Credits:
Old Radio
Peter Green
Image Credits:
1. Old Radio
2. Peter Green
Please feel free to comment.