Editorial: Mommy, Where do Presidents Come From?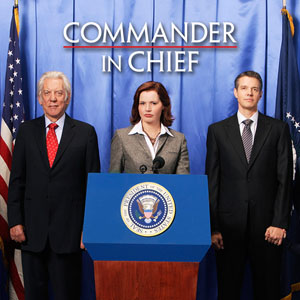 Commander in Chief
ABC promised that this fall, a woman would be President — if, that is, we would be so kind as to tune in on Tuesday nights. Commander in Chief has been alternately praised for and accused of being a dry-run for Clinton: Part Deux, but the series pointedly takes several stabs at Hillary with as much force as its self-congratulatory feminist framework can sustain. Sure, C in C's concept allows for the pleasurable mobilization of a lot of "what ifs?" (What if an Independent were to take office? What if the First Lady were a he? What if the President's children happen to be unusually good looking?), but few of these map convincingly onto Hillary '08.
All of which is not to say that Commander in Chief suffers from any lack of self-awareness or self-importance; the first few episodes should dare not operate heavy machinery under such heady intoxication of "making History" — the first Independent President! the first female President! maybe the first black Vice President! (whoa, too much history, back up!). But the show isn't as interesting for the questions it answers as the questions it poses — intentionally or not. Scrape off the generous slathering of Velveeta and Commander in Chief reveals itself to be less about who we want the president to be than what we want them to be.
In The Paradoxes of the American Presidency, Thomas Cronin and Michael Genovese identify numerous competing and conflicting demands and expectations that are placed on the office of the president. The book questions what kind of Commander-in-Chief Americans want: "strong and innovative leader or someone who primarily listens to the will of the people? A programmatic party leader or a pragmatic bipartisan coalition-builder? A president who exercises power forcefully or someone who establishes consensus before doing anything?" Not surprisingly, the answer is, rather problematically, C) All of the above.
The navigation of such binary demands structures both Commander in Chief and The West Wing, that other "I wish this was my President" show, but the relative nuance of the latter often obscures these tensions at work. For TWW's President Bartlett, this conflict is embodied and resolved in a continuous internal moral struggle. Where Bartlett simply is his Presidency, C in C's Mackenzie Allen must craft one from scratch, and the show doesn't hide (or is less capable of hiding) the scaffolding of this construction from us.
Allen's bumpy presidential journey finds no mirrored internal existence, but rather is externally grafted directly onto her navigation of the travails of motherhood. It is in the show's collision of west wing and east wing that the two jobs are brought into mutual relief; the conflicting demands on the presidency are positioned as comparable to those on mothers. Both require the unending oscillation between soothing and stern, lenient and restrictive, active and reactive, and most importantly, the instinctive knowledge of when to be which. While surveying hurricane damage in Florida, President Allen is interrupted with news of a major national threat while reading a book to a group of children; she ends story time immediately, her transition decisive and innate (hmmm, and the non-partisan gloves come off…NOW).
In a veiled summation of Commander in Chief's "Rules for Parenting/Presidenting," a Secret Service agent is reprimanded for allowing the Allen's eldest daughter to sneak off with a boy: "Do you have kids? They're always asking for things you can't give them. Not because you can't or you don't want to, but because you know better!" According to C in C's internal logic, the president, like your mother, should be that person who just knows better — when the country should be allowed stay up past its bedtime, and when we should be sent to our room without dessert.
Comments welcome!
Image Credits: