Desperate Citizens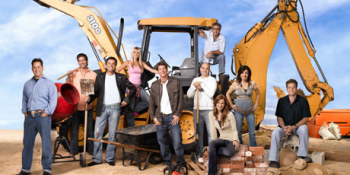 The Cast of Extreme Makeover: Home Edition
In the family hour timeslot proceeding ABC's guilty pleasure Desperate Housewives, over 15 million viewers regularly tune in for the Sunday evening's feel-good reality hit Extreme Makeover: Home Edition (EMHE). Premiering in December 2003 as a spin-off of ABC's primetime surgical expose Extreme Makeover, each week the peppy EMHE design team surprises a needy family with a good morning wake-up call, then sends them away for a week's vacation while their home is completely transformed. Unlike its predecessor and dozens of other makeover programs which train their subjects to better govern themselves through buying the right clothes, cooking the proper foods, shedding weight, surgically altering their faces and bodies and changing a number of consumption patterns to attaining individual health and happiness through upward class/taste mobility, the contestants on EMHE are presented as model citizens and deserving families whose problems are not the result of deficient self-management but rather of misfortunes that are no fault of their own. Many of these families have suffered severe health issues such as a daughter with leukemia, a parent recently diagnosed with adult epilepsy, a child with brittle bone disease, a baby that required a heart transplant, and perhaps most heartrending, a deaf couple with a blind, autistic child. Other families have lost loved ones due to car accidents and gun shootings while some have suffered property damage from flooding and fires. The families are often large (several have 8 or more children) including many who have adopted children and live with extended family members. In struggling to meet healthcare and housing costs many parents work multiple jobs and most work in the moderate to low-wage service sector from retail (hardware, toys, electronics) to social workers, teachers, youth counselors, nurses, postal workers, cafeteria workers, insurance agents, firefighters, national guardspersons and bank loan officers. For example, in one episode a single father worked as a firefighter and barber to support his five kids, two of which were adopted. The families are more racially and ethnically diverse than most network primetime programs (more than a third are African American or Latina/o). The series received a nomination for an Imagen Award which recognizes Latina/o accomplishments in TV — two of the rotating design team are Latina/o.
While the problems of many of these families seem exceptional, these Sunday evening glimpses into the lives of struggling families give exposure to the daily situations many of us face under the policies of centrist Democrats and Republicans who have transformed welfare as we know it through a consensual distaste for government sponsorship and an embrace of market liberalism. As Mark Robert Rank has elaborated in his recent book One Nation, Underprivileged: Why American Poverty Affects Us All, at any given time one fifth of the US population is either in poverty or on the brink and most Americans will experience poverty at some point during their adult lifetimes. While Rank argues that the social sciences have largely framed poverty as the result of individual inadequacies, this is far from the case on EMHE as these struggling families are embraced as model citizens — hard working, family oriented and community minded. In exposing the inadequacies of individual hard work and family values as avenues to prosperity and happiness in the land of opportunity, each week on EMHE the door is opened to exposing the structural sources (inadequate healthcare, unaffordable housing and unlivable wages) which produce our underprivileged nation.
However, it is no surprise that this commercially sponsored series makes every attempt to mask these structural sources of inequality by suggesting that the heroic efforts of its program sponsors can solve these problems via corporate benevolence and volunteerism. Indeed, in a digital TV era of time-shifting and multichannel audience fragmentation EMHE serves as a model for financing programs through product placement and corporate sponsorship. The housing construction, finance and design industries line up to pitch their products and services under a veneer of corporate good will. Ironically (or tragically) it is this housing industry, in-part, which has supported the real estate boom that has made it so difficult for the show's recipients of this corporate goodwill to get by. Sears, the main sponsor, pitches its line of appliances and other moderately priced home furnishings designed by the hyper-energetic EMHE host Ty Pennington. The corporate synergies of Disney/ABC are on display as families are often sent to Disney's theme parks while their homes are renovated. In one episode the Disney imaginers helped with designs and in another Snow White and the Seven Dwarfs helped renovate. During a time when the FCC and advocacy groups such as the Parent Television Council (who endorses EMHE) are scrutinizing the networks for indecency, the sanitary EMHE helps buffer the arrival of the decidedly more saucy Desperate Housewives (which the PTC does not endorse). And when a young child who suffers from Leukemia looks into the camera and thanks ABC for building her family a new house and redesigning the children's hospital cancer ward, the corporate good will for ABC is priceless while the gruesome commodification of a child's suffering is glaring. Meanwhile the series often vilifies social welfare workers for threatening to take children away from their loving families.
This corporate good will is indeed powerful as we cannot help but be moved by these powerful narratives of family rescue. (After long discussions with my students about the structural origins of inequality and the marginal effects that this corporate benevolence has in addressing it, they are often still appreciative that ABC/Sears are at least doing something to help out). Still, there are moments when these thousand points of corporate light do not always convince that they are enough to solve otherwise structural social problems. When the design team rolls into Watts (accompanied by the typical collage of barbed wire fences, garbage filled vacant lots and graffiti covered walls) to help a woman known for her community involvement recover from a flood, the design team is faced with the larger problem of improving the entire neighborhood for which "Sweet Alice" has so tirelessly dedicated her life to improving. When Sears distributes mattresses and bedding to a dozen residents on the block and the construction workers build front-yard fences, the inadequacy of their efforts to renovate the neighborhood is stark. In another episode, the design team comes to the aid of two families who were living in temporary housing. The father of one family of four lost a well-paying manufacturing job and couldn't find work while a mother of two who worked two jobs at 80 hours per week could not afford her rent when she separated from her boyfriend. The design team added a duplex to the Colorado Homeless Families complex, but when confronted with a more systemic issue of homelessness, one designer said, "I think we should be able to pull together as a culture and a society to eradicate homelessness altogether, and most especially for kids." When a corporate sponsor gave one of the homeless men a job as a security guard another designer said that this was the greatest thing the show has ever done. Meanwhile, the hedge fund that orchestrated the $11 billion merger between Sears and Kmart in the preceding year that resulted in 850 lost jobs made a 23% return for the year (much of this coming from its 39% stake in the new Sears Holdings) and the fund manager who led the merger made more than $1 billion that year. Also, corporate benevolence is undermined when families sue ABC for shoddy construction or hold them responsible when families breakup over disputes on how to share the loot.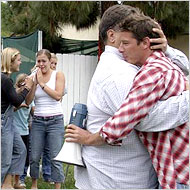 UKTV Style
While these moments of contradiction at times destabilize the commercial ideologies of corporate benevolence that EMHE strives to maintain, Thomas Streeter's suggestion to focus our critique of TV on advertising and commercial sponsorship is particularly relevant for understanding how programs such as EMHE frame the range of causes and solutions to structural inequalities. In addition, when discussing alternatives we should take seriously the representational modes through which EMHE engages large audiences (and winning the 2004 People's Choice Award for best reality show and the 2005 Creative Arts Emmy for Outstanding Reality Program) in stories of hard working, community-minded families that struggle to attain even the basics of the American dream. Fan chat is filled with empathy for the families with warnings such as "don't watch this episode if you don't want to cry," and the feel-good moments when these deserving families receive the surprise bounty during the dramatic reveal. There is also a "how did they do that" fascination in watching a hundred workers tear down and rebuild a home in only a week, and the suspense of "will they actually finish it in time." The made over homes seem to grow increasingly enormous and the designers mostly share the normative metrosexual taste cultures of other makeover shows, favoring elegant clean lines, "sophisticated" looks and designing around style themes referred to as Serengeti, Tuscany, or Island Escape. There is more fun in watching the design team construct high-concept rooms for the children such as a spy room replete with a fingerprint-activated door lock: gender norms are often codified as girls get princess and ballerina rooms while boys get dinosaurs and race cars. Sometimes high-concept landscapes undermine otherwise status-conscious decor such as a backyard scaled-down replica of Yankee's Stadium and a pirate ship. The designers' tastes sometimes clash with the families' — in one of the how-are-they-doing-now follow-ups viewers might have noticed that the beige siding and chocolate front door had been repainted ocean blue and violet. Pleasures also come from sex appeal — in 2004 People magazine chose host Ty Pennington as "one of the sexiest men alive."
In evaluating British makeover television Charlotte Brunsdon argues that realist modes which lack dramatic reveals and are more explicitly instructive should be valued over "showbiz"melodramatic modes. In thinking about non-commercial alternative reality TV in the US context I wonder if this evaluative criterion holds. Consider an upcoming episode of EMHE. When George W's handlers got wind that EMHE would shoot a show in Biloxi they volunteered Laura Bush to come help out. Her spokeswoman said Mrs. Bush shared the conservative values of the show that support the private sector's corporate benevolence over the slow-to-react federal government. But with federal recovery dollars dwarfing corporate or individual donations how might a public television-sponsored reality show depict this extreme gulf-coast makeover? Imagine the dramatic before and after reveals of new schools, entire neighborhoods, town halls and hospitals all made possible by government provisions and our collective social insurance programs. There would be narrative suspense in wondering if that high school football stadium sod would be laid in time for the opening game and feel-good stories of seeing deserving residents who had endured hardship and the loss of loved ones find new jobs and careers thanks to the public and private partnerships that made rebuilding communities possible. There would be sex appeal when Kayne West hosts a special edition on replacing Trent Lott's million dollar ocean-front estate with community planned and developed affordable housing and a public promenade. While ABC, Sears, Laura Bush and their fellow corporate PR philanthropists help to rebuild the lives of a few in one tiny corner of Biloxi, imagine how a vibrant public television service could cover hundreds of extreme community makeovers, replete with suspense, melodrama and sex appeal, all made possible not only by the voluntary contributions of individual viewers like you, but through the billions of tax dollars, social service programs, housing subsidy initiatives, city council efforts, urban planning coalitions, state healthcare boards and local chambers of commerce. As a new genre of commercially sponsored good Samaritan TV propagates notions that corporate benevolence can solve structural inequality (think of The Scholar sponsored by Wal-Mart on ABC, Mobile Home Disasters on the WB, Trailer Fabulous and Pimp My Ride on MTV, and the upcoming Three Wishes on NBC), let's imagine the possibilities that an extreme makeover of public television could have if it developed melodramatic, suspenseful and sexy reality TV programs that accounted for the necessary public and private partnerships needed to address the structural origins of our underprivileged nation.
Bibliography
Brunsdon, Charlotte. "Lifestyling Britain: The 8-9 Slot on British Television." International Journal of Cultural Studies 6.5 (2003): 5-23.
Rank, Mark Robert. One Nation, Underprivileged: Why American Poverty Affects Us All. Oxford: Oxford UP, 2004.
Image Credits:
1. The Cast of Extreme Makeover: Home Edition
2. UKTV Style
Please feel free to comment.