Teen Choice Awards: Better Than The Emmys?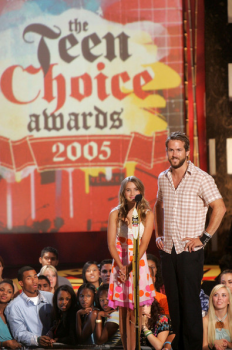 Teen Choice Awards 2005
I admit it: I am a TV Award Show junkie. I throw parties, accompanied by my annual rant on the horrible results — quickly followed (after a bit of champagne) with a follow-up rant on what was not nominated that should have been. One show that I haven't paid as much attention to has been The Teen Choice Awards, and this summer I found myself wondering why this has been the case. I love teen television, whatever that may be, and I am routinely disappointed at how many "legitimate" award shows leave out some of the best programming we have in the U.S.
This year, I paid attention — and I suggest that as TV scholars we all start paying attention (to these awards, and more broadly, to the shows that fall into the ever-expanding category of "Teen TV"). The Teen Choice Awards are similar in nature to shows often dismissed (People's Choice, MTV): nominations emerge and "real people" vote online for their favorites. This summer, as I tracked the nominations and then the winners, I found myself thinking: "Hey! I'm more pleased with these than the Emmys!" And I really am in no way exaggerating. In particular, these awards surpass the Emmys in four key ways that we should heed: 1) forward-thinking in terms of technology, 2) range, 3) diversity, and 4) quality.
This year, The Teen Choice Awards added a new category: The V-Cast Award. While admittedly mired in commercialism (the award emerged from Verizon Wireless), this category recognizes that TV is expanding beyond the set to include short video content available by cell phone. Short-form content for the small(er) screen is a rapidly developing area of television that is quickly becoming as integral to viewing for many teens as going online to read and talk about their favorite shows. (Note: many of the series nominated for regular categories have avid online fan bases.) The fact that the show recognizes this significant trend suggests that the Teen Choice Awards are seeing (and pursuing) a future element of "TV" that others are not — something to consider, at the very least, in terms of how we ourselves teach and write about TV.
I was also impressed by the range of the shows that were nominated. Compared to the Emmys, there was, quite simply, a lot more going on; these awards gave me a much better sense of not only what teens might be watching, but of what TV is offering to viewers in general. If one looks at the Emmy nominations, one could surmise that only a few shows (and networks) capture viewers' hearts, minds, and spirit as they watch: we see the same series appearing on a regular basis, with some programs receiving multiple nominations in the same category. The Teen Choice Awards spread the wealth a bit (at least with their nominations). There are shows you might expect (One Tree Hill, That 70s Show) but quite a few that you might not — such as Desperate Housewives, Lost, Alias, and House. I could see Nickelodeon, WB, UPN — in addition to the "usual suspects." At the very least, this range is worth paying attention to if only to open our minds to preconceptions we may have about what constitutes "Teen TV"; it is also worth heeding because the range of nominations to a degree is honest about what people watch and enjoy and find worthwhile. I often feel that other award shows, in their rush to define excellence and quality, forget about the social, cultural, and psychological value of entertainment.
In line with range of programming, there also exists a much greater sense of cultural diversity in the nominations I saw for The Teen Choice Awards. The viewers who voted clearly represent a much more accurate sense of the diversity that exists in this country; and one can only hope TV executives are paying attention and taking notes — because in a very short amount of time, these viewers will be in that magic demographic of 18-49. I have often suspected that one reason reality TV does so well with younger viewers is the diversity of casting that exists in this genre — stereotyped though it may be. In the nominations for comedy and drama this year, I saw the names of shows and actors that many outside the world of Teen TV might not recognize — several of whom I think should have been included in the Emmy nominations (such as Donald Faison of Scrubs, Jorge Garcia of Lost, and winner of Female Breakout Performance — Desperate Housewives' Eva Longoria). Especially pleasing was the inclusion of winner DeGrassi: The Next Generation (Summer Series), a show from Canada featuring one of the most racially and ethnically diverse casts available on TV — and that also happens to address teen concerns in a socially realistic way (i.e., it doesn't shy away from what occurs in the world of teens, and manages to do so without talking down to its viewers). Would that our "legitimate" awards had such diversity.
The final variation I note — that of quality — is sure to raise some debate, but so be it. To be sure, many of the nominations offered for the Emmys are deserving of it — but, as Jason Mittell as argued for so eloquently in his past columns for FLOW, there is something to be said for making distinctions (especially since awards are supposed to be about exactly that). A few overlaps exist between the Teen Choice nominations and the Emmys (Zach Braff of Scrubs, Jennifer Garner of Alias, Sean Hayes of Will & Grace for actors; Scrubs, Desperate Housewives, Lost, Family Guy, and The Simpsons for series). More noticeable, in my opinion, is that several series and actors emerged in the Teen Choice lists that truly should have been there in the Emmy list. I had to turn to the Teen Choice Awards to see Gilmore Girls and its cast finally given their due (winner of Best Comedy, Actress for comedy [Alexis Bledel], and "Parental Unit" [Lorelai Gilmore, a single mother of a college-aged daughter])… Here I saw House, Grey's Anatomy, Veronica Mars, What I Like About You, and Everwood. These series might not be top Emmy picks for me (although I am still steaming mad that Gilmore Girls has been ignored, after a stunning season), but could certainly replace some of what got nominated this year. (I'll leave that for another column, post Emmy wins.)
I will still watch the Emmys on September 19th (take note — that's a Monday, so that it can avoid being beat in the ratings by Desperate Housewives), and I will still offer my rants to those who are unfortunate enough to accept the invitation to my party. This year, however, the rants will be informed by The Teen Choice Awards. I am a faculty member of the Academy of Television Arts and Sciences, but I don't have voting power. I can only hope hypothetically that if teachers in the field of television were permitted voting, we might see some of what emerged when teens did the voting this past summer: forward-thinking, range, diversity, and quality.
Image Credits:
1. Teen Choice Awards 2005
Links
2005 Teen Choice Award Winners
Gilmore Girls Official Site
Degrassi: The Next Generation Official Site
Academy of Television Arts and Sciences
Please feel free to comment.