How Much Do I Love myTunes? Allow Me to List the Ways…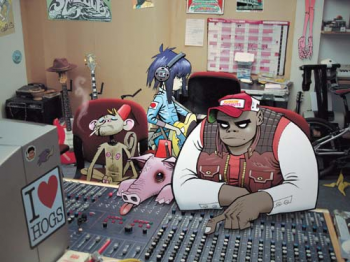 From Wired Magazine's July 2005 "Remix Edition"
As interesting as Wired Magazine's July 2005 "Remix edition" was, I couldn't help but ask why among the celebration of hip-hop culture, slash narratives, adobe photoshop, Andy Warhol, Barbara Kruger, Machinima and Robot Chicken, the lowly "mix tape", the one form of modified media that almost every one of my friends who are 30 or older own, was left unmentioned. Lest we forget that well before the trend over file sharing spread across Universities endowed with multiple T1 lines and gained the attention of the RIAA and MPAA, there was the practice of home taping. As far as remix culture goes, while a home mixer may never receive a praiseworthy grant or honorary degree, there aren't too many remix practices that have inspired as much consumer passion. Of the many "compilation tapes" I made and received, those that stand out are those cassettes of songs based on a theme or determined to make an "album better". Long before college kids were "modding out" their favorite video games with television characters they wish they could get to fight in computer-driven combat (imagine Homer Simpson with a laser rifle tracking down Spongebob Squarepants in a real-time 3D "manhunt" such as the Unreal Championship video game and you get the idea), I had made a tape of all of the one album worth of "good songs" from The Clash's excessive, three-disc set, Sandinista! Other compilations were put together under the romantic inspirations of friendship and love. As Thurston Moore of Sonic Youth puts it in the introduction of on his latest book simply titled, The Mix Tape,
"This book can only represent one zillionth of the people out there who have made the coolest tapes for themselves or others. In that respect, it simply exists as a nod to the true love and ego involved in sharing music with friends and lovers. Trying to control sharing through music is like trying to control an affair of the heart — nothing will stop it."
To be sure, putting together the right compilation tape, the right playlist of songs, was something of a sacred affair. As Nick Hornby puts it in his novel on obsessive record collecting, High Fidelity, "The making of a great compilation tape, like breaking up, is hard to do and takes ages longer than it might seem."
Of course, the practice both inspired debate and industry-sponsored paranoia. Memories being what they are, allow me to remind the reader of the "Home taping is killing music" campaign. The slogan would find itself on just about every record store shopping bag and on the lips of every record fan and music lover in the US. Music journalists often asked artists their opinion of home taping and the campaign's ubiquity became spoofed by one of the most memorable critiques of a public relation message ever launched: the "Home Fucking is Killing Prostitution" bumper sticker. And it wasn't simply because the sticker used the "F word" that you could buy this piece of latex commentary in independent record stores. By equating the at home practices of record listeners to a rather, ahem, intense pleasure of communication, the sticker underlined the complex set of ethics that have long accompanied the "personal use" of a very "public medium." Ever since 1940 when in the case of RCA Manufacturing Co. v. Whiteman , 114 F.2d 86, 88 (2d Cir.) the Second Circuit Court of Appeals decided that the claim of the music conductor on "common-law property in [musical] performances ended with the sale of records," a consumer could now take his own collection of records and, as long as they had no intention of profiting from this stockpile of recordings, share them in any number of manners. In the US at least, this decision opened the door to view recordings as both a good that was at once both potentially private and social. Making a personal copy of my records to give away to friends may be legally contested, but what mattered was that it simply felt like another mode of generosity, one step removed from providing records for a party or dance. Indeed, no matter how high profile a campaign the RIAA initiates, it's unlikely to change the fact that sharing recordings will almost always be seen as a mode of association, a form of communication that is personal and is none of the industry's business.
Which is a long-winded way to point out that the "personalization/modification" of media by consumers has deep and entrenched connections with recordings in general. And as outmoded as the "home tape" is, your PC's hard drive is simply another record and playback device, albeit an extremely sensitive and complex one. Of course, the kind of personal affection that inspired the compilation tape has found its way onto a whole new set of technologies. With the proliferation of mp3 players, CD burners and cheap CD-Rs the art of the mix is practiced now more than ever. Given the fact that the high end iPod now sports a 60gb hard drive that can hold well over 10,000 songs and work in concert with PCs and Macs, as programs such as WinAmp and iTunes that encourage listing and burning, the production of CDs with personalized playlistings has reached a new level. Uniting these technologies with file sharing programs, and the proliferation of DSL capabilities and you more of less have a supercharged in-home music publishing technology in every middle-class American home and office.
So what does a music industry that has been based on the sale of discs of some sort since the late 1940s do? Well, adapt of course. For one, this sort of adaptation has meant less of an emphasis on the direct promotion of discs and more on their indirect promotion through the licensing and cross-promotion of properties. Most specifically this has meant that the role of the music supervisor for any film or television program has become an even more important gatekeeper than it was before. When a company licenses the synch rights that place a band's song on The OC it is doing the double duty of generating revenue and distributing their commodity. For example, after the screening of the much-hyped finale of Six Feet Under prominently featured Sia's "Breathe Me" in the final few minutes in a sort of "montage of death" music video. The day after, the "soundtrack" to the show vaulted to the number two position on Amazon sales chart.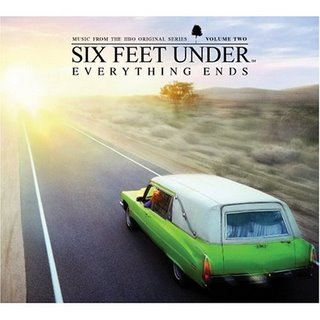 A Soundtrack Cover for Six Feet Under
But moving units is only one method. The second includes the gradual co-optation of personalization, specifically the act of "playlisting." MTV2 has produced Playlistism, a program which claims to feature "fans and bands talking about what's on their mp3 playlists as well as the hottest new gear for your m3 player." But most aggressive by far has been Apple. In its continual quest to commodify taste and style, the company most responsible for the success of personal mp3 players in 2004 launched both a paper and internet version of a music magazine simply titled Playlist through Mac Publishing, LLC. As a place where readers can learn about new portable media technologies, review submitted playlists, and access the occasional free mp3, the magazine conveniently provides a place to integrate consumer desires with the abilities of both its soft and hardware. And even more interesting is the manner in which Apple's iTunes store regularly features "celebrity lists", playlists that are ostensibly compiled and annotated by the likes of Tommy Lee, Robert Rodriguez, Bobby Brown, Nicole Kidman, Al Franken, both Brooks and Dunn, Kathy Griffin, Gus van Zant, Howie Mandel and so on. And if for some reason you care what Mr. Mandel has chosen for his listening pleasure, or you find his explanation for listing the Foo Fighter's "Best of You" convincing, you too can simply download the song from the iTunes for your iTunes player at a convenient 99 cents a pop. At which time, theirTunes become yourTunes and what was once a practice dreaded by the music industry becomes a licensed mode of distribution. And what was once sacred, is now simple, convenient and profane.
Image Credits:
1. From Wired Magazine's July 2005 "Remix Edition"
2. A Soundtrack Cover for Six Feet Under
Please feel free to comment.