Celebrity Nepotism, Family Values and E! Television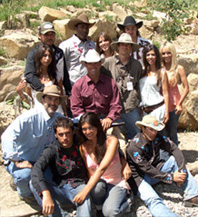 Filthy Rich: Cattle Drive
While thirty years ago second-generation Hollywood stars (Michael Douglas, Tatum O'Neal, Mia Farrow, Jane and Peter Fonda) were coming to be regularly associated with the era's highest-grossing films, today it seems there are endless numbers of celebrity progeny in film, television, literature, music and fashion. With Rich Kids and The Simple Life having established the viability of reality franchises built around celebrity children and the children of the superwealthy, late summer 2005 has seen the debut on E of a new series, Filthy Rich Cattle Drive. In it, the (mostly twentysomething) offspring of various sports, music and television celebrities and moguls attempt to drive a hundred cattle across the open Colorado range in a fusion of new survivalism, frontier re-enactment and celebrity endurance. There are elements at work in the series that suggest it should be viewed as more than just another facet of the trend in which as one New York Times critic recently noted, "semi-celebrities are enjoying astounding notoriety" and the "B-list, it appears, is the new A-list."
In a June 2003 excerpt in the UK's Sunday Times drawn from his book In Praise of Nepotism Adam Bellow (the son of novelist Saul Bellow) diagnosed and defended the "new nepotism" he believes is a flourishing force in contemporary societies officially dedicated to meritocratic principles. Bellow contends that "It is high time for us to get over our ambivalence about the 'return' of dynastic families. The risks involved have been exaggerated and fail to take into account both the progress of meritocracy and the power of the market in determining social outcomes. . . The new nepotism springs from the initiative of children, not the interest of parents; it tends to seem 'natural' rather than planned."
I agree that the new legitimacy of nepotism is worth thinking about, particularly under a political administration that has unashamedly and repeatedly placed relatives and cronies of the president, the president's father, and cabinet members into powerful political roles.
Unlike Bellow, however, I don't find a generalized belief in the transcendence of merit and the virtue of markets to be sufficient checks on the consolidation of inherited power and wealth. More often, trading on the seeming universality of such concepts operates as camouflage for nepotism in an era in which phenomena like "talent dynasties," the mega-celebrity couple and the "accidentally" well-connected celebrity (like CNN broadcaster Anderson Cooper [Gloria Vanderbilt's son], or the musician Norah Jones [daughter of Ravi Shankar]) are increasingly naturalized.
It seems clear that a certain strain of reality programming that requires celebrities to prove their worth in endurance contests/scenarios of teamwork and discipline has emerged a very useful form for negotiating the contradiction between meritocratic discourse and nepotistic practice. In addition, scenarios of celebrity abjection like I'm a Celebrity Get Me Out of Here and Celebrity Fear Factor engage questions of celebrity toughness or endurance while other series like Celebrity Fit Club and Fat Actress assemble casts whose waning celebrity is connected to their failure to maintain bodily discipline and extend the possibility of rehabilitation. These television series emphasizing the disciplining of minor, declining or aspirant celebrities stand in interesting relation to other trends focusing on ever more microscopic adulatory attention to the style, earnings, vacations, homes, etc. of the most high-profile stars.
In thinking about the new nepotism in the context of family values I would frame the question rather differently from Bellow asking instead: how does the "natural" way in which so many stars' children become stars themselves interact ideologically with the strengthened sense of belief in contemporary American culture that one's family capital is more reliable than any other form of social or political capital? One of the most striking features of Filthy Rich Cattle Drive is the way the series both draws upon and strengthens the kind of biological/genetic essentialism that seems to hold so much currency these days. The show hypes expectation from one episode to another through recognizable melodramatic structures but it frequently ties these expectations to an implicit promise that we're going to see celebrity progeny do and say things to confirm that they are exactly like their parents. Thus, Shanna Ferrigno (daughter of Incredible Hulk Lou Ferrigno) is shown to be physically capable and tough on the trail, while Anthony Quinn's son Alex is cast as a potential heartbreaker romantically interested in at least two of his fellow cast members. Most significantly, by its third episode the series was using program teasers to prompt us to expect some type of meltdown from the angry son of Robert Blake. Filthy Rich Cattle Drive's use of Noah Blake illustrates the free-floating textual connections that can now be built between different forms of reality tv, the discourses of scandal and entertainment court coverage. Widespread public perception that Robert Blake killed his wife Bonnie Bakley (despite his exoneration) will seemingly be corroborated through the "natural" and "unscripted" inherited behavior of his son under the adverse conditions of the cattle drive.
Certainly, Filthy Rich Cattle Drive engages the ambivalence of celebrity nepotism; its pleasures are at least in part tied to the abjection I allude to above. A key moment in the series' third episode involved Beverly Hills princess (and daughter of Yahoo CEO Terry Semel) Courtenay Semel being compelled despite her obvious repugnance and anxiety to help a cow deliver its calf. And of course the phrase "filthy rich" in the series title ironically engages audience expectation that these wealthy/privileged young people will be dirtied/debased in the course of their experience on the trail.
Filthy Rich Cattle Drive appears at a moment when the relationship between work and success in American life has grown significantly more dubious. In an earlier Flow column, Heather Hendershot has offered astute arguments about the contrived yet essential nature of work on reality tv. One of the most interesting aspects of this new reality series is its effort to retain some degree of belief in worthy, collective enterprises that are quintessentially American in character. Clearly, the series speaks to a new sense of contestation over bedrock beliefs in the stability of the relationship between fame, talent, commitment and effort as it assembles its semi-famous cast under the promotional slogan "Cows don't know who your daddy is."
Finally, though I haven't mentioned it thus far, I would be remiss if I did not acknowledge how the series' meanings are refracted in relation to its producer, Joe Simpson. Simpson, the father of daughters Jessica and Ashlee, regularly deploys ministerial credentials and pronouncements of his patriotic, Christian family values to deflect perceptions of unseemliness in his role as promoter of his daughters' multi-faceted media stardom. Filthy Rich Cattle Drive premiered the weekend of The Dukes of Hazzard's theatrical release and was preceded by an E True Hollywood Story entitled "Jessica, Ashlee and the Simpson Family," an account of the coming to celebrity of the Simpson sisters (largely through reality television) and their sponsorship by their father. In the broadcast Simpson repeatedly emphasized the individuality and ambition of his daughters but added that "As a father, there's nothing better than making your child's dreams come true." While Simpson's daughters have given him a degree of fame, rather than the other way around and the double bill of these two broadcasts significantly challenges the precept that the new nepotism must appear artless, the juxtaposition nevertheless makes the Simpson family appear all the more entitled to their fame in contrast to the celebrity progeny on the cattle drive. Whatever the series' resolution (as I write the first three episodes have now been broadcast), for me the most important aspect of Filthy Rich Cattle Drive is its emergence from an industrial/cultural milieu of increasing familial promotion and nepotistic hype.
Notes
In this context one might also include a series like "My Super Sweet Sixteen," which profiles the planning of opulent birthday celebrations for the teenage daughters of the superwealthy.
Lola Ogunnaike, "B-List Rivals Bring Their A-Game to Reality TV," The New York Times, August 4, 2005, p. E1.
"Are They By Any Chance Related?" The Sunday Times, June 29, 2003, News Review, p. 3.
When given the opportunity to name the calf, Semel decides to call him "Fred Segal" after the Beverly Hills store she has been pining for.
In the third episode, in a gambit reminiscent of the more rigorously survivalist celebrity endurance programs cited above, the group are fed bull testicles disguised by the camp cook as "swingin' sirloin."
See "Belaboring Reality" in Flow 1.11.
Image Credits:
1. Filthy Rich: Cattle Drive
Please feel free to comment.