An Analog Form in a Digital Box: Sitcoms, Mitcoms, and New Media Pliancy
IN ADDITION TO OUR REGULAR COLUMNISTS AND GUEST COLUMNS, FLOW IS ALSO COMMITTED TO PUBLISHING TIMELY ONE-TIME COLUMNS, SUCH AS THE ONE BELOW. THE EDITORS OF FLOW ARE TAKING SUBMISSIONS FOR THIS SECTION. PLEASE FEEL FREE TO CHECK OUT OUR LATEST SUGGESTED CALLS FOR CONTACT INFORMATION.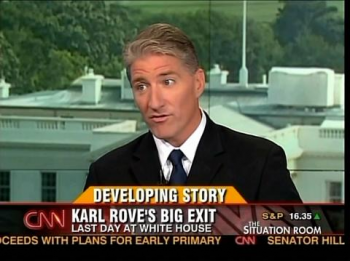 A CNN Screencapture
There's a lot of static these days, in both industry and academic circles, about the ways in which new media are reshaping television's visual field. Folks are talking about the flattening and fracturing of televisual space, the addition of overlays, banners, text crawls, and side bars to news and information programs, and the borrowing of many other techniques and aesthetics from the world of computer software.
At the same time, there doesn't seem to be much talk about the powerful influence television exerts on new media aesthetics and the methods of information delivery. In the interest of prompting more discussion, we'd like to share some thoughts on machinima, a method of making animated videos using off-the-shelf computer games such as The Sims (Maxis) or Halo (Bungie Studios), and ways machinima sitcoms (or "mitcoms") such as The Strangerhood (Rooster Teeth Productions) represent a kind of "televisualization" of computer games.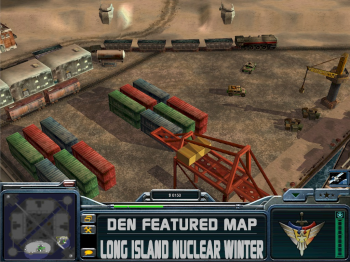 Nuke Winter
For readers unfamiliar with machinima (short for "machine cinema"), it's basically bricolage storytelling for the information age. The repurposed objects in this case are computer game graphics and the engines that produce them. With real-time machinima, game play is recorded as "raw footage" and then edited using a digital video editing package such as Premiere Pro (Adobe) or Final Cut Pro (Apple). Script-driven machinima, on the other hand, requires machinima-makers to input action commands directly into development environments such as the ones that sit behind Unreal Tournament (Epic Games) and Quake (id software). These commands then are translated into animations by the game's engine.
Though machinima depends on repurposing both stock and fan-created digital assets (e.g., 3D avatars and buildings, soundtracks), as well as the techniques used to generate such material, machinimations don't always wind up resembling the games they're derived from. Indeed, much of the appeal of machinima is the artistic freedom it allows. Academy of Machinima Arts & Sciences board member Hugh Hancock documents this point well when he lists machinima's most significant liberties: "with 'virtual cameras' you can develop an entirely new language…not hampered by the constraints of the real world." Moreover, Hancock continues, there's "the sheer flexibility of a world where you make up all the rules of physics, the option to add interactivity…. And on. And on." Strangely enough, machinima-makers are using this seemingly infinite creative flexibility to explore the aesthetic and storytelling possibilities of the television sitcom.
We say "strangely enough" for several reasons, not the least of which is that television sitcoms may very well be going the way of the dodo. A leaner (and definitely meaner) kind of program has appeared — the reality show — and it's chasing the sitcom from the airwaves. Whether or not television sitcoms eventually become extinct is anyone's guess, but there is certainly a sentiment shared by both the broadcast and cable industries that the genre's time is running out. This anachronistic quality is, in part, what makes mitcoms such as The Strangerhood — replete as it is with a living room couch, goofy neighbors, and a laugh track — such odd ducks: they're emerging just as the sitcom form has been declared dead (or, at least, dying an expensive and unpleasant death) by its progenitor, network television.
The mitcom also is weird because of the inherent pliancy of machinimation. If machinima-makers are not "hampered by the constraints of the real world" (which they're not), and therefore have the opportunity to "develop an entirely new language" (which they do), why are they looking to one of the most famously formulaic modes of storytelling? Ten years ago, when the first machinimations started appearing on the Internet, serialization and an adherence to well-established genres were necessary because of bandwidth restrictions. The pipes were simply too narrow to allow much content through, meaning machinima-makers (like the early game developers before them) had to rely on well-worn and thus easily and quickly recognizable tropes and iconography to tell their stories.
Today, that's not the case: consumer-level broadband connections and distributed, self-organizing networks with multi-source file sharing such as eDonkey (MetaMachine) and Morpheus (StreamCast Networks) make short work of even the largest video downloads. There really are no restrictions to storytelling, which makes machinima-makers' interest in the sedimented and highly-structured narrative form of the sitcom so curious.
Granted, in the case of The Strangerhood, the sitcom form is used in part because of its antique qualities (e.g., ensemble cast, laugh track, catch phrases, and recurring plotlines). What better way, then, to both parody and critique the medium (not to mention indulge in a bit of nostalgia) than through one of its most iconic forms?
That said, The Stangerhood and mitcoms like it are more than just parodic: they're also explorations of televisuality — of the form and function of television as a medium, an art form, an industrial complex, and a cultural force. In both borrowing from and playing with the sitcom form, mitcoms bring to the surface the nature of that form and the agential and structural networks that created it.
Of course, mitcoms as explorations of televisuality are yet nascent, but they nonetheless show the resiliency and potential of televisual forms of meaning-making across media. The pre-machinima history of computer games includes numerous examples of the television/game crossover, some of which — such as the run-a-network simulation Mad TV (Rainbow Arts) and Eugene Jarvis' infamous parody/action game Smash TV (Acclaim Entertainment) — exercised the new medium's pliancy far more vigorously than such ham-fisted tie-ins as The Adventures of Gilligan's Island (Bandai America), Yes, Prime Minister (Mosaic Publishing), and ALF (SEGA Entertainment).
The mitcom may very well be a kind of televisual future anteriorism, a seeing of what will have been, an artifact from the future documenting an interregnum. We can't help but think of Harold Innis' observation that "sudden extensions of communication are reflected in cultural
disturbances." Perhaps in drawing on the sitcom, the mitcom is not only celebrating a predecessor's aesthetic, but also subverting that aesthetic's representations of social relations.
Our guess is that we won't find out what will have been until we see how HDTV, digital cinema, and next-generation game consoles such as the PlayStation 3 converge. That's likely to be sooner than most of us expect.
Notes:
We prefer the term "computer game" over "video game" as the universal designation for electronic entertainment software because it privileges the medium's inevasible technological foundation rather than its admittedly dominant but nonetheless excludable sensory element, video. There are many games that have no video at all (see Games for the Blind for examples).
Hugh Hancock, "A View from the Shack," 1 January 2000. machinima.com.
Harold Innis, The Bias of Communication. Toronto: U of Toronto P, 1991. 31.
Image Credits:
2. Nuke Winter
Links:
The Strangerhood
Academy of Machinima Arts & Sciences
Red vs. Blue (Halo Machinima)
Please feel free to comment.