The Commitments
by: Daniel Marcus / Goucher College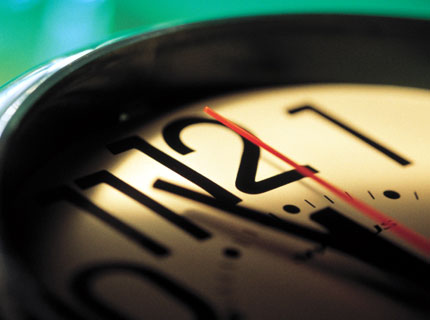 Ticking Clock
After skipping seasons three and four, I have returned to watching Six Feet Under this summer. It would be easy, then, to stick with the HBO schedule on Sunday night and keep up with The Comeback as well (with an e-mail break during Entourage) but after watching three or four episodes, I've dropped the new Lisa Kudrow/Michael Patrick King series from my list of viewing appointments. I haven't found it particularly engaging, and while in abstract the critique of gender and age attitudes in Hollywood is important and could be treated in interesting ways, I didn't connect with the problems of poor Valerie Cherish, with her LA mansion, deadly combination of egocentricity and insecurity, and extremely modest modicum of talent. I respect Kudrow for creating a character who isn't cookie-cutter likable or very sympathetic, for keeping her indie cred by not going for a Friends feeling in her new vehicle. I feel a bit ashamed for wanting a lead character who is easier to take, who is more fun to spend time with on Sunday night. Some Brechtian am I.
Then again, I don't find the characters in Six Feet Under very likable, either, but I didn't give up after three episodes, and now I'm back to watching it. I never liked it all that much the first year, but was willing to give the producers some slack, some time to improve things, because there were some interesting glimmers. Clearly, a show about funerals was trying to do something different than most entertainment TV. The theme music was great. I trusted HBO when it came to hour-long series. And because it was an ensemble drama, I didn't have to pin my viewing pleasure to one main character or performer. Nate and Claire and Rico all had their entertaining moments and ingratiating tics, even if there were plenty of annoying moments too, from them and everybody else.
And there was the stunning performance by Rachel Griffiths, whose Brenda was fascinating because of, not despite, her disturbing behavior. Some shows just do messed-up characters better than others – Brenda had a depth that Valerie Cherish lacks, and more noble ambitions. Some actors are better than others, too. And we weren't with Brenda for every scene – there was a let-up from her own combination of insecurity and defensiveness (along with more positive attributes). Finally, because I had dated a Brenda, I thought by watching the show, I might gain more insight, or work out some issues, regarding my own past. (Valerie Cherish just isn't my type, so I got none of that from watching her.) Still, by the end of the second season, I gave up on Six Feet Under – the show hadn't really improved, and I was tired of not liking these people (and Brenda just freaked me out too much by that point, not to mention her brother.) There were too many people to dislike in real life for me to enjoy dealing with fictional ones in my television viewing – especially when some of the latter reminded me too much of the former.
One reason I'm watching again is because of the continuing praise the series has gotten over the years – some critics have written that the second season was the low point of the run, and that there was plenty of good stuff in subsequent years. Another big reason is because the producers announced that this will be the series' final season. This leads me to another point, which hopefully makes this column more than a catalogue of Characters I Like and Don't Like. Every cultural production asks its audience to commit to it to some degree, a commitment of both time and affective energy. Television series, like long novels, ask for a greater commitment of time than a feature film or short poem.
Some series, however, don't ask for much in the way of affective energy – series meant for distracted viewing, or lazy viewing (not exactly identical). Busy Person TV or Couch Potato TV. Then there are series that ask for greater attention, but on an episode-by-episode basis, when each episode functions as a fairly discrete unit. Shows organized this way, the dominant prime-time structure into the 1980s, reward attention for the length of the episode, but offer only somewhat greater returns over the long run.
Now we have a slew of hour-long dramas, and the occasional half-hour comedy as well, which are structured to various degrees by continuous story arcs and referencing of the past. With the increased emphasis on seriality in contemporary prime-time television, of course, viewers receive more rewards for committing to an entire season or run of a series, both in terms of character and theme development and narrative resolution of overarching plots. With these rewards come responsibilities – a viewer who doesn't commit to following a series continuously and for the duration misses out on important memes and necessary facts, and risks confusion, lack of closure, and misapprehension of the complex interrelationships that are central to the pleasure of watching serials. Because prime-time serials work with much less airtime than their daytime counterparts, their internal redundancy is limited. The pleasures of viewing are markedly circumscribed unless the viewer commits, both in terms of time and affective attention. TV drama has given us a lot more in the last ten years, but it also asks for more in return.
By committing to a series, a viewer understands that a show's characters will be weekly visitors on the domestic screen. Is this why unlikable characters particularly grate in current series? There is no break from them (especially in a show with an annoying lead). We are condemned to seeing them regularly if we want to gather the rewards of seriality, and really taking them into account in the process of deep viewing. When a series announces its imminent closure of the narrative, however, the demands lessen. When I heard Six Feet Under would close after this season, I calculated that I could stand exposure to the Fisher family et al. for 12 more weeks. In return, I could see how things turned out (as much as the producers were willing to provide closure, which it appears they are, regarding some characters at least) and indulge in the other pleasures the show provides. Six Feet Under was no longer asking for indefinite, potentially infinite commitment from me. My viewing is certainly affected by my lack of knowledge about seasons three and four (though I know the general outlines of what happened then), but I figured my immersion in a full season's worth of episodes would help me catch up somewhat. And if I liked season five, I knew I could backtrack to earlier seasons eventually.
This knowledge of the limited commitment I had to make has allowed me to not be as perturbed by some aspects of the show I still find annoying. I'm a more indulgent viewer. Even after the Birthday Party from Hell episode, one of the darkest I've ever seen on episodic television, I was willing to stay with the show, with the hope that the series had not just gone completely over the top for good (as it has not). Now I can see the episode as pretty brilliant. If The Comeback were that smart and strong, perhaps I'd watch it even without liking Valerie. But I'd also be more willing to watch The Comeback if it were a six-episode mini-series, or a two-hour telefilm, rather than a regular series. Then I could glean positive aspects of the production (her stylist is pretty funny) while tolerating Valerie more easily. But the fictional producers on The Comeback are right – Valerie Cherish does not warrant being the lead in a continuing series.
Of course, factors other than character likeability operate in viewers' decisions to commit or not. When I'll Fly Away, the civil rights drama starring Sam Waterston, Regina Taylor, and Kathryn Harrold, premiered on network television in the early 1990s, it seemed just like the kind of show I would follow. I had read and watched a lot of material about the civil rights era, and was interested in how the Sixties were thought about and represented in the 90s (to the extent that I later wrote a book about it). The cast was strong (Taylor was particularly great). But I couldn't bring myself to watch the show regularly, while I did watch a few "lesser" shows. Why? I was just starting graduate school, and when I came home to plop down on the living room couch, I'd done enough thinking for the day. I'll Fly Away demanded a smarter, more intellectually engaged, and more nuanced viewing than I was willing to commit to on a regular basis. If it had been a mini-series, however, I probably would have summoned up the energy to follow it, and I certainly watched some smart movies for two-hour stretches on video that year. Then again, I'll Fly Away also lacked the visceral intensity that might have inspired me to connect to it in a way that could have summoned up extra reserves of viewing energy.
The increased seriality of contemporary series can operate as a trap, but one that inspires a backlash. Even after early misgivings, I continued to watch the first season of 24, both because it did some things well, and because I had become caught up with its heightened narrative form. Before the first season was two-thirds through, I had lost faith in the producers, yet continued to watch until the bitter (read: stupid) end of the season, just to see how it all turned out. Feeling burned, I resolved to not watch season two, because I feared I would get caught up in the narrative momentum once more. Despite its occasional good reviews since, 24 is a show I've never watched again. It demands commitment, and rebuffs those who may want to just sample it – appearing either as inaccessible, or too seductive.
The issue of trust comes to the fore in serial shows – will producers maintain initial quality, or even improve an imperfect series? Will they take advantage of the form to provide the narrative momentum, detailed world, and complex relationships that seriality can provide? Will they have narrative, emotional, and thematic payoffs that justify elaborately constructed set-ups (the X-Files question, currently being played out by Lost)? After a viewer commits to umpteen hours and deep involvement with the world of a series, will an unsatisfactory denouement diminish the entire series in retrospect, more than does aesthetic decline in a non-serial program? With commitment comes the prospect of betrayal, on a scale not felt in traditionally episodic television. When Buffy went off the tower at the end of the fifth season, anxiety flowed throughout Slayer fan communities, but Paul Ramaeker soothed one set of e-mailers with the dictum: "Trust Joss." He was right; alas, we could not trust Marti quite so much.
I'm not feeling burned by Six Feet Under. And it's not that I'm never willing to see Lisa Kudrow be unlikable – I paid real money to see Happy Endings, the Don Roos film out now that features her in a not particularly endearing role (so too in his previous The Opposite of Sex, and she played a really annoying character in the great Clockwatchers). Kudos to Kudrow for nervy choices. But don't come over to my house on Sunday nights. That's too much of a commitment.
Links
Six Feet Under Episode Guide
Keeping up with Reality TV
TV Central
Image Credits:
1. Ticking Clock

Please feel free to comment.