What is Commercialism?
by: Thomas Streeter / University of Vermont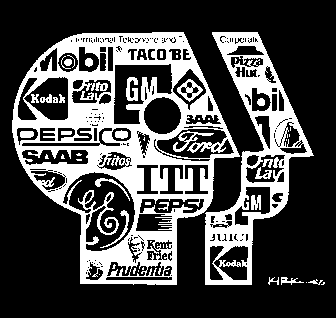 PBS Logo with Sponsors
A wag once said, "if it's British accents or fornicating spiders, it must be PBS." Those of us who have spent some portion of the last fifty years in the US can turn on our TVs and more or less instantly notice whether our sets are tuned to a commercial or a PBS station. There are lots of tell-tale signs. Blaring commercial interruptions, laugh tracks, characters who live in dwellings that are strangely more upscale than real-life versions of those characters could afford — all are sure signs of American commercial TV. Talking heads in suits who go on for more than twenty seconds, or luscious pictures of exotic animals accompanied by sonorous explanatory voice-overs, signify a public station. The difference between commercial and non-commercial TV seems obvious.
But is it really? Think of all the terms we use: Commercial TV. The market. For-profit TV. Corporate TV. Advertising supported TV. Corporate media. We use these terms a lot, often interchangeably. But what do we really mean by them? Used precisely, they can all mean different things: you can have advertising-supported TV that's non-profit (CBC in Canada, Britain's Channel Four), for-profit TV that's not operating in a market (because it's a monopoly, or because it operates under government contract), and for-profit media that's privately held and thus neither "corporate" nor advertising-supported (e.g., Mad Magazine). And of course, a corporation can be a church, or a grassroots activist group; a "corporation" is strictly speaking simply a legal entity that defines some group or collectivity with a shared goal or purpose. If we have a problem with, say, Time-Warner's or Rupert Murdoch's global media empires, calling them "corporate" does not really shed much light on the specific nature of our complaints.
Even people inside the industry are faced with some chronic uncertainty about the matter. True, the phrase, "this is a business," constantly pops up in the conversations of industry executives. But why do they even need to say it? How often do stockbrokers or aluminum siding salesmen use the phrase? Nobody doubts that they are in a business. It is only in the case of TV, apparently, that people do have doubts. TV executives feel the need to assert that "this is a business" precisely because it's not always self-evident that it is, or in what way it is so. The fact is, organizing the production and dissemination of televisual material as something that is bought and sold is a non-obvious activity, particularly in the absence of a ticket booth. The contemporary conundrums about business models caused by Tivos and Internet downloading are just the latest in a long line of structural puzzles the industry has faced since its inception.
In a graduate seminar, this would be the point in the discussion at which I'd talk a little about modes of production and encourage the students to go off and read some economic theory: theories of public goods, perhaps, or capital intensivity, or Fordism and post-Fordism. But the problem with this is not just that a search of the economic literature leads merely to a range of divergent theories that are equally brilliant and incommensurable. The problem is that these days, developing terminology that is precise, effective, and accessible is crucial to a sustainable media reform movement.
We need terminologies for media structure that will be vivid enough to come alive in broader public debates, and that will be precise enough to point the way to specific and effective alternatives.
One popular way to define "commercialism" is to say it is rooted in "the market" or market systems. Economic conservatives like this terminology because it has a political valence: the word "market" implies "free market" or "competitive market" which invokes the theory that freedom and democracy are naturally achieved through private property and investment (think "ownership society"), and that all things non-market are associated with its opposite, totalitarianism. Liberals and progressives often use this sense as well, because they think of the market as a system driven purely by greed, by cheap manipulative tricks done in search of the quick buck. There's certainly a kind of truth to this — think of how, say, gratuitous cleavage is another obvious sign that the TV is tuned to a commercial channel.
But there are two problems with the left's use of this term. The first is simply that one shouldn't concede to the conservatives the notion that capitalism is identical with the competitive market. Corporations are arguably as much about limiting markets as supporting them. Capitalism generally relies on a delicate mix of stabilizing institutions and dynamic tendencies. As CBS founder William Paley once said, "sudden revolutionary twists and turns in our planning for the future must be avoided. Capital can adjust itself to orderly progress. It always does. But it retreats in the face of chaos."[1] (Eileen Meehan has usefully suggested "corporate rivalry" as a better term than "competition" to describe the peculiar dance of the elephants characteristic of the Time-Warners and Disneys of our world.)
But there's another problem with the left's derogatory definition of commercialism as market driven. There's a tendency to think that, since the market is based on self-interest, it is based on greed and is therefore immoral. When the villain of the film Wall Street, Gordon Gecko, proudly proclaims that "greed is good," liberal viewers may enjoy gasping at the audacity of such a claim (and feel smugly satisfied at Gecko's subsequent downfall in the film). But basically this simple disdain for market greed rests on a rationalist vision in which the satisfaction of desires is bad because it is opposed to reason or the "public good." This cuts to the heart of some of the discussions we've been having on Flow of late: This assumption is problematic intellectually, because it relies on a version of Cartesian dualism in which bodily passions are framed as the opposite of the rational acts of the mind. And it is also problematic politically: most people do use media to satisfy desires, and a politics based on the notion that most people are debased is doomed to self-marginalization.
Perhaps a better way to think of commercialism is to focus on commercials, as in advertisements. Free markets are fine, when they are truly free and truly markets. But advertising support, the use of commercials to pay the bills, is essentially what even Mark Fowler called an "indirect market mechanism [wherein] the advertiser acts as the representative for consumers."[2] If the arch-marketeer Fowler grants that there's something "indirect" about the advertising system, that points to a weak link in his chain of reasoning. And advertising is indeed an odd and politically unsatisfying way to organize television; advertisers have their own agendas, which are not identical with most ordinary folk's concerns.
Adorno and Horkheimer once observed that the "eccentricity of the circus, peepshow, and brothel is as embarrassing to [the culture industry] as that of Schoenberg and Karl Kraus."[3] Adorno and Horkheimer's problem with the culture industries was not that it was "low" culture; they could appreciate the carnivalesque, the genuine "lowbrow," at least as well as Fiske. Their problem with was the odd and numbing effect of the highly coordinated and rationalized character of cultural production once it is wrested from the street and the carnival and awkwardly filtered through the needs of institutions dedicated to reducing the risks of mass producing consumer products. This is why TV so often seems to be almost but not quite interested in the lives of its viewers; TV is connected "indirectly," as Fowler put it, at one remove from the complexity of viewers' needs and desires. A media reform movement that focuses on the disappointing character of that "indirectness" might go further than a rationalist disdain of desire itself.
Notes:
[1] William S. Paley, FCC Informal Engineering Conference Vol. II, pp. 252-3, June 16, 1936, quoted in Frank C. Waldrop and Joeph Borkin, Television: A Struggle for Power (1938; reprint, New York: Anron Press and the New York Times, 1971).
[2] Mark S. Fowler and Daniel L. Brenner, "A Marketplce Approach to Broadcast Regulation," Texas Law Review 60 (1982): p. 210 and p. 232.
[3] Theodor Adorno and Max Horkheimer, "The Culture Industry: Enlightenment as Mass Deception," from Dialectics of Enlightenment, 1973.
Image Credits:
1. PBS Logo with Sponsors
Please feel free to comment.