Extreme Health Care
by: Vicki Mayer / Tulane University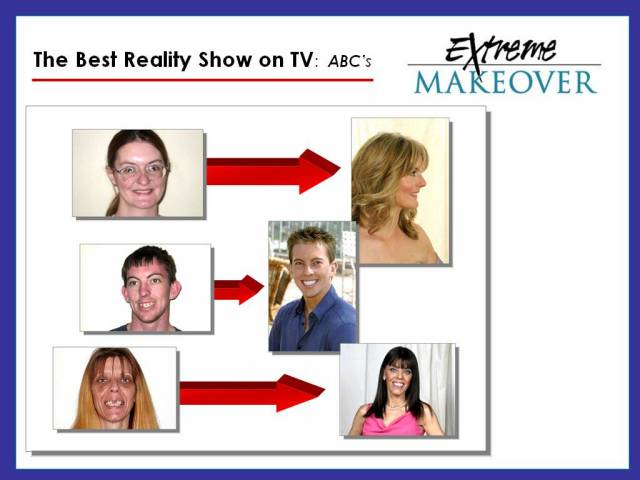 Extreme Makeover examples
Cramming into the middle seat on a hurried morning flight from Sacramento to L.A., I didn't know I would sit next to a potentially famous TV star — and a first-time flier.
"I'm nervous," she confessed. Her bag didn't fit in the overhead. "I've never been in a plane before," she added, continuing, "I've never been to L.A." Peeved and pre-caffeinated, I stared down the SkyMall catalog as she climbed over me to reach the window. I only began to wonder about her mid-take-off, her hand fastened in a death-grip on my armrest, when she revealed, "But it's already worth it, even if I don't get picked."
"Sue Ellen" was a semi-finalist for ABC's Extreme Makeover. Like its rivals The Swan (Fox) and I Want a Famous Face (MTV), Extreme Makeover's website promises to make every woman's "fairy-tale fantasies come true."
For Sue Ellen, this was basic health care.
In the age of primary coverage cutbacks, medical mismanagements, and shrinking access to specialists in rural America, Extreme Makeover was her last hope. "I got to do this show now or I'm going to lose them," she explained. "I don't want to lose my teeth. I like to smile at people when I meet them and be friendly. I don't think I could do that without teeth." Listening, I couldn't help but glance down from her brown saucer eyes. Sue Ellen's cracked upper lip didn't quite cover her incisors. Dry and yellowed, her teeth added a decade to an otherwise youthful 43-year-old's face.
She always had bad teeth. Diagnosed with a protein deficiency and weak gums, she needed braces early on to prevent the horizontal growth in her mouth, but her parents couldn't afford it. "They fought about the price," she lamented. "I was supposed to be a mother not a model."
Sue Ellen became a mother, and a janitor, but she could never save enough money for the dentist. Her daughter got pneumonia and her husband, a tree climber and pruner, had heart problems. "He had to get a stint in his heart, which was $15,000, so we're paying that off." Health insurance did not cover that bill, and she suspected he would need another stint soon. Most recently, he broke his knee cap on the job, making him homebound. Dental surgery, another uncovered procedure, had to wait.
She pushed around the free but inedible airline peanuts on her tray before unwrapping the foil on her own pre-cut sandwich morsels.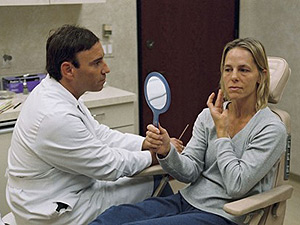 Extreme Makeover
"If I don't get dentures soon, they'll have to pull everything because my gums won't hold anything anymore." She licked her teeth as she talked, an effect of constant air exposure. "I thought you get dentures when you're old, but now they say I'm almost too old." Her condition led to frequent infections and several trips to a health clinic where she owed $500 for each of the five root canals she had. Dentures would cost $125,000, more than she could afford even with another mortgage on their home. "But I don't want to be toothless," she fretted.
Enter Extreme Makeover: the show that has offered their guests implants, lipo, facial peels, Lasik eyes, and a new tan to boot. Sue Ellen's daughter sent a postcard to the reality show recruiters. Out of 10,000 applicants from Northern California alone, Sue Ellen was one of six to go to L.A. "They told me one of the doctors saw something they liked, and now they have to shop me around so they can sell me to the other doctors." Already she found out that, along with the dentures, she would be a likely candidate for a nose and boob job, eye tucks, and a face peel — "the one where they scrub your skin off." She said she didn't care about all the rest. "As long as my teeth get done, they can do whatever."
ABC told her she could get up to $200,000 in free health and beauty care, but she said she already felt like a winner. She was flying. For the next three days, she would ride in a limousine, stay in a Beverly Hills hotel, eat on a $40 per diem, and visit a dozen doctors to assess if her needs were extreme enough. She also hoped she would see the Hollywood sign.
As the plane touched down, she shared her biggest worry about the competition. "They took a video of me already and said I have to elaborate my answers more. But that would mean showing my teeth more and I don't even smile anymore."
Dumbly, I smiled.
My middle-class friends grin when they inform me that people who go on make-over shows are superficial and just want celebrity status. The Extreme Makeover website supports this storyline, featuring a fashion tips list as "News You Can Use" and a bevy of plastic surgery propaganda.
Yet the infrequent flier may have been closer to the truth, when she said, "If I had good health insurance, I wouldn't be doing this."
Image Credits:
1. Extreme Makeover examples
2. Extreme Makeover
Links
Extreme Makeover
Cosmetic surgery message board
Cosmetic Surgery, Physiognomy, and the Erasure of Visual Differences
Please feel free to comment.