Nanny TV
by: Laurie Ouellette / Queens College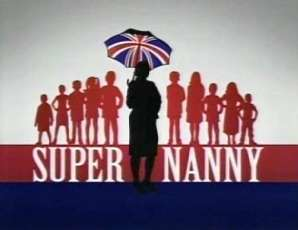 Supernanny on ABC
Are your kids a handful? Are you exhausted? Is your house a "zoo?" Do you need help juggling the demands of work and family? Me too. The recent birth of my son catapulted me into the ranks of harried parents everywhere. So when Supernanny (ABC) promised relief, I paid attention. This reality program dispatches a "top" British nanny to U.S. families who've answered "yes" to the above questions (The format was developed in the United Kingdom; when ABC won the bidding war over the United States version, Fox developed a virtual clone called Nanny 911). Reversing the power dynamics of domestic servitude, the nanny surveills everyday life inside the home, corrects faulty parenting and implements new household management techniques. She doesn't stay long, for the goal is to swiftly educate before moving on to "save" the next stressed out family. Like so much popular instruction on television today, Supernanny does make ordinary difficulties more visible–but it ultimately ignores material conditions (daycare crisis anyone?) and places the impetus to improve and reform on individuals.
The program opens with Jo Frost in a posh English cab, watching video footage of the week's needy family on her laptop computer. With her British accent, authoritative demeanor and nostalgic Mary Poppins-like appearance (matronly dress suit, tight bun, umbrella), she's marked as clearly "different" from the masses of female childcare workers, shamefully devalued as they are in the United States. That's important, because after observing "family dynamics" and taking mental notes for a brief period, Frost establishes tyrannical rule over the household. After explaining where the adults have gone wrong, she introduces a "tried-and-true" approach to domestic science based on the principles of order and discipline. No matter how large trouble looms, it can be eradicated with a Household Routine, a list of Household Rules, and a methodical approach to handling the children's misbehavior. Of course, achieving domestic nirvana does take effort: "It's a tough lesson for a parent to retrain themselves," explains one frazzled mother.
The episodes are highly redundant, with a revolving cast of exhausted mothers, peripheral fathers, and preschool children who commit such unpardonable misdemeanors as bickering with siblings, talking back to parents, snacking between meals and throwing the occasional temper tantrum. While its hard to watch Supernanny cast these kids as deviants (more on that later), I do appreciate the chance to see overworked mothers with eyebags the size of mine on television. Since the double shift is still deeply gendered, Frost pitches her lessons in domestic time-management to the women. On one episode, Mom manages the family plumbing business from home, while also doing the housework and caring for two youngsters. She's wiped out to the point of tears, but the program promises to "fix her broken spirit" in less than two weeks. Toward that end, Frost systematizes her workday with a color-coded, wall-sized schedule, allowing several hours "off" from the business to focus exclusively on the misbehavior-prone children (the time is made up in the evening when they are in bed).
On another episode, Mom works full-time as a telemarketer, while also keeping house and tending for preschool twins and a nine-year old. She thought working from home would facilitate more "mommy time" (and reduce childcare costs), but her "flexible" job has become a living nightmare. We see her perched at the living room computer taking calls on a headset while the children run amok; when the inevitable squabbles and mishaps force her to abandon her work station, she worries out loud that her boss will fire her. At the end of the day, she's so tired she falls asleep with the children, leaving her husband feeling abandoned and single ("unacceptable," according to Frost, who fails to suggest that he help out more). While it remains unclear exactly how an improved Household Routine can help this woman, there's no mention of hiring a babysitter, let alone corporate reforms like subsidized on-site daycare. Like many of the makeover/advice programs now populating television, as in James Hay's latest Flow article, Supernanny values self-reliance over "dependency" and social upheaval.
While household routines are important, domestic harmony also requires compliant children. At least one child per episode is branded as trouble, and the problem is blamed on faulty parenting. Occasionally parents are lectured for shouting and/or using force, but most of the time they're charged with softness and leniency. To "prevent bad habits" from breeding and show kids that the "adults are in charge," Frost establishes a non-negotiable set of Household Rules (no sassing, no aggressive play, no picky eating) and shows how to enforce them rationally. Each week, she demonstrates the same step-by-step approach to discipline, beginning with a "warning in a low tone" and culminating with a punitive trip to the "naughty mat" (the information also appears in captions, extending the lesson to TV viewers at home). She also demonstrates "tried and tested" methods for regularizing bedtime. To ensure the techniques will be properly implemented in her absence, Frost monitors the home via surveillance cameras for a few days; if Mom forgets a disciplinary step or Junior decides to climb out of bed, it's all caught on camera. In the final review session, these mistakes are duly noted and the process is fine-tuned.
Supernanny is not entirely unhelpful, but it does reduce the complex and subjective practice of parenting to a rote behavioral science. It's worth noting as well that the docile, predictable, routinized and (eventually) self-disciplined children it teaches parents to help produce, are precisely the sort of citizens-in-training that late capitalism depends upon. Perhaps someday television will address the many challenges of contemporary parenting (particularly for working mothers) with more substance. Until then, Supernanny is casting . . .
Image Credits:
Supernanny
Please feel free to comment.