Women Watching Sports
by: Janet Staiger / University of Texas at Austin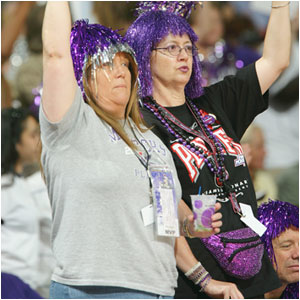 Avid WNBA fans
I knew something had changed when I called my then-mid-70-year-old mom in Omaha several years ago on a Saturday afternoon before Christmas to ask her about clothing sizes for gifts and she responded: "I can't talk now. Texas is beating Nebraska for the Big XII Championship."
Granted my brother Don and his son Kevin had been a bit extreme as fans for Nebraska football. Although working in Houston and Los Angeles and now Perth, Australia, Don managed to come back until his Perth job to nearly every home game during a season, especially when Kevin was still at home. Even now, with Kevin working in Washington, D.C., both make it to about half the games. And when he can't come home, Don will call mom from Perth several times during the game for updates. She tapes the games to send him (sorry about that!; I'm sure he destroys them after watching).
But having my mother become so devoted to watching the game marked an escalation of family commitment to the team. When she watches the game (I've been home to see this), she keeps jumping off the couch and paces around the room, holding her arms close to her body until the play is over, and then relaxing. My own recent involvement in Texas sports has been in part due to being able to offer Don and Kevin 50-yardline seats for Texas home-games against Nebraska.
My family life memories are vividly of the family gathered in the evenings around the (sole) television set during the 1950s and 1960s (dad bought a TV in 1952 when Omaha had its second station, but we did not move up to more than one set in the household until after I left for graduate school in 1968). So watching TV always meant negotiating which program to watch and then enjoying it together.
So I have understood my mother's involvement in Nebraska team sports "escalate" to this new stage potentially as a way to relate virtually with my brother and nephew's obsessions. But it is also the ability to watch the game on television that has permitted her commitment.
I use this example to suggest that while Title IX has been important in the last thirty years to the development of women's sports and women (and men) fans of women's sports, I speculate that television has been an important facilitator of women's engagement. Particularly cable — with its proliferation of channels and avaricious appetite for content — has enabled fans for most major college teams to see almost all of the conference games. While radio used to supply coverage, now television provides this service as well, with the visual information intensifying the experience. (This raises the question for me as to whether radio or television might be better for certain sports; certainly baseball seems almost a radio game because of its long periods of "inaction" versus the multiple events occurring simultaneously during football and basketball games. Has anyone researched this?)
In fact, I would also argue that fans of sports are increasingly more distributed between the sexes as a result of cable coverage of sports. Often, I will raise the topic of sports — like weather — as a means to engage conversation with new acquaintances. Frequently, recently, men have indicated to me that it is their wives, girl friends, or boy friends (but not they) who follow sports.
Yet we do not know much about women's sports fandom. My mother, for instance, knows very well what is going on in a game and can intelligently understand and predict plays. However, statistics and recollections of past games are not part of her arena for football fandom.
Other women, however, seem as capable as well-trained men in providing the on-going narrative arcs of a team: the triumphs and difficulties of the players, the inter-school rivalries, and so forth. Trained as soap-opera viewers, this sort of long-term engagement with a text is not difficult for women to do.
We also do not know much about the progression of fandom or its progression in relation to access through various media. Mom also enjoys watching (and playing) golf, a sport I cannot contemplate viewing on TV. Meanwhile, for various reasons, I have recently added the Texas Women's Basketball team to my sports watching. Being able to see the games on cable television led, finally, to the purchase this year of a season ticket. Lately I have actually been reading the sports pages and watching the headline news tickertape for game results. That has lead this fall to following the coverage of the Pistons-Pacers and their fans' brawl and actually bothering to watch the Kobe Bryant-Shaquille O'Neill re-union match last week. Clearly knowledge leads to curiosity, leads to more information, and so on.
The growth in the popularity of women's sports and women watching sports (men's or women's) is partially a result of second-wave feminism and Title IX. (I haven't even touched on scopophilia or attention to body images in the past thirty years as partial causes.) But the impact of cable television to facilitate virtual attendance for some intensely visual sports also needs recognition as a factor in the changes that are evident. Personally, as odd as it may seem, Saturday afternoon football viewing has become family time even though my family is spread as "near" as Omaha and as far as Australia. It's really nice to know that we are still gathered together watching the same program on TV.
Links
Title IX
Women's Sports Online homepage
Image Credits:
Please feel free to comment.