KOREAN WEBTOONS AS AN ORIGINAL SOURCE OF INTELLECTUAL PROPERTY FOR K-DRAMAS
HYUN-JUNG STEPHANY NOH / University of Texas at Austin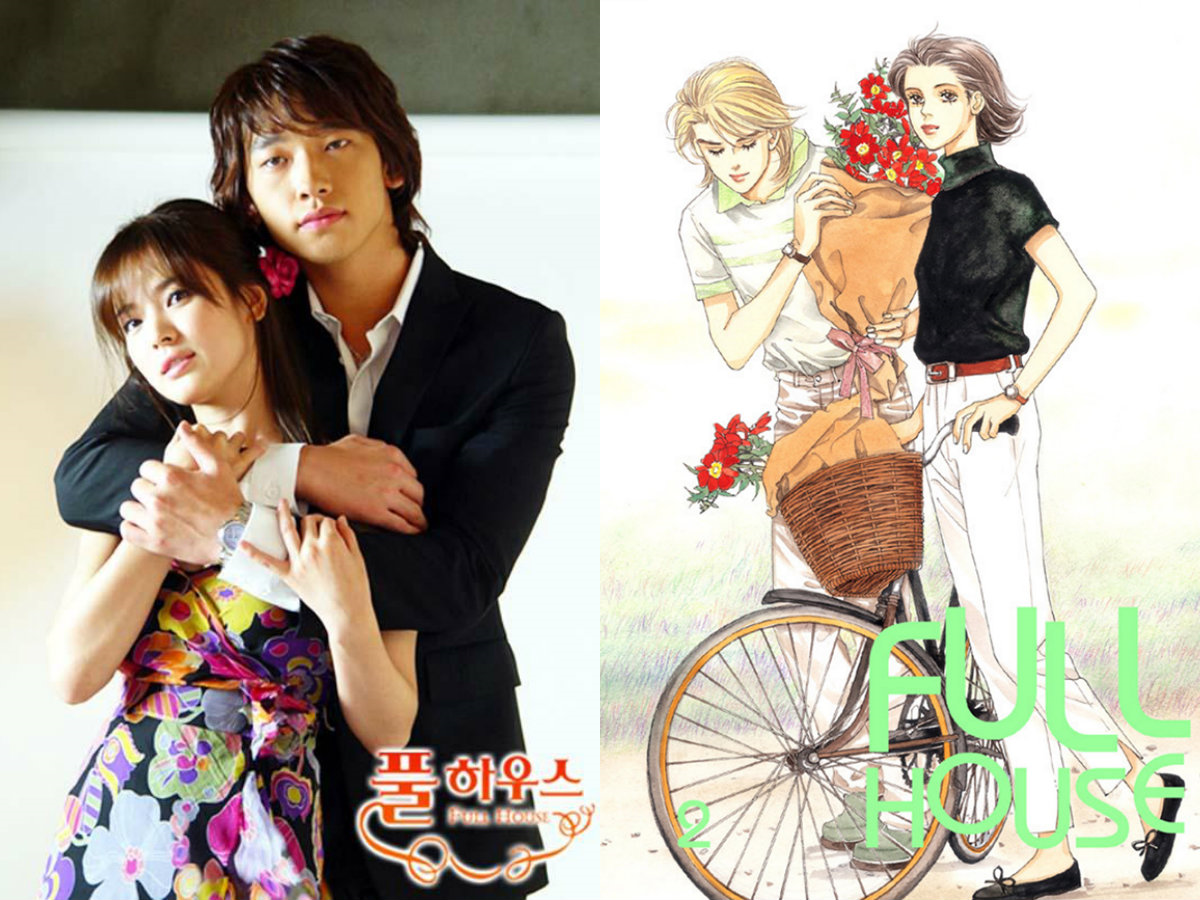 TV adaptation of Full House and the original manhwa.
The number of K-dramas produced annually has doubled to 140 since 2000, when three Korean terrestrial networks dominated the genre.[1] The increase has been fueled, first, by the expansion of linear pay-TV channels in the early 2010s and then by SVOD services in the latter 2010s. This column describes how the producers of K-dramas turned webtoons into a source of intellectual property (IP) amid the sudden increase in demand for content. Thus, Watcha (2016), Netflix (2016), tVing (2019), Wavve (2019), Disney Plus (2021), and Apple TV Plus (2021) expanded access to and stimulated demand for K-drama. TV producers raced to procure the audiovisual rights of established webtoon properties to stock the SVODs' catalogues with unique content to attract subscribers. Simultaneously, manhwa (Korean comic books) transitioned to the digital sphere and local webtoon platforms, mainly on two portals, Naver and Kakao, developed an open webnovel/webtoon publishing system that cultivated competitive new stories. K-drama producers snapped up successful IP to adapt into series. Moreover, SVODs' penchant for provocative content opened up K-dramas to a variety of styles and genres. The inter-industrial relationship between webtoons and K-dramas, especially by exploiting IP, has been shaping the development of K-drama in the SVOD era.
In the 2000s, adapting Korean TV series from original printed sources such as manhwa, novels, and manga (Japanese comics) proved successful domestically and internationally. The soonjung manhwa or "high-teen romance" genre for young female readers,[2] with titles such as Full House (2004) and Coffee Prince (2007), proved perfect for scaling up to the live-action, romance-centered K-dramas popular on TV. The TV versions of these shows, adapted from manhwa and a novel, respectively, expanded the original niche readerships into a broader age range of audiences. Another soonjung manhwa, the manga series Boys Over Flowers (2009), utilized IP with a substantive fanbase across Asia and inspired a "flower boys" craze among K-drama viewers worldwide beyond the manga audience.[3] [4] [5] Simultaneously, new cartoonists Sim Sang-hyun and Kang Full posted Pape and Popo's Memories (2002) and The Romance Comics (2004), respectively, on the Daum portal's cartoon group blog page. They were the first to experiment with the vertical scrolling format and coloration that would later distinguish webtoons from manhwa, though their work was not adapted into TV series.[6] As manhwa readers shifted to webtoons, previously established cartoonists transitioned to the digital sphere.
The webtoon industry significantly expanded with the launch of mobile apps by Naver in 2009 and Daum in 2013, whose monthly average users (MAU) reached 10 million and 2 million, respectively, in 2022. The earliest TV adaptations of webtoons came out as the webtoon apps were launched in the transition just described. Marry Me, Mary! by Won Su-yeon, the artist for the Full House series, for instance, aired on the terrestrial network KBS in 2010,[7] and the cable channel tvN's Misaeng: Incomplete Life (2014) was adapted from manhwa by cartoonist Yoon Tae-ho, whose work debuted in print in 1993. At first, the transition from manhwa to webtoons was limited to digital publishing on Daum (merged with Kakao 2014) in place of the paper-based comic book format. Over time, Sim and Kang's webtoon style became the norm, with cartoonists debuting as webtoon creators. As readership increased, webtoons quickly acquired legitimacy, and TV adaptations by a new generation of cartoonists with no previous experience in manhwa began appearing in 2016 with Soonkki's Cheese in the Trap (2010) and Cho Suk's The Sound of Your Heart (2014), both of which were adapted for television (on tvN and KBS, respectively). As webtoon creators and readers flocked to Naver and Kakao, so did TV producers seeking webtoon properties for expanding niche fanbases into the broader audiences of TV series.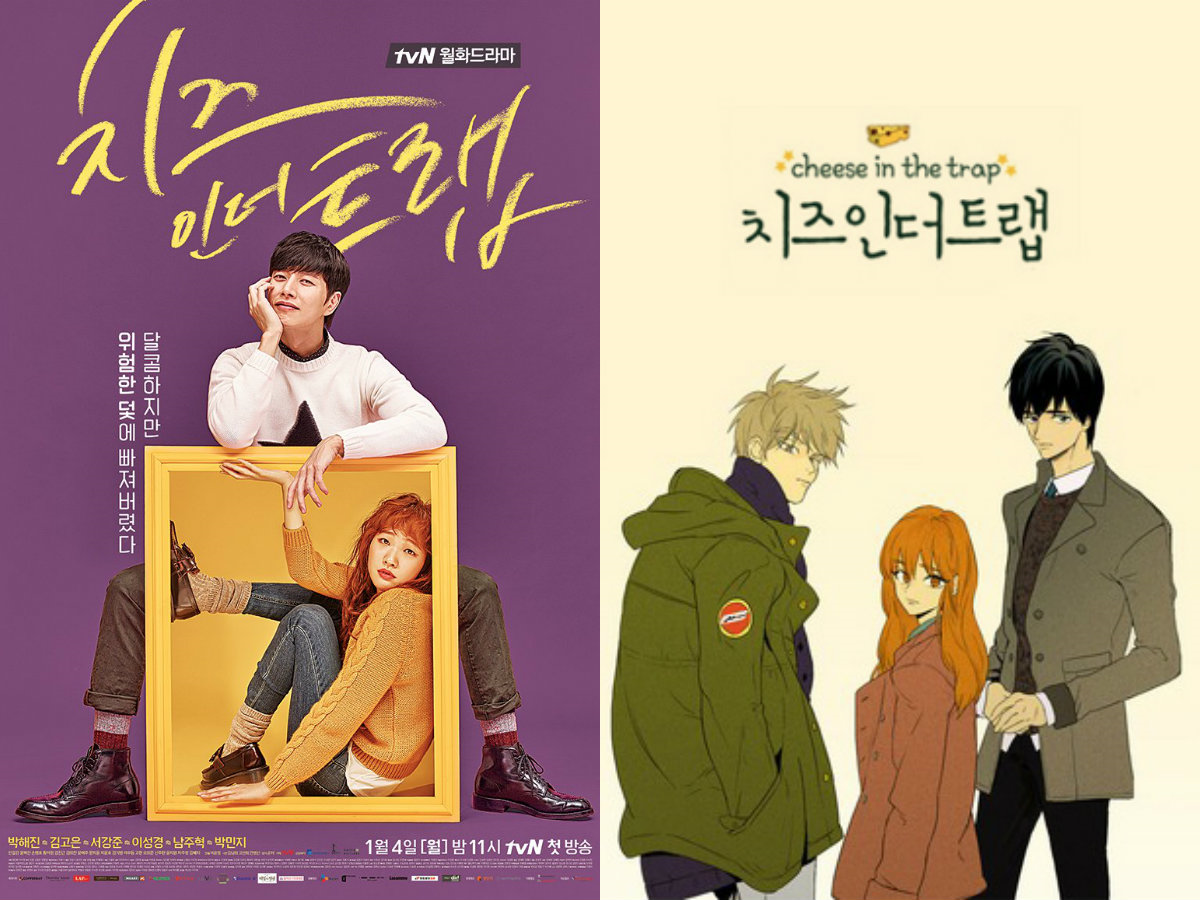 TV adaptation of Cheese in the Trap and the original webtoon.
Naver and Kakao provided space for webtoon artists and readers to interact directly and instantly, with the latter offering feedback through view counts. This space also proved useful for debuting creators and creating competition by incentivizing popular stories. The open publishing platforms provided space for amateur storytellers with a low entry barrier, and the pyramidal structure increased the exposure of the frequently read stories at the top for TV production. At the bottom of the pyramid, webnovels, made possible by Naver's Challenge League and KakaoPage Stage, allowed anyone with a keyboard and internet connection to write and post a story. Webnovels that ranked high consistently for around two months moved to an official page, and, for selected properties, the platform paid authors for the rights to produce the webtoon version using a team of writers and illustrators. When converted to webtoons from a webnovel, the illustrations frame the artwork as if on a storyboard presented to TV drama producers. Once the webtoon version also proves successful with readers, the producers contract with them for a TV series. Those who sign audiovisual contracts are at the pinnacle of the pyramid. The genius of this system is that the initial original storytelling idea reaches audiences without having to be greenlit by any corporate bureaucracy, thereby preserving the uniqueness and variety of the storytelling.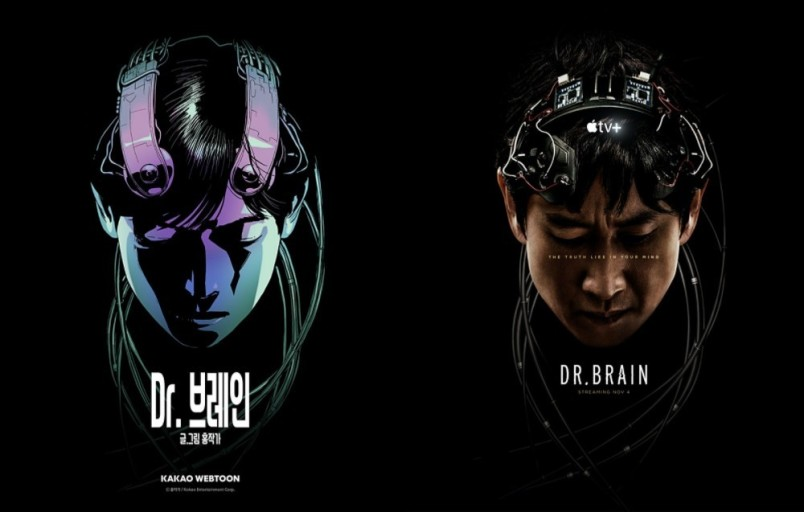 TV adaptation of Dr. Brain and the original webtoon.
The advent of SVODs brought even more freedom of expression to the screen, for distribution on the Internet freed K-drama from censorship by local linear channels, expanding the themes and genres and adding graphic content. Netflix's first fully commissioned TV series, based on the webtoon Love Alarm (2019), combined romance with science fiction. Apocalyptic and violent themes became common as some series achieved international success, including D.P. (2021), Hellbound (2021), and All of Us Are Dead (2022). Apple TV Plus got on the bandwagon with Dr. Brain (2021) as its first K-drama. Disney Plus is releasing Kiss Sixth Sense, another romance-science fiction fusion, and Kang Full's superhero fantasy Moving in 2022.
The SVODs' marketing of TV series adapted from webtoons has garnered attention and attracted subscribers. Their strategy has appealed to fans of the original webtoons, expanded their audience base, and increased their value with added exclusive content. The webtoon publishers' competitive ranking system and possibility of developing hit K-drama productions have incentivized IP generation while lowering the risk for producers willing to invest millions of dollars. Thus, SVODs, K-dramas, webtoons, and webnovel creators have joined forces to develop the webtoon ecosystem into a rich IP mining source for K-dramas.
(The years in parentheses refer to the release of the K-drama, not the original webtoon.)
---
Image Credits:
TV adaptation of Full House and the original manhwa.
TV adaptation of Cheese in the Trap and the original webtoon.
TV adaptation of Dr. Brain and the original webtoon.
References: