Channel Surfing for Television Music
Alyx Vesey / University of Alabama
This is the first installment of a three-part series entitled "Making Music in a Crisis." Over the next few columns, I will document how musicians have made do with the circumstances surrounding the COVID-19 pandemic by figuring out how to work as recording artists and performers while under quarantine. In March and May, I will examine how musicians have been forced to reimagine the concert experience by staging live events and selling merchandise in domestic and virtual spaces. However, my first entry will consider how musicians have made use of television as a medium for promotional appearances, music videos, and award shows.
Dua Lipa performs "Break My Heart" for The Tonight Show Starring Jimmy Fallon (NBC, 2014–).
In "Filling in Holes," Norma Coates introduces "television music" as a concept to help media scholars center the "corresponding industrial, economic, programming, production, and business aspects" of television's "engagement with popular music" in "traditional" programming (23). Such a framework helps us understand how the mediation of pop music has been an integral part of broadcast history as talk and variety programming used it to experiment with form and emergent technologies since the 1940s, as Murray Foreman and David Shumway have persuasively argued (2012, 2014).
Thus, it makes sense to me that the first performer I was compelled to watch acclimate to the professional demands brought about by the COVID-19 pandemic was not Gal Gadot and her celebrity friends reciting John Lennon's "Imagine." It was not the Parks and Recreation gang reuniting over Zoom for charity, as I had placed them in a parallel universe where Hillary Clinton was president. It was Dua Lipa trying to salvage the rollout for her second album, Future Nostalgia, on The Tonight Show Starring Jimmy Fallon. The Estonian-British pop star and her team at Warner Bros. went into 2020 intent on capitalizing on her 2019 Grammy win for Best New Artist. Future Nostalgia's lead single, "Don't Start Now," peaked at #2 on the Billboard Hot 100 charts just as the United States was going into lockdown. Lipa was originally scheduled to appear on Saturday Night Live (NBC, 1975–) and launch her summer tour. But by early April, she was sheltering in place in London and trying to get in front of an album leak scandal.
These circumstances informed her presentation of "Break My Heart," Future Nostalgia's third single, for The Tonight Show. Seated before a greenscreen, Lipa lip synced and shimmied as images of city traffic, night life, and dancers washed over her in time with the song's indelible bass groove. The segment, which bore a striking formal resemblance to Madonna's "Ray of Light" video with Jonas Åkerlund, used rear projections to illustrate electronic music's techno-utopianism. "Break My Heart" constructed a hopeful image of a pop star whose effervescent sound could be everywhere at once, even when she was stuck at home. It also captured the growing ubiquity of virtual backgrounds in everyday life as people obscure their surroundings or curate a beautiful onscreen mise-en-scène while scrambling to work and learn over Zoom.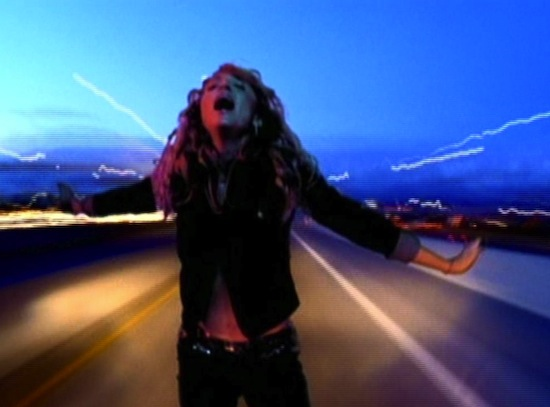 Still from Madonna's "Ray of Light" video.
Coates originally advanced "television music" to deemphasize scholarly interest in music video as a medium and as a channel branding strategy. But as someone lucky enough to come of age when Björk and Missy Elliott were video stars who used the medium to enhance their studio artistry and imagine new forms of feminine self-expression, I'm drawn to the medium's experimental spirit. Music video also challenges what counts as television music at a moment when TikTok is challenging YouTube as the most widely used video-sharing app. Thus, as Carol Vernallis argued in Flow last spring, it is worth considering how and why recording artists turned to music video as an alternative to live performance during the pandemic. Lipa shared virtual space with a band on "Break My Heart," but most groups and session musicians could not congregate in person for television appearances until mid-summer and some still don't. As a result, several artists turned to music video aesthetics to fill the screen and simulate communion.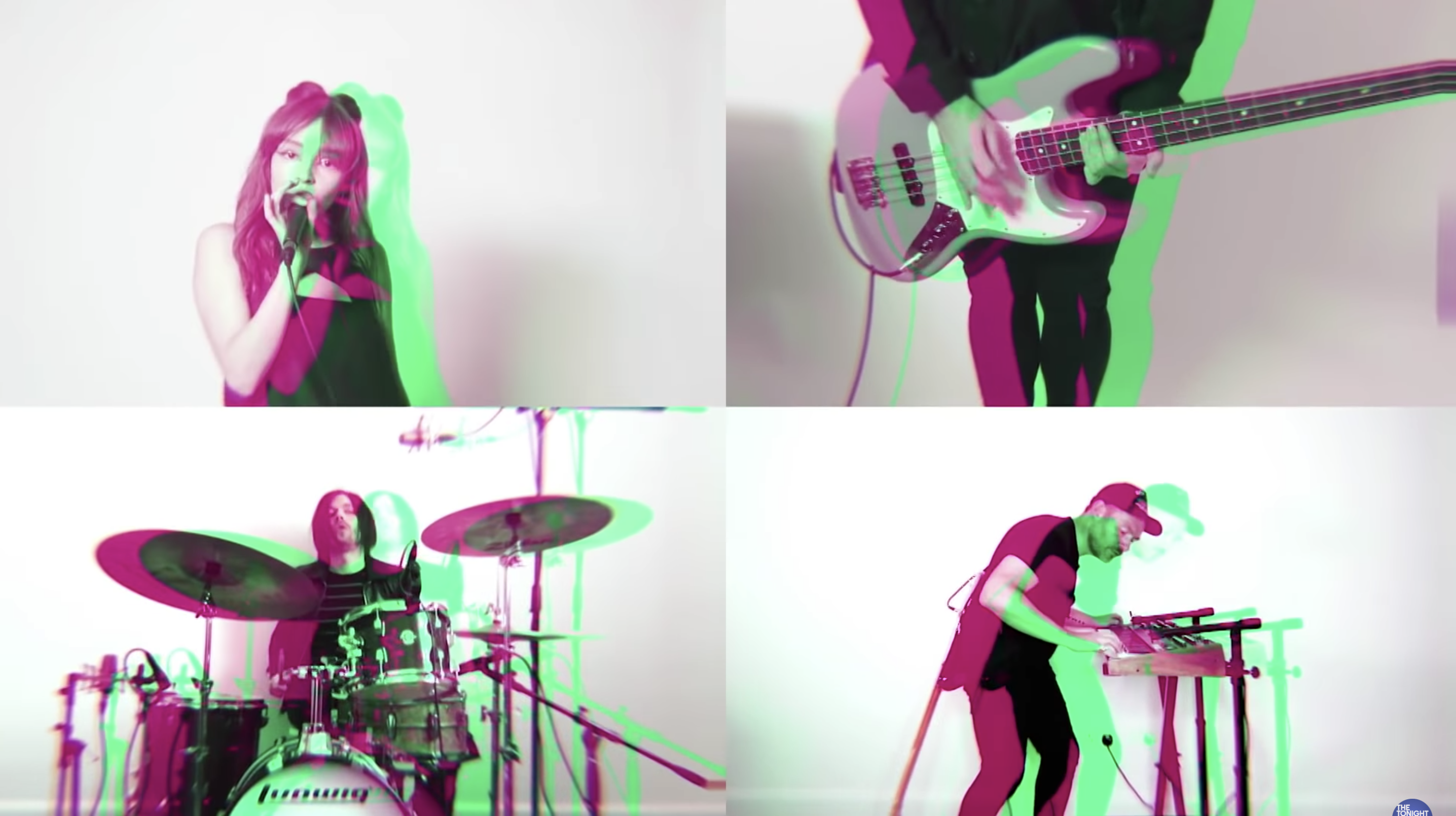 Still from Chvrches' Tonight Show performance of "Forever."
To my eye, the split screen is the pandemic's strongest visual motif. As a discontinuous editing convention, split screens provide vivid transitions between scenes across time and space that call attention to the craft of assembly. When used effectively, split screens visualize simultaneity and unexpected patterns or connections between images and subjects. Zoom makes similar promises to its users as a telecommunications platform designed to gather people together in little boxes. For his medley performance of "Quiet Trip/Nature of the Beast" on The Tonight Show last month, the Roots' Black Thought used split-screens to aestheticize the experience of endlessly toggling between chat windows, tabs, and time zones.
Music video for Thao and the Get Down Stay Down's "Phenom."
The clip also resembled Thao and the Get Down Stay Down's "Phenom," a one-take video shot entirely over Zoom at the beginning of the pandemic. The performers and directors Jeremy Schaulin-Rioux and Erin Murray make geometry out of bodies, technology, and domestic space. Yet they also embody "Zoom fatigue," a byproduct of traumatic working conditions that require people to be productive during a global pandemic and a recession that has left musicians hustling to make up the revenue many of them lost from festival and tour cancellations. Front woman Thao Nguyen made clear that the "Phenom" video was an unsustainable means to an end, telling Verge: "I do not agree with the notion that this is a great time for making art. That puts the onus on an already under appreciated and under compensated field. We didn't set out to make a video with Zoom. This is the tool that we had to use in order to make a video during this mania."
While music videos have been an integral part of television music during the pandemic, they have co-existed with award shows. As a vestige of the broadcast era, award shows have become burdensome properties for their home networks to host as ratings plummet and audiences continue to scatter. Only 6 million people watched the 2020 Emmys on ABC, resulting in the ceremony's lowest ratings in its 71-year history. The Academy of Motion Picture Arts and Sciences has extended the eligibility period for the 2021 Oscars, also on ABC, and postponed the ceremony to late April. Yet the Recording Academy still plans to hold the Grammys on CBS in late January, as originally scheduled. Perhaps the decision is in part motivated by the Academy's desire to rehabilitate a public image tainted by accusations of corruption and misconduct. Yet it is also betting on musicians' willingness to translate their catalogues into televisual spectacle.
Several ceremonies have aired during the pandemic. While some have sought to present some illusion of pre-pandemic normalcy to the proceedings, others opted to make television music out of the pandemic. In August, the Video Music Awards doubled down on iconicity, making its performers seem 50 feet tall as they preened through immersive worlds staged in parking lots and atop computer-generated skyscrapers. In September, the Academy of Country Music Awards foregrounded liveness as a tenet of country music's cultural authenticity by zipping across Nashville with the help of the ceremony's sponsor, Google Earth, to catch remote performances from the cities' storied venues. And in November, the Rock and Roll Hall of Fame emphasized the archive when it reconvened for the postponed 2020 induction ceremony.
A few days before HBO's Rock Hall presentation, Foundation president Joel Peresman announced that the ceremony jettisoned live performances to invest in career retrospective montages by explaining to Billboard that the Hall's mission "is to really teach people why these artists are important." Members of the Doobie Brothers, Nine Inch Nails, and Depeche Mode expressed regret over the decision in their acceptance speeches as the class's three current touring acts. However, the montage helped make the Rock Hall ceremony become television music. It gave narrative structure to an event that spent its first decade behind closed doors before MTV televised the 1995 ceremony. It highlighted television's significance by documenting variety programming, documentary film, and music video's impact on popular music, a contribution that MTV, VH1, and HBO have underscored as the ceremony's broadcasters. Finally, its frequent excision from a program once segments from it recirculate on YouTube illustrates how much licensing frames and restricts television music.
Clip montage announcing Whitney Houston's nomination to the Rock & Roll Hall of Fame.
What I miss about television music during the pandemic is the element of surprise. Predictability may heal for trauma and keep a television show from alienating its viewers, but good art helps us process uncertainty. This year's Rock Hall ceremony ended with Cissy Houston refusing to cry as she accepted her daughter's award as the 2020 class's lone female member. What if she let herself cry? What if she decided to sing as an acknowledgment of her daughter's pedigree and as a rebuke of the Hall's reticence to acknowledge Black female backup singers' contributions to popular music? What if Brandy, Whitney Houston's protegée, shared the stage with gospel legend Kelly Price and queer singer-songwriter serpentwithfeet to commemorate her? What more can television music do to teach us about Houston's artistry?
---
Image Credits:
Dua Lipa performs "Break My Heart" for The Tonight Show Starring Jimmy Fallon (NBC, 2014–).
Still from Madonna's "Ray of Light" video. (author's screen grab)
Still from Chvrches' Tonight Show performance of "Forever." (author's screen grab)
Music video for Thao and the Get Down Stay Down's "Phenom."
Clip montage announcing Whitney Houston's nomination to the Rock & Roll Hall of Fame.
References:
Coates, Norma. "Filling in Holes: Television Music as a Recuperation of Popular Music on Television." Music, Sound, and the Moving Image 1, no. 1 (2007): 21-25.
Forman, Murray. One Night on TV is Worth Weeks at the Paramount: Popular Music on Early Television. Durham, NC: Duke University Press, 2012.Shumway, David. Rock Star: The Making of Musical Icons from Elvis to Springsteen. Baltimore, MD: Johns Hopkins University Press, 2014.
Shumway, David. Rock Star: The Making of Musical Icons from Elvis to Springsteen. Baltimore, MD: Johns Hopkins University Press, 2014.