Confronting the Swarm: Streaming Platform Strategy in an Uncertain Age
Jake Pitre / Concordia University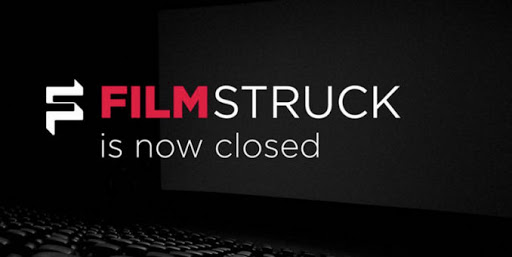 FilmStruck shuts down in November 2018.
FilmStruck died on November 29, 2018, a little more than two years after launching. Owned by the Turner Broadcasting System and operated by Turner Classic Movies, it quickly became a beloved source of cinephilic pleasure and discovery, particularly as it was in partnership with The Criterion Collection. Turner, which merged with TimeWarner in 1996, was acquired by AT&T in June of 2018, and the conglomerate was renamed WarnerMedia. Only a few months later, it was announced that FilmStruck was being discontinued due to "restructuring" at WarnerMedia, presumably as a result of what executives saw as low profits and low interest.
In 2019, The Criterion Collection launched The Criterion Channel, which has essentially replaced FilmStruck, because while it lacks the Turner library, it features Criterion titles as well as a roving roster of licensed titles from all kinds of companies. In May, WarnerMedia will launch another service called HBO Max, which will host content from HBO and plenty of other WarnerMedia programs and films—plus some Criterion Collection titles. HBO Max will join an ecosystem that includes Netflix, Amazon Prime, Hulu, Disney+, Apple TV+, MUBI, Shudder, The Criterion Channel, Sundance Now, Crunchyroll, Kanopy, NBCUniversal's Peacock (which launches in April), and many other streamers vying for market value. This situation has become known as the "streaming wars," with comparisons made to the rise of cable packages and the incoming unaffordability of the streaming glut. In such a scenario, it is natural to wonder if the smaller services with comparably niche appeal will follow the trajectory of FilmStruck.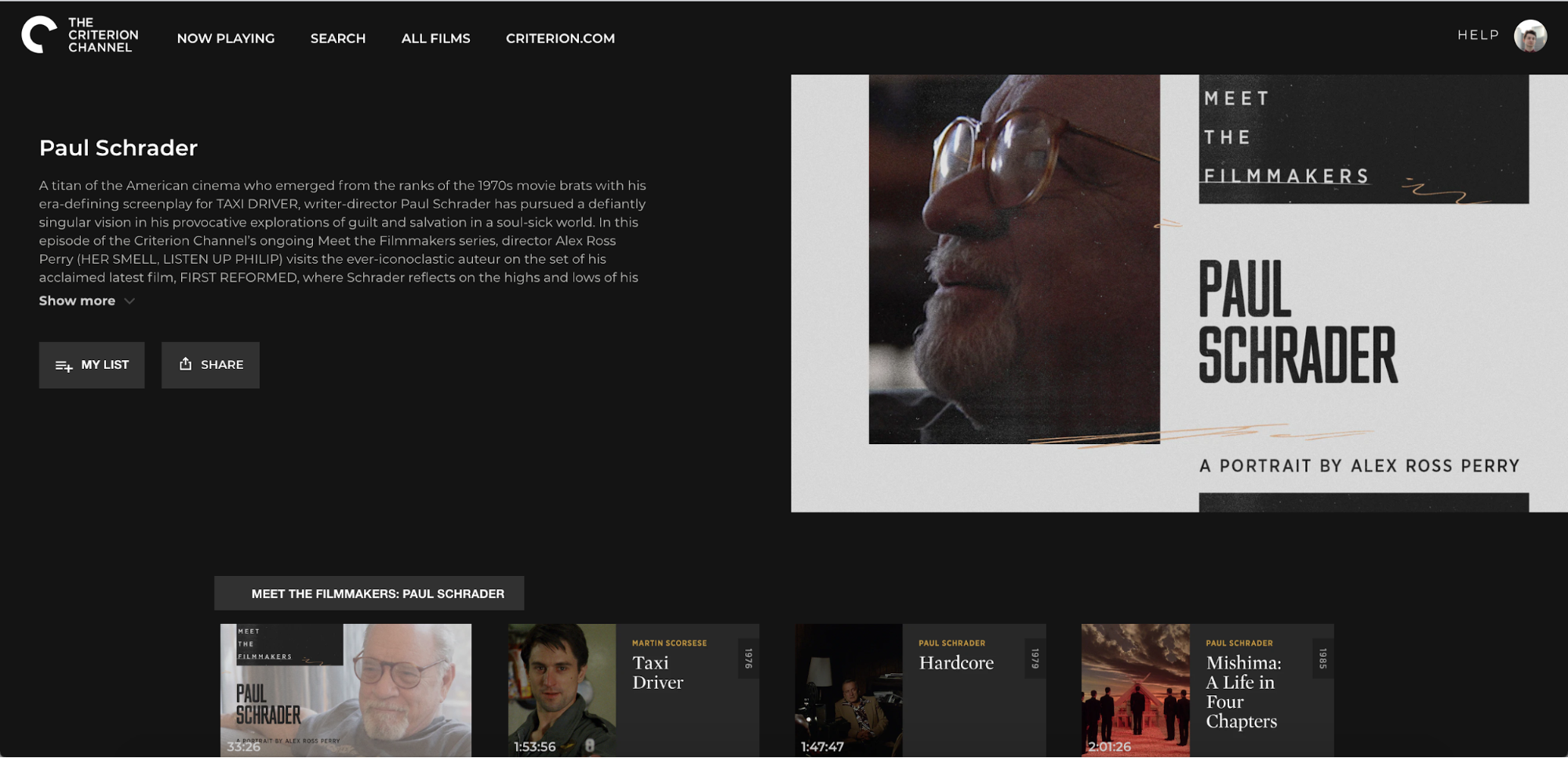 An example of a curated collection on The Criterion Channel, with descriptive context, special features, themed films, and more.
Some are owned by giant conglomerates, which may provide some safety, such as Shudder, the horror streaming service, which is owned by AMC Networks. That ownership is not a foolproof safety net—for example, AMC Networks also owns Sundance Now, which means they could combine the services to save on resources, or simply write off Shudder if it underperforms on their subscription expectations. Kanopy works with libraries and universities, using a successful "patron-driven acquisition" model where institutions pay on a per-view basis, which can be prohibitively expensive for some libraries, including the New York Public Library, which discontinued the service in July 2019.
The Criterion Channel appears to be operating with a variety of strategies, seemingly having learned some lessons from FilmStruck's demise (although it should be noted that the majority of FilmStruck's staff were Turner employees). They place a lot of weight on curation, taking the opposite approach to the personalization algorithms that conquer the industry, thematically programmed along with special features (another rarity in streaming). They also build the turnover of their library into part of the platform's appeal, with sections devoted to titles leaving the service at the end of the month. Often, these films are licensed from other companies based on partnerships with WarnerMedia, Kino Lorber, or others, helping to keep their library fresh and ever-changing (while simultaneously turning a potential negative into a positive aspect of the service's unique allure).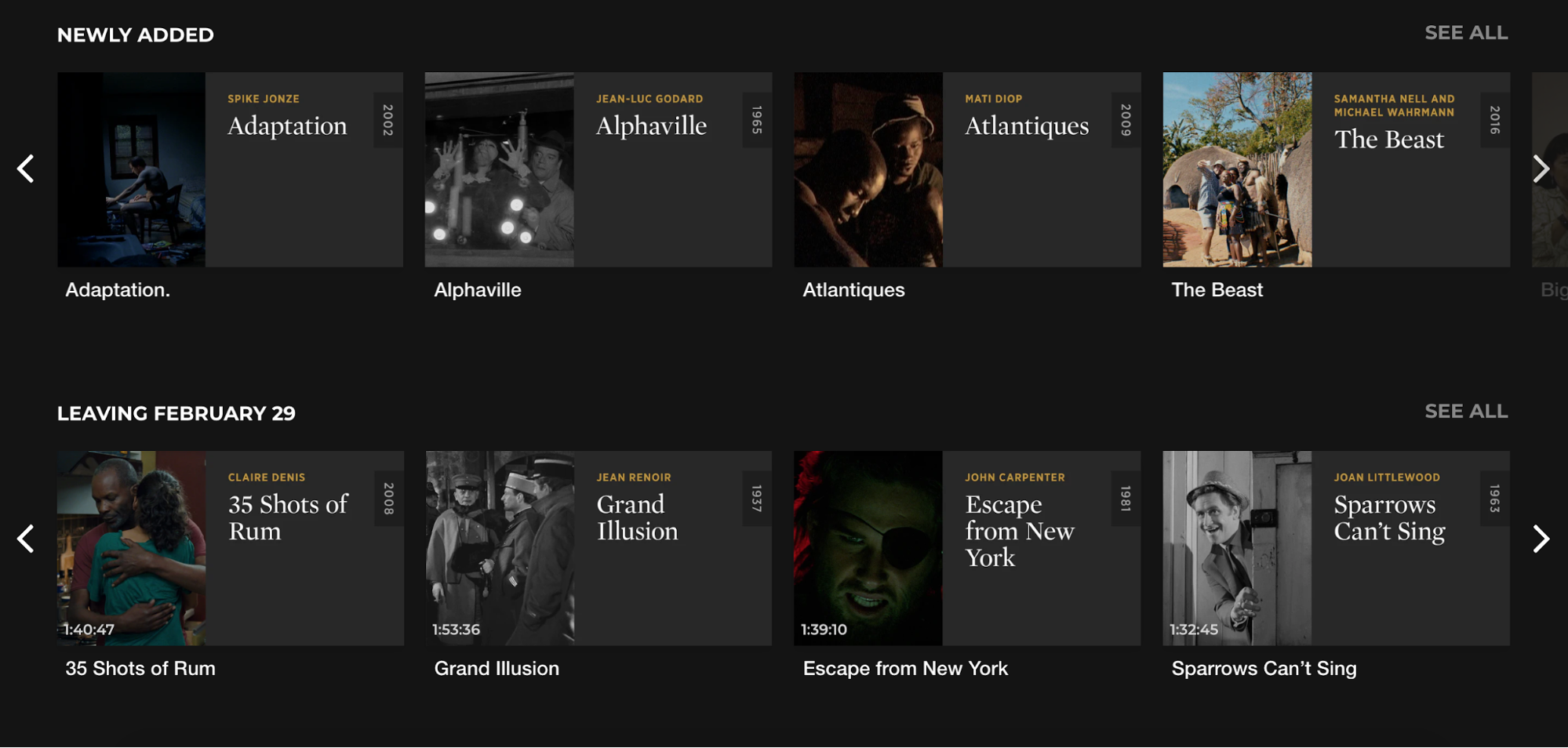 An example of how The Criterion Channel makes the turnovers in its library part of its appeal, rather than a limitation, by highlighting this aspect of its themed programming.
In some ways, this follows MUBI's approach, a boutique streamer that posts a film-per-day (which stays up for 30 days) according to a similar logic of artistic patronage. Jennifer Hessler argues that MUBI "faces an amplification of the challenges that streaming sites that prioritize mainstream content experience, including the difficulties of acquiring content streaming licenses, the unmet ideals of content ubiquity, the challenges of maintaining subscribers, and the need to manage a variety of corporate partnerships" (Hessler 13). Moreover, like the Criterion Channel, they must navigate its intermediary role as a platform, and "recast the material constraints of its distribution model as advantages" (13-14). Roderik Smits and E.W. Nikdel charted MUBI's history and strategic shifts, particularly their move into film distribution as a promotional tool for their platform, along with an early investment in tastemaking as a business model versus audience empowerment. Smits and Nikdel compare MUBI's approach to traditional repertory theatre exhibition, a reach for historical continuity in an environment of digital disruption. It's not just thematic groupings, either. "Importantly, MUBI also emphasises the need to support their programming choices through the cultivation of context. For this reason, MUBI's catalogue is accompanied by a number of curatorial features designed to supplement the content" (Smits & Nikdel 28). This dedication to refining standards of taste in the paralysis of choice in online streaming is complicated by the added pressure platforms like MUBI and The Criterion Channel bear in consistently programming titles and licensing that their audience likes, particularly as both are on the higher end of streaming platform cost, at $9.99 and $10.99 per month, respectively.
An example of the content created to promote the platform's themed curatorial programming.
As Smits and Nikdel point out, it is this trust in and veneration of context and cultivation that builds brand loyalty for niche streamers, ultimately providing their economic integrity via familiar gatekeeping practices. Moreover, the inclusion of exclusive special features, many of which are Criterion Collection original productions, is an added incentive, particularly following the concept of historical continuity—in the streaming age, we may feel nostalgic for DVD extras, commentaries, and behind-the-scenes footage. Many themed collections also feature introductory videos featuring critics and scholars who specialize in a particular director, star, genre, or era of film history, providing motivation for users to explore and, more importantly, remain on and revisit the platform. This is typical for streamers: Netflix barely gives you a moment's pause before launching you into another episode; Facebook Watch incorporates characters' social media profiles into storytelling to keep users on its social media platforms; Disney+ charges only $6.99 per month with sections catered specifically at toddlers and young children to make it easier for parents to shell out and park their kids in front of the platform for as long as possible. One aspect that requires further inquiry, however, is the added labor for The Criterion Channel to maintain its special features and programming. While it seemingly has no interest in creating its own films or series (beyond some interview-focused ongoing programs like Adventures in Moviegoing), their curatorial practice necessitates greater amounts of work than simple UI decisions. Will this be a sustainable model for a niche service among a field of aggressive competitors?
As more join the fray, it will become more imperative that niche streamers find inventive strategies for maintaining their subscriber base. While The Criterion Channel and MUBI pride themselves on their specific gatekeeping and tastemaking approaches, it's worth questioning the long-term efficacy of that style in an era of customer empowerment. Do users really want to be talked down to and told what they should watch, like a student being educated? Perhaps, though, there's something sneakily practical and dynamic in the choice to counter the narrative provided by Netflix and other market leaders about algorithmic precision and omnipotent domination. Perhaps cinephiles are submissive, after all.

---
Image Credits:
FilmStruck shuts down in November 2018.
An example of a curated collection on The Criterion Channel, with descriptive context, special features, themed films, and more. (author's screen grab)
An example of how The Criterion Channel makes the turnovers in its library part of its appeal, rather than a limitation, by highlighting this aspect of its themed programming. (author's screen grab)
An example of the content created to promote the platform's themed curatorial programming.
References:
Hessler, Jennifer. "Quality You Can't Touch: Mubi Social, Platform Politics, and the Online Distribution of Art Cinema," The Velvet Light Trap vol. 82 (Fall 2018): 3-17.
Smits, Roderik, and E.W. Nikdel. "Beyond Netflix and Amazon: MUBI and the curation of on-demand film," Studies in European Cinema vol. 16, no. 1 (2019): 22-37.