Syndication 201: Syndication Is Dead. Long Live Syndication.
Taylor Cole Miller / University of Georgia

New syndies premiering this fall included talk shows for RuPaul, Tamron Hall, Kelly Clarkson, and a court show featuring Jerry Springer.
In 2013, the US government revised how it estimates its GDP to account for, in part, the extraordinary profits of syndication for television because of the viability of daily shows and reruns to provide long-term streams of income. Fast forward to 2018, when Nielsen conservatively estimates that Netflix users streamed 52 billion+ minutes of The Office and 32.6 billion+ minutes of Friends (both shows it has recently lost), the equivalent of 25 hours for every Netflix subscriber in the country—a measurement that only includes TV-set viewing, not including other devices.
Stories abound about the incredible lengths rights-seekers will go to to secure ad-supported and subscription streaming (AVOD and SVOD) syndication rights to shows like Seinfeld ($2.8m/episode for five years) because those shows' large packages of episodes shore up a subscriber base that in turn pay for streamers' expensive original programming, a strategy borrowed from cable's playbook which it borrowed from affiliate and independent broadcasters before that. And television's digital revolution brought with it compression technologies that enabled us to go from 3-4 networks to more than 50. Not 50 cable channels, but 50 different over-the-air networks, leading Derek Kompare to quip that the "golden age of over-the-air reruns is apparently right now."

Just a few of the more than 50 over-the-air networks in existence today.
Meanwhile, despite falling ratings for most traditional cable and broadcasting (or linear TV) overall, Fall 2019 saw its biggest year for first-run syndies in a decade, with more than 40 shows set to air this season alone. TV's three highest-paid stars are all from first-run syndication: Judge Judy, Ellen DeGeneres, and Dr. Phil. And in addition to being the reliable sugar daddy of the television business, syndication has been technologically pioneering (e.g., innovating filming for television, international co-productions, and color TV) and culturally pioneering (e.g., a same-sex kiss 18 years before Roseanne, a transgender lead character 37 years before Transparent).
And yet, despite its massive economic, technological, and cultural strides, syndication never found its match in scholarship. Indeed, while the importance of "quality TV" and new primetime programming get to be taken for granted as objects worthy of study, journal reviewers constantly insist I set aside paragraphs to justify why a study of syndication is a legitimate project given, as one recently put it, it's just a slate of "formulaic … programs with so little to commend them"—television's lowest common denominator and a practice of yore. I don't take that personally because, except for the excellent Rerun Nation and helpful asides elsewhere, there's very little in the field or in our students' textbooks that discuss syndication beyond a basic 101 of how it functions. Routledge has five published editions of The Television Handbook, for instance, only one of which says anything about syndication (the third), and only in its glossary: "syndication—the sale of programs for regional television broadcasters to transmit within their territory."
The word "syndication" typically is used as a shorthand for one of three things: 1) to explain a particular form of distribution as "the practice of selling [content] directly to stations without going through a network, programs that each station can air at whatever time and with whatever frequency it desires," either as originals (first-run syndie talk shows like Oprah, Ricki Lake, game shows like Jeopardy! or Wheel of Fortune, court shows like Judge Judy, or scripted originals like Xena: Warrior Princess) or reruns (second-run syndication); 2) with regard to the Financial Interest and Syndication Rules (Fin-Syn) and the Prime Time Access Rule (PTAR) in the 1970s that divided networks from their media libraries and changed what they could air; and 3) in reference to the 100-episode finish line for network series hoping to "make it to syndication" because that's where television's real profits lie.
With this 101 under our belt, this post serves as the first installment in a three-part series to provide researchers and students with an intermediate understanding of syndication today—a Syndication 201—to better consider some of syndication's economic, technological, and cultural contributions in the story of television.
The Syndication Industry:
Simply put, there are three major players in the syndication business: the owners of a media product up for clearance (or a program available to license); the syndicator who the owners hire/lease their rights to as the "representative" of the media product. The syndicator then prepares the program and its contracts for clearance to; the exhibitor or the TV channel or station that airs the product according to its contract.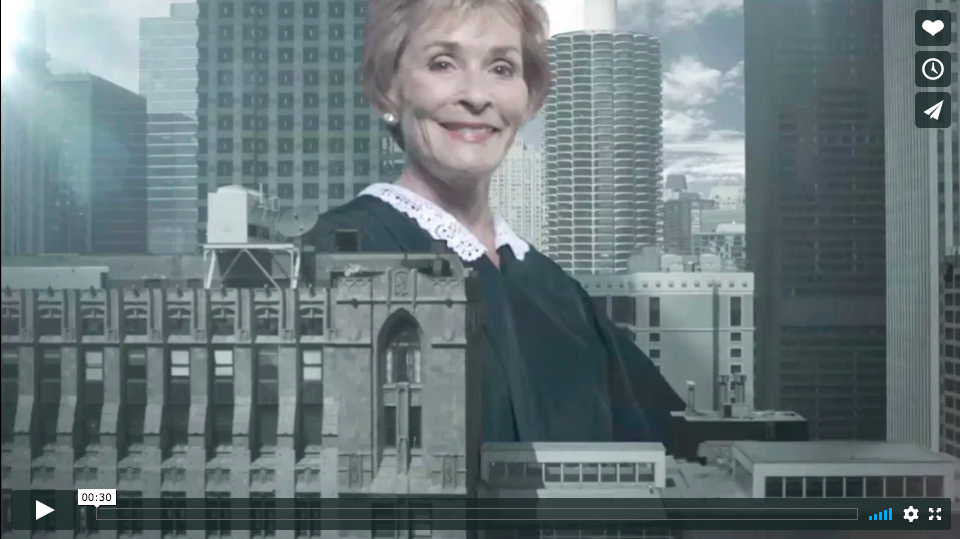 Judge Judy in Chicago from bbrauer on Vimeo.
An example of an ad made by a Judge Judy exhibitor (a CBS O&O) for its local airing of the show in Chicago.
There are three types of syndication deals: straight cash (a station pays for a show directly), barter/trade (a show is provided for free in exchange for owners taking most of the advertising profits), and cash-plus-trade (a mixture of both). Let's look at an example:
Oprah Winfrey is so incredibly wealthy not only because she horizontally integrated (The Oprah Show, O The Oprah Magazine, OWN, Harpo Films, Inc.) but also because syndication made it easier for her to vertically integrate (she served as both its executive and on-air talent and she owned the show, the production company, the production team, and the studio) by cutting out all the typical network middlemen and their profit sharing. King World Productions was Oprah's syndicator meaning it 1) negotiated individual contracts to air the show on stations in all the television markets (currently 210 as divided by county); and 2) it distributed the product (episodes of the show) to these stations through satellites. In small regional markets, Winfrey provided the show for free in exchange for controlling ad revenue while in larger ones, top network affiliates held constant bidding wars to secure her show. In exchange for its on-the-ground negotiations with hundreds of stations and station groups, King World took a cut from the profits she earned from each individual exhibitor.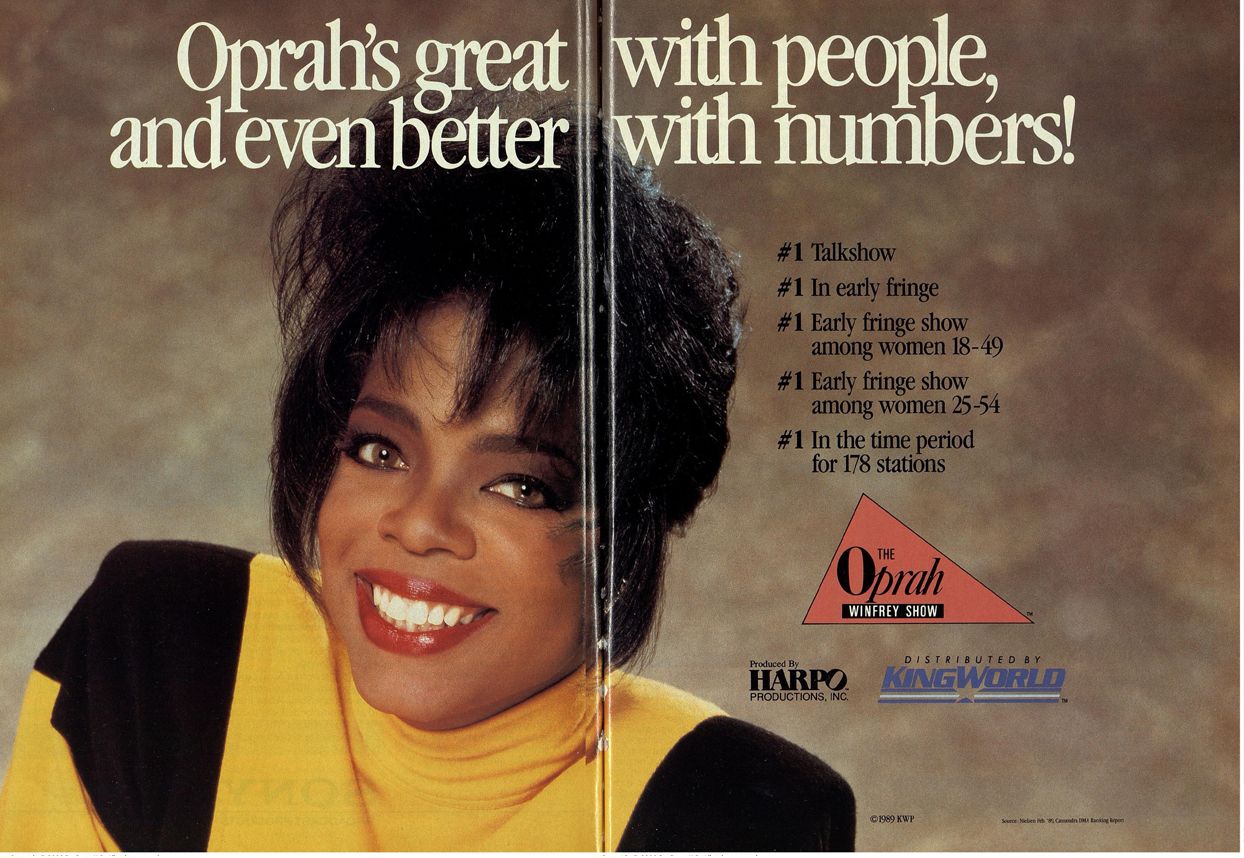 An example of a syndication ad campaign by King World for The Oprah Winfrey Show
As its marquee property, Oprah generated 40 percent or more of King World's operating revenues, and every time Winfrey's contract with King World was up for renegotiation, she held the future of the show hostage until King World agreed to scale back its cut, eventually leading to an unprecedented salary peak at $315 million in one year. You often can see this kind of negotiation happening in public, as when talk show hosts tease their audiences about potentially ending their shows, like Ellen DeGeneres, who does it all the time and Judge Judy, who has used her negotiations to secure new productions.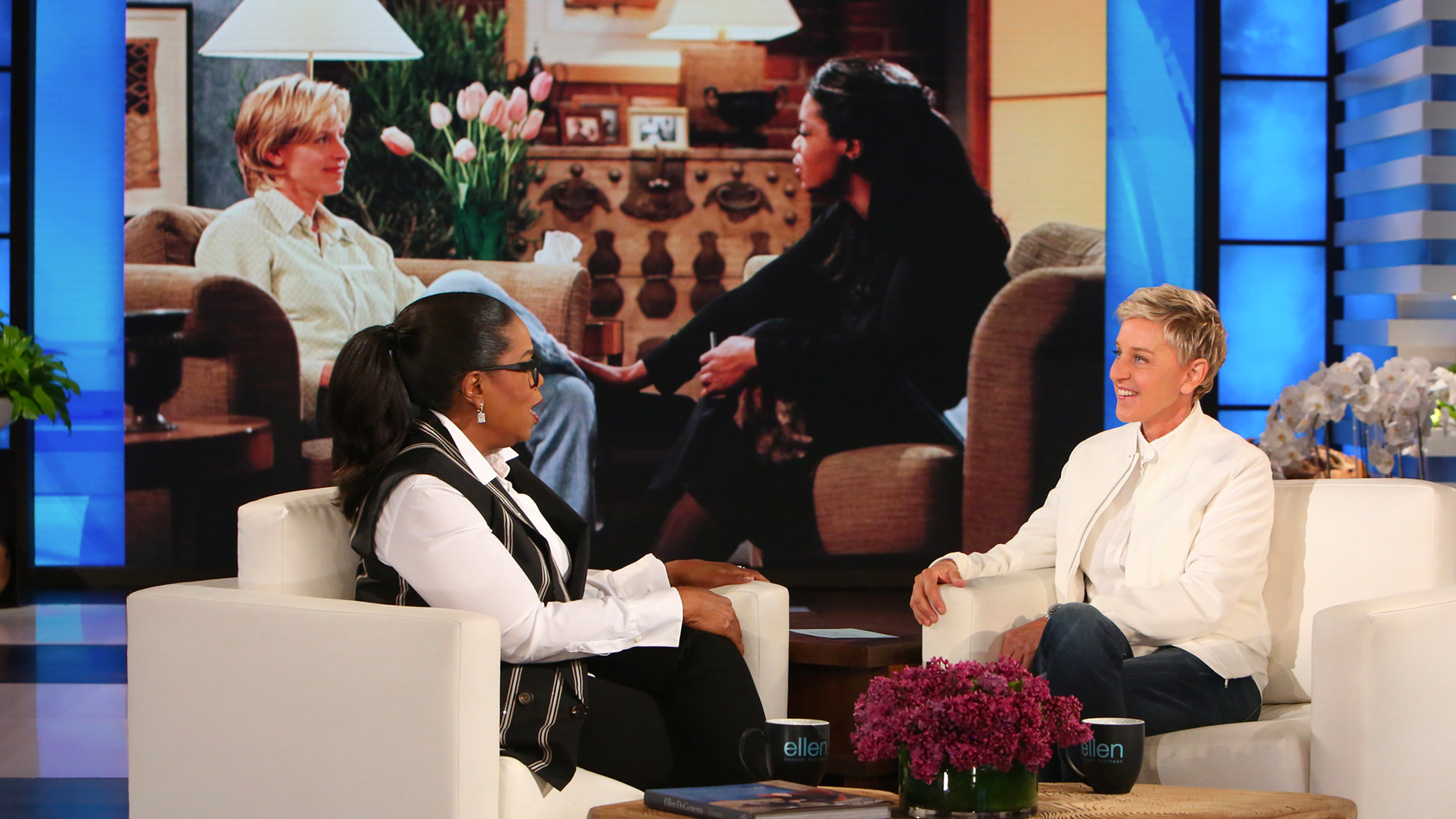 Oprah Winfrey appears on Ellen DeGeneres' syndicated daytime talk show.
The possibility of this inverted control of power—with the independent production company at the top—is part of what makes the syndicatedness of syndies key to the creative latitude they have for the content they air, which has often, in turn, created ideal conditions for queer and otherwise transgressive content to appear on television. In second-run syndication, meanwhile, the owners and syndicators may hire new creative and production professionals to change the content of shows to make them easier to sell, as when Tom & Jerry animated over its Mammy character, and both Will & Grace and Sex and the City edited out the World Trade Center towers. I will discuss these creative aspects of content and the syndication industry in the next installment.
---
Image Credits:
New syndies premiering this fall included talk shows for RuPaul, Tamron Hall, Kelly Clarkson and a court show featuring Jerry Springer. (author's composite of screen grabs)
Just a few of the more than 50 over-the-air networks in existence today. (author's composite of screen grabs)
An example of an ad made by a Judge Judy exhibitor (a CBS O&O) for its local airing of the show in Chicago.
An example of a syndication ad campaign by King World for The Oprah Winfrey Show. (author scan: Broadcasting & Cable, May 1, 1989)