"Go back where you come from!": Aesthetic identity, "This Land" and "Old Town Road"
Susan McFarlane-Alvarez / Clayton State University

Gary Clark Jr. and Lil Nas X challenge conventions of race and music genres.
Go back where you come from. We don't want, we don't want your kind… This land is mine.
– Gary Clark Jr., "This Land"
The generic conventions of popular music historically have been sites of identity negotiation, with discussions focused on the intersection between belonging and race or ethnicity. For scholars of cultural studies, the fact that there is coincidence between political sphere discussion of belonging and popular culture negotiation of belonging comes as no surprise. In July 2019, President Donald Trump admonished four Congresswomen of color to "go back to the countries they came from," repeating earlier taunts to expatriate those who don't belong in America because of race or ethnicity, and resurrecting an old trope founded in racism and which has "long, deeply entrenched roots in American history." The taunt, which suggests that those subjected to it, and others of their kind, are not welcome here, has roots traceable to The Alien and Sedition Acts of 1798. Affirmed by the Federalist Congress, the Acts were passed into law by John Adams, and legislated to classify immigrants and foreigners as a deep threat to American security. The laws provided new enforcement to deport foreigners and made it harder for new immigrants to vote. In fact, in this 1798 context, one Federalist referred to immigrants as, "the turbulent and disorderly of the world." More than 220 years later, the resurgent positioning of immigrants, non-white and non-English speaking citizens as both Other, and a threat to the project of reclaiming or retaining America's greatness cannot be denied.
Not coincidentally, this process of othering spilled from political discourse to discussions of artistic and popular culture expressions. In particular, discussions about the intersections of race and music genres circulated around two songs: "Old Town Road," by Lil Nas X, and "This Land" by Gary Clark Jr. Both songs and their respective music videos provide commentary on the intersection between race and music genre, and the issue of racial identity and belonging, respectively. Both cultural artifacts are imbued with motifs of expatriation and the Other, and both works offer an opportunity to examine how this resistance to symbolic exile unfolds on three fronts: generic convention, space and national identity.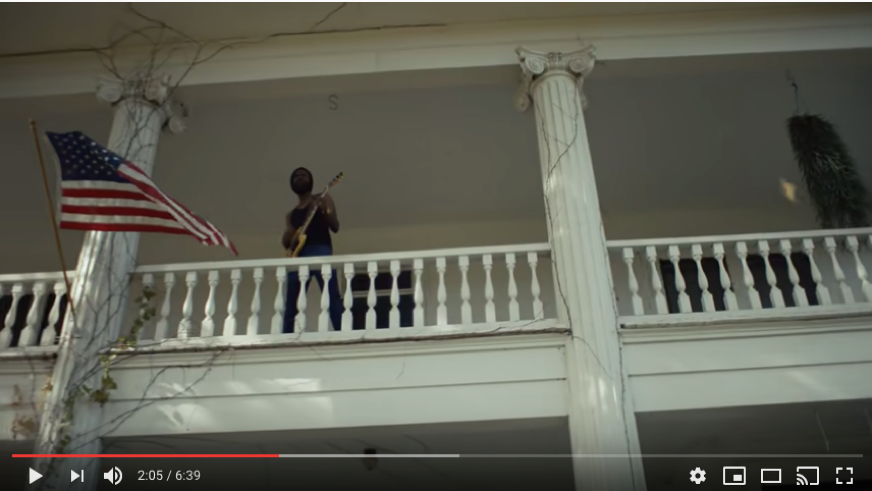 Screen pull from "This Land," with Gary Clark Jr. singing on the verandah of a plantation house.
Released in January 2019, the song "This Land," by blues-rock musician Gary Clark Jr., builds on Woody Guthrie's "This Land Is Your Land" but questions the promises made in the popularized version of that 1940 song. While Guthrie's folk song expresses the American ideal of inclusion, Clark's homage wails in discord, and unearths the truths long since extracted and interred from the collective construction of Guthrie's American Dream. Guthrie's "This Land," long celebrated as an anthemic tribute to America, has been repositioned as a protest song, particularly through analysis of a lost fourth verse, which criticizes America for falling short of its promise of inclusion. This fourth verse exists both in the original 1940 lyric manuscript, and in a 1944 recording of the song.
There was a big high wall there that tried to stop me.
The sign was painted, said: "Private Property."
But on the backside, it didn't say nothing.
This land was made for you and me.
The lyrics of "This Land" build on this resistance to exclusion as a response to a real-life incident in which Gary Clark Jr. was confronted on his own 50-acre ranch near Austin, Texas, by a neighbor who told him, "There's no way you could live here. Who really owns this place?" Clark's lyrics echo his personal experiences of being black in the American South. "Nigga run, nigga run. Go back where you come from. We don't want, we don't want your kind." The visuals in Clark's music video for "This Land" are equally powerful in their protest, including the near nonchalance and obliviousness of a young black protagonist looking out the window of a car that drives through country roads, passing confederate flags on mailboxes. In a poignant, everyday sense, blackness in America is set against the context of a landscape designed for exclusion from, and oppression within that landscape. Later in the music video, the same young, black protagonist walks, as if in a trance into the water of a swamp, an action that echoes the tragic actions of Igbo slaves who, in 1803, rather than face the prospect of enslavement had drowned themselves.[1] He emerges from the dream-swamp into a field, looks up to a rope hanging from a tree, and to a plantation house on whose verandah waves an American flag. Through symbolism of a black snake, cotton, a feather and arrowheads, the music video for "This Land" raises questions of the land and indigenous or native or authentic belonging. Throughout, the video confronts oppression and exclusion with images of black children in dungarees, first standing on confederate flags, later reciting, "this land is mine," as they stare into a fire, in which burns a confederate flag.
Children stand atop confederate flags in the music video for "This Land" by Gary Clark Jr.
Just prior to the release of "This Land," "yeehaw-rapper," Lil Nas X dropped "Old Town Road" via streaming service SoundCloud. The track launched into a social context still sorting through the implications of Unite the Right's rally for white supremacy in Charlottesville Virginia, during which far-right extremists chanted, "You will not replace us." The discourse that erupted around reception of "Old Town Road" seemed similarly fraught with racial hatred and ethnophobia, and fear that what belongs to "us" is being taken over by "them." Responses to "Old Town Road" and the racial identity of Lil Nas X ranged from listener reviews to analysis of industrial strategy, collectively negotiating the terrain of belonging through discussions of genre and style. Billboard Magazine removed the song from the country chart, issuing a statement that it did so because of its trap beat and mixed categorization on streaming services. This removal catalyzed criticism for what appeared to be another instance of the music industry's sidelining of non-white artists in the country genre.
Lil Nas X and his song quickly became symbolic of negotiating generic conventions. Released in May 2019, the music video for "Old Town Road" along with Lil Nas X's partnership with Wrangler brought further impetus to negotiate the intersection between blackness and "country." Lil Nas X's lyrics implicated the Western apparel company: "Cowboy hats from Gucci/Wrangler on my booty/Can't nobody tell me nothin'." The music video pays homage to Western generic conventions with its mise-en-scène inclusion of horse-riding cowboys engaging in gun fights, wearing hats and boots. In the prelude, Lil Nas X says, "Last time I was here, they weren't too welcoming to outsiders." Collaborator Billy Cyrus responds, "It's you and me this time. Everything's going to be alright." Where Lil Nas X might be the outlaw hero, his ascendancy to acceptance rides on Billy Ray Cyrus as official hero, accepted as belonging, and part of the mainstream.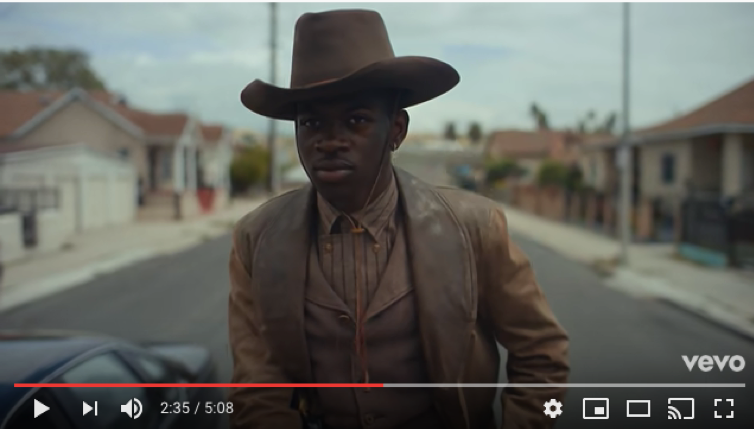 Lil Nas X rides into town in the music video for "Old Town Road."
In his 2002 article, William Roy interrogates the relationship among musical genres, social movements and racial identity, defining aesthetic identity as "the cultural alignment of artistic genres to social groups by which groups come to feel that genres represent 'our' or 'their' art, music and literature."[2] In this way, genre boundaries are not simply industrial distinctions among music charts that represent musical styles and expressions, they are indeed social boundaries. More pointedly, as Roy elucidates, "the sociology of culture is premised on the notion that boundaries between aesthetic genres correspond to social boundaries between groups."[3] The negotiation of identity and belonging through discussions of music genre is, in fact, negotiation of social boundaries.
In the second half of the music video, Lil Nas X is transported from the 1800s to present-day Old Town Road, only to realize that he is still the anomaly of a trap-singing black cowboy in a sub-urban environment. In effect, he is an objectified Other, even in the black present-day neighborhood as much as he is in a turn-of-the-century frontier town. By the end of the video, the horse is replaced by a Maserati GranTurismo convertible in which he rides shotgun with Cyrus, and Lil Nas X brings his blinged black cowboy style to an eventually welcoming white, country bingo hall. Lil Nas X has left behind the margins of turn-of-the-century red sand desert and the othering of present-day suburbia to proclaim a new place for blackness and the erosion, or redefinition, of the country frontier.
In both "Old Town Road" and "This Land" lie continued negotiations of three connotations of belonging and country: belonging in country as musical genre, belonging in country as a place held in contrast to city and urban identity, and belonging in country as national identity. Inasmuch as groups adopt and adhere to aesthetic identity and the appropriation of boundaries that are culturally defined, generic distinctions are used to sell products consumed by audiences interpellated by racial, gender, national and sexual identity. Even more importantly though, discourse surrounding genre conventions are not simply used to reinforce generic distinctions, they are actual, tangible manifestations of group identities, boundaries and belonging.
---
Image Credits:
References:
Snyder, Terri L. "Suicide, Slavery, and Memory in North America." The Journal of American History, vol. 97, no. 1, 2010, p. 39. [↩]
Roy, William G. "Aesthetic Identity, Race, and American Folk Music." Qualitative Sociology, vol. 25, no. 3, Sept. 2002, pp. 459–469. [↩]
In particular, see page 460 of the Roy article. [↩]