Primetime Pedagogies: Racism, Primetime TV, and the Limits of Dissent Phoebe Bronstein, University of California, San Diego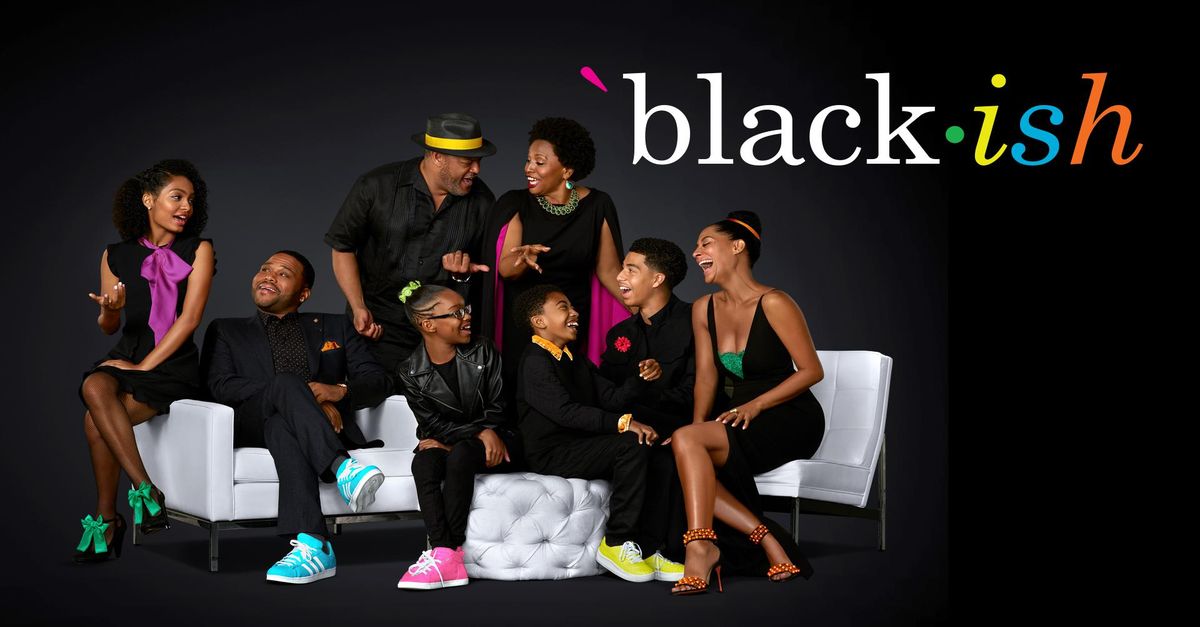 The cast of ABC's Blackish
In 1959, Harry Belafonte starred in and produced a groundbreaking Revlon special, Tonight With Belafonte. For the program, Belafonte envisioned "a portrait of Negro life in America told through music," for which he won an Emmy [1] The initial special's successes led to CBS and Revlon signing Belafonte for five more specials—over which he would have complete creative control. In 1960, Belafonte's second special New York 19 premiered on CBS, reflecting "the musical heritage of the inhabitants of this multi-racial, midtown Manhattan area" [2]. In New York 19, while Belafonte occupied the center of the screen and framed the production, whites remained on the periphery, sharing the screen equally with African Americans, Latinos, Jews, and the other inhabitants of the New York 19 postal zone. The series garnered critical acclaim; however, Revlon canceled the next four installments, pointing to anxiety about how southern white viewers would react to this multi-racial cast. [3] Diversity was okay in primetime, the logic went, so long as shows reinforced the color-line.
In the first part of this column, I use Belafonte's canceled Revlon specials to consider television's pedagogical potential, highlighting this potential as an early structural anxiety that policed representations of race in primetime. Ultimately, I am curious to think about how these anxieties about television's potential for teaching remain encoded into the medium's content. Near the end of the column, I turn to the recent "Richard Youngsta" black-ish episode, following Herman Gray's contention in Watching Race that the early years of television shaped and established patterns for subsequent representations of race on television, a point "Richard Youngsta" makes explicitly. I'm curious, here, about how contemporary shows build overtly instructional components into their content, thereby mobilizing primetime television's imagined pedagogical potential for seemingly progressive ends.
Anxiety about what audiences could learn about race from television structured early television depictions of race broadly and blackness especially. Here, I am drawing on Lynn Spigel and Michael Curtin's contention in The Revolution Wasn't Televised, that "prime-time programs were not mere escapism, but were centrally involved in sustaining, interrogating, and even transforming social relations and cultural affinities throughout the decade [1960s]." [4] As television rapidly became a national medium in the 1950s, debates over its pedagogical value were inextricably tied to racist network and advertiser concerns about black representation.
As Spigel articulates in Make Room for TV, early [television] "was the great family minstrel that promised to bring Mom, Dad, and the kids together; at the same time, it had to be carefully controlled so that it harmonized with the separate gender roles and social functions of individual family members" [5]. Television could, following this logic, bring the family together by teaching viewers how an ideal American family should look, behave, and function. By the late 1950s, this vision of family was inextricably tied to whiteness. Furthermore, as Spigel notes, television networks went beyond the "consumer educator" model, hoping to teach "women and their families how to consume television itself" [6]. This harmonizing effort worked to reinforce racist constructions wherein Black American experience, when it was represented at all, was always ushered on-screen through and for the white gaze. The latter is what made Harry Belafonte's work for Revlon so threatening to the dominant order of early 1960s television–a white primetime landscape inflected by the rise of civil rights news coverage.
The diversity of New York 19, Belafonte's star text–including his social justice work as part of the Civil Rights Movement–and his central role threatened to disrupt the white conformist message of early television by reimagining New York life from a Black authorial perspective. This racist anxiety of what television could teach viewers persisted throughout the decade: later in 1968 CBS would pull Belafonte's 8 minute "Don't Stop the Carnival" superimposed over images of the riots at the 1968 DNC, set to air during a Smothers Brothers episode. Belafonte's star-text and experiences in television challenged the "familiar and foundational myth of the happy Negro living in a world shut off from white experience and privilege" [7]. Belafonte's experience with Revlon, alongside other examples ranging from Nat King Cole's short-lived NBC variety show to later colorblind primetime fare like I Spy and Julia, reveal an anxiety about the potential of television to upend the white supremacist message of much of primetime.
Whether centering blackness and racial specificity like Belafonte's work or featuring Black leads in colorblind worlds, like Julia or the much-more recent Grey's Anatomy, primetime representations of race reveal the ways in which "power must accommodate dissent, if only to remain powerful" [8]. Belafonte's resistance and Revlon's reaction to New York 19 reveal the limits of what Revlon and CBS would willingly incorporate in 1960, particularly programmed amidst Civil Rights news broadcasts featuring regular calls for de-segregation. Revlon's fear appeared in what television could teach viewers, through advertising, and primetime representation: that neither whiteness nor the white nuclear family were harmoniously natural.
Within this frame, I want to turn to black-ish's "Richard Youngsta" episode. The episode focuses on a preview of Dre's new ad campaign for Uvo Champagne, wherein a rapper (played by Chris Brown) pours champagne on a Black woman and turns her into a white woman. Expecting praise from his family, Dre is shocked when his wife and mom (Bow and Ruby respectively) instead offer critique: "My son is a Stepin Fetchit," Ruby asserts, "He sold out his whole race just to be in the damn movie." This moment initiates a montage of old filmic images and a monologue defining the "Stepin Fetchit" trope. Bow says "Stepin Fetchit," "whose popular character dubbed the laziest man in the world set up the coon archetype […] He was denounced by the NAACP." To further her point, Bow even invites over the family's racist white neighbor, who gleefully laughs and dances to the commercial. As the montage ends, the next shot reveals Bow clearly reading off her phone. Snatching Bow's phone out of her hands, an exasperated Dre responds, "what you are not reading off the Internet is that he was the first Black actor to earn a million dollars, the first Black actor to get an on-screen credit […] He broke down barriers at a time when roles for us weren't that plentiful."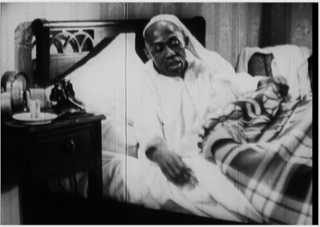 Stepin Fetchit on screen.
Only later in the episode does Dre regret the ad campaign and reflect on his own anxiety about what media can teach us when he walks in on Jack pretending to pour champagne, or "Uvo," all over a stoic Diane. This moment recalls the earlier image in the ad of a Black woman being turned into a white woman, and the repetition of this moment–via the twins–envisions the ways in which white supremacy, and "selling out his whole race" relies on exploitation and here the literal erasure of Black women. (Ultimately, Dre remakes the ad to push against the very stereotypes his early ad had embraced.)
The episode as a whole articulates a more complicated vision of Black representation in Hollywood than Ruby and Bow's initial reading suggests, asking questions about the economics of television and the power of media broadly to teach and impart dominant and racist values. We see here, through the twins, what mainstream television has long taught and naturalized: white supremacy. At the same time, the episode works to teach viewers, some of whom who are perhaps unaware, about that same history through the discussion of "Stepin Fetchit" and by featuring family conversations about Black representation. By centering questions of Black representation in pop culture, black-ish makes explicit the ways in which primetime television teaches viewers about race, arguing in this instance for the medium's potential to teach a more progressive racial politics.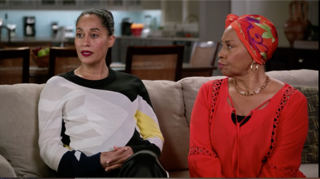 Bow and Ruby discuss Black representation.
Henry Giroux articulates in "Public Pedagogy as Cultural Politics," that "For theorists such as Hall, Grossberg, and others culture is a strategic pedagogical and political terrain whose force was a 'crucial site and weapon of power in the modern world' (Grossberg, 1996b: 142)" [9]. From Harry Belafonte to black-ish, moments like those I've discussed here strategically articulate a politics that argue against the conservative and racist messaging that has long dominated network television. As black-ish teaches viewers about the Stepin Fetchit trope, so too does it self-referentially reveal the ways in which black representation on network TV is always working within and co-opting racist tropes. While black-ish seems revolutionary, we have to understand this show as still working in conversation with the same anxieties that led to the cancellation of Belafonte's New York 19. This major shift doesn't necessarily reflect a growing radicalism within primetime TV, but instead shows how primetime TV responds to cultural and historical shifts, incorporating dissent and mobilizing the medium's pedagogical potential, perhaps as a means to stay relevant, marketable, and connected to viewers.
Image Credits
1. black-ish cast
2. Stepin Fetchit (author's screen grab)
3. Bow and Ruby (author's screen grab)
Please feel free to comment.