"Choice Fatigue," Community and the Mutations of Television
Graeme Turner / University of Queensland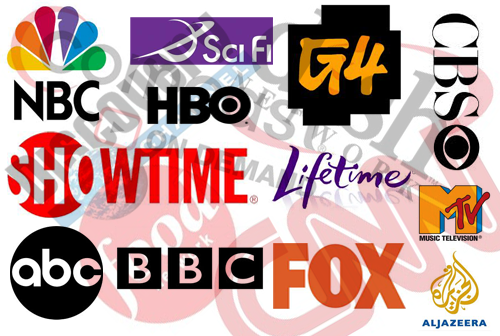 The proliferation of choice
It was in John Ellis's work that I first encountered the notion of 'choice fatigue': the 'feeling that choices are simply too difficult; a nostalgia for pattern, habit and an era when choices seemed few1. This, from 2002, when it seemed like the range of choices available to television consumers, particularly in the US, was infinitely expandable. Of course, it is common knowledge now that even when we have a hundred channels to choose from, we still only watch between 8 and 15 favourites, so there is a limit to the number of choices we actually make as we select our television viewing. Ellis suggested that the proliferation of choice had already hit that limit and that its necessity was becoming 'an imposition' rather than a freedom.
I had occasion to deal with this in practical terms during a lengthy stay in the US earlier this year, with a premium cable package in my apartment and the research objective of spending some time just watching US TV. My excuse for such an indulgence is the significant differences in the experience of watching TV, notwithstanding theories of globalization, depending on where it takes place. In Australia, where I live, broadcast TV still rules, with subscription penetration at around 30%, a duopoly of metropolitan pay providers, and a no-frills Freeview2 system delivering 15 digital broadcast channels. Most of the online video options that Americans can take for granted, such as Hulu, are unavailable; video rental stores are allocating increasing amounts of shelf space to season collections of the premium programming that features so prominently on the Hulu menus –- Thirty Rock, Mad Men, The Wire, and so on. So far, for the television viewer in Australia, choice is neither an imposition nor complicated. Even though all digital television sets can access an online guide, the full daily program schedule is still listed in metro newspapers, and the weekly program listings are in the weekend supplements.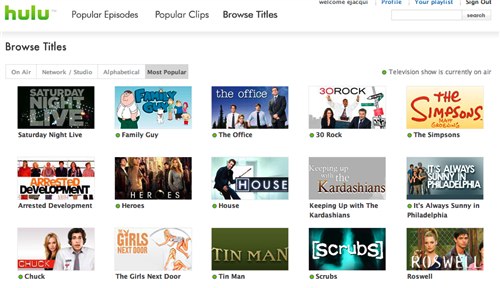 A small sample of the choices available on Hulu
Watching television in the US, then, was a novel experience – with hundreds of channels available through my television as well as many more options online, in a context where it is simply impossible to have all the options listed in other media or, alternatively, where the uninitiated can spend hours scrolling through the list on the TV's channel guide. As a television scholar, I knew what I wanted to see but once I had satisfied those preferences and began to explore other possibilities, I was lost in what is, overall, a relatively featureless landscape of choice. Individualizing one's media consumption sounds like a great idea, but as an outsider in this media culture, I needed help to do it.
When I asked my students how they chose what they watched, they were clearly puzzled at such a naive and basic question. Whatever practices they had developed were of course naturalized, unremarkable. Most did not watch broadcast television, at least not without time-shifting; some did not have a television set but used their laptops; and none would have consulted a print television guide in years. In general, they actively chose specific television programs, but grazed through menus online. In such respects, they epitomised the highly individualized, finely customized, twenty-first century mode of consuming media. But what they actually watched was not quite like that. There was substantial overlap across their personal 'playlists' –a loose repertoire of programming that could be taken for granted as something they would all have seen. There was clearly a taste community in operation here. Exactly how it operated, though, they couldn't tell me.
I am interested in this because I have been examining the recent mutations of television with a view to understanding how, if at all, television might still play what was once seen to be virtually its primary cultural role – constructing a local, national or regional community. The US is important for this project because there, most would argue, that role has receded as television has entered a post-broadcasting era in which the multi-channel system addresses the tastes of the individual. But multi-channel environments in other places I have studied don't necessarily work this way. To take two very different examples, in the UK, for instance, and in Mexico, in my opinion, the address to a national community is still there – albeit in interestingly different ways—even through subscription services3. Marwan Kraidy's work on Arab television also demonstrates the complicated ways in which television still plays an active national role even as its political and commercial structures evolve4 into a closer relation to transnational systems.
In television and new media studies, it has become customary to attribute a special political significance to the expansion of choice. Implicit in much of the theorising of convergence culture is the proposition that the expansion of choice directly enables a new level of empowerment for the individual consumer, as if the answer to the power of the media production industries lies simply in their technical diversification. There really needs to be some evidence that shows us how that putative power is actually used. If Ellis is right and the endless proliferation of what are often relatively insignificant choices is as likely to become a burden as a benefit, then it might be useful to know that; certainly, before we assume that this is part of a process of media democratization.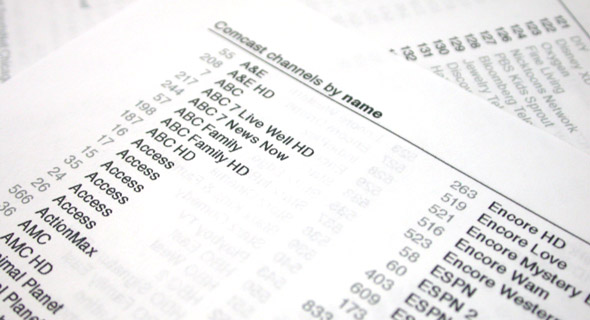 Hundreds of channels and only one choice
My experience in my apartment in Philadelphia, negotiating hundreds of channels in search of interesting entertainment as well as the locations where I might witness the construction of community, was often one of choice fatigue. Time and again, I found, I retreated to the familiar — programming I could have watched from an apartment in most places in the West, including Australia. What I needed to tailor my choices a little better than that came from talking with my students, and with my colleagues. As a visitor, this is all I had available to me that could function as a community. Individualized these choices might have been, and more pleasingly customized as time went on, but I didn't make them on my own.
In the broadcast era, we undertook research into fan cultures, and into specific sectors of the audience whose modes of consumption and cultural identities differentiated them from the mainstream television consumer –- who, I remember, we thought we more or less understood. It looks to me now as if we no longer properly understand (if, indeed, we ever really did) the modes of consumption employed by this mainstream television consumer. In particular, even in an environment such as the US which is saturated with choices, we know little about how these individualized viewers make their choices — something that did not concern us before but is very much of interest now as we think about how television might continue to construct communities. As television studies reinvents itself to accommodate the mutations in its objects of study, it needs to more directly examine this aspect of the varied cultures and communities of use that are now building up in response to the multiple systems delivering television around the world.
Image Credits:
1. Composite by Daniel Stuyck
2. Ars Technica
3. C82.net
Please feel free to comment.