Stage Left: Glee and the Textual Politics of Difference
Lucas Hilderbrand / University of California, Irvine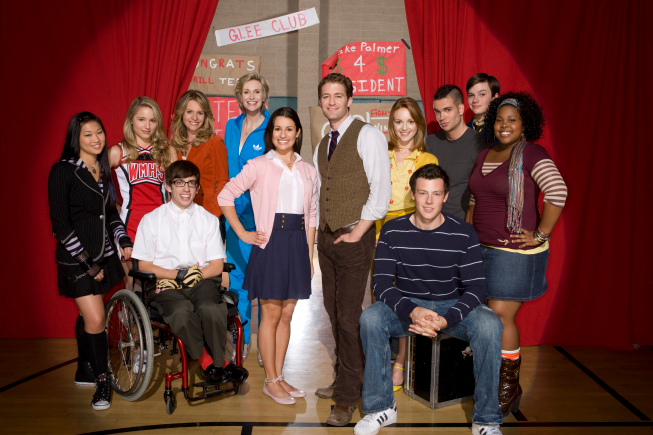 The cast of Glee
Perhaps no hit this fall has been more unlikely than Glee, a show about marginalized teenagers with mainstream ratings—and a (mostly disintegrated) musical to boot. It has courted a cult audience with its genre-bending and improbable choir group covers. But not unlike high schoolers themselves, Glee has awkwardly struggled to find its own identity and politics. From episode to episode—even sometimes within the same episode—the series lurchingly shifts in tone, from bitchy satire to gooey romance to after-school special lesson on tolerance to power-ballad emotive excess. From the start, Glee has operated outside the conventions of realist plausibility, but it nonetheless makes attempts at social relevance; in the process, at times it clumsily slights its multicultural cast with what I assume to be an assimilationist appeal for ratings.1 As I suggest below, the in-progress first season's seemingly conflicted negotiation of difference has suggested an evolution from marginalization to self-critique to pleas for tolerance. One of the recurring problems with the show's "progress" toward tolerance, however, is that in making reductive equivalences between different kinds of marginalized experiences, it flattens out the complexity of difference.2 Yet, in spite of these critiques, it's hard not to sing along.
Glee members perform a number
All of Glee's teen characters purport to be losers by virtue of their musical proclivities, but there remain clear social hierarchies within the group, even if they are not the ones the show typically acknowledges. I was struck during the pilot that, among the conspicuously diverse cast of characters, only the white characters are fleshed out as characters or get to sing the solos. (And here I should point out that the show's ingénue, the type-A diva Rachel Berry, played by Lea Michele, is referenced throughout the series as both Jewish and white.) The rest of the cast seemed like set dressing. The show pays lip service to team solidarity, but the show has occasionally been out of sync with true equality. I have no actual access to network scheming, but this seemed to reek of the logic that the show had to be palatable enough for mainstream ratings before the minorities would incrementally get their own numbers and subplots. This fall, that's pretty much what's been happening.
The seventh episode, "The Throwdown," then seems to call the show out on its prior politics of difference. In one of the show's typically absurd situational set-ups, bulldozing Cheerios Coach Sue Sylvester (the witheringly funny and, incidentally, lesbian comic Jane Lynch) has been assigned to lead the glee club alongside its founding director Will Shuester (Matthew Morrison). Ever competitive and incisively savvy, Sue decides to divide and destroy the glee club by creating competing numbers. Her strategy? Pick all the minority kids who've been ignored by the Will—and by the show. With her trademark insensitivity, she hails "Sue's Kids" as: "Santana! Wheels! Gay kid! Asian! Other Asian! Aretha! Shaft!" The students know exactly whom she means, and they join teams with not a little enthusiasm. At this point in the series, the fact that Sue calls two of the students "Asian" and "Other Asian" doesn't merely reflect upon her; these characters, in particular, had never gotten more than momentary attention on the show. (I still don't know Other Asian's character name.) A few days later, when the two teams split after hanging out altogether in the rehearsal room, Artie ("Wheels" for his wheelchair, played by Kevin McHale) bids his friends, "Bye, white people." Artie is white, but he's only ever marked as "other" by the show. It should be stated, though, that the white minority characters have, up through episode ten, been privileged over the students of color.
If episode seven self-consciously addressed the show's inequities between the "white kids" and the minorities, episode nine, "Wheels" was a plea for empathy and parity between others.3 "Wheels" was Artie's episode, as it focused on his structural exclusion from the group because the school can afford neither a handicapped accessible van to transport him to competitions nor ramps to make the auditorium accessible. To raise empathy, Will assigns each of the glee members to spend three hours a day in a wheelchair and to perform a musical number in wheelchairs. That climactic number, "Proud Mary," with its pun on "rolling" on the river, unabashedly showcases the minority students. It's exhilarating in that they finally take center stage, and for a moment at least, music does seem therapeutic and celebratory.
But music is also the basis of competition, particularly for the solos Rachel typically wins. During the same episode, gay kid Kurt (Chris Colfer) wants to sing a female part in a number from the musical Wicked, which involves falsetto. After initial resistance, Will gives him the chance to have a diva-off audition with Rachel. (A recurring motif in the show is that Will, the presumed identificatory figure for the mainstream audience, learns to open his mind after initial ignorance, week after week.) If at first it seems that the equivalences the episode makes between Artie's paralysis and Kurt's feminine voice might be equivalences of castration, the characters refuse that point. Artie informs us (and his crush, "Asian" Tina, played by Jenna Ushkowitz—wait a minute, Ushkowitz?) that his penis is fully functional, and Kurt insists he's more of a man than his father, because he has the strength to deal with taunts of "fag" and to eventually leave Ohio for gayer pastures. But the show also veers close to becoming the "disability" episode through the inclusion of a cheerleader with Down syndrome. This becomes an uneasy way to soften Sue's character, and it likewise creates equivalences between disabilities and queerness.
[youtube]http://www.youtube.com/watch?v=RZ6EV6I-ZMI[/youtube]
The show is often at its best when it disrupts the expected ways of addressing difference, such as eroticizing Jewishness or letting the minorities sing about experiences not reduced to their identity categories, as with black diva Mercedes' (Amber Riley) performance of romantic revenge on "Bust Your Windows." The twist here is that she has let herself get hurt by a misguided crush on Kurt, and this number goes out to all the fag hags who've been scorned by their best friends. Even Will comes most alive when performing hip-hop numbers, and I'll be damned if that white boy can't dance. (Check out the "Bust a Move" clip below.) Yet in its matchmaking, the show has been consistently segregationist: the white, straight, able-bodied kids only date within their own demo, whereas the various minority characters have primarily had failed flirtations amongst themselves.4
[youtube]http://www.youtube.com/watch?v=KvDI7xfBXTA[/youtube]
When the plot veers into problematic territory, music has often been the show's saving grace for working through issues and for giving the audience what it wants. British pop music scholar Simon Frith has insightfully suggested that musical investment is most intense in our youths as it functions to negotiate identifications, intense emotions, and the sense that time is both fleeting and never goes quickly enough.5 Arguably, marginalized youth—kids of color, queers, the economically disadvantaged—are the ones who invest in music most intensely and visibly, though the tastes and modes of consumption vary. Frith further argues that we use music to express embarrassing emotions we can't articulate ourselves, a claim that was actually vocalized explicitly in episode ten, when students are assigned to sing ballads. Again, the show demonstrates a degree of self-awareness, but it simultaneously disappoints when, in this episode, the marginalized students band together to make the cheerleader and the football star feel better through song. This treacly performance brings me back to the series' beginning, with its climatic attempt at uplift that worked in spite of the text's conflicted textual politics of difference.
The pilot concludes with the glee club's first knockout performance, a choral cover of Journey's "Don't Stop Believin'." For all the issues of representation the pilot raises, the number is nonetheless irresistible, even if this relentlessly peppy rendition evacuates the song of the working-class social realism and lustful escapism scripted in its lyrics. The lyric that does shine through is "living to find emotion." And that emotion is glee—an affective boost that compensates irrationally, within the logic of the show, for the characters' feelings of marginalization. Of course, that's how music works in life, too. But this intensity of such investment in popular culture seems to extend beyond the characters to the show's audience as well: this is a series that people really seem to want to love. It's a show that the fans have, so far, not stopped believing in, even when the reality of its representations don't quite live up to the utopian aspirations.
Image Credits:
1. Glee cast
2. Glee Club members
Please feel free to comment.