The Sounds and the Business of Mobile Music
Ben Aslinger / Bentley College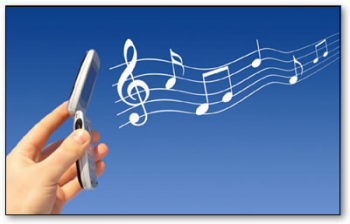 Theme music for the mobile consumer
Cell phone manufacturers and wireless carriers have tried to make the cell phone the preeminent convergent fetish, offering users an array of services in order to convince consumers to purchase the latest handsets and to upgrade their service plans. Though future revenues from the wireless distribution of television may in the future render music revenues chump change, the development of the ringtone economy was one of the first steps in exploiting wireless capabilities in delivering media content. As such, the development of mobile music economies deserve more attention from scholars interested in historicizing media convergence, television studies scholars interested in understanding how prior negotiations over intellectual property and revenue sharing influence the rollout of new forms of wireless media, and new media scholars interested in investigating rapidly shifting industrial and social definitions of the user. I want to suggest in this article that paying attention to the development of wireless music economies requires us to do two things: 1) to recognize the constitutive roles that aural and sonic texts play in establishing both the business arrangements and the aesthetics of convergence and 2) to recognize that we need to weigh and revalue the importance of the American market in light of the fact that the bulk of wireless commerce happens far away from Sprint and Verizon's fiefdoms.
Interest in the global potential of the cell phone ringtones and wireless music resulted in a growing number of partnerships between music labels, manufacturers, and carriers. In 2002, Motorola created its Mobile Services Café. In 2003, America Online opened the AOL Download Store and Nokia introduced the Nokia 3300 handset featuring a digital music player and a FM stereo radio. In 2004, carriers began partnering with labels: Vodafone – a carrier with clients in over thirty countries – signed agreements with Warner and Sony; Universal Mobile and the French telecom group Alcatel partnered; Warner Music Intl. pledged cooperation with Deutsche Telecom's T-Mobile; and Virgin Mobile USA and Universal Music Group developed a "First Dibs" program where Virgin customers would have first access to hip hop music such as D12's D12 World.1 In 2005, MTV Networks and Verizon Wireless announced plans to deliver ringtones and short video snippets to cell phones; MTV offered ringtone albums by hip hop producers such as Timbaland through its Made Hear service; and Sprint Nextel unveiled the first mobile music store. By the end of the year, ringtones accounted for more than one-tenth of the global music market and were the most profitable non-voice service.2 In 2006, Verizon launched its VCast service, Napster and Ericsson began marketing a music service to carriers,3 News Corporation paid $188 million for controlling interest in VeriSign's Jamba! Ringtones unit,4 BMI projected sales of over $600 million,5 and the RIAA updated its Gold and Platinum program to include ringtones.6
Technical advancements in handset sound quality along with increases in cell phone storage space changed the types of ringtones available. First generation ringtones were monophonic ringtones. When WAP-enabled cell phones with better sound quality came on the market, polyphonic ringtones became more common. Polyphonic ringtones were synthesized segments of songs that only required aggregators to deal with music publishers and/or performance rights organizations, since no sampling of original recordings was involved. After iTunes provided evidence of the huge profits to be earned from digital music and more advanced phones came on the market, the music industry became interested in master ringtones. Master ringtones, also called "truetones," were segments of the original sound recording; selling them required content aggregators to work with record labels in addition to publishers.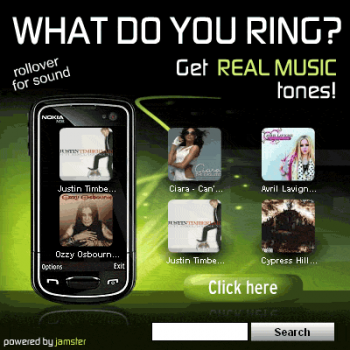 Avril or Ozzy? Oh the possibilities!
Hip hop worked well for wireless distribution because the genre worked to target core demographics and worked well within early 2000s handsets' sonic constraints. Hip hop's generic conventions – a reliance on bass and percussion, sampling, and repetition – made it possible for aggregators to digitally synthesize a section of a song and have the segment recognizable as a rendition of a popular tune. Cell phones capable of processing the master ringtone could also produce sounds clear enough to help make rock, country, and folk music popular wireless media products. Sasha Frere-Jones writes, "Musical genres that suffered as polyphonics – sonically thick guitar rock, country, and jazz – can now challenge the hip hop hegemony."7 Rock, country, and folk tunes proved popular in trying to court other generational demographics. Incorporating these genres into wireless music commerce allowed the industry to target consumers over the age of 30 and professional/business consumers wanting to personalize their Blackberries and other "smart" phones.
As a more diverse mobile music marketplace emerged, negotiations between mobile operators, hardware manufacturers, and content owners altered the wireless media marketplace. While many stories could be told here, I dwell here on the Finnish multinational firm Nokia's efforts to provide users mobile content. Nokia experimented with providing content on its Club Nokia service from 2000-2002, even cutting one of the first major ringtone licensing deals with EMI executives in 2000. Club Nokia worked to include local artists that would be most appealing to handset users. While Club Nokia allowed users to access local music, local mobile operators were angry at what they saw as a threat to their own branded portals and their attempts to control their subscribers' mobile experiences. As the global market for ringtones expanded, mobile operators wanted to claim and keep a sizeable percentage of the revenue; often their claim to a piece of the ringtone economy pie rested on the argument that it was their improvements to cellular infrastructures and network designs that enabled the rise of wireless media commerce. As one anonymous Nokia source told Mobile Communications in 2002, "There's hardly a high-level meeting with an operator where this subject – particularly the issue of Club Nokia – isn't raised."8
The highly controversial nature of the Club Nokia venture led Nokia to close it down in many markets, but Nokia's emphasis on addressing local audiences and tying devices to local tastes would inform its most recent efforts in content provision. In Nokia's landmark deal with EMI in 2000, Nokia insisted that its executives have access to local artists and to local EMI executives.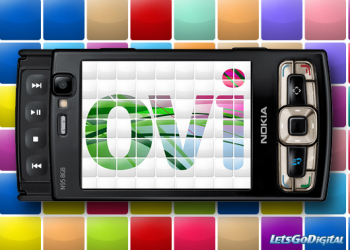 Finnish for "door," Ovi is Nokia's gateway into greater mobile music possiblities
Currently, Nokia's Ovi – which consists in most markets of a music and a game store – provides a high profile to local artists. Telecomworldwire reports that the Nokia Music Store Australia "will stock locally relevant music and will feature artists such as The John Butler Trio, The Presets, Pete Murray, Kate Miller Heidke, Powderfinger, Silverchair, Lior, Cut Copy, Kisschasey, and Kasey Chambers."9 The list includes a range of artists with strong ties to the Melbourne and Sydney music scenes. The list of artists also signals that Nokia wants to actively associate youth-related and subcultural content with its mobile devices in the Australian market; at the same time, new distribution pathways for these artists and the purchase of their products by Australian urban users would help construct Sydney or Melbourne listening tastes and music scenes. Another example of the importance of local content is Nokia's deal with Singapore-based label Ocean Butterflies.10

Move over Burger King, Nokia music is letting me have it my way too
These examples help illustrate the importance of local content, but they also illustrate Nokia's focus on Asia-Pacific markets where Nokia hopes that its early entry, targeting of urban users, and associations with local content will help its devices compete with other products such as the iPhone. Nokia's efforts largely ignore American consumers, with the company preferring to focus on the Asia-Pacific region and Europe (especially the emerging wireless economies of Eastern Europe) at the same time as the multinationals activities signal the continuing economic importance of music in wireless media economies.
Will the development of mobile television parallel in some ways the historical development of the mobile music market and the relative importance of the American user to mobile media commerce? How do we write about the aesthetics of mobile media when a) such texts are difficult to archive and b) most services and texts are largely inaccessible to scholars living within the United States who are chained to their cell phone contracts? And perhaps more importantly, how do we write mobile media histories that continue to recognize the importance of music and sound even when mobile television becomes normalized?
Image Credits:
1. Mobile Music
2. Real Music Tones
3. Nokia Ovi
4. Nokia Music Store
Please feel free to comment.