Brand Loyalty vs. show loyalty, the strange case of Virgin vs. Sky
by: Nichola Dobson / Independent Scholar
"There are flaws in the UK pay TV market which are harming the interests of the consumers" (National Consumer Council, UK)
On Thursday 1st March 2007 customers of Virgin Media digital cable service lost three channels which were owned by rival pay TV provider Sky Digital (satellite). This came after weeks of public dispute over the amount which Virgin Media pays Sky to deliver three of Sky's key channels. (Virgin also own several channels which Sky pays for and then packages with others to their own customers – it all gets a bit confusing here). Sky wanted to increase the cost but Virgin refused suggesting it was unreasonable and would result in Virgin customers paying more. Sky television (part of the BSkyB group owned in part by Rupert Murdoch) and Virgin Media (formerly two digital cable networks merged in a takeover involving Richard Branson) each blamed the other for the dispute which, now three weeks on still has no clear resolution in sight.
The three channels involved were the 24 hour news network, Sky News, the sport news channel, Sky Sports News and the flagship channel, Sky One, which frequently aired parent company Twentieth Century Fox's programmes, including The Simpsons, 24, Battlestar Galactica and more recently Lost.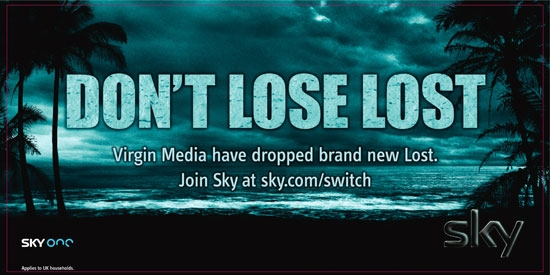 Sky's Lost ad
I'm not familiar with the situation regarding cable providers outside of the UK so don't know if it similarly complicated, but what I find interesting in this case is how the companies regard their customers in this dispute.
Fans and general audiences have always been at the mercy of the broadcaster or service providers in the UK. We wait each year to find out who has bought the rights to which new fall shows from the US and the providers know that they can count on fan loyalty to increase their revenue. In recent years one terrestrial channel outbid another to show reruns of The Simpsons which resulted in increased viewers on the successful channel, however the audience did not lose out as all terrestrial channels are free to air and available to all. This is fine within the free to air market, but the situation changes when the pay TV market is taken into account.
In the case of Sky, they have attempted to position themselves as the provider of the best new shows by understanding audience loyalty. They successfully secured the rights of Lost and 24 over the terrestrial channels hoping the fans would follow and subscribe to their product. (They have always been able to secure the rights to expensive sporting events too). The result of this has been an increasingly segmented UK audience with Sky only available to those who can afford the extra fee each month, or indeed are willing to have a satellite dish installed. They follow each new acquisition with a heavy marketing campaign to entice viewers to take on the package in order to get their favourite shows. This type of marketing has always been quite successful for Sky and they have used The Simpsons for many years at the heart of their campaigns, emphasising the individual, popular shows rather than the whole package.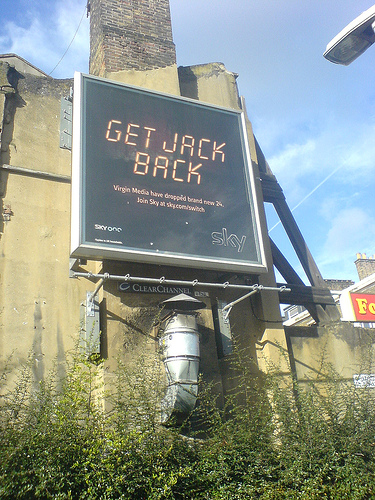 Sky's 24 ad
In the dispute with Virgin, Sky launched a campaign to entice Virgin customers to switch to them by specifically advertising the shows they have now lost, using such slogans as "Don't lose Lost, Virgin Media have dropped brand new Lost" and "Get Jack back, Virgin Media have dropped brand new 24". These poster campaigns target the fans of these shows so deliberately that the company doesn't even mention any other benefits of their service, as well as using 'dropped' to reinforce that the blame was on Virgin.
However Virgin appears to be more concerned about customer satisfaction to their service, and trying to reward loyalty to the provider rather than just the shows. In an open letter to their customers, the company emphasised the notion of 'fairness' and claimed to be standing up to bullying tactics. While the hit shows are no longer available to their customers, the company has secured the repeat rights of a variety of other shows, (including repeats of Lost) to be made available in their new 'On Demand' format. Here the companies clearly differ on what they believe the audience's priorities are. Virgin have approached the debate recognising that technological developments such as On Demand could factor heavily in their audiences viewing habits and so market appropriately. They also emphasis a longer term strategy of customer/audience satisfaction through a good and 'fair' product, whereas Sky try to capitalise on the current popularity of certain programs.
We have seen the effect audiences can have on the success of shows in studies on audience reception and fandom. This supports Sky's program driven marketing strategy as the studies have repeatedly demonstrated the loyalty of fans to particular shows, which Sky is counting on, particularly in this dispute with Virgin. However (as we have discussed in this journal), alternative broadcasting methods are increasing and giving audiences much more choice. Legal and illegal downloads, DVD box sets and the old favourite of borrowing tapes of shows from friends, are all viable methods for audiences to find alternative ways to get their favourite shows without having to subscribe to Sky's services and they are starting to do so.
When Sky secured the rights to Lost over free to air broadcaster Channel 4 last November, television discussion forums, such as digitalspy.co.uk, were full of comments from disgruntled Lost fans, who quite pointedly suggested they would use any of the alternative methods mentioned above rather than pay for the satellite channels. Similar comments appeared from Virgin customers after the loss of the three channels, who clearly agreed that Sky were to blame and refused to switch. They were again, vocal in their support for alternative methods of reception.
Since the dispute began the viewing figures for Sky have dropped drastically on both 24 and Lost, which would suggest that the Virgin customers made up a substantial part of Sky's audience. Ratings slumps and rumours of advertisers looking to leave the channels involved suggest that perhaps fan loyalty is not enough when the alternative broadcasting methods are becoming easier and more prevalent and that perhaps neither provider should really be further dividing the audiences with this type of dispute.
In my opening quote, the National Consumer Council suggest that the market is flawed and having an adverse effect on the audiences. I would agree that some audience members who are not yet engaged with new technological alternatives may be losing out when carriage disputes emerge between rival providers. However it may by the providers who have to take into account the new technology and begin to realise that while fans may be very loyal to their shows they will seek them out wherever they can with the easiest, and quickest, methods available to them, not necessarily from the big television providers.
Image Credits:
1. Sky's Lost ad
2. Sky's 24 ad
Please feel free to comment.