Modern Family's Latina Spitfire in the era of White Resentment
Isabel Molina-Guzmán / University of Illinois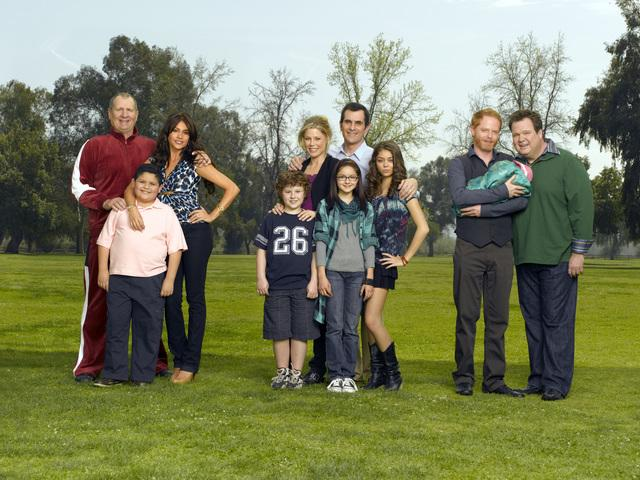 The full cast of ABC's Modern Family (2009-) organized by the character's families.
At a moment of deep global economic anxiety, Modern Family recuperates middle-class whiteness through a subtle narrative of resentment (See Image 1). The discourse of white resentment requires that difference (sexual, ethnic, racial or linguistic) be disciplined in such a way as to maintain socioeconomic hierarchies by reinforcing the ideals of US liberalism. Liberalism posits the United States as a "colorblind" society, affording those with the skills and desire the ability to move to the top of the democratic marketplace regardless of their identities. Jennifer Esposito proposes that with regards to US network television programming, the ideology of liberalism is further rearticulated and "recently redefined by the media as 'postracial' (meaning that we have moved beyond race and that race no longer structures our thinking or our actions)."1 Modern Family privileges just such a meritocratic ideology through its celebration of whiteness and circulation of racist humor that reinforces the belief that we are now post-race.
On Modern Family, Vergara's award-winning performance of Latina spitfire Gloria affirms the show's nostalgic representation of white masculinity, helping to soothe racial anxieties through a familiar figure of domestic Latina femininity. At the same time, Vergara's complex representation of Latina motherhood also provides a unique moment of visibility, creating a rupture in the show's narrative of white resentment. Given the hypervisibility of negative news coverage about Latinas/os and the continuing invisibility of Latina/o characters on primetime television, Vergara/Gloria produces a potentially transformative representation of Latinidad at a time of increasing sociopolitical hostility towards Latina/o immigrants and ethnoracial minorities.2
A Contemporary Latina "Spitfire"
The performances of Latina spitfire characters beginning with Lupé Vélez and Dolores Del Rio's Good Neighbor films in the 1940's often focused on the comedy of errors created by intercultural miscommunication and the comedic tensions inherent in the romantic relationship between the Latina star and her white US paramour. (Vélez's portrayals in a series of "Mexican Spitfire" movies generated the popular Latina stereotype).3 Also referred to as the "female clown," the ideological role of the spitfire archetype was to make foreign Latin America less threatening through humor while celebrating the potential for intercultural exchange and heterosexual romance.4 Vergara's Gloria performs a familiar ideological role as the spitfire in Modern Family. As a contemporary Latina spitfire, she is ultimately coded as ethnically safe through her ability to serve as an intercultural bridge and comedic foil to her white upper-middle class second-husband and his family.
Vergara herself has acknowledged that her performance of Gloria is informed by the representational legacy of the Latina spitfire.5 She uses her Colombian identity and exaggerates her curvaceous physicality to produce moments of safe humor. Discussing her decision to change her hair color to appear more stereotypically Latina, Vergara recounts this story in countless media outlets:"But when I started acting, I would go to auditions and they didn't know where to put me because I was voluptuous and had the accent — but I had blonde hair," reports OK Magazine. Changing her hair color made a world of difference in her career. The industry's response was, "'Oh, she's the hot Latin girl.' I loved it," Vergara said, reports OK Magazine.6 Fast-talking Gloria is the contemporary Latina spitfire often depicted wearing colorful leopard prints, low cleavage shirts, tight fitting pants and dresses (See Image 2).7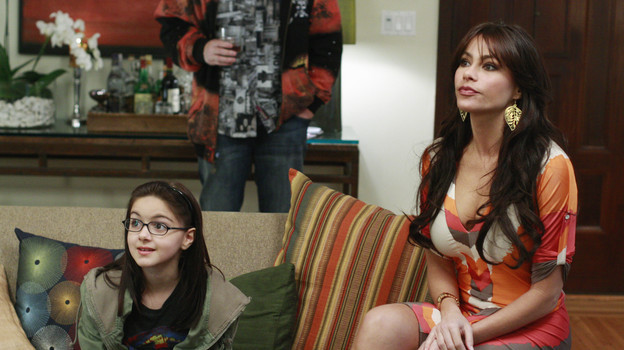 Gloria sits in full spitfire regalia
Equally as important to the spitfire archetype as stereotypical physical signifiers of Latinidad is the comedic use of language. Through language Gloria is further marked as different, exotic, forever an outsider. In her interview on Inside the Actors Studio (June 9, 2011), Vergara emphasized the importance of language by exaggerating her accent. In combination with grammatical errors, mistakes in vocabulary, linguistic misunderstandings and deadpan mockumentary delivery, her foreignness/difference are foregrounded (See Image 3).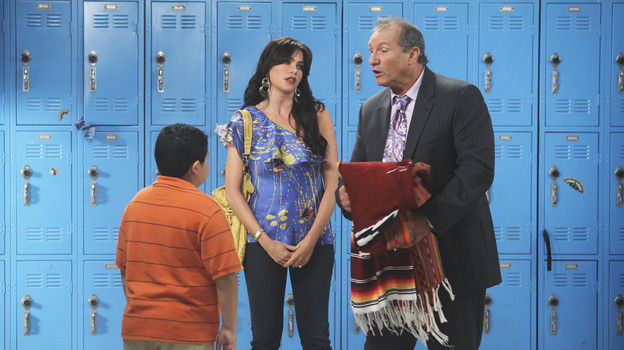 Jay Pritchett stops Gloria from sending her son to school in traditional Colombian clothing
However, Vergara's performance recontextualizes the Latina spitfire within the contemporary economic context. Whereas the Good Neighbor-era spitfire meant to ease foreign relations in a time of war, Vergara's spitfire needs to effectively manage her difference during a moment of growing US public anger towards Latino immigration and increasing white economic resentment in the post-race era, when race and racism are frequently presented as irrelevant. Gloria's performance of ethnoracial difference, then, is central to the series.
Comedic Mediations of White Resentment
By disciplining her Latinidad through humor, US socioeconomic racial hierarchies are maintained. While most of the time the racial humor in the show is subtle – a mischievous glance, a mispronounced or misspoken word, sometimes the racial comedy surrounding Gloria is more explicit (See Image 4). For instance, in the first season episode "The Incident" (Oct 14, 2009) the family recounts how Jay Pritchett's (Ed O'Neil) ex-wife Deedee (Shelley Long) convinces them to invite her to the wedding. At the wedding, Deedee gets inebriated, refers to Gloria as "Charo" the iconic Latina spitfire icon of the 1970s, and drunkenly states: "To the bride and the groom, my ex, thirty-five years we were together. Seriously, I knew they were perfect for each other when I saw his wallet and her boobs." Deedee states what perhaps some series audience members are thinking by implying that money and sex rather than an emotional connection fuel the marriage.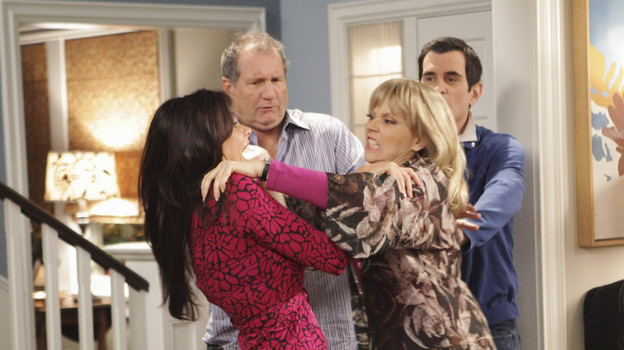 Deedee turns an apology into an angry racist tirade against Gloria.
Sometimes the humor surrounding Gloria's character satirically critiques racism. Other times it undercuts the transformative potential of Latina visibility. Gloria's financial dependence on her second, much-older, wealthier husband to maintain her upper-middle class lifestyle and access to the American Dream positions her as a "good minority" and non-threatening foreigner. By placing a Latina immigrant in an economically subservient role in a heteronormative white middle-class home, Modern Family humorously reframes discourses of white male disempowerment by satirizing ethnic and female enfranchisement. Gloria does not seek to economically compete with other men or women for work outside the home. Her character privileges the nostalgic heteronormative life and values of familial domesticity, particularly her traditional desire to be a nurturing mother and wife.
Despite representations of Gloria's unique Colombian traditions and positive social relationships with gays/lesbians, the narrative of the show always concludes by recuperating the normative and nostalgic values of whiteness and US heterosexual family life. While the gender relationships at play in the storylines do at times challenge the balance of power in the heterosexual marriages – ornery Jay capitulates to Gloria's desires; level-headed Claire must come to zany Phil's rescue – the normative patriarchal order is always reaffirmed. Regardless of the modern issues raised in the episodes – new technology as a family distraction, gay transcultural adoption, ex-spouses crashing family events – the patriarchal structure of the family is reinforced.
Given the show's nostalgic reification of white masculine authority and normative family life, Vergara's spitfire character is central for understanding the constraints surrounding Latina representations in an era of heightened resentments. Gloria as a highly feminine, sexual, domestic, middle-class and financially dependent Latina does not fully destabilize the dominant anti-Latino immigration discourse. Vergara/Gloria is the feminized, foreign but desirable ethnoracial other. Her gender and ethnic difference simultaneously foregrounds the normative whiteness of the extended family and is assimilated within the overall narrative as not completely dissimilar to the other characters. After all, the show suggest they might celebrate Christmas in Colombia by playing practical jokes on family members, but the important lesson is that all the characters still celebrate Christmas at home with their extended families.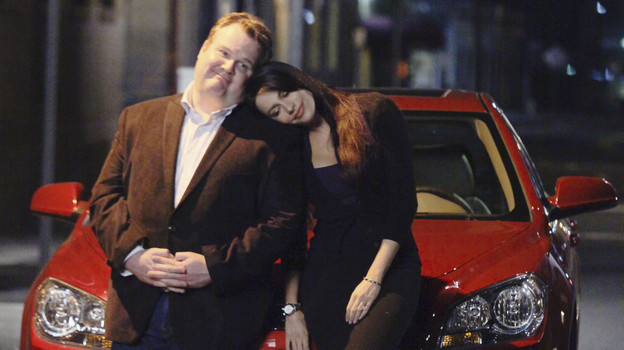 Gloria bonds with gay son-in-law
In a conservative post-race and post-feminist recessionary context defined by white resentment, it is critical to also explore the potentially transformative narratives of popular texts such as Modern Family. Though Gloria is an archetypical character, she is also three-dimensional (See Image 5). An undocumented Colombian immigrant who leaves an emotionally abusive marriage to stake out a better life for her son, her character's life experiences provide comedic grist to critique the racial and class privilege of the white characters. Whatever disasters or conflicts the other couples are coping with, Gloria's dialogue always interjects with a far more serious incident from her past. Vergara's more complex representation of the spitfire archetype functions to remind audiences that Latino lives are compelling and multi-dimensional. Her nuanced re-articulation of the spitfire thus opens up a space of unprecedented visibility and the potential for representational dignity during a moment of economic angst, racial backlash and the meritocratic policies of a post-race neoliberal state.
Image Credits:
1. Modern Family Cast
2. Spitfire Regalia
3. "Run For Your Wife"
4. "The Incident"
5. "Starry Night"
Please feel free to comment.