'Wanna be on top?': America's Next Top Model and evaluating presentational performance as televisual skill
James Bennett / London Metropolitan University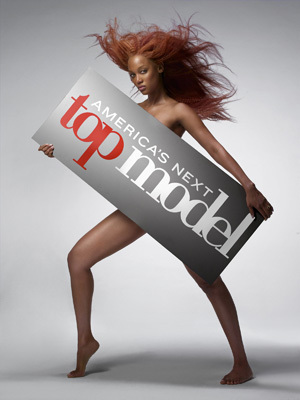 American NTM host Tyra Banks
I began my series of Flow columns with a piece that suggested we could understand the qualities traditionally associated with television personalities (TVPs) as performed – their ordinariness, authenticity and 'just-as-they-ness'. In this final column I want to move towards a debate about how we might evaluate that performance by judging the success of Tyra Banks' performance as host of ANTM in comparison to her Australian counterpart Johdi Meares – an Australian model whom, similarly to Banks, had forged her success beyond modelling with entrepreneurial endeavours such as her own swimwear line.
To be clear, I am discussing TVPs performance here: not television actors, 'stars', ordinary people or newscasters. TVPs can be understood as those performers who 'play themselves', operating predominantly in factual genres: Jamie Oliver as 'Jamie Oliver', with the distinction between on- and off-screen self largely elided. Whilst Banks and Meares are also (super)models, this status is deployed as a kind of 'vocational' skill that validates their place on the show – it is the televisual skill of their performances, particular of Banks, that helps us understand them as TVPs.1 Where performance has been discussed in relation to television it has tended to concentrate on one of three areas: firstly, the way ideological constructs and identities are 'performed' – for example, Jamie Oliver's performance of masculinity etc; secondly, again ideologically, celebrity studies has addressed television performance within debates about the performance of the self – so that it is now more commonplace to assert that the authentic self is always-already 'performed';2 finally, television performance has been discussed as part of the aesthetic criticism of television drama
Whilst the first and second of these discourses tends to focus on factual television, the aesthetic criticism of television performance has focused on acting in fictional drama – rather than factual programming's presentational modes. However, not only are presentational modes of performance capable of withstanding sustained critical attention, but so doing also provides a better understanding of the ideological and cultural roles such factual programming fulfils. Treating television presentation as a form of 'televisual skill' enables us to judge the pleasures, skill, achievements and meanings of performance that are potentially on offer. Susan Murray's work on early television stardom offers a useful starting point for understanding the key attributes of televisual skill. She suggests that 'the ideal television performer' was initially understood as those able to best exploit television's primary 'aesthetic properties – immediacy, intimacy and spontaneity.'3 Given the continued association of television with an aesthetics of liveness (if not actuality) these qualities remain helpful in attempting to analyse televisual performance.
Formats, both in their international circulation – local hosts must 'play' the original hosts' role – and in their very formatting – whereby hosts must continually repeat elements of their performance, such as catch-phrases – offer a useful site for analysing performance. The current series of ANTM and Australia's NTM screening on LivingTV in the UK (cycle 13 and 4 respectively) is a particularly useful site for an analysis of such presentational modes of performance because it combines elements from a range of factual genres: lifestyle programming (the makeover), with reality television (the contestants' place in the 'model' house), and the light entertainment forms of game shows and variety (the requirement for models to undertake a task or do a 'turn'; the presence of a judging panel). The sequence from the Australian series below is taken from a highly formatted part of the series: the elimination of contestants at the end of each program. Here, following on from the judges' deliberations, Meares is required to call forward contestants in order to permit or deny them entry through to the next round: dispensing a small nugget of advice to each contestant in so doing.
[youtube]http://www.youtube.com/watch?v=pyIR-W50yBI&feature=related[/youtube]
Meares' performance fails to imbue this segment with any sense of immediacy, spontaneity or intimacy. Her lines are delivered from a set of notes contained in a clipboard she hugs to her chest that both reveals the mechanics of production as well as inhibits any use of gesture. Whilst many game shows hosts deploy such notes successfully, Meares effectively uses these as a 'crutch': constantly referring to them in such a way as to produce a stilted delivery of her lines (figure 1). Moreover, the clipboard interferes with the construction of intimacy between host and contestant – creating a physical barrier between the two, and the audience in turn.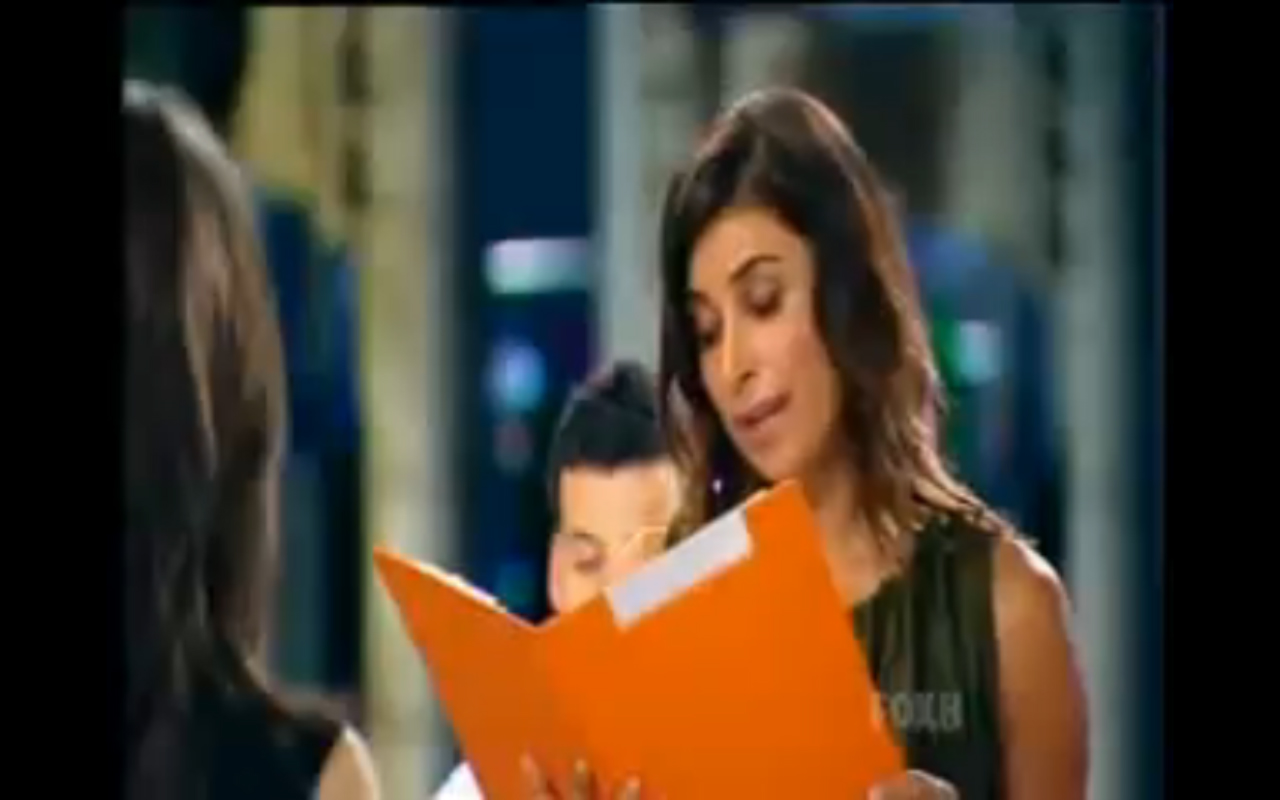 Meares' stilted line delivery
In contrast, a clip from the same moment in the American series (cycle 13) sees Banks deliver her lines without notes and, at least the appearance of, spontaneous comments on the models' performance. This establishes a clear flow between editing, narrative and performance that creates an 'immediate' performance – congruent with the aesthetics of television's liveness. It therefore elides the sense of rehearsals, scripted dialogue and re-takes that would signify a performance rather than Banks' appearance 'just-as-she-really-is': that is, her intimate and authentic self. I'm not suggesting that the perceived immediacy of Banks' performance is therefore solely down to her ability to either memorise lines or produce on-the-spot commentary: as Karen Lury has noted, there is a confluence between technique and technology in the construction of televisual performance.4 Thus in contrast to Banks' cohesive performance, it is impossible to avoid shots in which Meares appears to be reading her lines: this leads to an over-emphasis on editing, whereby the viewer is constantly returned to reaction shots of the contestant or elsewhere in the mise-en-scene in an attempt to conceal the mechanics of performance that are otherwise laid bare by Meares' delivery.
[youtube]http://www.youtube.com/watch?v=cNCeRlrRYY8&feature=related[/youtube]
The fulfilment of the perceived 'inherent' aesthetic qualities of television – immediacy, intimacy and spontaneity – is, however, but one level of analysis that we can begin to undertake in evaluating successful performances. We might compliment an analysis of these by drawing on work from film studies and on quality television that have paid more attention to the question of performance and its achievement. In so doing we might judge achievement of performance as 'the synthesis between performance style, visual composition and thematic progression'.5
The success of Tyra Banks' performance therefore is best understood in relation to the cohesion between performance style, visual and aural composition, and programming aims. Ultimately, Banks' performance is congruent with the aims of the program which, as Ouellette and Hay's analysis of reality TV programming suggests, tend to emphasise self-enterprise and transformation.6 This is perhaps most apparent in the final eviction of the losing contestant: Banks' lines are delivered with the use of a series of gestures that position the series as an opportunity that each contestant has been given (figure 2), whilst her lines are phrased as a question that the revelation of the final photograph will answer (the contestant who remains in the competition). Her monologue works in conjunction with the soundtrack's use of arpeggiated chords in a minor key, which emphasises tension and builds towards a crescendo for the moment of revelation. Crucially, despite one girl being eliminated, this revelation is structured largely as an uplifting moment via the cohesion of visuals (the focus is on Banks' interaction with contestants), music (which opens out into a 'soaring' emotional resolution through use of a major chord) and performance – Banks is full of energy and expansive gestures, delivering a positive message about the self-improvement achieved by the loser as a result of this 'opportunity'.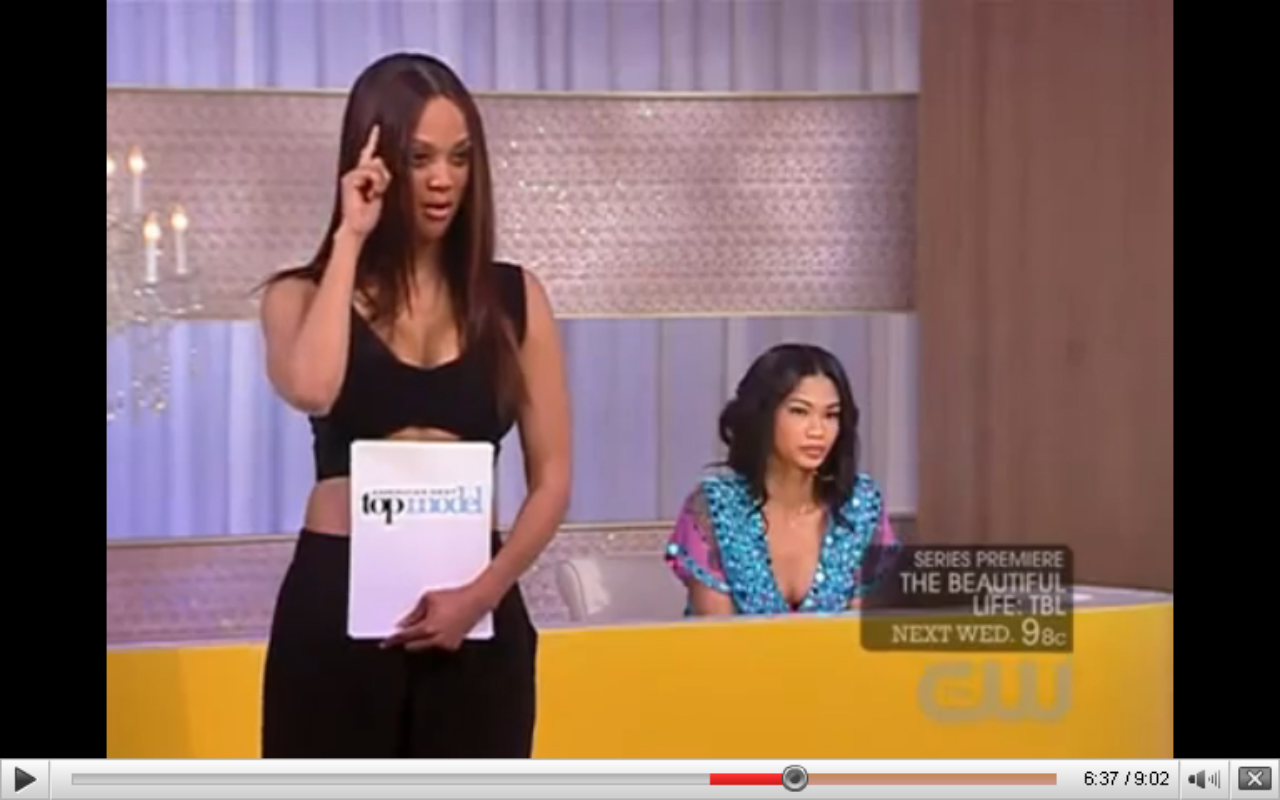 Banks 'evicting' the losing contestant
Banks' performance comes out 'on top' in contrast to the lack of synthesis achieved in the Australian version. The tension in the soundtrack gives way to a minor guitar riff that underscores the failure of one contestant, a message emphasised by the visuals that dwell on the teary goodbyes between the loser and the other contestants. The failure of Meares' performance as spontaneous, immediate and intimate also results in a failure to achieve the entrepreneurial aims of the programming: the loser is positioned as a 'really pretty girl' who does not have 'something behind the eyes'. The emphasis is on not quite being good enough, rather than the lessons learnt or continuing journey of the models.
It is through being attuned to the sensitivities of performance that we can not only understand the pleasures television's presentational genres offer us, but also return to the text more alive to the ideological work being performed.
Image Credits:
1.) American NTM host Tyra Banks
2.) Meares' stilted line delivery – Author Screen Cap
3.) Banks 'evicting' the losing contestant – Author Screen Cap