"More drinkin', less thinkin', fewer teeth, and beer"
"More drinkin', less thinkin', fewer teeth, and beer": Representations of class in CMT's My Big Redneck Wedding
Melissa Click / University of Missouri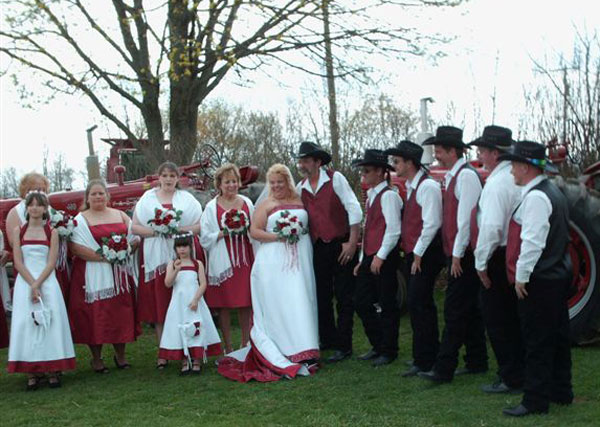 A "redneck" wedding party
In the 1980s, stand-up comedian Jeff Foxworthy gave redneck identity a new visibility with his routine, "You Might Be A Redneck If…." Foxworthy's first comedy album based on this routine went triple platinum.1 In an interview with USA Today, Foxworthy indicated that he sees "redneck" as a class position: "For a long time … [rednecks] were ashamed they didn't have the coolest clothes, the coolest cars, couldn't afford to go here, buy this and do that. I think we finally all got together and went, 'You know what? We like being this way.'"2 While Foxworthy's humor repackages familiar stereotypes about rednecks, reviews of Foxworthy's comedy confirm that his humor can uplift as well as mock. For example, The New Yorker suggests that Foxworthy's comedy "encourages people to laugh without shame, knowing that they are not alone in their relaxed-fit cultural tastes."3 MediaWeek reports that Foxworthy's works has "suddenly made being a redneck an acceptable proposition to a lot of people."4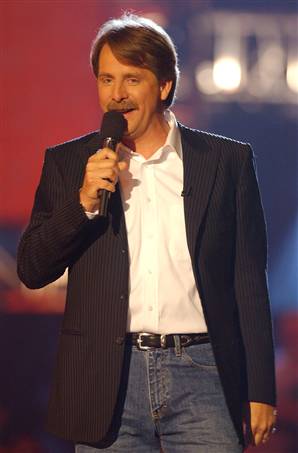 Jeff Foxworthy works his magic
Foxworthy's success, particularly in an industry more focused on targeting the urban demographic rather than the rural, suggests that his work resonates with audiences. Foxworthy has built a wildly successful career selling more recordings than any other comedian in history, "… more than twice as many as Steve Martin and Richard Pryor combined."5 Billboard calls him a "a redneck renaissance man,"6 because of his success in a range of areas: he has starred in The Jeff Foxworthy Show, (on ABC, then NBC), and currently hosts The Foxworthy Countdown, a syndicated country music radio show, and Are You Smarter Than a 5th Grader?. His comedy routines have spawned TV series, TV specials, films, calendars, greeting cards, and endorsements.
Foxworthy's success spawned a new genre of comedy, and the country music industry has also capitalized on this reappropriation of rural identities. Songs like "Redneck Woman," by Gretchen Wilson, "Hicktown" by Jason Aldean, and "Paint the Town Redneck" by John Michael Montgomery "pick up on a spirit of rebellion, brashness, and humor."7 It makes sense, then, that Country Music Television would be interested in Pink Sneaker Productions' My Big Redneck Wedding. The 30-minute reality wedding program first aired in January 2008. To date, CMT has aired 32 episodes of the show, which ranks as one of its "top-rated series."8 My Big Redneck Wedding offers a fresh take on the well-worn reality wedding format, since most wedding reality shows like The Learning Channel's A Wedding Story, Lifetime's Weddings of a Lifetime, and WE's Platinum Weddings are preoccupied with the creation of perfectly tasteful weddings. Redneck Wedding puts redneck identity at the heart of each episode, presumably building on the storyline of its namesake, My Big Fat Greek Wedding (2002), which became one of the highest grossing independent films of all time in part because of its touching and humorous exploration of ethnic identity and class difference.

The show's promotional banner
Each episode details the love story and wedding preparations of a "redneck" couple. Tom Arnold (who is no stranger to blue collar identity, comedy and television) hosts the series, and frequently "pops up" onto the screen to comment on the plot of the episode. Despite CMT's Bob Kusbit's insistence that Arnold's "hilarious commentary highlights how much these couples truly love each other,"9 Arnold's function is mostly to mock the couple's decisions, tastes, and intelligence. Demonstrating that the show's intent is more to judge the bride and groom (particularly their redneck tastes and identities) than to identify with them, Redneck Weddings spends little time focusing on the relational aspects of these weddings and more time depicting the redneck couples involved as lacking taste, acting foolishly, and having screwed up families. In this way, the show deviates from the more positive reappropriations of redneck displayed by Jeff Foxworthy and country music more broadly. Below I discuss my initial reactions from a larger project I am undertaking to examine the show's messages.
The most obvious characteristic of the brides and grooms on Redneck Weddings is bad taste, presumably based upon their rural and working class identities. This is how Redneck Weddings differ from more mainstream wedding programs: the wedding themes and components are centered around what mainstream programs would consider in poor taste. For example, Anna and Bo make benches for the guests to sit upon for the ceremony out of boards stacked on tires. Anna tosses her bridal bouquet over a mud pit, and a mud fight results. The wedding ends with monster trucks driving through a mud pit. Additionally, Amyie buys her wedding dress at a consignment shop and then uses her friend's bedazzler to write the groom's name on the skirt of her dress. Rawni and Rob want to get married at "The Redneck Games" in Georgia and then jump in a mud pit.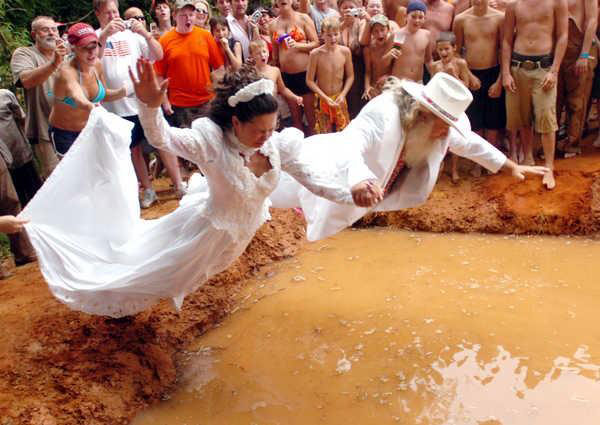 Rawni and Rob's matrimonial mud jump
A second dominant characteristic of the redneck brides and grooms in Redneck Wedding is lack of intelligence. This characteristic is closely related to with bad taste, as it is assumed that folks with bad taste just don't know any better. Many of the participants in My Big Redneck Wedding make foolish decisions. For instance, Amyie and George decide to make wine for their wedding by stomping on grapes purchased at the grocery store. They seem genuinely perplexed when the liquid they make does not taste like wine. They improve its taste by adding alcohol to it. Graeme makes a sweet tea fountain for the reception with a bucket, a plate, and duct tape. To clean it, he jumps in the pool with it. Later, a guest at the reception remarks that it tastes like chlorine. Anna endures a "sex talk" from her mother, who explains how to use a Ziploc bag as a condom. She explains that the method is effective and will save money.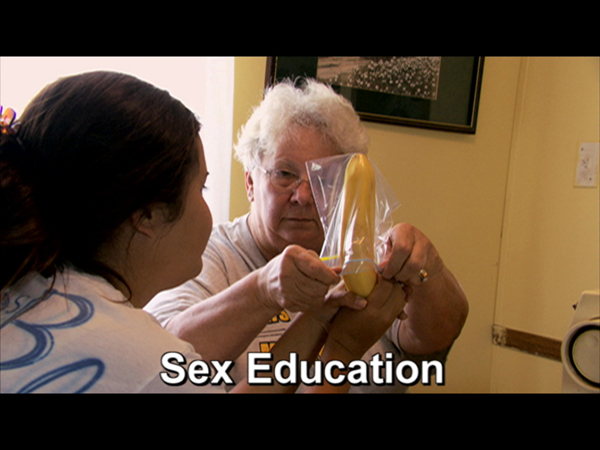 A sex ed lesson with a trusty Ziploc
Rednecks' tendencies toward creating dysfunctional families are expressed through the brides' and grooms' descriptions of their relationship histories. Jeanie laughs that she is marrying her "Daddy" because he, like Jeannie's future husband Bill, has no teeth. Amyie and George have 7 marriages between them (and many children); they call themselves "the Redneck Brady Bunch." Lynn and Graeme have a yard sale at the beginning of the episode and sell stuff from their "old marriages" to fund their upcoming wedding. When Lynn comments during the episode that she wants this wedding to be special, Tom Arnold jokes that she shouldn't worry because she'll certainly have another one. Shawna has problems getting her wedding dress to fit because she's pregnant. Her friend uses wire and duct tape to make the dress fit. Anna and Bo's relationship is constantly derided by Tom Arnold in their episode. He laughs that they are "brother and sister," even though it is explained multiple times that she is not a blood relative and was adopted into his family. Arnold tells viewers that this is the "best part" of the episode.
In the show's repeated insistence that rednecks have bad taste, small intellects, and dysfunctional families, Redneck Weddings mocks the participants' identities and interests, and downplays their expressions of love, family, support, and community. The touching and emotional moments of the show are repeatedly disregarded and passed over. For example, Tom Arnold does not comment on Bill, who cries when he realizes he and Jeanie will be apart the night before the wedding. He vows to never sleep without her again. There is no commentary when Rob tears up when he sees Ronnie walking down the aisle toward him, and her mother later cries with joy at their reception, when she sees how happy her daughter is. No big deal is made of Vince's wedding vows, in which he refers to the fact that he and Shawna are finally getting married after four years of being together; he says, "it's time to make our two families into one."
Though the show rarely addresses these fleeting moments, they strike me as the only "real" moments in the reality-based series, and their exploration could develop a class-based critique that would encourage viewers to see that the relationships are the important parts of the weddings, and that despite class differences, the human need for love and connection is a common one. Instead of encouraging viewers to laugh at the participants, the series would be much more interesting if it took seriously the details of each wedding, the characteristics of the brides and grooms, and the hardships many of them face. Doing so would humanize the participants and encourage viewers to see them as good people who, though they may be different from TV's middle class, have common values and are deserving of respect. Pink Sneakers and CMT have no plans for a fourth season of the show and that is probably a good thing—the show is too steeped in stereotypes to offer viewers any sort of useful look at redneck identity.
Image Credits:
1. A "redneck" wedding party
2. Jeff Foxworthy works his magic
3. The show's promotional banner
4. Rawni and Rob's matrimonial mud jump
5. A sex ed lesson with a trusty Ziploc
Please feel free to comment.