DAD TV – Postfeminism and the Paternalization of US Television Drama
Hannah Hamad / Massey University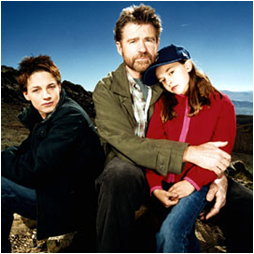 Paternal instinct in Everwood
Recent years have witnessed a pronounced thematic and representational trend in television serial drama towards paternalism, fatherhood, and relationships between fathers and children. In many ways, the WB's Everwood, which ran from 2002-2006 is epitomic of this trend in terms of its heavily paternally inflected premise, centred on the down-shifted life a widowed single father in the aftermath of his wife's death, and his efforts at solo parenting in her absence.
Prior to Everwood's premiere it was described by Entertainment Weekly as "a rare showing of paternal instinct"1 by the network, quoting then entertainment president Jordan Levin asserting "This was a conscious decision to tackle an arena we felt is underserved in network TV – portraying a father in a strong and sympathetic light."2 Similarly, creator Greg Berlanti identified what he perceived as a dearth of depictions of father-child relationships onscreen as a motivating factor in his decision to develop Everwood in the way that he did – as a paternal drama of lone fatherhood –telling Variety when it was first broadcast, "I just wanted to write something that was a father-son story because I felt it was under-represented on television."3
A major turnaround of this state of affairs has taken place since Berlanti expressed his perceived lack of representations of fatherhood on television, to the extent that it is a ubiquitous trope and a dominant structuring theme in contemporary televisual discourses of postfeminist masculinity. Symptomatic is that in the multi-layered narratives and ensemble casts of characters of high-end series like Lost and Heroes, nary a character can be found populating their respective diegeses who does not have a paternally inflected back story, or sub-plot centred upon their own situation and identity as a father (or both) built in to the series' arch-narrative at some point.
This thematic prominence of fatherhood has not gone unnoticed by critics and commentators with regard to individual shows, genres and creative personnel, and attempts have been made to understand this representational recurrence in relation to various critical frameworks. Elsewhere in Flow, Michael Kackman identifies it as a "central narrative preoccupation" of Lost, citing it as Oedipal.4 Ina Rae Hark notes that the first season of 24 is (amidst themes of terrorism, counterterrorism, intelligence, and conspiracy) "the story of three fathers whose… work has interfered with the well-being and happiness of their… families,"5 and explores this theme in Deleuzian terms. Rosalind Coward points to the paternal in Desperate Housewives in which, despite privileging a representational and thematic discourse centred on motherhood and femininity, "the main narrative impulse… is a mystery centring on a father-son relationship."6 And New York magazine's Logan Hill makes an auteurist case for the noticeably father centred work of J.J. Abrams, posing the question "Does J.J. Abrams Have Daddy Issues?" before tracking the paternal thematic drive that has infused Abrams' cinematic and televisual output from 1991's Regarding Henry through 2009's Star Trek by way of serial television dramas Felicity, Alias, Lost and Fringe.7 He answers this question squarely in the affirmative, positing the prevalence of the paternal in both film and television as a signature trope of an individual auteur. Abrams' authorly idiosyncrasies notwithstanding, a structuring theme centred on a given character's "daddy issues" in contemporary television drama is not unique to the output of this one individual. Rather, it is increasingly omnipresent in a postfeminist media culture in which the hands-on, emotionally involved practice of fatherhood has become a prerequisite for the attainment of mature ideal masculinity. Frequently, anxieties that trouble this paternal ideal (often in relation to the fatherhood of men from the generation that preceded postfeminism, which tends to be depicted as inadequate) emerge in cultural discourses, manifesting in the form of the aforementioned so-called "daddy issues" that blight the development and narrative progression of innumerable characters, and thence inform and nuance representations of the fatherhood of younger generations of men whose job it seems to be to personify the postfeminist paternal ideal.
Postfeminism operates to naturalise cultural imagery of involved fatherhood as simultaneously progressive, and preordained by second wave feminist shifts in notional norms of gender equity in parenting that resulted, or were perceived to result. One cultural upshot has seen fatherhood become the testing ground upon which masculinity is affirmed and celebrated, or censured and disavowed, while effecting the political neutralisation of the concomitant marginalisation if not outright elision of motherhood from representational discourses. I hence offer postfeminism as a critical framework and cultural context that enables further understanding of the pronounced paternalisation of television drama, a case in point for a much wider representational trend.
The way fatherhood is introduced to a series varies in the extent to which it impacts the narrative, and the degree to which it nuances characterisation of the father character/s depicted. There have been self-contained individual episodes within series specifically thematically privileging fatherhood or treating it as a representational phenomenon unto itself (while subsuming it into the series' narrative context in a diegetically apposite manner), such as the Desperate Houswives episode 'My Heart Belongs to Daddy,' which makes the fatherhood of Rex, Carlos, Mike and Tom the structuring theme. Or the Lost episode 'All The Best Cowboys Have Daddy Issues,' which reveals a significant moment behind Jack's traumatic paternally inflected back story (thereafter it becomes a recurring trope to paternalize the back stories of other characters). And the Angel episode 'Dad' that focuses on his attempts to adapt to fatherhood following the arrival of his son. Oftentimes paternalization occurs as a significant development, whereby fatherhood is introduced to an established character, and the show modifies its thematic accordingly as in Angel, and Six Feet Under and Nip/Tuck, which similarly paternalized Nate and Christian.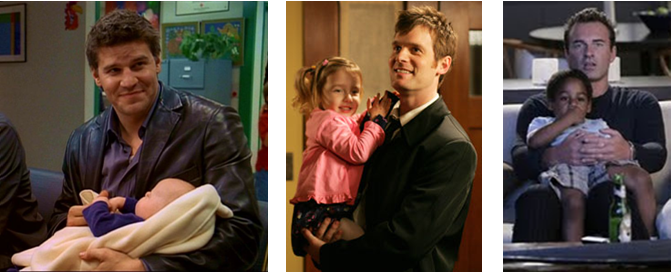 Introducing fatherhood in Angel, Six Feet Under and Nip/Tuck
It is beyond the scope of this column to be able to adequately conceptualize or fully typologize all the discursive nuances of postfeminist fatherhood on television, but I would like to highlight some of its dominant tropes. The diegetically apposite absence of mothers is one, and is apotheosised in the prevalence of the widowed single father as the paradigmatic male. This figure abounds in serial drama, and can be found in Everwood, Angel, 24, Numb3rs, Lost, Desperate Housewives, Six Feet Under, Ugly Betty, Prison Break, Battlestar Galactica, Fringe, Nip/Tuck and Harper's Island to name only some. Down-shifted widowed single fatherhood was, of course, the springboard scenario of Everwood which ran for four seasons on the back of this set-up that saw bereaved neurosurgeon Andy Brown and his two children retreat to small town Colorado, and showcased paternalized postfeminist masculinity through what is now a stock character.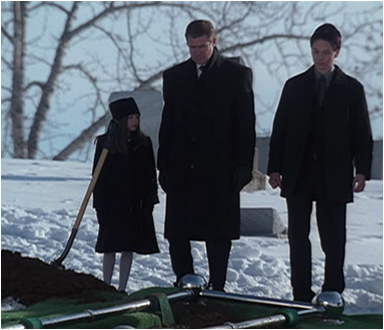 Everwood deals with single fathers
The matter-of-factness with which single fatherhood is sometimes articulated is also noteworthy. The circumstances that bring about a state of singlehood can go un-interrogated, be referenced glibly, or at the other end of the spectrum, laboured narrative contrivances (that usually involve the mother's unlikely death) are conceived and deployed to explain and thence naturalize it, as in Angel where a partially humanized Darla stakes herself to save her unborn baby from her post-partum reversion to vampirism. Instances whereby fatherhood is depicted as troubling or problematic are lent pathos by what is shown as the tragedy of failed, inadequate or absent fatherhood as in The Wire, 24, Without a Trace and Battlestar Galactica, most of which provide the narrative impetus, context and circumstances to redeem their formerly inadequate fathers. For example, The Wire's fourth season included representation of McNulty's paternal transformation and rehabilitation, allowing for the recuperation of his fatherhood that was heretofore marked as inadequate due to his absence through workaholism, alcoholism and adultery, reminiscent of the paternal failings of Jack Malone in Without a Trace.


Fringe, Battlestar Galactica and Angel explore tactile paternalism
Compositional commonalities in the depiction of the tactile, increasingly emotional and ultimately redemptive paternalism of the single fathers in Fringe, Battlestar Galactica and Angel pictured here, all similarly thematically privilege fatherhood and its transformative, recuperative and redemptive possibilities.
These are but a few of the commonalities to be found in television representations of fatherhood, which themselves are indicative of a much broader trend in contemporary media culture. Beyond the serial drama, the paternalized discourses of masculinity on television have emerged in a number of other forms such as celebrity reality TV (Snoop Dogg's Father Hood, Run's House, Hogan Knows Best), sitcom (Two and a Half Men) and advertising (Patrick Dempsey's current L'Oreal campaign). The role of fatherhood in contemporary cultural discourses of postfeminist masculinity would hence bear further and more detailed critical inquiry and debate.
Image Credits:
1. Paternal instinct in Everwood
2. Paternalizing characters in Angel, Six Feet Under and Nip/Tuck
3. Everwood deals with single fathers – Author's screen capture
4. Fringe, Battlestar Galactica and Angel explore tactile paternalism
Please feel free to comment.