Degrassi's Always Greener on the Other Side: Canadian Television, U.S. Handling
 Nafissa Thompson-Spires / Vanderbilt University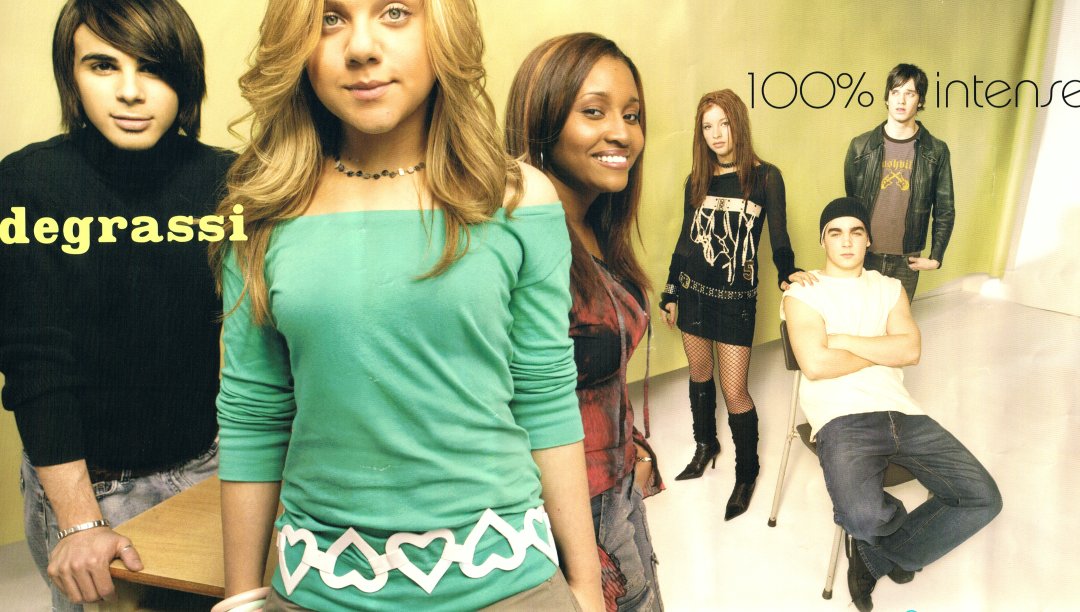 Degrassi: 100% Intense
In 2002, when U.S. teen channel The N "delayed" broadcasting "Accidents Will Happen," a storyline about teen abortion from Canadian import Degrassi: The Next Generation (DTNG), the vehement viewer backlash made national news. U.S. viewers fashioned petitions (one of which made it into Entertainment Weekly), letters to the network, and distributed the episodes on the Internet via Canadian viewers who uploaded them. Most of the Web and print petitions emphasized that it was unfair that Canadians could see the episodes when U.S. viewers could not.1 On message boards, viewers even complained that they wanted to move to Canada because of The N's practices and that Canada is better, more progressive, and less sheltered than the United States. These viewers essentially defined (and essentialized) "Canadianness" through their experiences with Canadian television—in its U.S. incarnation.
This discussion situates The N's censorship of Degrassi against that of other U.S. channels broadcasting Canadian series, examining how they inadvertently and sometimes purposefully encourage fetishization of Canadianness through practices that invite viewers to imagine national ideologies in terms of televisual parts—parts that Canadian viewers can see and parts that U.S. viewers cannot.2 While I have outlined elsewhere a set of aesthetics that we might call "Canadian," in this context the "Canadianness" of a series becomes its potential for sensationalism or controversy, which depends entirely on each channel's self-branding and branding of the parts.
Generally, U.S. channels edit and censor Canadian series in order to make them look like U.S. productions or to sanitize elements considered too graphic and/or political for particular audiences or the channels' trademark. The latter kind of editing—somewhat akin to TBS's sanitization of its Sex and the City reruns—often results from the channel's limitations: TBS, for example, cannot air the same level of profanity or nudity that HBO can. But editing takes on different connotations when series originate from different countries and when the edited parts meet FCC guidelines. In the mid-1990s, Disney Channel censored Canadian series Ready or Not, removing entire episodes, profanity, and discussions about puberty, anatomy, and sex. Like TBS's changes to Sex, it made sense that Disney, "America's Family Network," would find Ready or Not more problematic for its audience than Showtime did when the series aired there. Viewers who found out about the edits through the Internet, however, consistently referred to this as Americanization of the series, and many saw it as representative of the differences between U.S. and Canadian television.3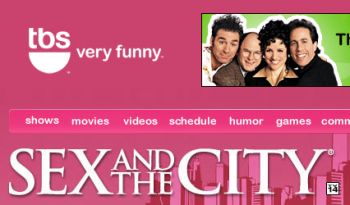 Sex and the City Sanitized on TBS
Similarly, when PBS edited the end of
Degrassi High
's "A New Start," making it unclear whether Erica had an abortion or merely contemplated one, the changes came to represent national ideology. Canadian producer Kit Hood called the U.S. ending "American… happy, safe, but incomplete" and more pro-choice.
4
Kate Taylor, the U.S. editor and PBS representative, argued that the U.S. version looked more like
Degrassi
's standard ambiguous ending, essentially
more
Canadian.
5
In both examples, "Americanness" becomes the individual channel's practices—in this case protective censorship and reworking of the text, while "Canadianness," becomes artistic freedom, textual completeness, and willingness to attend to particular issues.
The N's practices, however, intentionally highlight Degrassi's so-called Canadianness in order to sell an increasingly inconsistent, commercial, and exploitative teen brand. The marketing encourages both fetishization of the series' parts and the national contexts that allow for their production and broadcast. DTNG has served for several years as the N's highest-rated, most popular series. Initially a commercial-free dual network, The N structured Degrassi as educational, universal, authentic, and controversial. In 2002, the network's first slogan for the series paralleled The N's self-branding as "the authentic voice of teens" with "Degrassi: If your life were a TV show, this would be it." Later, The N's ads boasted, "Degrassi: It Goes There," marketing DTNG as more authentic and salacious than other teen programming. Commercials abstracted shocks and reactions shots, all of which supposedly testified to Degrassi's willingness to "go" where other television does not. When in 2004 The N attempted to introduce U.S. series South of Nowhere, it marketed South as "Canadian-made" Degrassi's "American" counterpart: Commercials placed images from each show on a map of North America with South over the United States, Degrassi over Canada, and a voice asking, "…Mexico, What you got?" The features that made Degrassi salacious and controversial became through this marketing overt symbols of its Canadianness.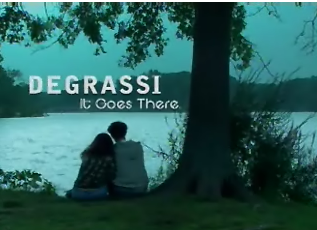 It GOES There!
In a 2006 campaign called "Degrassi: Director's Cut" and a corresponding online feature called "Degrassi Snaggables," commercials promised parts of Degrassi that U.S. viewers had "never seen before": Emma's violation, Spinner's erection, extended scenes of Ellie cutting herself, Craig's violent beating from his father, the scenes with the train, and "Accidents Will Happen." The network renamed several episodes—"The Boner" and "Manny's Butt Floss," for example—revealing the edited parts and abstracting them from their educational contexts as sensational, rather than realistic, moments. Episodes that were once inappropriate in their TV-PG forms now became soft-porn mockeries of the series, where context mattered less than scintillating viewers with tawdry parts. Enacting a sort of fetishism that privileges parts at the expense of the whole, The N emphasized the Directors Cuts as enhanced viewing experiences rather than as complete originals. And playing with Degrassi's slogan, "Degrassi… It Goes There," commercials promised, "Degrassi… Now It Really Goes There."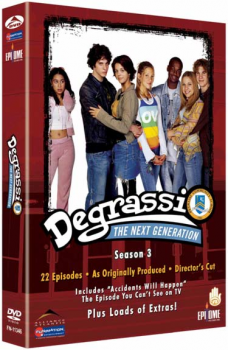 "As Originally Produced — Director's Cut — Includes "Accidents Will Happen" — The Episode You Can't See On TV!"
Ironically, this marketing has not to my knowledge decreased viewer dissatisfaction with The N. Many even responded to the restoration of "Accidents Will Happen" with, "Why now? We've already watched it online."6 The N's marketing did, however, result in essentialization of Canada through the parts of the series that metonymically became Canadian. In one viewer's terms, Degrassi "only really goes there [in Canada] on CTV. The-N just wishes they would."7 Others complained that The N's censorship encapsulates why Canada is better than the United States, for Canadians could see the original cuts of Degrassi. Why can't U.S. viewers see these things, too? Some Internet discussions replied to the effect of: "Because Canadians are not prudes, and Americans are."8 Those viewers expressing a desire to go to Canada paradoxically fantasize that production and broadcasting practices are better there, where as I have noted elsewhere, manifold problems (many of which result from U.S. interference) hinder television production. Worse still, The N's Directors Cuts may extend beyond Degrassi's scheduled final season in 2009: Since 2006, the channel has continued to edit the series—Spinner smoking medical marijuana, Emma's buttocks, etc—all parts that the network may bring back in efforts to cultivate desire for its only hot commodity, which really is better (or at least cleaner) on the other side of the border.
Image Credits:
1. Degrassi: 100% Intense
2. Sex and the City Sanitized on TBS
3. It GOES There
4. "As Originally Produced — Director's Cut — Includes "Accidents Will Happen" — The Episode You Can't See On TV!"
Please feel free to comment.