Quality Television, Melodrama, and Cultural Complexity
 Michael Kackman / University of Texas – Austin  
<!‐‐more‐‐>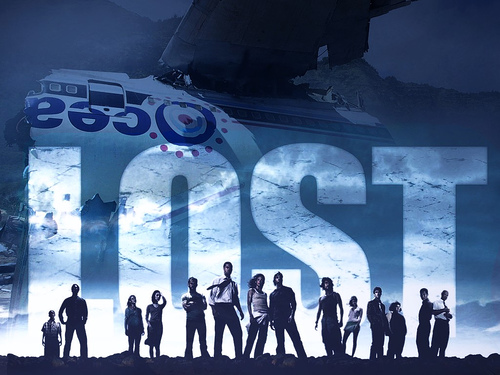 Lost: Quality Television, Melodrama and Culturally Complex
In 2007, when Terry Gross of NPR's Fresh Air was discussing the top films of the year, she couldn't help but insert the HBO series The Wire in her own personal top ten. It wasn't much of a surprise – The Wire has been a recurring topic on Fresh Air for years, and Gross has interviewed a number of actors, writers, and producers related to the show, some more than once. Of course Fresh Air isn't the only place where we've seen this discourse, but it was especially noteworthy that the ultimate mark of distinction for the show was to detach it fully from its medium of origin, and place it in its "true" aesthetic context – that of cinema.
This kind of maneuver is of course not limited to The Wire, nor to HBO (though more than any network, HBO has branded itself as the preeminent site of quality television, most neatly encapsulated in its claim to, well, not be TV at all). From The X-Files and Buffy the Vampire Slayer to The Sopranos and Lost, we're in a lively period of some very interesting narrative television.
Both television and the academic discipline that has developed around it have steadily gained legitimacy and accrued cultural capital over the past two decades. The medium – once roundly dismissed as a guilty pleasure or "bad object" – is now regularly discussed in aesthetic terms previously reserved for the relatively more legitimate popular art form of cinema. Auteurism and formalist narrative analysis are resurgent, finding their preferred object in the "mature" complexity of the contemporary serialized prime-time drama.
These evaluative discourses of quality, however, must be understood in relation to the cultural hierarchies that shaped earlier attitudes about television, and which gave the scholarship that explored it its principle political investment. An influential generation of feminist television scholarship took the medium's low cultural value as a provocative starting point, exploring the overt gendering of its pathologized, culturally subordinate viewers and its mediation of public and private spheres, and finding possibilities for redemptive or resistant readings in its carnivalesque, anarchic character.1 For that generation of scholars, many of the medium's most compelling possibilities lay not in its aesthetic sophistication, but precisely in its low status. Read in that light, "it's not television, it's HBO" is less a declaration of principles than a return to an elitist aesthetics.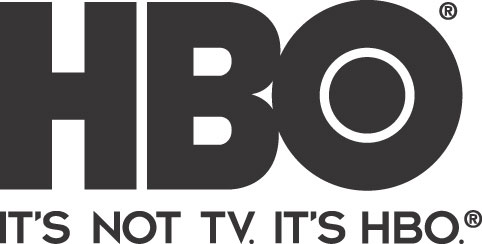 HBO Harkens The Return to Elitist Aesthetics?
In their recent anthology, Quality TV: Contemporary American Television and Beyond, Janet McCabe and Kim Akass mark Robert Thompson's largely celebratory 1996 book Television's Second Golden Age as a milestone moment, when discourses of quality television began to coalesce in the media industries, among audiences, and among scholars of the medium.2 A number of other works have emerged recently that explore the quality television discourse, including the anthologies Popular Television Drama, edited by Jonathan Bignell and Stephen Lacey, and Quality Popular Television, edited by Mark Jancovich and James Lyons.3 And while a number of scholars, in these volumes and elsewhere, have reminded us that the discourse of quality television involves textual features as well as particular modes of production and discourses of "quality audiences," I'm particularly interested in responding here to the development of what increasingly seems to be a neoformalist evaluative aesthetics of television.
One of the more useful and thoughtful articulations of this aesthetic move comes from Jason Mittell, who has recently argued for developing critical modes that better account for contemporary televisual form. In particular, Mittell is interested in what he terms complex narratives, those that blend episodic and serial narrative techniques, build upon extended back stories of both plot and character, are often self-consciously aesthetically experimental, and which promote a particular kind of spectatorial pleasure in the mechanisms of narration itself. To explain this pleasure, Mittell borrows Neil Harris' term the "operational aesthetic," which he describes as moments that call "attention to the constructed nature of the narration and ask us to marvel at how the writers pulled it off; often these instances forego realism in exchange for a formally aware baroque quality in which we watch the process of narration as a machine rather than engage in its diegesis."4
As examples of the form, Mittell offers such programs as Hill St. Blues, St. Elsewhere, Moonlighting, Twin Peaks, The X-Files, Six Feet Under, and Buffy the Vampire Slayer. Mittell is careful to keep some boundaries between narrative complexity and "quality television," noting that a program like 24 is narratively complex, but also muddled, incoherent, and largely denied the mantle of "quality." Mittell's formulation is useful, since he better than most explains the particular kinds of narrative structures that are central to the cultural formation of "quality television" today.
I find it especially curious, though, that the identification and mobilization of the "operational aesthetic" as a primary site of analysis is essentially an intertextual aesthetics (if such a thing is possible). While this particular formation is partly a matter of internal narrative complexity, it's also undeniably an aestheticization of creative cultural reception practices. The operational aesthetic, as we find it in such programs as Lost or Battlestar Galactica, is both a textual feature, and something fans do to texts. Long before producers were embedding "Easter eggs" and red herrings in Lost episodes and websites, fans were developing televisual literacies via which they extended and rewrote programs; whether explored by Trek slash writers or soap klatches, or more recent forays into "forensic fandom," the operational aesthetic owes much to the creative animation of the text by audiences. I think we have more work to do to understand how the interpretive labor of certain kinds of audience formations becomes visible and valorized; are American Idol or Survivor spoiler fans any less complex in their interpretive practices than Losties?
More to the point, I'd argue that our pleasure in the operational aesthetic doesn't come simply from observing the workings of a finely crafted watch, but from a sense that the product of its machinery will be something more broadly meaningful – it tells us what time it is. This is, essentially, a cultural operation, not an aesthetic one.
Quality TV is in part based upon a set of premises about the particular indexical quality that tv narrative is presumed to have with everyday life. Definitions of quality television, both popularly and in our scholarship, depend on a basic formulation that goes something like this: narrative complexity generates representational complexity; representational complexity offers the possibility of political and cultural complexity.5 When we delight in Willow's witchcraft, or Number Six's agonizing over spirituality and what it means to be alive, or Omar's and Bubbles' tragic misadventures on the streets of Baltimore, we're not just appreciating narrative craft. Instead, we're embracing the dream of a more complex world. Maybe, even, a more just one.
All of this, of course, draws us ever closer to melodrama, as both narrative form and index of a kind of cultural longing. What's really key here is melodrama's investment in its immediate cultural environs, that is to say, not just its formal play, but its engagement of cultural tensions, instabilities, and anxieties. In fact, it's melodrama's simultaneous invocation of, and inability to resolve, social tensions, that makes it such a ripe form for serial narrativization, and which makes it a central, and maybe even necessary, component of quality television. For melodrama, as Christine Gledhill wrote, "draws into a public arena desires, fears, values and identities which lie beneath the surface of the publicly acknowledged world."6
By saying that we need to reinvoke melodrama as the constitutive force behind much of what we call quality television, it's not just to remind critics of the culturally low form that embodies much of what they like about current tv. That is not, in itself, much of a point – and I suspect that most of the scholars embracing the narrative complexity of quality tv would be quick to point out that its antecedents lie in soaps and other "low" serial forms (Mittell certainly does). More importantly, though, I'd like to suggest that our ability even to identify narrative complexity and see it as a marker of quality television is itself an act not of aesthetic, but cultural, recognition. Complexity isn't just something we find in a text; it's something we bring to a text – and our recognition of certain characters as meaningfully conflicted, their narrative and moral dilemmas agonizingly or beguilingly puzzling, is a cultural identification. I'd like to see us talk more about melodrama and contemporary quality television not just as an ameliorative, cathartic symbolic resolution of social anxieties, but as a mechanism for the registering of political dreams.
This ultimately begs the question of what kinds of characters, settings, dilemmas, can be seen as cleverly complex, deserving of the "quality" label, and which will be relegated to the scrap heap of soapy excess. Which brings me to Lost.
Lost has become an idealized ur-text of television's aesthetic possibilities, with a complex mythology interwoven with a serialized character drama, all embraced by a knowing, literate fan community. We might productively read the gendered politics of television scholarship against the show's central narrative preoccupation with paternity, patriarchy, and masculinity. Most of the program's characters are driven to reconcile a patriarchal crisis: John Locke must redeem his masculinity and rebuild his impotent body after being manipulated by his father; Jack must resolve an Oedipal conflict with his alcoholic father without becoming him; Kate and Sawyer are stalked by their reactions to violent father figures; and the entire island is a trauma site, an experiment in aberrant reproduction. Nearly all of the show's major characters are haunted by failed or violent fathers; each week's episodes explore how their individual encounters with fatherhood have or will shape the collective island culture.
I'm a big fan (though not quite at Jason's level of commitment), but I'm frustrated when we embrace Lost as simply complex quality television without thinking about the relationship of its narrational mode to its gender politics. Two back to back scenes from the recap episode that played at the beginning of this past season neatly capture my frustrations with the show, and with critical responses to it. In the first, Kate and Jack share a fraught moment when, perhaps against his own best judgment, Jack confesses his love for Kate. It's a dishy, soapy moment, all the more so because of the episode's Pop-Up Video-style text that comments sarcastically about how the show's "shipper" fans will respond to the moment.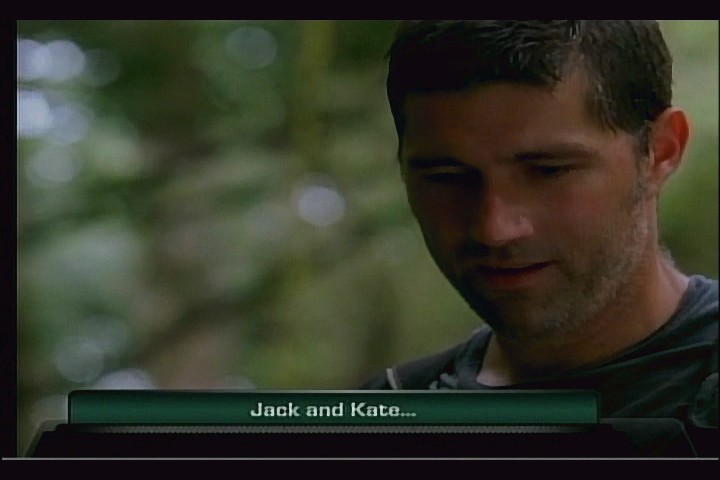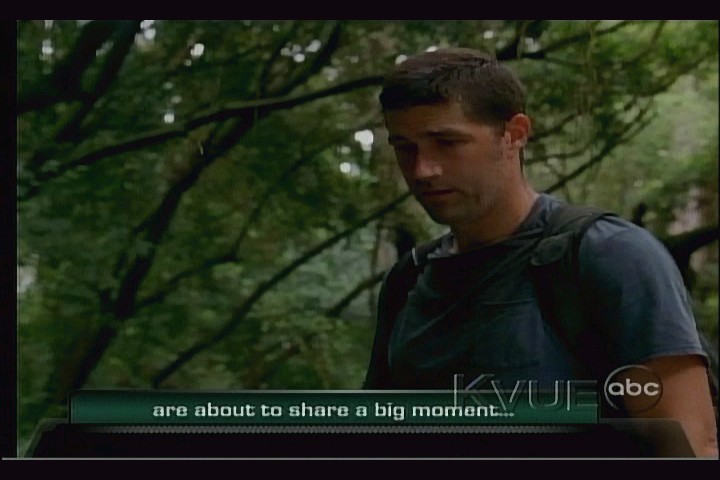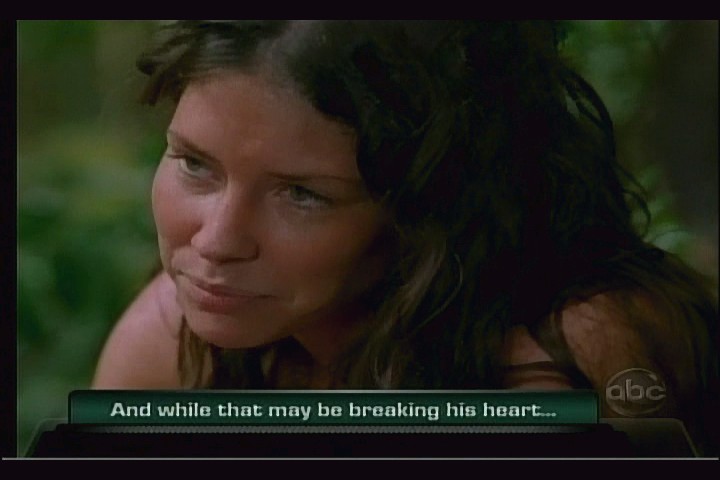 Jack and Kate's Dishy Moment
This scene is followed by a flash-forward of an angsty, bearded Jack, roaring around in his Mustang, listening to Nirvana, trying to unravel the mystery of the Oceanic Six. While the first of these two scenes readily confesses itself to be a shameless wallow in weak-kneed, bodice-ripping melodrama, the second signals a turn to the formalist pleasures of the confounding diegesis of Lost, complete with an Easter egg all its own – a storefront sign telegraphs the knowing wink, for it is an anagram of the words "flash forward."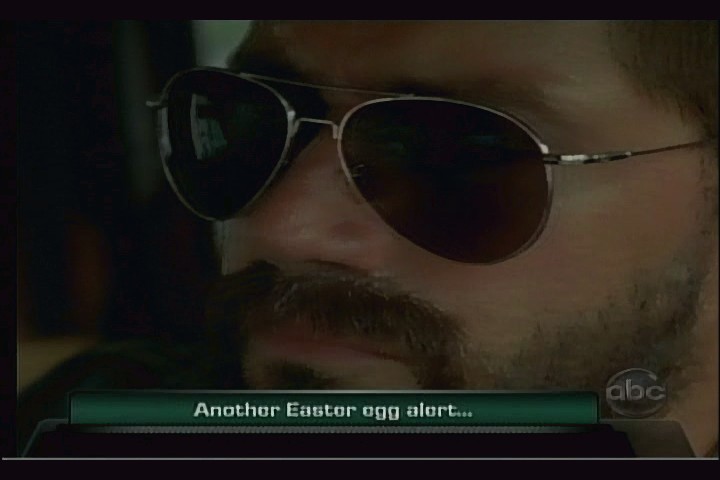 Angsty, Bearded Jack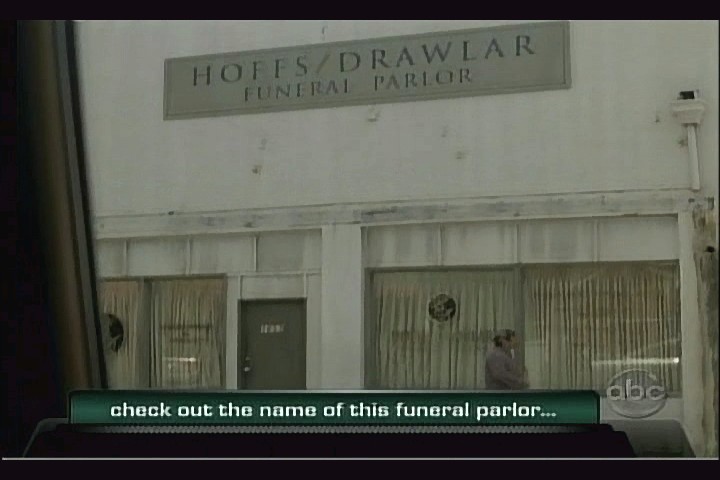 Anagram of the words "flash forward."
In order to sustain an interpretation of the show as emblematic of narrative complexity in a way that is distinct from the cultural complexity of melodrama, we have to make two key distinctions: first, we must dismiss the first scene's sentimentalism as a pander to the "low" pathos of melodrama, and we must read Jack's process of self-discovery on the streets of LA as inherently more legitimate, a self-aware exploration of the complex world of the program. But are these scenes really all that different? While the first comes with semiotic cues that scream out sentimentality and excess, the second does too – it's just the more conventionally masculine sentimentality and excess of grunge rock and roaring sidepipes. In both, a melodramatic imagination drives the narrative, and drives our own viewing pleasures: can the characters reconcile their conflicted pasts with their new challenges? Will they find happiness, completion, peace? Will they find self-knowledge, or will they remain tragically haunted by their own demons?
While much recent television scholarship has seemingly moved beyond the field's roots in feminist media criticism, it often does so by re-embracing the gendered hierarchies that made the medium an object of critical and popular scorn. And while "quality television" is a complicated aggregation of industry discourses, aesthetic norms, audience practices and politics, it's also, at least historically, a political demand – a kind of Jamesonian hermeneutic dream of being… different. I'd like to urge some skepticism about celebrating television's new golden age of aesthetic quality. By becoming "legitimate," we risk eliding our field's history of politically and culturally invested scholarship. And as the characters of Lost might yet one day learn, the search for legitimacy entails great cost, while illegitimacy has intriguing rewards.
Image Credits:
1. Lost: Quality Television, Melodrama and Culturally Complex
2. HBO and The Return to Elitist Aesthetics
3. Jack and Kate's Dishy Moment – Author's Screencap
4. Angsty, Bearded Jack — Author's Screencap
5. Anagram of the words "flash forward" — Author's Screencap
Please feel free to comment.