The Smell of Flak in the Morning: Tropic Thunder's Talk-Show Tour
Jennifer Fuller / University of Texas – Austin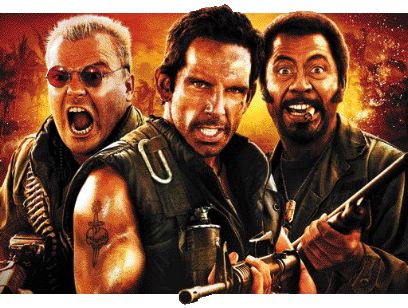 Tropic Thunder
Tropic Thunder is a comedy adventure film about actors in a Vietnam War movie who are stuck in the jungle after the production closes. According to director Ben Stiller, this movie-within-a-movie premise sets up a satire of actors and movie-making. The most controversial aspect of this film has been the character Kirk Lazarus (Robert Downey, Jr.), a white Australian actor playing a black sergeant, Lincoln Osiris. In Reel Comedy, Downey said about the role, "I trusted that if I was surrounded by the right sense of class and appropriate execution of a comedic adventure, that I probably would not have to wear a flak jacket for the rest of my life." This article takes a look at discourses that emerged on television this week as the stars promoted the film and tried to stave off 'flak,' in this case, charges that the movie is racist.1
As a matter of course, talk show hosts help celebrity guests promote their products. In this case, they were eager to assure the stars and the audience that the movie was not racist. In an interview with Downey, Regis Philbin seemed nervous but was still emphatic as he said, "Some people, I'm telling you right now, may be offended in parts of the movie, but nobody's out there to hurt other people. It's just – that's the way the comedy rolls." I haven't seen the movie, so I'm not going to argue whether it's racist or not; I simply don't know. Instead, I argue that the bind that Stiller and company find themselves in – making this movie and then convincing people (read: black people) that it's not at all racist, is indicative of the contradictions in our supposedly 'colorblind,' hipster 'post-race' present. To 'get it,' we have to know the political potency of blackface , but not be so invested in it that we find blackface decidedly unfunny.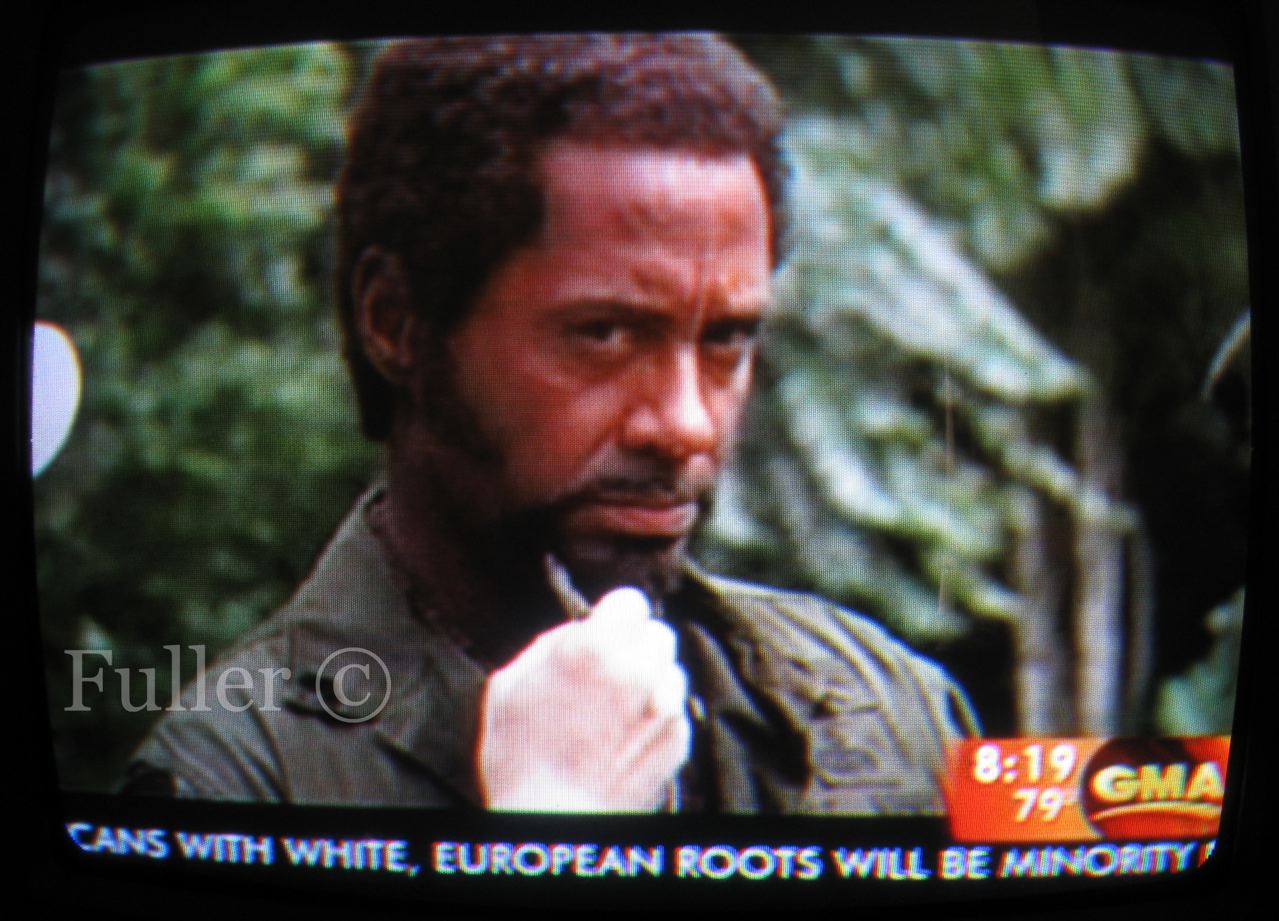 Robert Downey JR. in Makeup
And I want to be very clear about this: Robert Downey, Jr. is in blackface. People have quibbled with this term, I suspect because it would tie his performance to an ugly, unredeemable history. (That is soooo not 'post-race.') These online posters say Downey is not in blackface because his makeup and his performance are very 'realistic.' This astonishing defense reflects a shallow understanding of how blackface performance was regarded as 'realistic' in many ways, no matter how ridiculous it may look and sound to us now. Blackface performers were praised for approximating the audience's notion of 'real' blackness. In blackface, the transformation from whiteness to blackness was fascinating: sheet music, posters, publicity photos and films often showed performers 'normal' and 'blackened up.' The thrill and perceived realism of their performance was bound up with the knowledge that they were indeed whites playing blacks. Praise for Downey's ability to "fool" us is by no means the opposite of blackface performance. To be clear, by saying that Downey is in blackface, I'm not saying that the film or the role are necessarily racist. But he is definitely in blackface, and several interviews this week respond to his role as such. For example, on the talk shows, viewers were invited to revel in Downey's transformation – in split screen in the case of Live with Regis and Kelly. Whenever stars are in film roles that require significant physical transformation, that transformation – weight loss or gain, heavy makeup and so on – is discussed. But this is expressly about racial difference, and that is no small variable.
Stars and hosts discussed Downey's ability to "become" a black man (always "Osiris," not "Lazarus") beyond his onscreen performance. Several interviews with cast members said that Downey stayed in character all the time on the set, and that he improvised many of his lines. While this was presented as evidence of his commitment to the role, it creates a troubling image of Downey extemporaneously 'acting black' outside of supposedly carefully crafted, politically-savvy dialogue. Regis' daughter and co-host for the day said that after shooting, Downey would call his wife while he was still in character. To hoots from the audience, Downey said, "She thought it was sexy." Downey followed this with a story about how (likely white) female members of the crew were attracted to him when he was "Osiris," but otherwise, not.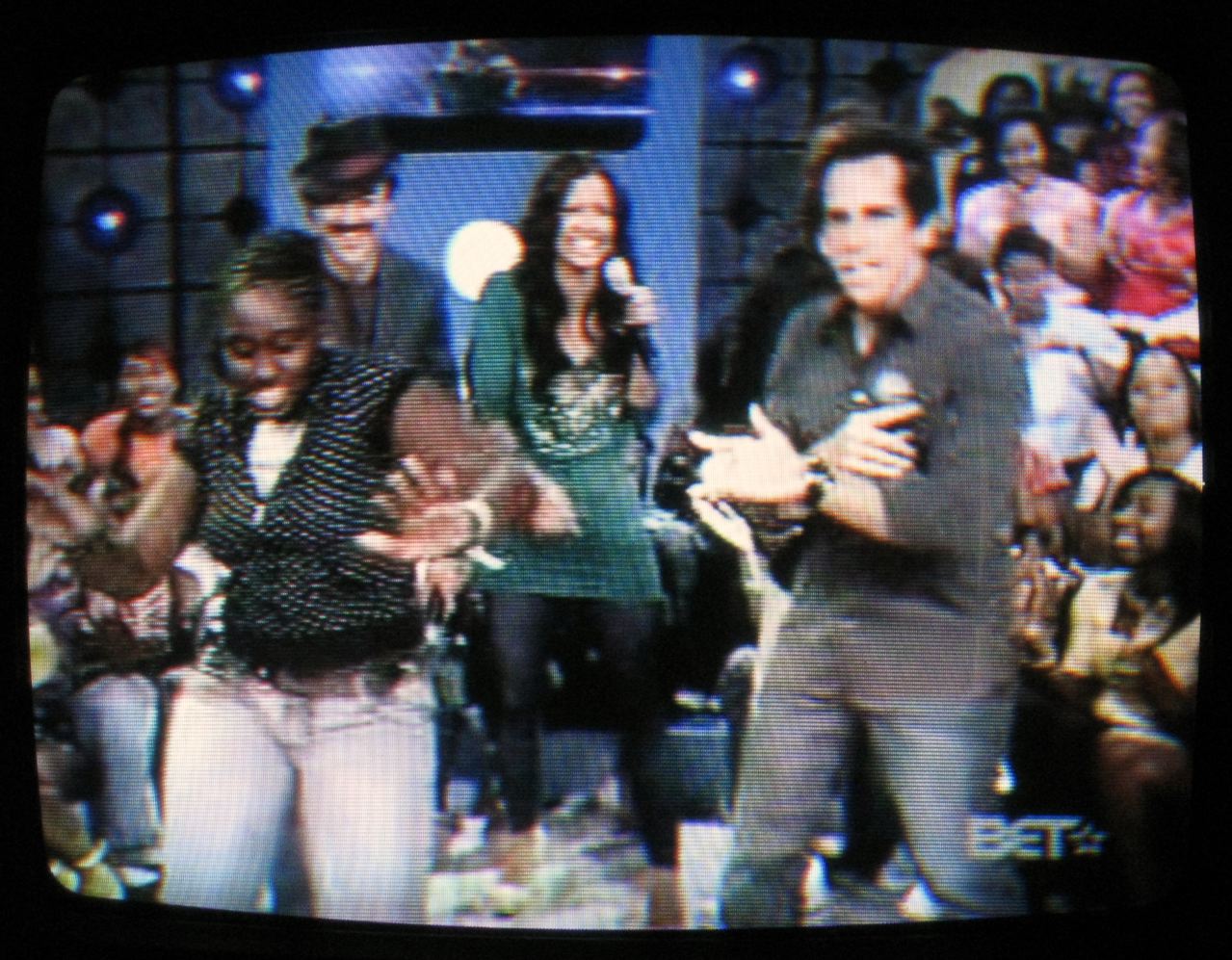 Ben Stiller on 106 and Park
On BET's teen variety show 106 and Park, co-star Brandon T. Jackson, often described as "the real black guy" in the Tropic Thunder cast, talked about Downey staying in character in ways that I want to believe are facetious. Jackson, who is a comedian, said "[Downey] would stay black. Ben Stiller would yell 'Cut!' and he'd be like, 'Let me go back to my trailer, get some barbecued chicken and listen to Kanye West CDs! I'm like, this dude is really black, what is this?" Jackson told this story in a joking manner, but it wasn't well-received. One co-host's mouth swung open, and the other yelled "ooooh!" and smiled tightly. The audience was mostly silent except for a few groans and giggles. This and other statements undercut what was clearly his purpose for being on the show – to ensure black viewers that Tropic Thunder is not racist. 2
BET and DreamWorks – the studio for Tropic Thunder – are both owned by Viacom.3 Tropic Thunder's white leads (Stiller, Downey and Black) were on 106 and Park two days later in an appearance that was visibly uncomfortable and for the most part, painfully unfunny. The highlight was when the hosts pit Stiller and Black against each other in a dancing 'battle.' Their terrible dancing invited mockery and laughter (at them, not with them) from the audience and the hosts.4 It was the only part of the show where the studio audience seemed to be genuinely enjoying the cast's visit. Personally, I wasn't interested in mocking their dancing – I could barely watch, I was so embarrassed for them. But it was the only time during this press tour that I saw the cast as actually taking a risk. Their whiteness was hypervisible here, not as the embodiment of media power, but as awkward, outnumbered and 'looked at.'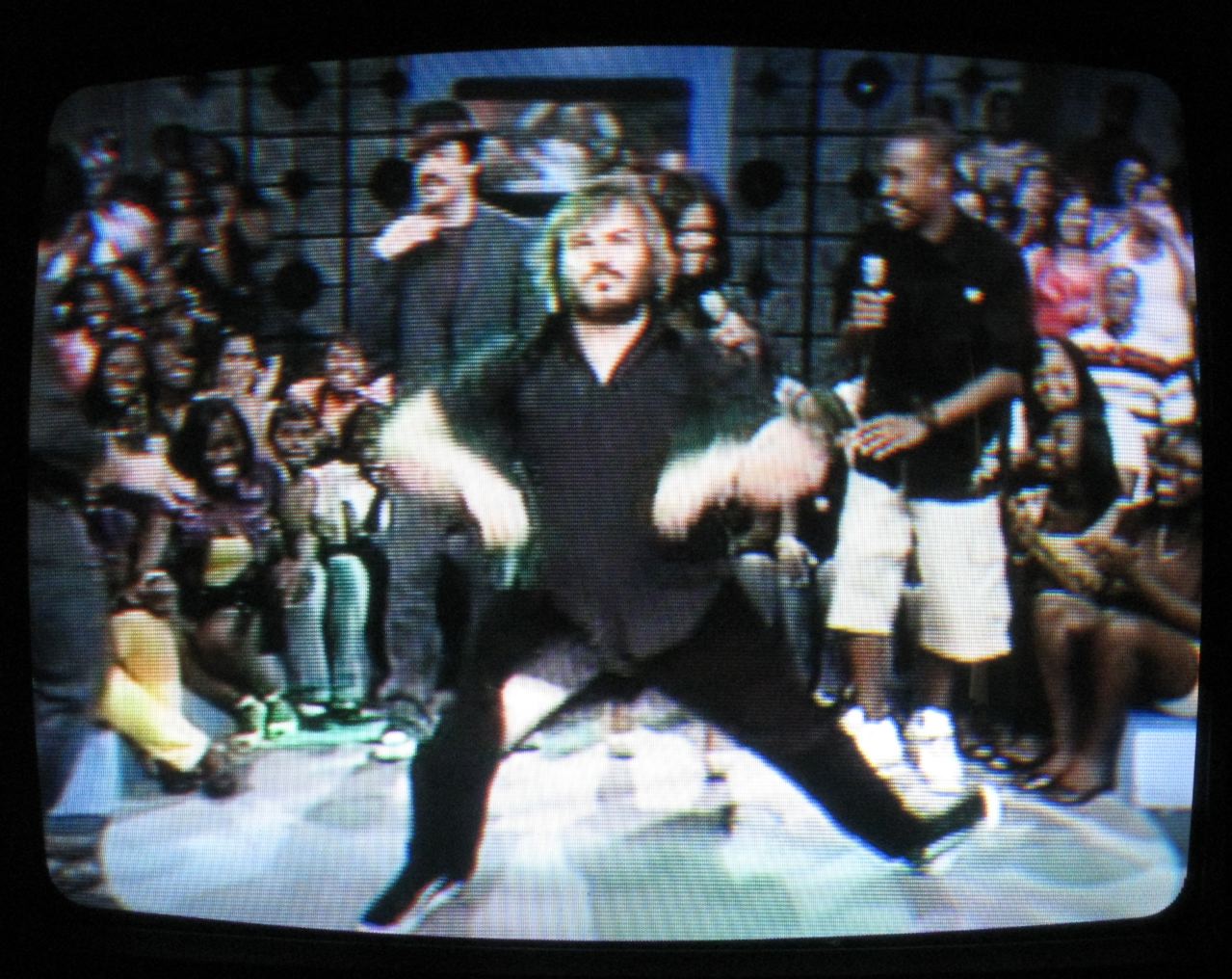 Jack Black dancing on 106 and Park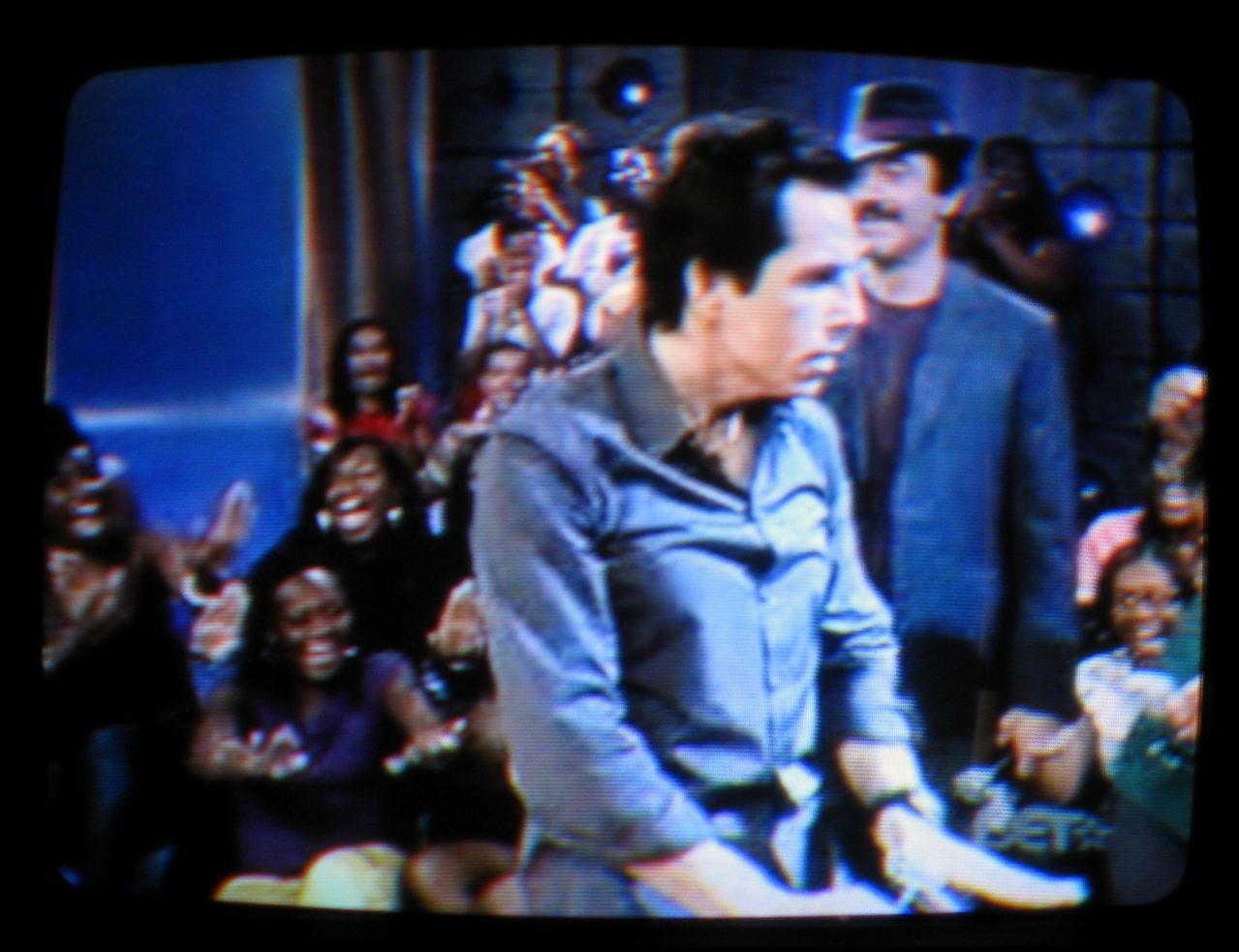 Black teens mimicking Stiller on 106 and Park
In one interview, Downey wondered why Stiller offered him an acting opportunity that was so risky. I have a similar question – why would a white filmmaker take on such a loaded image as blackface? Black performers have grappled with it as a way to challenge the racist constraints on their lives and art, but Stiller has no such burden. I suspect that the need to bring back blackface (against all good sense), much like today's feverish white desire for the right to say "nigger" (again, against all good sense) is yet another way to grapple with a crisis in white identity. This crisis is produced by the contradictions of a moment in which whiteness is visible and criticized (like Stiller and Black writhing on BET) and yet still incredibly powerful (certainly like Stiller, and perhaps like Black).5
Some support for this thesis can be found in the flow of the two programs from August 14. The segment immediately preceding Downey's GMA interview was a story about the "new face of heroin addiction," which the story depicted as "suburban teenagers." The segment focused on the stories of two white middle-class girls, but it never said what the old "face of heroin" was (black, brown, and poor). The story ends and Diane Sawyer announces that Downey's interview will be next. This segue unintentionally invokes heroin's "old face" in terms of Downey's history of drug addiction, and in terms of his character's blackness and the fact that he is a soldier in the Vietnam War (where heroin use was widespread). Two talk shows that included interviews with Tropic Thunder cast members also covered a recent report on when whites will become less than half of the U.S. population. On CBS' The Early Show, this report was covered within the first ten minutes of the broadcast. On GMA, it was consigned to the news ticker. As Downey talked about the difficulty of being in stage makeup, we cut to images of him getting his skin darkened. And on the bottom of the screen, viewers could read the following, in all capital letters: "Brookings survey predicts that Americans with white, European roots will be minority by 2042. Hispanics, Asians and Blacks will become majority." These reports about white purity and dominance under siege (blackening?) make for a decidedly unfunny subplot of the Tropic Thunder press tour.
Was the press tour successful? Perhaps. Tropic Thunder is a success at the box office, and has avoided a noticable amount of flak about its racial politics.6 Reviews of the film regard its racial politics as either successfully satirical or a 'non-issue.' And that's a relief, isn't it?
Image Credits:
1. Tropic Thunder
2. Robert Downey JR. in Makeup – Photo by Jennifer Fuller
3. Ben Stiller on 106th and Park – Photo by Jennifer Fuller
4. Jack Black dancing on 106th and Park – Photo by Jennifer Fuller
5. Downey mimicking Stiller on 106th and Park – Photo by Jennifer Fuller
6. Front Page Image
Please feel free to comment.