Launch Texts, Rebound Texts and Commentary Montage: Al Gore's Appearance at the 2007 Academy Awards
Bernard Timberg, Erick Green, and Hsaio Chu / East Carolina University
Al Gore
Video by Bernard Timberg, Erick Green, and Hsaio Chu / East Carolina University
Commentary Montage
The question of how central television has remained in an age of decentralizing media, including a proliferating and ever more expansive and visual Internet, occasioned some of the sharpest debates of the first Flow conference in Austin in the fall 2006. Our project explores, in words and images, not only the continuing power of television as a preeminent and central force in politics and entertainment today, but its central and axial role in "activating" all other forms of media. We employ a 9-minute video as well as print to explore this issue, using as a prime example of television's continuing power Al Gore's appearance at the 2007 Academy Awards. And we introduce the terms "launch text" and "rebound text" to this discussion.
We begin with the video.
Inside and outside academia combinations of image production and critique are increasingly plentiful. Well circulated examples include the video critiques of Sut Jhally (Dream Worlds 3, 2007) and Jean Kilbourne (Killing Us Softly 3, 2000) distributed by the Media Education Foundation of Northhampton, MA. Films that use video images to critique video images have been commercially distributed in such works as Atomic Café (1982) by Jayne Loader, Kevin Rafferty, and Pierce Rafferty, Fahrenheit 9/11 (2004) by Michael Moore, and Outfoxed: Rupert Murdoch's War on Journalism (2004) by Robert Greenwald. But there are many others.
The works cited above, as diverse as they may be as forms of entertainment and analyses of media imagery, have one thing in common. They integrate the analysis and the objects and images analyzed. These films are not compilations, in copyright terms, that is, assemblies of chapters or pieces of a work, but commentary montages: works that cut up and recombine images to make a new point.1 The recombination of images "transforms" them from their original purpose as images of commercial culture and turns them into forms of critical discourse. This is a crucial distinction in law and in practice.2 See Bernard Timberg column: "A Fair Use Declaration of Rights" in Flow Vol 5, Special Issues, Flow Conference, November 17, 2006.
In addition to more widely known films that employ commentary montage, there are hundreds, even thousands of others. Some are produced by amateurs and sent into the blogosphere as emblems of individual creativity and critique. Others are produced by teachers and educators on the model of the work distributed by the Media Education Foundation.
Al Gore at the Academy Awards: A Commentary Montage as Work in Progress
The video in the link at the beginning of this column, "The Convergent Moment: Al Gore at the 2007 Academy Awards," is a work in progress. If what we present here is viewed as a base line, we are still in the process of building the treble line and harmonics of the piece. The finished work will involve the voices of industry professionals and television scholars and critics—including, perhaps, some of the readers of Flow itself.
We chose the Al Gore text because of the unusual convergence it represents not simply of technology but of genres of information and entertainment, and of political and social marketing campaigns as well. Gore's appearance provides us with an example of a landmark live television "launch" event. The platform for the launch was the Academy Awards themselves, a venerable 79-year old institution in television and a "media event" in Katz and Dayan's terms.3 But this single launch text spins out a series of fascinating "rebound texts" in the 24-hour news/entertainment cycle to follow. These are the images we sample, reproduce, and juxtapose in our 9-minute video.
This particular launch text commanded an international audience of upwards to a billion viewers, which is an audience consideraly more extensive than the one that attends purely national U.S. media events such as the yearly Super Bowl or the national Presidential election every four years. Al Gore's appearance at the Academy Awards of 2007 was certainly an entertainment event, but it also represented a significant political shift. The Academy's celebration of Gore and "An Inconvenient Truth" precipitated a major change in national and international awareness of global warming. In the terms of the Birmingham movment in cultural studies, an"oppositional" position had moved through stages of "negotiation" and, after Gore's appearance, now seemed "dominant."4
The next day headlines appeared that Wall Street, which had remained decidedly quiet on this issue, was suddenly jumping on the "green" bandwagon of carbon emission control. New dollars and new industries, some of which had been germinating for some time, capitalized on the moment. The following week Al Gore appeared before Congress arguing for new policy initiatives before new Democratic majorities in both houses.5 But there was a kickback as well. Below are two cartoons arguing opposite points of view in the wake of Gore's appearance, and a CNN poll that shows the diversity of reactions to Gore's appearance. Gore's appearance, and his triumph in "liberal" Hollywood, did not overcome the fact that the country was still divided into "red" and "blue" camps.

CNN.com Overall opinion poll on Al Gore after the Academy Awards (February 21-27, 2007)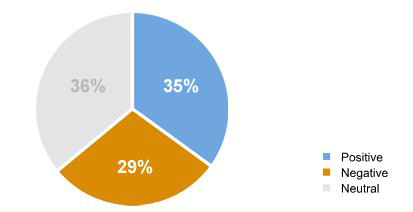 Even the kickback to Gore's appearance, reflected in the cartoons, the chart and video blogs, represented a triumph for the "green" movement. Every form of reaction placed global warming center stage. Never before in recent Academy history had a single cause–some ten minutes of free air time, counting Melissa Etheridge's live rendition of the "Inconvenient Truth" theme song as the words of the song flashed overhead—received such prominence. It was a live Public Service Announcement of global proportions. If this time had been purchased commercially, at the going advertising rates for the broadcast, it would have cost $17.5 million—and not been half as effective. It was not a "product placement" but an "idea placement," a fine example of how contemporary entertainment and politics work together.
In the video we set the stage with two minutes and fifty seconds of the Academy Awards launch text itself, including Al Gore's by now famous "faux announcement for President,"6 The rest is taken from over 26 hours of programming distilled by a team of six student researchers.7
The commentary montage in the video link at the beginning of this piece gives a good indication of the variety of responses that occurred in "rebound texts" over the next twenty-four hours.8 Working chronologically forward, we included examples from 18 programs that ranged from hard news to daytime talk to late night comedy entertainment to video blog commentary that preceded and followed the Awards ceremony. We subsequently interviewed veteran television director Hal Gurnee for his reaction to the launch text/rebound text phenomenon, and as we continue to build our montage we hope to include the comments of a wide range of television scholars and industry professionals.
Our planned end products are a documentary with voiceover (a half hour in length) and a web site that will allow further explorations of the texts we use. The web site, as we conceive it, will be designed as an evolving text on the model of Wikipedia, with a web manager, centering on the topic of Al Gore and the politics of entertainment. It will include accounts of Gore's acceptance of the Nobel Prize as an entertainment event, his appearance on "30 Rock," and other intersections of politics and entertainment in Gore's remarkable post-Vice Presidential career.
We hope readers of Flowtv.org will share their reflections with us on both the video and proposed commentary montage, and promise to give appropriate credit for comments or ideas we are able to use in either the documentary or web site. You can place your comments here or write video co-producers Timberg and Green at b_timberg@hotmail.com and greene@ecu.edu, or video editor Chu at rudychu@hotmail.com.
Please feel free to comment.
Image Credits:
4. Opinion Poll on Al Gore's Academy Award Appearance