Wasn't That Show Cancelled? – The Increasing DVD Phenomenon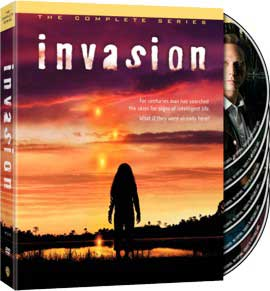 Invasion DVD Set
As the new fall season begins (and we in Britain wait patiently for an extra couple of months before the shows arrive), there is a great deal of chatter about what the hot new shows will be. This is not a new phenomenon with new shows coming and going every season. The successful shows are renewed for new seasons and the cancelled shows tend to be forgotten or remembered only as cult shows by a minority of viewers. However I was struck by an odd sight in the window of HMV the other day. There was a large sign for Invasion: The Complete Series. Now I'm sure some people liked the show, but personally I thought it was dreadful and gave up after two episodes. The cringe worthy female characters in particular turned me off this poor Invasion of the Body Snatchers (either version) rip off. (Surely Eddie Cibrian was better off in Sunset Beach than in this?).
What I find interesting here is not why anyone would want to buy the DVD of Invasion but the expectation that seems to be emerging that at the end of any series, or season, the show will be distributed and sold on DVD. There is in an increasing market in the UK of online sales of US television series which finish airing in the US before they finish in the UK, but have been released for sale by international online sellers. This is accompanied by an increasing activity on some television web forums expectantly discussing the DVD release dates of shows. These shows may have only aired for one season but fans already want to prolong and repeat their experience.
In the golden age of television, syndication was the key to future sales and continued success but that was only after the show had amassed enough episodes to sell on to syndication. Whereas with DVD sales of 'complete' seasons and series, shows can live on as collectable items even if they failed to meet audience (advertiser) demands when first broadcast. There could be an argument that it is harder to meet viewer demands now with networks facing fierce competition from cable and other modes of entertainment and thus they have to try to produce hits quickly, but if the shows creators know that the show will be available on DVD after the show has been cancelled is there also an argument that they have stopped trying to produce quality work? There are a number of shows airing currently which would fit Feuer's notion of "quality television" (1984), such as "24", "Lost", and "CSI" to name but three. However there are almost as many which do not last beyond one season, but may continue to make money through DVD sales. Do shows then still strive for the success level of reaching enough episodes for syndication or has DVD rendered it irrelevant?
Television box sets and collectors editions are not new, indeed the practise of collecting series on VHS has, at least in Britain, a long history, particularly with sci-fi. In Britain new releases of TV shows such as Dr Who, Star Trek, and later The X Files was big business, and this extended to comedy too. There has always been a market in Britain for television collections, perhaps more so than in the US. But these were successful, long running shows, which saw the release of episodes long after their original airdate.
There have already been discussions on this journal regarding the impact of new technologies on broadcasting, including internet, DVD and PVRs and indeed they are all impacting upon our collective viewing experiences, by making them personalised experiences with more choices. Likewise the global nature of the internet, and increasingly early purchase of US shows to Britain television, and vice versa, is producing something of a collective experience on two different sides of the Atlantic. However despite these technological advances in broadcast and distribution, the immediacy of production to DVD or indeed the speed at which new US shows are appearing on British television has created an odd situation. We have new shows from the US shown on British television, but if they are even a few months later than the US debut we can immediately find out if they have been successful and renewed for a second season. Personally my PVR is too full to commit to another new series which has already been cancelled. This suggests odd purchasing practises on the part of the British networks but they clearly think there will be an audience for the short lived shows, just as the DVD distributors do.
The networks/distributors use clever marketing of these cancelled, short lived shows to boost sales. By emphasising 'complete' on the cover of Invasion there is an implied sense of the collectability of the show. Just as Joss Whedon fans experienced with the release of Firefly as a complete series, DVD boxed set. Of course this was followed up by a highly successful cinematic release.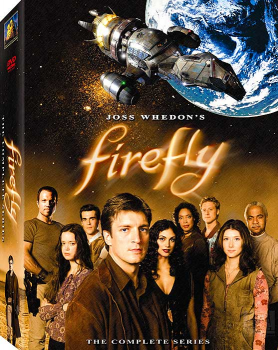 Firefly DVD
Perhaps I am being 'anti – Invasion' , after all many cult television shows (such as Firefly) and films are able to live on and find new audiences with the aid of new technology and the keen interest and support of the fan base, no matter how small. Indeed many shows cancelled early may come under the quality banner, Arrested Development comes to mind, but networks are unable, or unwilling to support the shows. These shows then can achieve some of the success that the network system could not offer them. (Another example is Clerks: The Animated Series which only lasted for six episodes but has reached a wider audience through DVD sales). All of this supports the notion of new methods of consumption and distribution moving further away from the traditional networks.
This leaves the network in a difficult situation when the DVD sales of a cancelled show are so high that they are forced to re-evaluate their decision. The unusual case of Family Guy and Futurama are the subject of my next column as I leave this as something of a cliff-hanger. Sorry to cut this one short but I'm heading stateside for a short vacation, and perhaps I will be able to sample some of those hot new shows and return to Britain with tips of what might last!
Bibliography
Feuer, J., P. Kerr, and T. Vahimagi. MTM 'Quality Television'. London: BFI, 1984.
Jenkins, H. Textual Poachers: Television Fans & Participatory Culture. New York: Routledge, 1992.
Image Credits:
1. Invasion
2. Firefly
Please feel free to comment.