Accident: The True Dangers of Stunt Work on Set
Lauren Steimer / University of South Carolina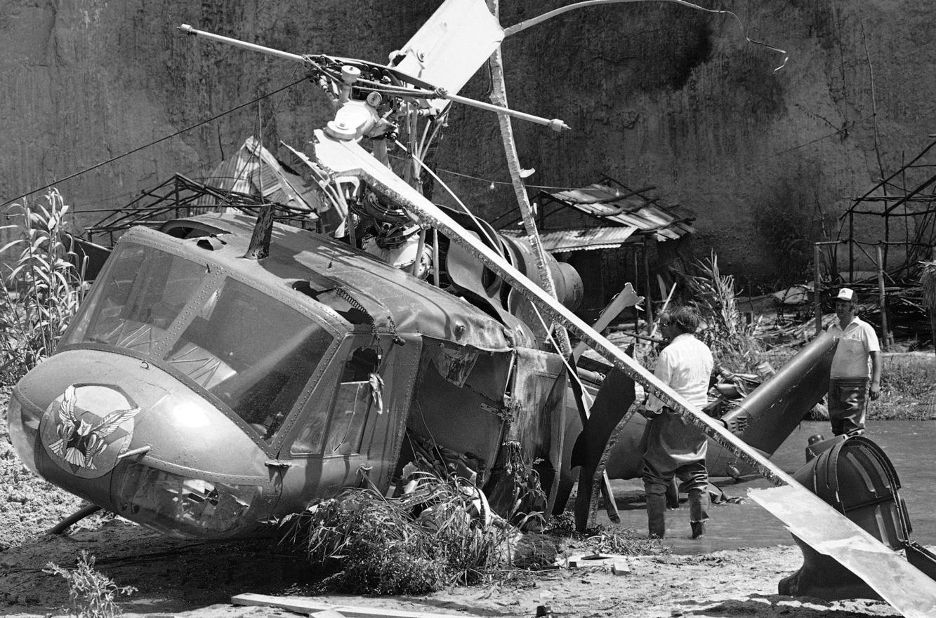 Crashed helicopter from The Twilight Zone: The Movie, Dir. John Landis (1983)
As media scholars and avid media consumers, no doubt some of these faces and the stories of their untimely deaths are familiar to you. The on set deaths of each of these actors had lasting effects on the US film and television industries, but none more than Vic Morrow, Myca Dinh Lee, and Renee Chen. During a Vietnam battle scene being shot for The Twilight Zone: The Movie on July 23, 1982, Morrow and Lee (age 7) were decapitated and Renee Chen (age 6) was crushed when a helicopter crashed. The helicopter accident brought to light the degree to which age restrictions and safety precautions were not implemented on set. The event led to criminal and civil charges against Director John Landis, the assistant producer, the helicopter pilot, the production manager, and the explosives specialist. All were acquitted, but the emphasis that the nightly news placed on Hollywood's exploitation and endangerment of children remained a public relations nightmare for the industry. When production accidents happen to actors, the public notices, and when they happen to children, substantial changes occur. The Twilight Zone accident resulted in long term changes to both policy and practice.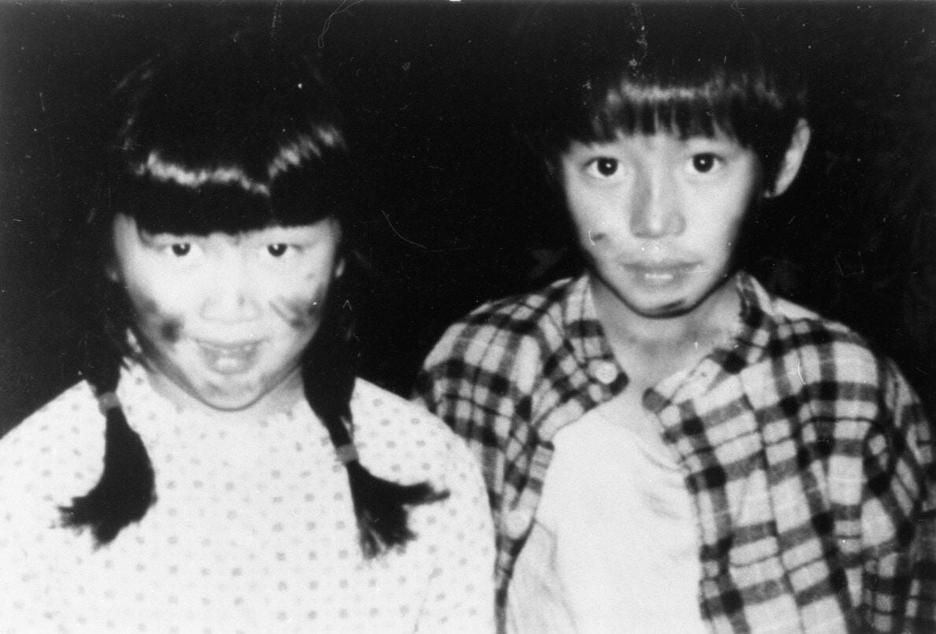 Renee Shin-Yi Chen and Myca Dinh Le, publicity photo from The Twilight Zone: The Movie, Dir. John Landis (1983)
Since The Twilight Zone, other on-set accidents have had immediate but fundamentally inadequate effects on the US Film and Television industries. Debris from a round lodged in the chamber of an uncleaned revolver killed Brandon Lee in 1993 while filming The Crow and the recent shooting death of cinematographer Halyna Hutchins on the set of Rust in October of 2021 both resulted in an unofficial boycott of guns on set. US film and TV armorers have reported a 75% reduction in the use of their services as prop guns (often described as toys or BB guns) accompanied by graphic overlays of muzzle fires inserted during post-production are being used in their stead.[1] This cultural shift has no policy or procedural implications.
Coverage of this accident was extensive in the news media.
I begin with these stories because they are likely familiar to this audience. Lower-profile deaths and catastrophic injuries on set happen much more frequently to stunt workers, such as Olivia Jackson.
Stuntwoman Olivia Jackson discusses the event and her recovery process.
Accidents may seem like an obvious hazard of the trade, but that is only the case because of 1) unquestioned narratives about stunt workers as daredevils, 2) an industry lacking introspection about systemic safety hazards, and 3) the operational mandate of production that stunt workers are fundamentally interchangeable and therefore disposable. Production may be temporarily halted, but after a seemingly "respectable" waiting period, the show goes on. However, the impact is felt not simply by the injured stunt worker or their surviving family members but by a worldwide community called the "stunt family." The stunt family 1) reports on injuries or deaths, 2) asks for sympathy and medical donations, and 3) gets angry and discusses unsafe procedures, difficult directors, and hostile stunt coordinators. On average, there are 2 to 7 deaths reported to the family each year, and between 12 and 25 major injuries. The actual number of stunt workers injured on set is much higher, but only the most egregious cases get reported to the global stunt family.
These accident reports often share three key characteristics: 1) medical and/or production insurance will not pay for care or bereavement benefits; 2) the production publicity machine and/or stunt coordinator circulates counternarratives of the accident to the press, blaming the stunt worker; and 3) further reports of unsafe working conditions on set come to light. The productions linked to these accidents vary in genre from fantasy to zombie horror, to superhero film, to Western, but all employ Action as a mode. Action as mode relies upon bodily spectacle, frenetic pacing, and dynamic movement. In all the genres listed in the preceding sentence, these characteristics are linked to large-scale battles, wirework, fire burns, fights, and high falls. The nexus of these elements is the laboring body of the stunt worker.
If a prominent stunt worker is injured or killed on set, the studio takes swift discursive action to manage the story. This process starts shortly after the accident has occurred, and the news of the event has been circulated to trade journals. Prior to this moment, the stunt family forms an alliance and shares the information via personal and social networking platforms. The narrative within the press quickly changes to deflect blame from the studio, while the opposite effect unfolds within the stunt family community. Other stunt workers come forward to speak about unsafe working conditions on the production. Less than two years ago, I sadly witnessed this process in action when a very famous Māori stuntwoman, Dayna Grant, whom I know and have written about, was catastrophically injured.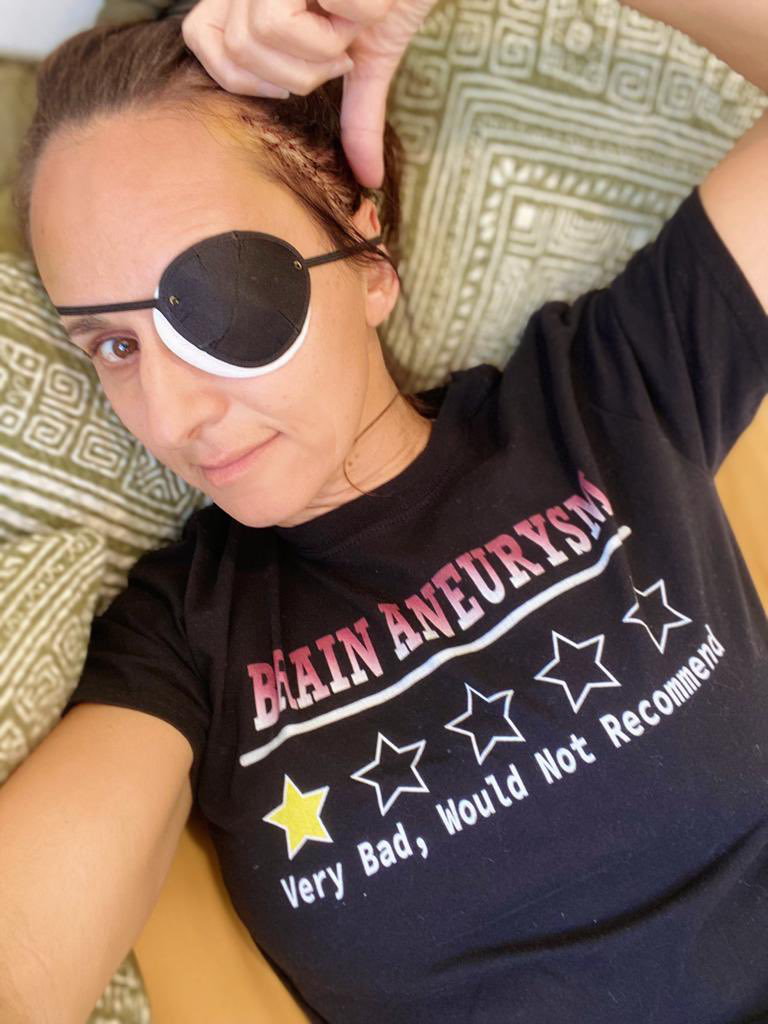 Stuntwoman Dayna Grant, posted on GiveALittle.com, 16 July 2021
In 2021, media trade journals reported an accident on the set of Amazon's Lord of the Rings series—a stuntwoman had taken a hard hit to the head and suffered a concussion. Dayna Grant had done a fall on set and allegedly informed the stunt coordinator that the rigging was wrong before she fell. The coordinator did not make any adjustments. Other stunt workers had reported similar safety issues on set, but only one, Thomas Kiwi, spoke to the press as was reported by William Hughes for the AV Club: "They should be more on to it," Kiwi said, "Because there's a lot of shit that's happening in the stunt department and a lot of unsafe stuff that's happened. I just left."[2] Infuriatingly, the stunt coordinator, who was not from New Zealand, allegedly did not report any of the accidents on set to Worksafe NZ, which is a required procedure for productions operating in the country. A record of multiple injuries on set would have stopped production or at least caused insurance inspections. That it was Dayna Grant who was hurt was not well reported by the press until Lucy Lawless, for whom Grant doubled as Xena Warrior Princess, mustered an online collective of Xena fans to crowdsource funds for Grant's emergency brain surgery. Neither New Zealand's Accident Compensation Corporation nor Amazon Studios was willing to pay for the surgery. While many Kiwi stunt workers complained of accidents on this set, none of them were officially reported by the studio, making it harder for those workers to seek compensation from Amazon.
Grant moved on to another two projects, on which she was not injured, and began to experience post-concussion symptoms. Scans concluded that she had an 8-millimeter brain aneurysm and upper spinal injury. Amazon used this and Grant's work as a stunt instructor at her training school to circulate the following statements, including that "the injury was not the effect of Grant's work on the Lord of The Rings project," and that "she has worked on other projects since the injury, "and lastly that "she runs a stunt training camp." Amazon denied any wrongdoing and claimed all reports of injuries to stunt performers on set were erroneous. As such, they would not pay for Grant's NZD 60,000 surgery, nor would New Zealand's Accident Compensation Corporation, which is required to cover all medical costs for workplace injuries. They determined that they could not be sure Grant sustained this injury at work. This decision was reinforced by the fact that there was no Worksafe NZ report to indicate she had an accident. Grant turned to the stunt family for support via a crowd-sourcing campaign for the costs.
Having doubled Lucy Lawless on Xena, Ash Vs. Evil Dead, and other productions, Lawless and her producer husband Rob Tapert stepped in to lend a hand. Lawless circulated requests to all Xena fans via multiple social media to help fund Grant's campaign and she and Tapert promised to match the contributions from any donor who posted #XenaLove with their donation.
Lawless kept her promise, and the end total of the campaign greatly exceeded the cost of the surgery with a total just short of $114,000. Grant was able to get the surgery but was blinded in one eye by the process, seemingly ending her over 20-year career. She used the excess funds for an experimental home hyperbaric chamber and regained 80% of her sight.
I'm at a total loss for words. Thank you all SO much for the incredible love and support ❤️‍🩹🙏🏾🧠#XenaLove @RealLucyLawless @robtapert @HudsonLeick @MeganHubbell pic.twitter.com/6BNO7xXRJa

— Dayna Grant (@Daynastunts) June 28, 2021
Stuntwoman Dayna Grant thanks members of the public who funded her crowdsourced healthcare campaign.
Stunt workers' bodies are treated as inherently disposable and interchangeable. This is particularly true of veteran stuntwomen like Grant, who works often, runs New Zealand's largest stunt school, and has doubled for major productions, including Mad Max: Fury Road and Wonder Woman 1984. Amazon claimed that Grant's stunt work on other productions and her work as the owner and instructor of New Zealand's only major stunt school indemnified them against any liability. The studio's claim was strengthened by the fact that the production allegedly never reported Dayna's injury to New Zealand's workplace safety regulator.
I had not seen Grant since she spent the day with Lucy Lawless and I on the set of Ash vs. Evil Dead a few years ago. I went to see her in November 2022 while she was working on Taika Waititi's Time Bandits show and visited her stunt school on location in Wellington in the company of the main stunt doubles for Time Bandits, who were once her students. She was flawlessly demonstrating how to do zero-gravity-style wirework to the stunt students. She is recovering well, but I did not press her on the subject. Compassion is more important than any research agenda and seemingly far beyond the scope of corporate media monoliths like Amazon.
---
Image Credits:
References:
Anonymous. Interview. By Lauren Steimer, 9 June. 2023. [↩]
Hughes, William. "Former Stuntperson Calls Out Amazon's Lord Of The Rings Show: "So Unsafe"." AV Club, 3 July 2021. https://www.avclub.com/former-stuntperson-calls-out-amazons-lord-of-the-rings-1847226026. Accessed 20 July 2021. [↩]