Over*Flow: Classifying Dahmer: Protecting Netflix's Homonormative Canon
Dan Vena / Queen's University & Sarah Woodstock / University of Toronto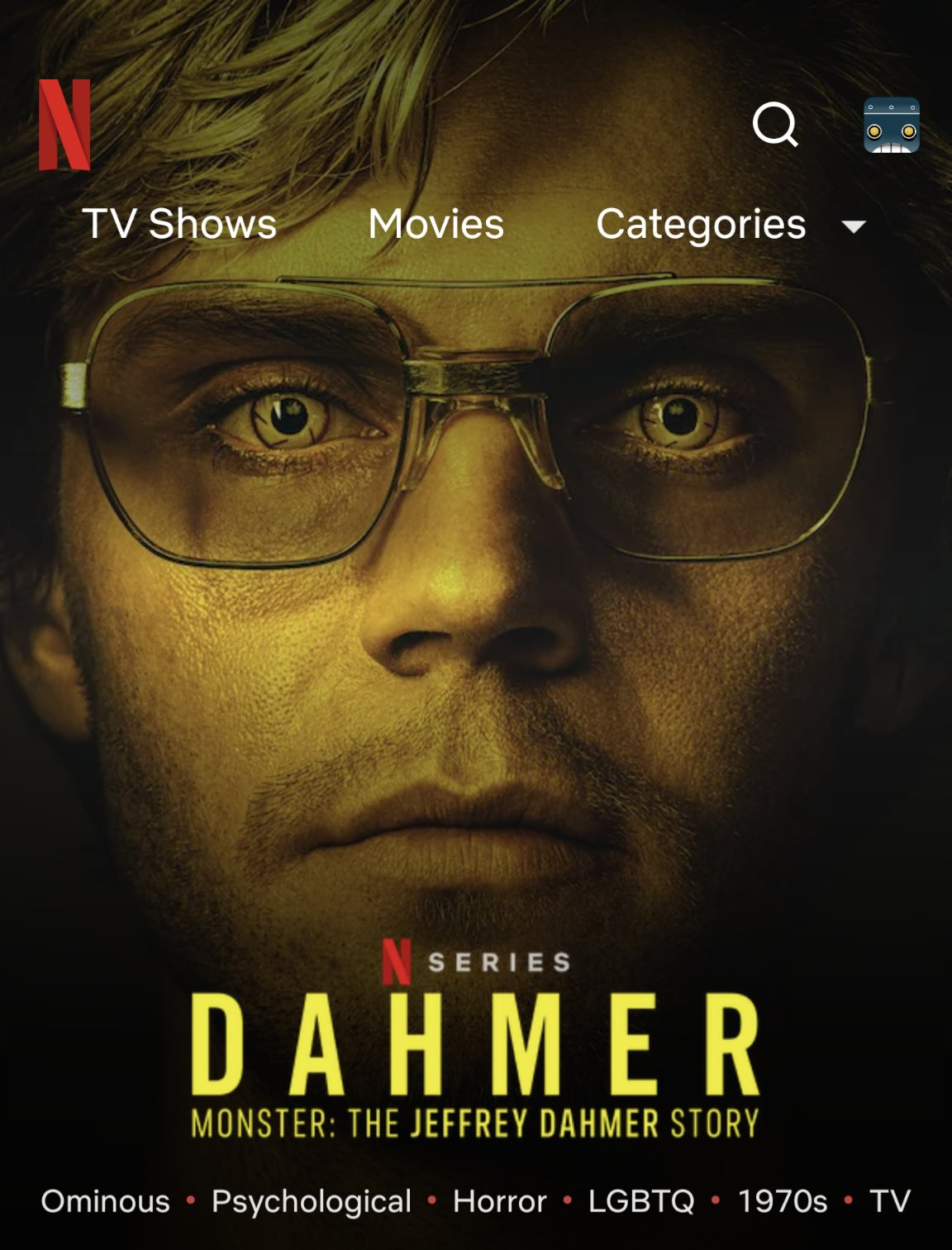 Netflix banner for Dahmer – Monster: The Jeffrey Dahmer Story (2022) at release
On September 21 2022, the Netflix true crime industrial complex, paired with notable creators Ian Brennan and Ryan Murphy, launched a ten episode miniseries recounting the life and crimes of Jeffery Dahmer. Unlike previous tellings, Dahmer – Monster: The Jeffrey Dahmer Story promises to highlight the "systemic negligence" that enabled these crimes, offering a revisionist perspective of how intertwined systems of homophobia and racism allowed Dahmer's multi-year killing spree to remain undetected for so long.[1] In order to de-centre the mythologized serial killer figure, the series attempts to further include the fictionalized perspectives of real-life survivors and victims whose voices have been overwhelmingly absent in retellings.
These same surviving victims and families, many of whom are racialized, spoke out against the series immediately after its release, with Eric Perry describing it as "retraumatizing over and over again."[2] Alongside this apparent incapacity to serve the already marginalized victims of Dahmer's crimes, the series also received negative reception from queer viewers. Outlets such as The LA Times and Variety reported critiques from Twitter and TikTok users who voiced concern against the series' apparent conflation of psychopathy, violence and queer identity (it should be noted that these critiques were made the day of the show's release, presumably before watching the series in full). For example, Variety quotes one TikTok that states, "This is not the representation we're looking for." However, in the comments below, this same user clarifies, "nah i agree [my earlier post] was a joke," before engaging in a fairly nuanced debate with others (absent from the reporting) about how the show positions Dahmer's gay identity, represents racialized queer communities, and the subsequent police intervention.[3] Despite the complexity of such responses, Netflix still proceeded to remove the series from its LGBTQ TV Shows category, and thus from the platform's highly curated collection of queer representation.
@zeelizee's original TikTok video, referenced in Zack Sharf's Variety article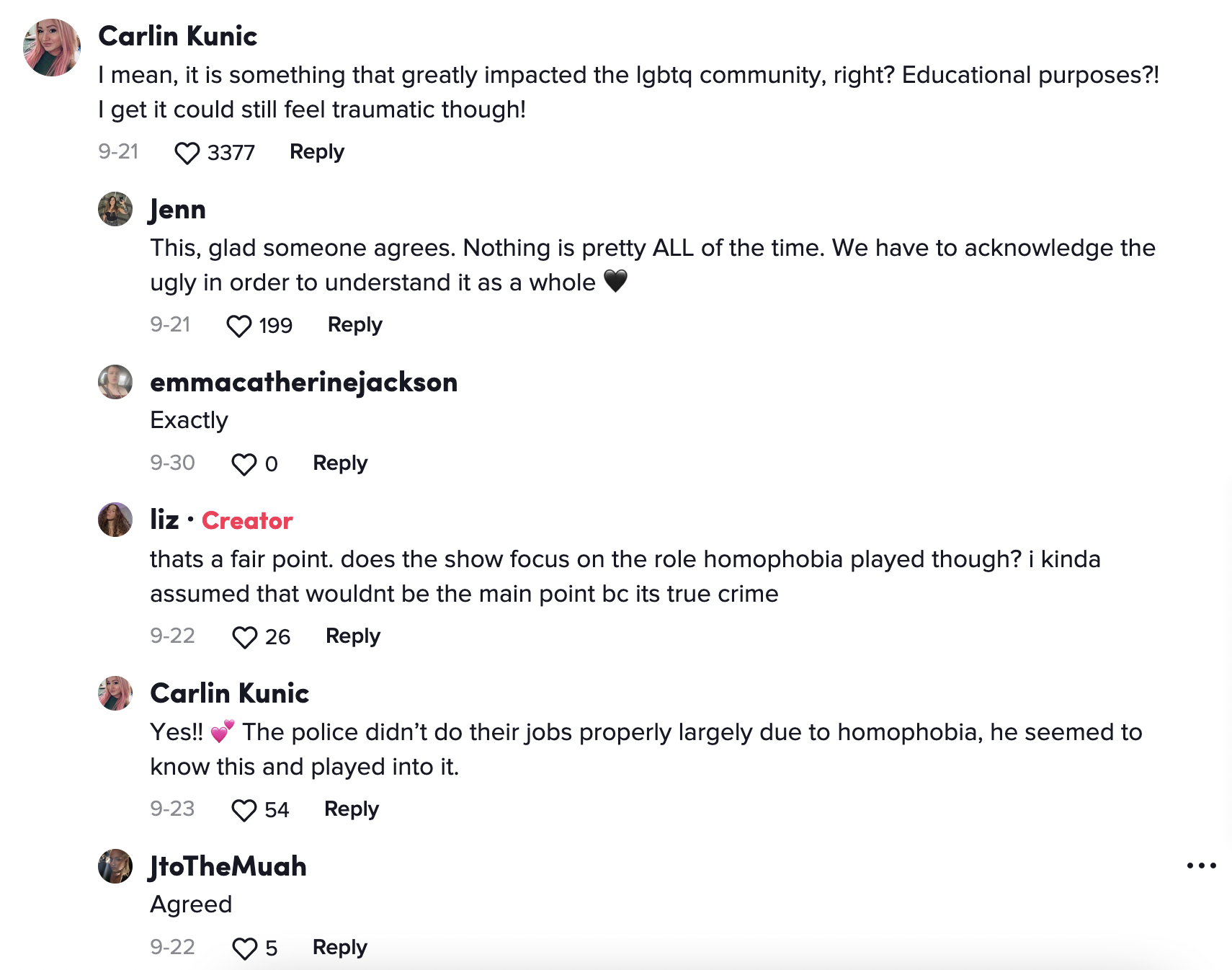 Comments under @zeelizee's TikTok video
Given that Dahmer is about a gay man who primarily kills other gay men, the decision to re-classify the series is presumably based less on a lack of LGBTQ representation or authorship, but a choice to elevate one type of queer representation over another. Dahmer stands out against the other titles that remain filed under Netflix's label not only for its grisly subject matter, but arguably for its turn away from the contemporary acceptability politics evidenced by titles like Sense8 (2015–18), Grace and Frankie (2015–22), Queer Eye (2018–), Sex Education (2019–), The Politician (2019–20), and more (see below).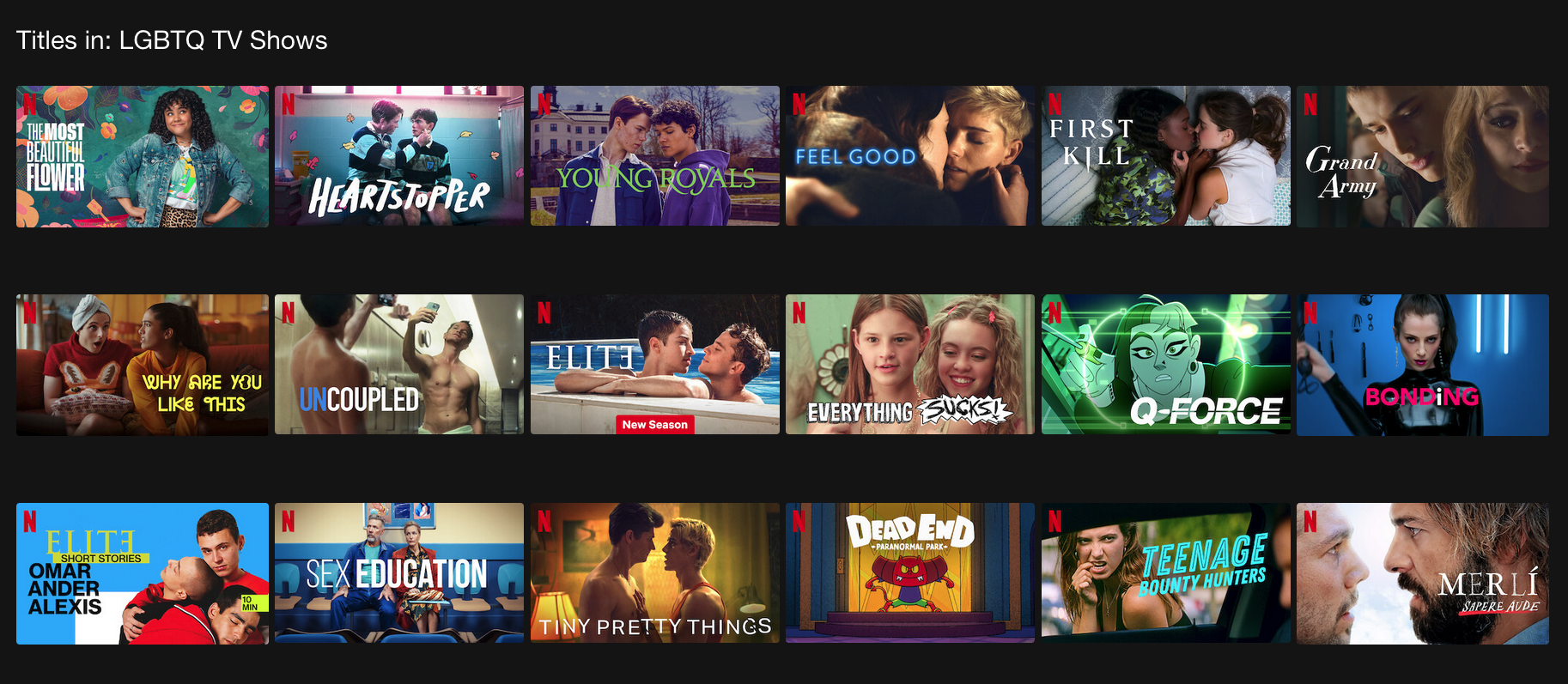 Netflix Canada's LGBTQ category
At first glance, this move makes sense given that, as Zack Sharf notes in Variety, Netflix's LGBTQ tag is typically reserved for stories and characters that cast queer identity in a "positive light" (a highly subjective term).[4] However, this recategorization risks neglecting the show's efforts to situate Dahmer's crimes within the broader context of queer and racialized life in 1990s Milwaukee.
While other true crime texts on Netflix provide representations of queerness (such as a closeted lesbian detective featured in Mindhunter [2017–19]), none have been previously classified under the LGBTQ tag. We argue that controversy around Dahmer hinges on the centrality of queerness to the story itself: whereas Mindhunter makes no claim to reveal the history of queer life (rather it becomes a fictional supplement to a "true story"), Dahmer emphasizes how the killer's sexuality, the vulnerability of racialized queer communities, and the inadequacy of policing all contributed to the longevity of his crimes, both as acts of violence and endlessly remythologized stories. The series insists on the impossibility of understanding Dahmer's pathology without reference to broader queer history, positioning his sexuality as significant rather than a merely tangential character trait (as in Netflix's other queer-related true crime series like Don't F*** with Cats: Hunting an Internet Killer [2019]).
Thus, Netflix's recategorization of Dahmer is at odds with the aims of the series itself. While the show claims to be representing queer history more broadly, Netflix's confinement of Dahmer to "true crime" reveals the disposability of "unacceptable" queer history within larger homonormative and capitalist drives. As a series about a gay serial killer, the show foregrounds a historical and ongoing connection between queer identity and criminality, a link which forms the basis of the backlash.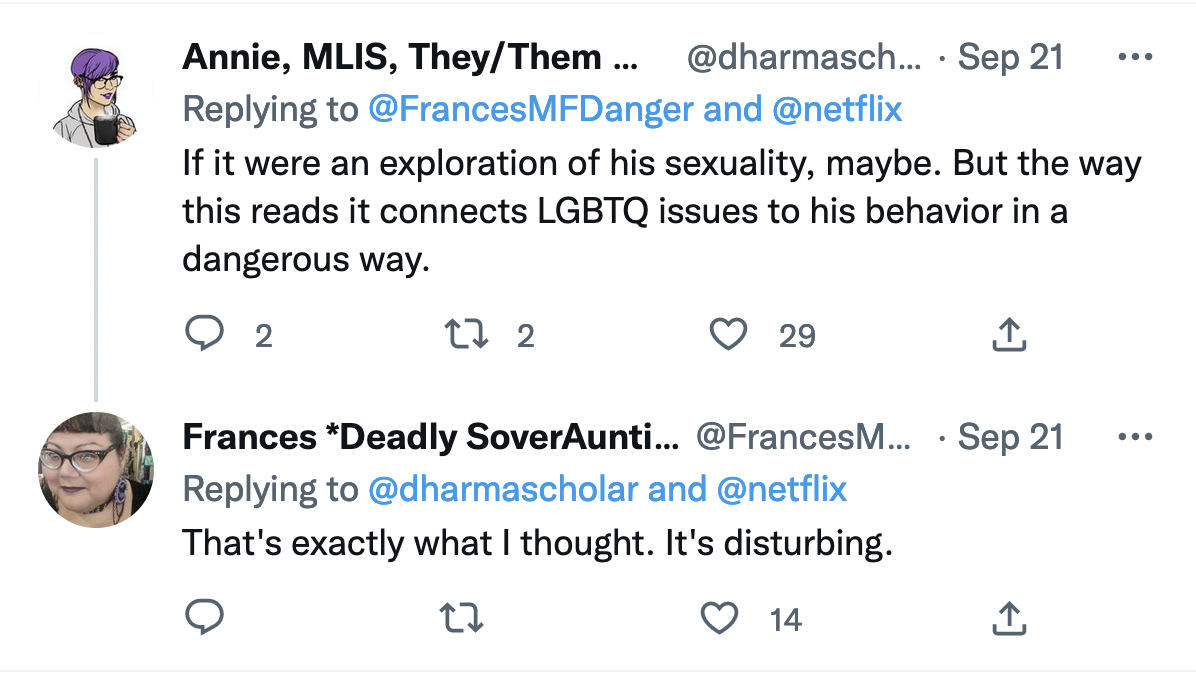 Comments under @FrancesMFDanger's original Twitter post, as cited in The LA Times
However, within a Foucauldian frame, contemporary queer identity can only be coherent and legible because of its formulation within medical and legal discourses – as a strain of pathology, and a category to be policed.[5] Consequently, Netflix's move to establish a distance between Dahmer's story and queer history disavows this very link, signifying an attempt to craft a "positive" or acceptable version of queer identity.
Drawing a distinction between Dahmer's story and queer media ostensibly serves to protect all queer subjects, using a frame that conflates "negative" or bad representation with viewer (rather than victim) trauma. In practice, however, this move only protects those who are not otherwise subject to surveillance under racist and colonial policing practices — the presumably white queer subject already foregrounded by Netflix's homonormative canon. Ultimately, Dahmer's recategorization turns less on the representation of the racialized victims and the response from their families than the titular figure's failed whiteness — which, in this instance, must be abjected from Netflix's homonormative canon to ensure the integrity of the whole.
---
Image Credits:
Netflix banner of Dahmer – Monster: The Jeffrey Dahmer Story (2022) at release.
@zeelizee's original TikTok video, referenced in Zack Sharf's Variety article.
Comments under @zeelizee's TikTok video.
Netflix Canada's LGBTQ category (authors' screen grab).
Comments under @FrancesMFDanger's original Twitter post, as cited in The LA Times.
References:
Alexandra Del Rosario, "Netflix Dropped a New Jeffrey Dahmer Show, and a Victim's Family Says 'It's Cruel,'" Los Angeles Times, September 23, 2022. [↩]
Del Rosario, "Netflix Dropped." [↩]
Quoted in Zack Sharf, "Netflix Removes LGBTQ Tag From 'Dahmer' After Backlash From Viewers: 'Not the Representation We're Looking For,'" Variety, 28 September 2022. [↩]
Sharf, "Netflix Removes." [↩]
See Michel Foucault, Abnormal: Lectures at the Collège de France, 1974-1975, trans. Graham Burchell (London: Picador, 2003); Michel Foucault, The History of Sexuality, Volume 1: An Introduction, trans. Robert Hurley (New York: Pantheon Books, 1978). [↩]