PUSSY RAP AND ALL OF THAT: DISTILLING THE MODERN WOMEN'S MOVEMENT IN HIP-HOP
Jabari Evans / University of South Carolina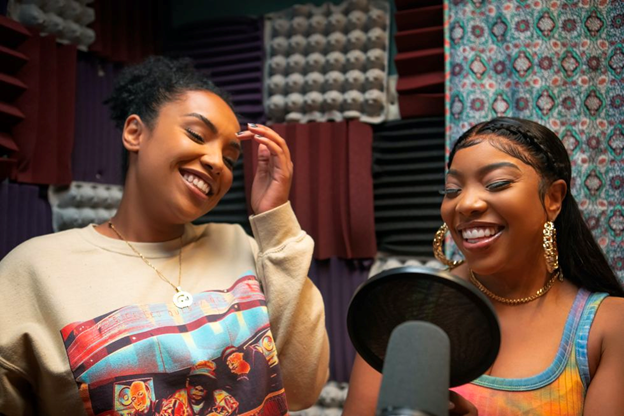 Issa Rae's Rap Sh!t (HBO Max)
In Issa Rae's newly produced HBO show, Rap Sh!t, the series follows Shawna Clark (Aida Osman) and her estranged friend Mia Knight (KaMillion) who team up to form a rap group in hopes of making it big. In addition to pursuing her dreams as an aspiring rapper, Mia is a single mom who is shown working multiple jobs to maintain her lifestyle and care for her daughter, Melissa. In the show's pilot, for example, Mia is shown working as a makeup artist by day and an OnlyFans creator by night. She is also revealed (through contextual knowledge) to be both an Instagram influencer and a former exotic dancer. She's depicted as the inspiration behind the group's branding and image, despite lacking much lyrical ability. This becomes evident during one scene in the pilot where Shawna tells Mia she won't resort to exposing her body online to gain more visibility from industry gatekeepers, and she tells Mia that her "art is not for the male gaze." Mia asks in response, "What's so wrong with having people look at you?" Further adding, "Is that what you think is going on? We're in the middle of a Bad Bitch Renaissance… Loosen up, have some fun, just see where it goes."
Hypermasculinity expressed by Black male artists in Hip-Hop is largely tied to both the need for Black men to express their frustrations and exert power within a culture they helped create. Conversely, this hypermasculinity has also been commodified as a means to sell Blackness in a way that appeals to the demands of a largely middle-class White audience. I believe this particular vignette from the show is important because though fictional, it makes the larger claim that there's a new revolution occurring in Hip-Hop culture, one in which women artists have readily embraced their erotic capital as a liberatory part of their artist identity. In the last 5-10 years, this brand of rap music has dominated the Billboard charts and propelled artists like Nicki Minaj, Mulatto, City Girls, Saweetie, Kash Doll, Megan thee Stallion, and Cardi B to great prominence and massive financial success.
Though Hip-Hop music created by Black men has generally perpetuated misogynoir (racist and misogynistic images of Black women), Black women's intervention into Hip Hop is not new. Black women artists like Roxanne Shante, MC Lyte, Queen Latifah, Salt N Pepa, and Yo-Yo helped establish feminist tradition within Hip-Hop that should be acknowledged as a predecessor to the more sexually charged work of Lil Kim, Missy Elliott, Trina and Foxy Brown. Though rap music is amid what Rae's show calls a "bad bitch renaissance," Hip-Hop culture has also never had a period with which sexualized bodies of Black women weren't seen as a tool for the promotion in song lyrics or music videos (Miller-Young, 2014; Sharpley-Whiting, 2007). This can particularly be seen in rap's connection to strip club culture, where dancers routinely seek monetary and cultural capital within their social networks, (while rap music also entertains the audience). From the 1993 Sir Mix-A-Lot song "Baby Got Back" to the 1998 Ice Cube-directed movie The Players Club and 2001's Snoop Dogg's AVN Award-winning pornographic film Doggystyle, images and logics of strip club culture have been a mainstay within the rap music industry. These logics rely on the eroticism of Black women, particularly with most popular music videos and rap lyrics focused on 'the booty' as the most valuable representation of Black femininity, to harvest attention and sell products.
Though highly visible in the world of Hip-Hop, Black women are historically more exploited and cannot assert agency within the economies that exploit them (Brooks, 2010). To that end, sociologist Mireille Miller-Young (2014) proposed the "Ho Theory" as an analysis for labor tactics and identity formations for Black illicit erotic performances. Ho Theory purports that there's a link between mass media, hip-hop culture, and pornography that can be traced to a long history of Black women's bodies being associated with criminality and degradation. Miller-Young writes that Black women have been seen as "a figure of moral corruption, social deviance, and economic drain, especially in the field of Hip-Hop influenced sexual media" (p. 146). In using women's bodies as a form of promotion tool (via music videos, live concerts and album covers), feminist media scholar Moya Bailey argues Hip-Hop has historically conditioned its audience that Black women are only good for sexual encounters. In the realm of social media entertainment, I would argue that this erotic capital is only being made more immersive, dynamic, and ubiquitous.
However, it could also be argued that the cultural capital of today's female rappers seems to be at a tipping point, willfully and joyfully using erotic capital for sustainable celebrity. The level of agency Black women are afforded through performance of sexual dances (e.g., twerking on TikTok or YouTube), queer activism, public messages of body positivity, and digital forms of sex work (e.g., OnlyFans) are no longer as marginal as earlier Hip-Hop scholars led the general public to believe (Brown, 2019; Halladay, 2020; Khong, 2020). In fact, in the digital era of music, one could argue that female rap artists use sexual appeal as a badge of emotional freedom rather than a marker of oppression. This trend has presented an opportunity for these women to self-commodify, curate, and monetize this process in ways that has led some scholars to believe digital sex work serves as a form of empowerment (Miller-Young, 2010).
Rubi Rose (via Essence Magazine)
For example, upstart rapper Rubi Rose publicly claimed she made over $100,000 in 48 hours on OnlyFans. Popular from appearing in music videos and being a social media personality with over 1 million Instagram followers, Rose charged $49.49 for a monthly subscription to her content and has claimed to have made $1M on the platform since 2020. She has signed a record deal with music mogul L.A. Reid's Hitco Entertainment. Therefore, it is possible to comprehend the OnlyFans content creation of female rappers like Rose as "hope labor" (Stuart, 2020), volunteer work that is the assumed precursor to more mainstream relational labor, serving as a training ground for building an ongoing and eventually (hopefully) lucrative audience (Duguay, 2019).
Rubi Rose "He In His Feelings" (Official Music Video).
Though many of today's emergent women rappers have restructured the terms of which their sexual performances are distributed, circulated, and paid for, they also still reaffirm the need for women artists to rely on stereotypical tropes associated with the "video hoe" or the "vixen" in order to gain visibility. Essentially, while many argue they serve to empower their personal pathways to digital clout and financial success, they also reproduce the status quo of hypersexualized representations of Black female bodies in mass media. Some might even describe this as a familiar repackaging of Black feminism for heterosexual male audiences.
That said, many questions remain about the sustainability of the current reign of female rap in the contemporary industry. As I write this piece, I'm still wrestling with what to make of the ways that Hip-Hop culture has continually thrived on the back of Black women's bodies and erotic capital. Does it matter if women rappers cleanse their material of stripper culture while the male rappers continue to profit from it? On one hand, I believe these women rap artists are finally getting the reparations they've been owed from the music industry. On the other, I truly wonder if it makes a difference if female rappers are going platinum or owning their sexual content if their messages are becoming more dynamic in reproducing the negative stereotypes proclaimed to be ruining Hip-Hop culture in the first place. In either case Black women are, and always have been, integral and resistant voices in Hip-Hop and in popular music generally.
---
Image Credits:
Issa Rae's Rap Sh!t (HBO Max)
Rubi Rose (via Essence Magazine)
"In His Feelings" video by Rubi Rose
References:
Bailey, M. (2013). New terms of resistance: A response to Zenzele Isoke. Souls, 15(4), 341-343.
Brooks, S. (2010). Hypersexualization and the dark body: Race and inequality among black and Latina women in the exotic dance industry. Sexuality Research and Social Policy, 7(2), 70-80.
Brown, M. (2019). The Jezebel Speaks: Black Women's Erotic Labor in the Digital Age (Doctoral dissertation, University of Maryland). Digital Repository at University of Maryland: College Park, MD.
Duguay, S. (2019). "Running the numbers": Modes of microcelebrity labor in queer women's self-representation on Instagram and Vine. Social media + society, 5(4), 2056305119894002.
Halliday, A. S. (2020). Twerk sumn!: theorizing Black girl epistemology in the body. Cultural Studies, 34(6), 874-891.
Hill-Collins, P. (2004). Black sexual politics: African Americans, gender, and the new racism. New York City: Routledge.
Miller-Young, M. (2010). Putting hypersexuality to work: Black women and illicit eroticism in pornography. Sexualities, 13(2), 219-235.
Miller-Young, M. (2014). A taste for brown sugar. In A Taste for Brown Sugar. Duke University Press.
Sharpley-Whiting, T. D. (2007). Pimps up, ho's down: Hip-Hop's hold on young black women. New York, NY: NYU Press.
Stuart, F. (2020). Ballad of the bullet: Gangs, drill music, and the power of online infamy. Princeton, NJ: Princeton University Press.