Oscar and Me; Or, Further Reflections on Responsibilities of a Feminist Film Critic
Maria San filippo / Emerson College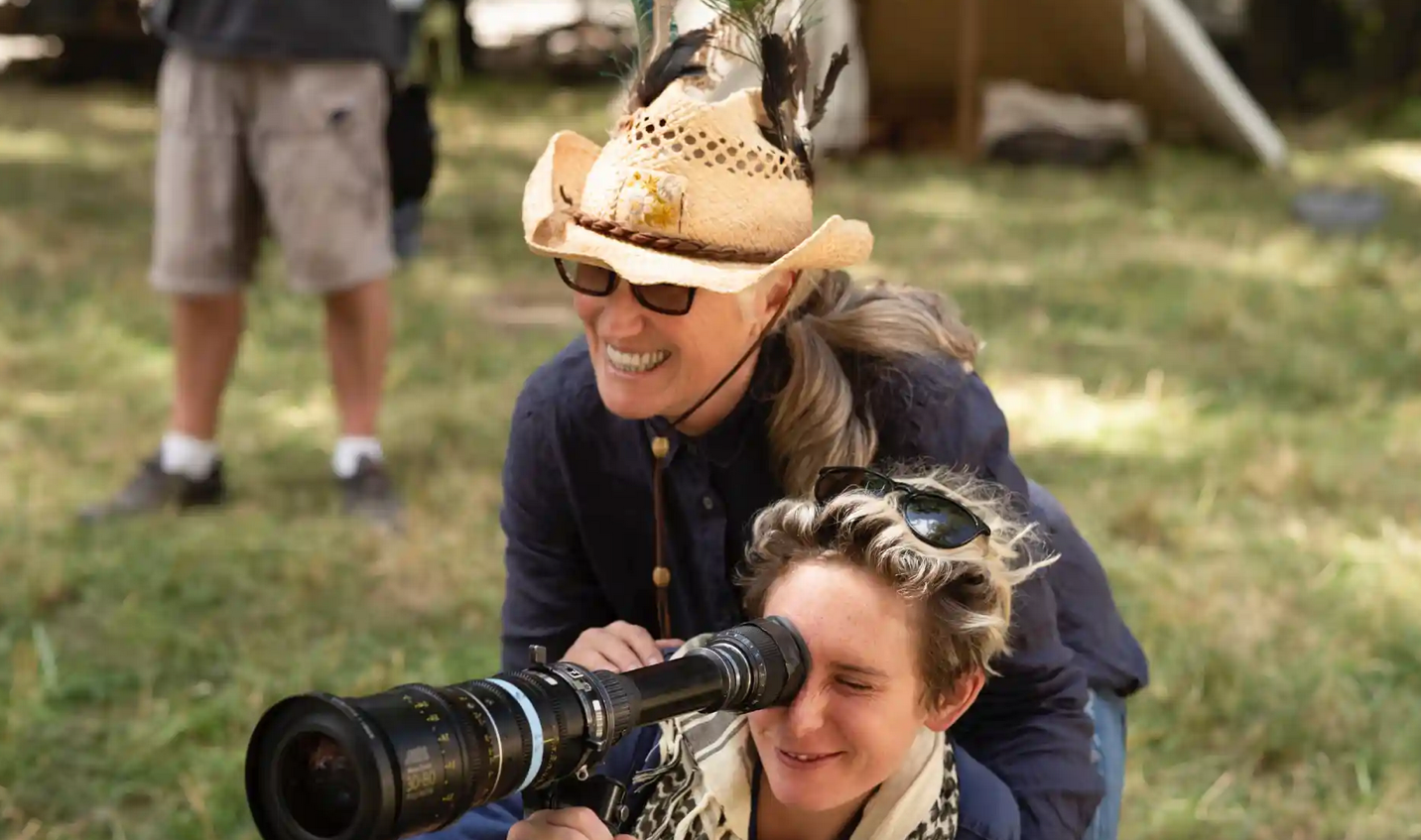 Jane Campion and Ari Wegner making The Power of the Dog.
By the time this piece is published, Jane Campion may be the third woman awarded the Best Directing Oscar in the Academy Awards' 94-year history. An Oscar for Campion this year would build on Chloé Zhao's win last year (for Nomadland), over a decade after Kathryn Bigelow's barrier-breaking award in 2009 (for The Hurt Locker); only seven women have ever been nominated in the category.[1] While still nowhere near achieving gender parity, back-to-back wins for women as Best Director would land another blow at the "celluloid ceiling." Should Campion's DP Ari Wegner win in the Best Cinematography category, which has an even paltrier record of recognizing women,[2] the peer acclaim earned by this two-woman team – for a Western, no less – could rattle an industry that for the last century has consistently denied female practitioners creative control and artistic prestige.
In "Maude and Me," my previous piece for Flow, I reflected on the responsibilities of a feminist film critic, with particular attention to ways that media representations of women's issues (in that case, abortion) may be effectively mobilized towards the achievement of justice, reproductive and otherwise. In further reflecting on these responsibilities as another red-carpet rollout approaches, and while teaching my regular course on women filmmakers – most of whom haven't gotten any closer to the Academy ceremony than I have – once again I find myself grappling with my enduring ensnarement by that perennial bad boy, Oscar.
For readers rolling their eyes at the absurdity of directing feminist attention towards a spectacle so inherently corrupt and culturally moribund as the Oscars, I get you – and yet I don't know how to quit them. Belonging to the dwindling tribe of diehard viewers (down to a record low last year), I'm increasingly embarrassed to admit that Oscar night is my highest of holy days. I'm what's known in industry lingo as a "hostage buyer" – I have too much historically and emotionally invested not to watch. The Oscars are my MCU: overstuffed with stars, overlong, often predictable, essentially serving as high-priced advertising for their own brand, and yet eagerly anticipated and avidly consumed.
Yet while I side with Martin Scorsese's view that Marvel mania is not about cinema, I would insist that the Oscars are. Growing up, Oscar nights were my earliest film education – for better and worse. I learned the power of montage first from Chuck Workman's tribute reels, and only later from Eisenstein and Vertov. I got my first sense of some of the greats of film history from seeing them celebrated with lifetime achievement awards (bestowed, beginning in 2009, ahead of the telecast). I gained a sense of filmmaking as technical craft, not only artistic vision, from acceptance speeches by those less familiar, and less photogenic, below-the-liners who are also increasingly sidelined in the bid for better ratings.
I recognize that the Oscars have, as film historian Maggie Hennefeld astutely discussed in a 2020 thinkpiece, long served to gloss over pernicious labor practices common in Hollywood, while defensive attempts of late to diversify the awards "are largely a publicity stunt." Following a year in which cinematographer Halyna Hutchins died as the result of shoddy on-set safety protocols and an eleventh-hour agreement staved off an IATSE strike, and with the Academy still scurrying to save face in the wake of #OscarsSoWhite and Harvey Weinstein's downfall, one might expect that the Academy would use its most prominent platform to demonstrate that Oscar has cleaned up his act. Yet with the Academy on the hook for its finally-open mega-expensive museum, the safe bet is that the Oscar ceremony – the Academy's equivalent of the tentpole blockbusters that have long ruled the box office – will fall back on formula. For my money, that's a mistake.
As Scorsese went on to define (and defend) his distinction between Marvel movies and cinema, it's one predicated on risk – not just financial but creative, and on the part both of filmmakers and viewers. These desperate times cry out for some calculated risk on the Academy's part. So while I suspect that culture reporter Kyle Buchanan was right in recently opining that the Academy's appeals to non-believers are fated to fail, not all such attempts are necessarily doomed or merely cynical. I for one am intrigued by this year's trio of hosts Regina Hall, Amy Schumer, and Wanda Sykes, whose triple-threat performance could prove it's indeed possible to achieve conglomerate synergy and entertainment value while effecting change. Or am I merely rationalizing my choice to return once again to a love object which has disappointed me many times before, imagining this time may be different?
Without excusing the often-egregious Academy, and admitting I write (and watch) from a position of white cisgendered privilege, I believe it's worth relaying how, over the years, the Oscar telecast has been integral not only to my nascent cinephilia but to my burgeoning feminism, even inflecting it with the first glimmers of (though I wouldn't learn the word until much later) intersectionality. A highlight reel might start (a bit before my time) fifty years ago with Sacheen Littlefeather on stage (at the behest of Marlon Brando), staring down the booers-and-hissers to deliver a condemnation of industry misrepresentation and government mistreatment of indigenous people. Also featured would be pioneering journalist Almena Davis Lomax's picketing campaigns of the 1930s-50s, and Halle Berry's heart- and barrier-breaking 2002 acceptance speech. The climax would come in 2016 with the surge of #OscarsSoWhite-fuelled outrage at the still glaringly non-representative demographics of Academy membership and nominees, and the other BIPOC women-led initiatives that have kept the heat on Hollywood since. Towards the close would come Patricia Arquette's 2015 rebuke of the wage gap and Frances McDormand's announcing in 2018 she "had some things to say," as would Cher's Bob Mackie–designed sartorial insurrections and the Green Carpet Challenge met by stars such as Cate Blanchett.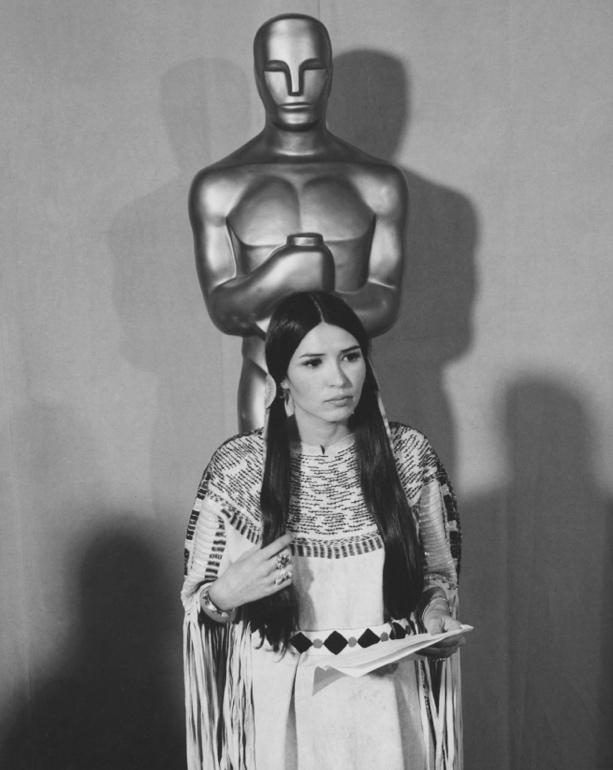 Sacheen Littlefeather upstaging Oscar in 1972.
For all I applaud Bigelow's and Zhao's achievements, I was made queasy by their (also) Oscar-winning films, which despite their evident quality I find troublingly romanticize militarism and the gig economy (and its chief overlord Amazon) respectively. Bigelow offers a particularly challenging case for feminist film criticism, having wielded her newfound Oscar-anointed influence to produce an apologia for the CIA's post-9/11 human rights abuses with Zero Dark Thirty, prompting her denunciation by Naomi Wolf as "torture's handmaiden." It's a film whose rousing power I both admire and fear (Wolf wasn't just being provocative in likening it to Leni Riefenstahl's Triumph of the Will), and one I regularly teach in my women filmmakers course so as to test assumptions and idealizations around women-created cinema. As a recent special issue (disclaimer: in a journal I edit) devoted to Bigelow continues to parse, her career and persona manage to be simultaneously at odds with and in strict conformity to gender norms.
Which brings me to Campion, whose work I've also long admired, though for decidedly different qualities. Where Bigelow is kinetic, Campion is haptic; where Bigelow fetishizes masculinity, Campion feminizes masculinity. Actor (not cowboy) Sam Elliott's rant (on Marc Maron's WTF podcast) against "this woman from down there, New Zealand" having the nerve to make a Western, much less one that reveals the genre's (and America's) foundations in white heteropatriarchal violence and homophobia, makes the case for why the Oscars still matter. Like so many other symbols of phallic power, they must be grabbed before they can be smashed. Or, if not grabbed, upstaged – as Roman Polanski was by Adèle Haenel and Céline Sciamma at the 2020 Césars (the French Oscars). While clearly racking up awards should be a lower priority than realizing the tuition-free film school initiative that Campion has been touting – itself at best a neoliberal solution to inequalities of educational access – it's a winning strategy in an industry that still disproportionately consigns women to "director's jail."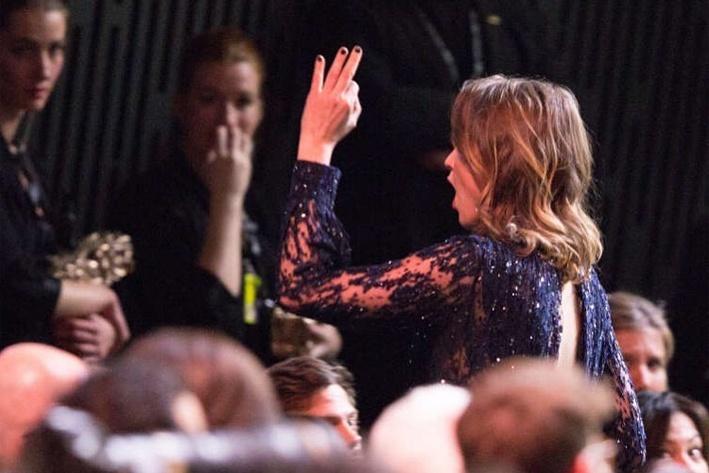 Adèle Haenel exiting the 2020 Césars after Roman Polanski's win.
Yet like Bigelow's, Campion's work at times suffers from an acute case of white feminist myopia that has been sharply examined by (among others) bell hooks and Tiel Lundy, and that became cringingly apparent in her ill-timed show of race-blind bravado upon accepting her Critics' Choice Award. That Campion didn't stop while she was ahead, having (as The Guardian quipped) thrown "shade that [Sam] Elliott could recline in for days" only to then display immense insensitivity in attempting to one-up the Williams sisters (for which she soon apologized), may even cost her the Oscar. Alongside bringing Campion (and others) some clearly-needed intersectional feminist awareness, let's hope the Academy intuits the potential of such a power play even if Campion's wildly missed its mark.
The Oscars, and all awards shows, don't have to be (just) a guilty pleasure or a desperate attention grab by one of the few forms of ad-driven live TV programming that isn't sports. They can instead take a note from those aforementioned actor-activists as well as athlete-activists like Colin Kaepernick and Naomi Osaka (whose outspokenness has ultimately boosted their brands), and intentionally, mindfully become a platform for protest. Playing up (rather than playing off) the protesters will make the Oscars more, not less, about celebrating cinema – that which (as Scorsese mournfully reflects) was about "confronting the unexpected on the screen…and enlarging the sense of what was possible in the art form." Whether optimistically or naively, this year I'm opting to give Oscar another chance to improve the show and, more importantly, what it stands for.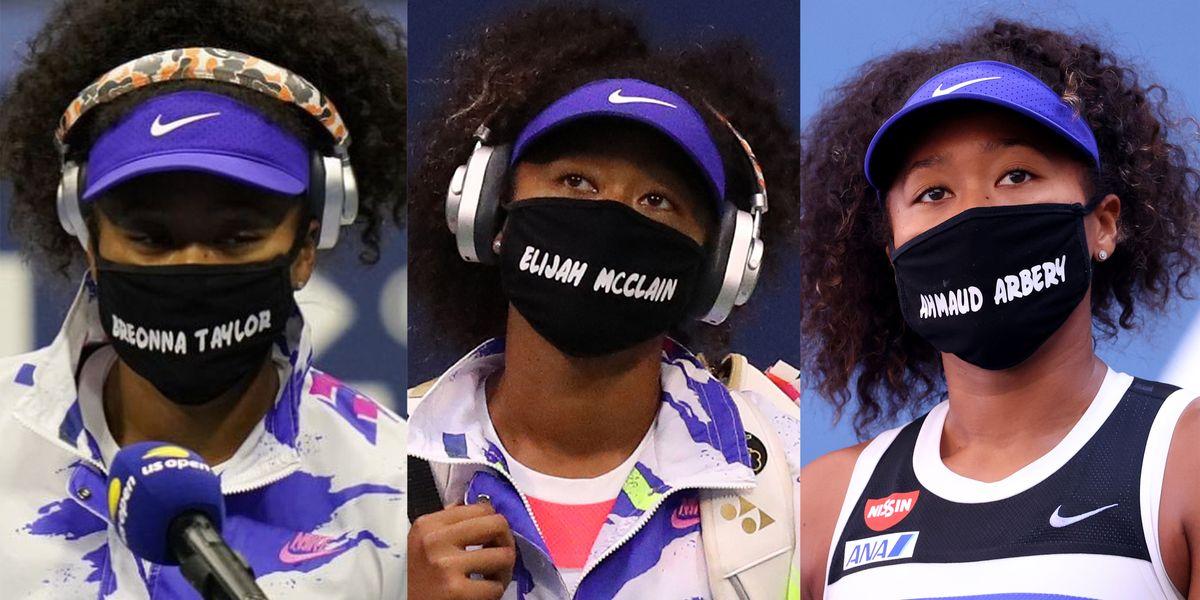 Naomi Osaka's mask activism at the 2020 U.S. Open.
---
Image Credits:
Jane Campion and Ari Wegner making The Power of the Dog (author's screen grab).
Adèle Haenel exiting the 2020 Césars after Roman Polanski's win (author's screen grab).
Naomi Osaka's mask activism at the 2020 U.S. Open (author's screen grab).
Notes:
Women who have been Best Director nominees are Lina Wertmüller (Seven Beauties, 1975), Jane Campion (The Piano, 1993; The Power of the Dog, 2021), Sofia Coppola (Lost in Translation, 2003), Kathryn Bigelow (The Hurt Locker, 2008), Greta Gerwig (Lady Bird, 2017), Chloé Zhao (Nomadland, 2020), and Emerald Fennell (Promising Young Woman, 2020). [↩]
Only one other woman has been nominated in the Best Cinematography category: Rachel Morrison for Mudbound (2018), also in collaboration with a woman director, Dee Rees. [↩]