The Fate of Mobile Video Shorts on Quibi and Kakao TV
Jennifer M. Kang / Queensland University of Technology
Quibi's Bank Heist Commercial During Super Bowl LIV.
"I'll be there in a Quibi"
Among the Super Bowl LIV commercials, there was one in particular that was confusing to the millions of viewers watching at the time. Three bank robbers wearing animal masks rush outside to their getaway car, only to realize that the driver is nowhere in sight. One of the robbers calls their driver and the next scene shows how their driver is engrossed with his phone and tells them that he will "be there in a Quibi."
Quibi, short for "quick bites", was a subscription video on demand (SVOD) service that offered short-form original series to be exclusively watched on your mobile phone. For $4.99 (per month with ads) or $7.99 (per month without ads), this mobile-only platform promised to bring "something new and powerful" to audiences: short, original videos that were optimized for audiences on-the-go (Ramos, 2020). Their unique Turnstyle technology let users flip the phone horizontally or vertically and the Quibi app would adjust the video ratio accordingly.
Quibi's Turnstyle Technology
By all means, Quibi had all the ingredients to be a success. The top executives consisted of Jeffrey Katzenberg (founder) and Meg Whitman (CEO). It raised $1.75 billion in funding prior to the commercial launch. Their original series featured A-list talent like Chrissy Teigen, Liam Hemsworth, and Idris Elba, along with big-name creators like Guillermo del Toro and Steven Spielberg. It had a strategy of difference – short stories told in a couple of minutes and Turnstyle– compared to other SVOD services like Netflix and Disney Plus.
But we already know how Quibi's story ended. The service launched in April 2020 but shut down a couple months later, in December. The industry and popular press talked about various reasons why Quibi was shutting down, but the general consensus was that it had failed to cater to the audience's needs (Alexander, 2020; Sperling, 2020). People were spending more time at home due to the pandemic and there was no urgent need for content that could be watched on-the-go. In other words, Quibi addressed an audience need that did not exist during covid.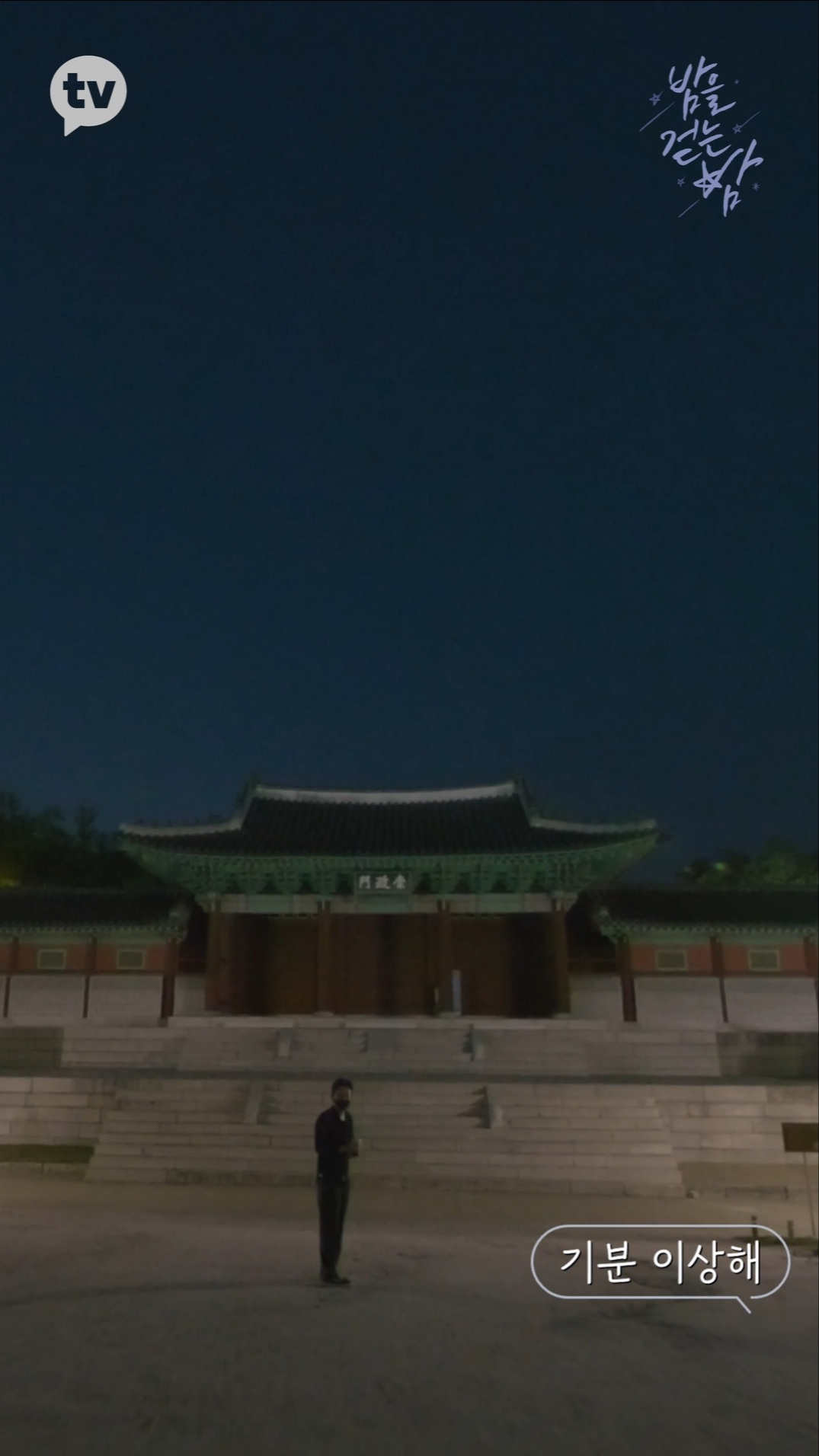 Night Walk at Night, a Vertically Filmed Show on Kakao TV
What I find interesting about Quibi is how the idea of mobile shorts being optimized for smartphone viewing is labeled as a failure in one place but considered a lucrative business in another. In South Korea, the tech giant Kakao started a streaming platform in September 2020 – Kakao TV – that specializes in short-form professionally produced original content that is optimized for the mobile phone. Each episode was to be around ten minutes and filmed in a vertical ratio to ensure that on-the-go audiences would fully enjoy Kakao TV's original content. Kakao TV continues to grow and recently announced that they would invest 300 billion KRW ($250 million) by 2023 in original content production (Lim, 2021). How is it that Kakao TV and Quibi's fates are so different when they offered the same service during a similar time frame?
As historian Kenneth Lipartito pointed out, it is productive to consider the context of failures rather than pointing to a single event as the reason for technologies' downfall (Lipartito, 2003). Both Quibi and Kakao TV launched with the intent to target the Gen Z and younger millennials with mobile short videos, but the different industrial and socio-cultural circumstances shaped the fate of these services. Thus, I argue situating Quibi and Kakao TV within the culture of mobile video lets us see what is considered valuable on mobile platforms, as opposed to blaming the pandemic as the reason for Quibi's demise (as seen with Katzenberg's comment below).
"Well, everything about Quibi was designed to be on the go, in-between moments at a moment in time which no one was on the go and their in-between moments were on their couch, and suddenly we were competing for people's attention in a way that we never conceived of or thought of." (Patten, 2020)
If we look at the criticisms of Quibi, it is mostly about how Quibi was trying to offer Netflix-like high-quality content when people wanted mobile content to be mobile – to be able to recommend, share, and participate in content production (Alexander, 2020). This networked experience is what makes mobile short videos worthwhile for users. The popularity of TikTok challenges and Instagram stories show how the networked spreadablity of content is important in a mobile media environment. However, Quibi closed off this spreadability through subscription paywalls; the app did not let users to screenshot or share content with others. Although Quibi allowed these features later on, it was too late to make any significant difference.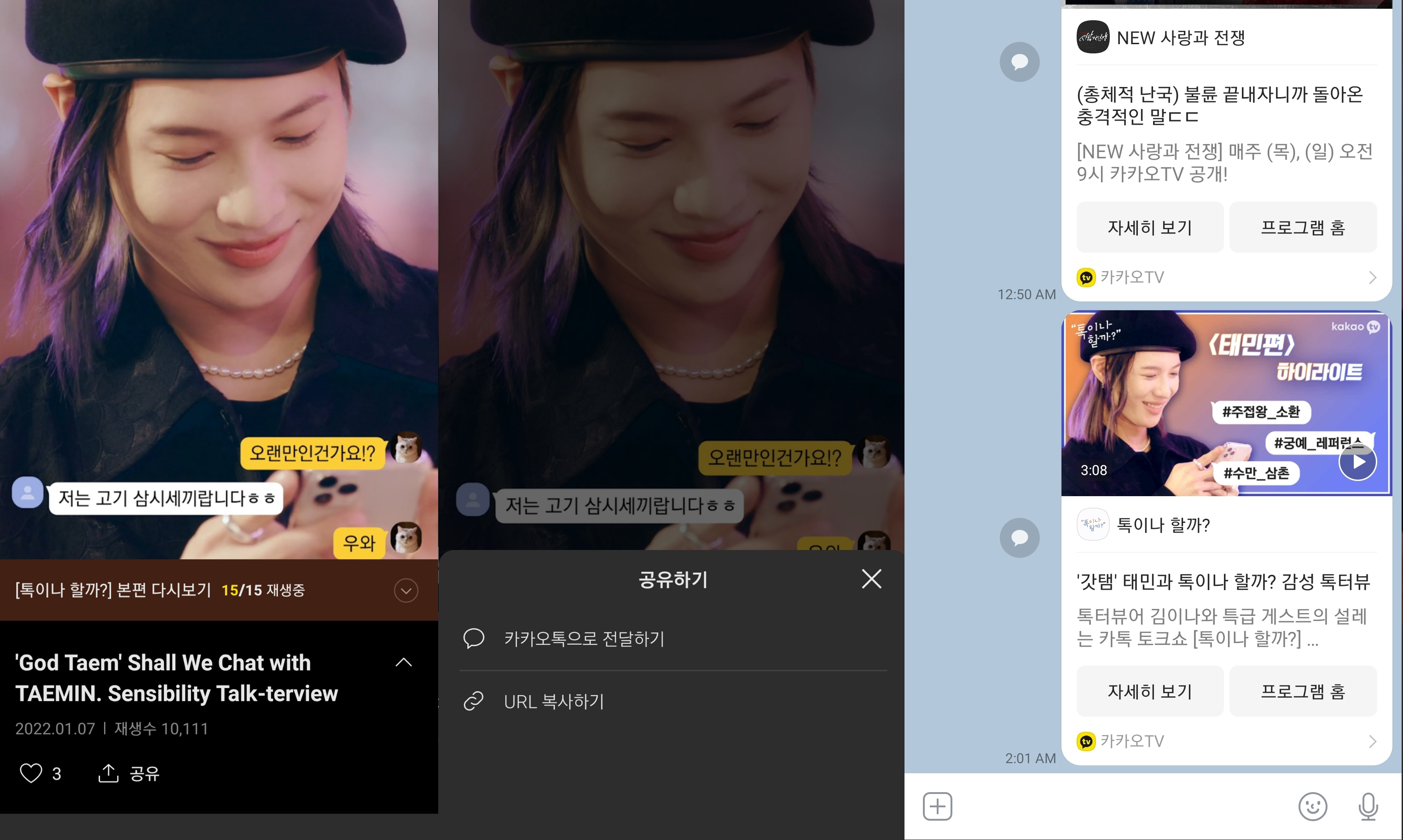 Sharing Kakao TV Content via Kakao Talk App
In comparison, Kakao TV incorporated the spreadability of mobile culture into their platform. Kakao TV claimed to provide "original content you can see via Kakao Talk" (Choo, 2020). Kakao Talk is the mobile messenger app that made Kakao the tech giant that it is today. It is already a staple in Koreans' everyday lives (87% of the population uses the app) and users could view, share, and chat with others on Kakao TV's original content through Kakao Talk (Oh et al., 2020). And perhaps most importantly, Kakao TV was not behind major paywalls; the platform operated as a mix of advertising-based video on demand (AVOD) and pay-per-view system, where most videos were free to watch (and share) if one was willing to sit through advertisements. Premium content was initially free during the first couple weeks of its release before switching to an episode-by-episode payment system, but even then, they were relatively affordable at 50 cents per episode.
Certainly, there are more factors at play regarding these two mobile streaming services. Korea has one of the highest penetration rates of smartphones in the world and widespread availability of high-speed Internet (in both public and private spaces). The country did not go into full lockdown during the pandemic. However, the point that I want to make here by talking about Quibi and Kakao TV is that failure is not inherent in the technology or determined by a singular reason. Contextualizing failure lets us see the societal expectations, desires, and hopes that resonate beyond the technology itself. With Quibi, we see the mismatch between Hollywood's attempt to harness mobile storytelling into traditional industry norms and the users' expectation of an open, networked mobile culture. This becomes apparent when we consider how Kakao TV built their service upon the widely used mobile messenger app Kakao Talk and allowed the networked users to circulate original content to generate a community surrounding Kakao TV.
Soon after Quibi closed down, Roku announced that they acquired Quibi's original content library to stream as Roku Originals. There were a few changes: Quibi's shows would no longer use the Turnstyle technology and would be more open to viewers. The Roku Originals would be free with advertisements and accessible through The Roku Channel, which could be downloaded to mobile devices or through Roku devices. Building upon a network of 54 million active accounts, the Roku Originals performed extremely well during the first two weeks of their release (Hayes, 2021). Roku's more open approach to original content shows and their success demonstrates how it was not the pandemic that made Quibi fail, but Hollywood's inability to understand the appeal of mobile cultures held for users.
---
Image Credits:
Night Walk at Night, a Vertically Filmed Show on Kakao TV (author's screen grab)
Sharing Kakao TV Content via Kakao Talk App (author's screen grab)
References:
Alexander, J. (2020, October 22). 11 reasons why Quibi crashed and burned in less than a year. The Verge. https://www.theverge.com/2020/10/22/21528404/quibi-shut-down-cost-subscribers-content-tv-movies-katzenberg-whitman-tiktok-netflix
Choo, S. H. (2020, September 1). KakaoM Focuses on Mobile Optimization…Plans to Invest 25 Titles, 350 Episodes. Seoul Economy Newspaper. https://www.sedaily.com/NewsView/1Z7OPR9IS5/GL0101
Hayes, D. (2021). Roku Originals Draw More Viewing In 2 Weeks Than Quibi Did In Its Lifetime. Deadline. https://deadline.com/2021/06/roku-originals-quibi-streaming-one-billion-1234777771/
Lim, J. (2021, March 12). Kakao TV's original content gets 400 million views. The Korea Herald. http://www.koreaherald.com/view.php?ud=20210312000694
Lipartito, K. (2003). Picturephone and the Information Age: The Social Meaning of Failure. Technology and Culture, 44(1), 50–81.
Oh, D., Hong, S., & Lee, H. (2020, March 2). KakaoTalk in its 10th year has nearly all S. Korean population connected. Pulse by Maeil Business News Korea. http://pulsenews.co.kr/view.php?year=2020&no=218180
Patten, D. (2020, October 21). Quibi's Jeffrey Katzenberg & Meg Whitman Detail "Clear-Eyed" Decision To Shut It Down. Deadline. https://deadline.com/2020/10/quibi-shuts-down-jeffrey-katzenberg-meg-whitman-interview-exclusive-1234601254/
Ramos, D.-R. (2020, January 8). Quibi Unveils First Look At "Turnstyle" Content, Katzenberg And Whitman Look To "Make Mobile Moments Extraordinary" – CES. Deadline. https://deadline.com/2020/01/quibi-jeffrey-katzenberg-meg-whitman-ces-turnstyle-tom-conrad-rob-post-ces-consumer-electronics-show-1202824586/
Sperling, N. (2020, October 21). Quibi, Short-Form Streaming Service, Quickly Shuts Down. The New York Times. https://www.nytimes.com/2020/10/21/business/media/quibi-shutting-down.html