Over*Flow: Queen of the Neighborhood: Monse Finnie Mobilizes and Defies the Ingenue Trope in Netflix's On My Block
Stephanie Melissa Perez / University of Illinois at Urbana-Champaign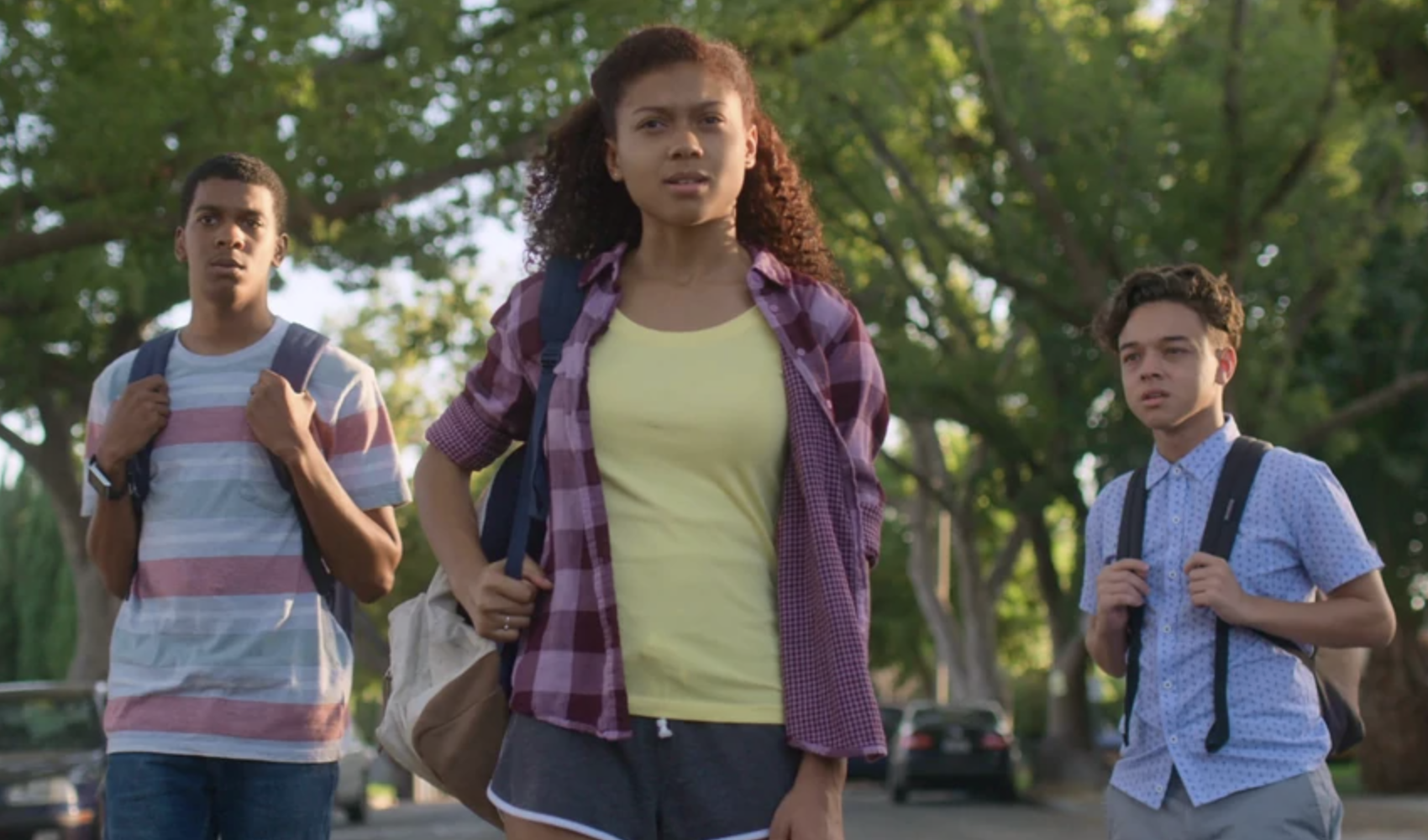 (R to L) Jamal Turner, Monse Finnie, and Ruby Martinez realize their friend, Cesar Díaz, has been jumped into the Santos gang
The audience of Netflix's On My Block has watched Ruby, Jamal, Cesar, and Monse navigate four years of high school and try to survive the chaos of their working-class neighborhood, Freeridge. As the series ends in October 2021, Monse Finnie, the only girl in the original Core Four, approaches romance, friendship, and adolescence defensively, and ends her character arc recognizing that her objectification as an Afro-Latinx teen girl happens at the expense of her childhood. She defies the media trope of the ingenue, which typically casts young white women as one-dimensional subordinates to male leads and passive subjects of the male gaze. In exchange for social and economic mobility, the ingenue is often transformed from innocent girl to polished and worldly woman, her value reduced to her youthful body as a prized possession. This trope, however, changes for Black and Latinx girls[1] like Monse. She instead embodies a transformative Latina ingenuity, weaponizing her street and book smarts to explore her burgeoning sexuality, protect her best friends, and appreciate her first homosocial friendship through the sometimes whimsical lens of youth.
Current popular culture is entangled with plastic[2] artificiality, imbuing objects with meanings that extend dominant structures of power and oppression.[3] Objectified girls experience the homogenizing constraints of neoliberal postfeminist "feeling rules"[4] driven by discourses of self-empowerment and self-esteem. Such rules dismiss teen girls' audacity and devastation,[5] reject the negative feelings and marginalizations that commodify them, deprive them of societal agency, and limit their social opportunities
Instead of remaining vessels for male gaze consumption, like the white ingenue trope,[6] Latina ingenues weaponize their assertive power to combat their othering. Through exposure to precocious adult knowledge for survival,[7] Black and Latinx girls' mediated objectification and commodification within capitalism,[8] merges the adultification of racialized girls with the production of an identity that can be mobilized to break out of denigrating stereotypes[9] of non-white and othered identities rooted in white supremacy. Such a tool in the hands of teen Black and Latinx girls – who possess defiant independence, interdependence, sexual agency, and bodily awareness – visibilizes a demographic group that is historically marginalized within patriarchy, both as U.S. Americans and descendants of Latin America.
Monse Finnie emerges as an amalgamation of different tropes of adolescent Black girlhood, burgeoning young U.S. American womanhood, and tenuous Latinidad. Despite being continuous with the ingenue trope in the naïveté that she single-handedly can safeguard her friends, Monse's development in the first season of On My Block establishes a precedent for the representation of multidimensional, smart, and aggressive, yet vulnerable, teen Latinas. Longing for a normal and safe childhood, Monse engages in problem-solving with little guidance from adults, displaying the precociousness, independence, and survival celebrated and expected of many working-class youths of color, but rarely addressed as premature adultification.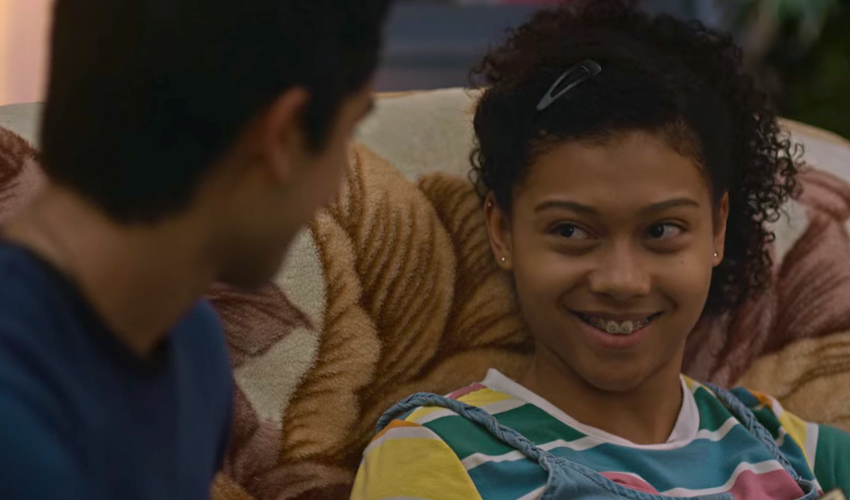 Monse receives a gift from Cesar before she leaves for writing camp the summer before high school
Monse is initially presented to the viewer as the Core Four's resident ingenue, a trope normally imbued with femininity, virginity, and passivity in the realm of the white middle class. Donning braces, overalls, sneakers, and pulled-back hair, Monse is desexualized and coded as childlike; her friends do not see her as a girl, but as genderless and asexual. Monse participates in her own infantilization, incredulously laughing at the thought of having sex with any one of her close male friends.[10] Signaling that she has not yet experienced sexual maturity, she convinces others that her naïveté about intimacy limits her ability to have romantic aspirations like her heterosexual boy friends.
Monse departs from the ingenue trope in upbringing. Freeridge, the working-class neighborhood where her adolescent maturing occurs, is embroiled in violence, far from white, upper-middle class suburbia. In her schemes to keep her male friends, Ruby, Jamal, and Cesar, safe from gang violence and survive high school together, Monse often acts at the expense of her perceived innocence. As an Afro-Latina teen with precocious knowledge of poverty and violence in her community, Monse subverts the street code of patriarchal respect, reputation, and retaliation,[11] and actively defends herself against misogyny from even her own friends.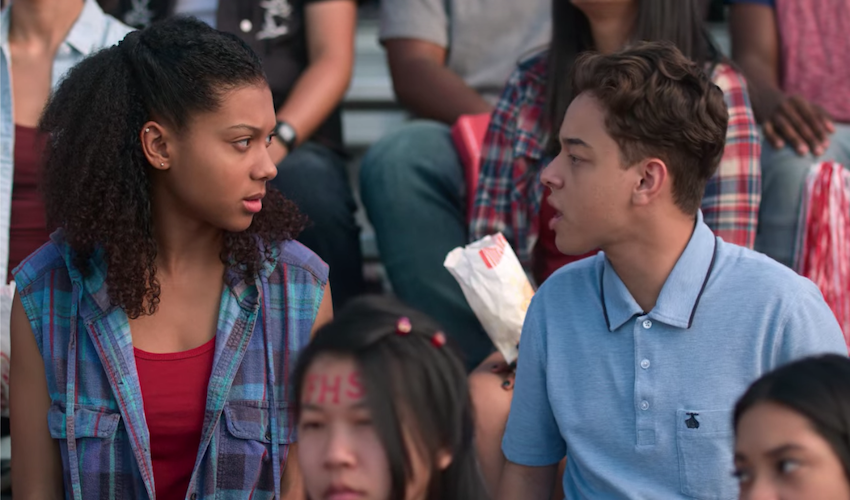 Ruby slut-shames Monse after she reveals his crush on Olivia
Over the summer before high school, Monse becomes sexually active, advances her educational goals, and returns from writing camp with a body that has changed seemingly overnight, shifting the dynamic of the group. She experiences hypersexualization and adultification from her friends' older brothers and strangers. We see Monse walking confidently in her new body, until a street cart vendor catcalls her. Similarly, Cesar's brother, Oscar, the leader of the Santos gang who has just been released from prison, sizes her up and hits on her. Despite being a child and performing a tomboyish appearance and attitude, Monse is no longer naïve about being the only girl in her friend group; she becomes self-conscious and realizes that her reputation now depends on her sexualization and objectification by men and adolescent boys.
Although her sexual debut with Cesar is a secret, Monse employs her sexual agency and seeks a private, consensual, and reciprocal romance with him to fulfill her sexual subjectivity within the romantic safety and emotional trust of their friendship.[12] In their relationship, Monse is less self-objectified[13] and does not experience shame about sexual intimacy; rather, she receives Cesar's affection with pleasure. Nevertheless, when Cesar asks Monse to slow dance at the school dance, which would make their relationship public, she refuses because it implies increased self- and external objectification. Monse fears that being a sexually active teenager will place her into the pejoratively constructed trope of the deviant Latina "whore."
Her trepidation is realized when Jamal and Ruby find out about her relationship with Cesar[14] Ruby weaponizes the virgin/whore binary stereotype of Latina women to call Monse "a liar and a puta." Recognizing the power dynamics of heteronormative romantic relationships, Monse retreats into lying about her relationship to save face, telling Cesar: "For you, screwing me gives you street cred. For me, screwing you makes me a whore." The continuities between the tendency to sexualize Black and Latinx girls in moralistic terms and criminalization of the working class bolster their representations as sexually manipulative and deviant, intensified here by Monse's Afrolatinidad and the impact that being a sexually active teenager romantically involved with a gang member could have on her social reputation. In a way, Monse wishes to return to a time when she embodied the innocence and wholesomeness of an ingenue identity, before anyone knew she had sex with Cesar.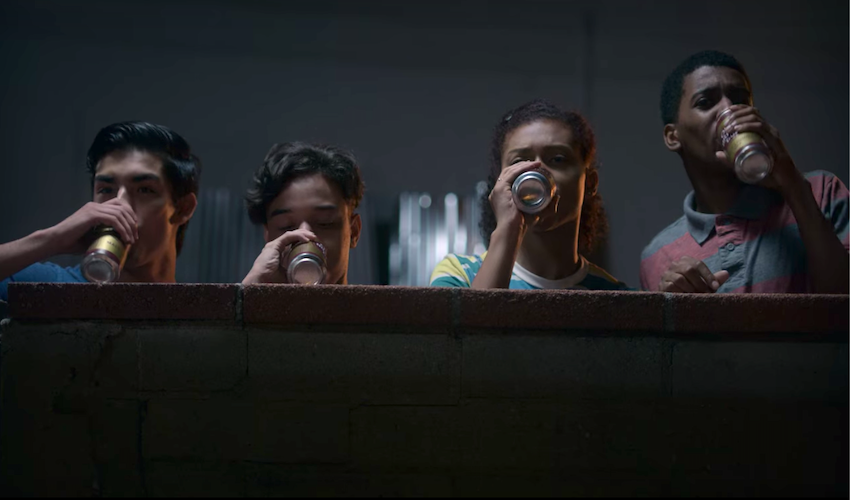 The Core Four drinks beer while dreaming of high school parties and requited crushes
The streets of Freeridge are Monse's domain, and she lives a public life constricted by respectability and loyalty. Her resistance to being considered a sexualized Afro-Latinx girl reveals the tensions between burgeoning womanhood, adultification, and parentification. Monse considers the cohesion of her friend group her main priority, as they are a chosen family in which she plays the part of the "mother." Having long lived without her own mother, Monse is a latchkey kid who feels the need to fulfill a parentified role as a means of harnessing control of her future. The normalization of quotidian violence in the first week of school[15] – including distant gunshots that disperse a party the friends attend, and witnessing a boy being jumped into a gang on orientation day – suggests that the Core Four are used to witnessing brutality in their neighborhood and such precocious knowledge will help them survive high school.
Nothing, however, prepares Monse and her friends for the violence that ends Olivia's quinceañera.[16] Her friendship with Olivia helps Monse see that she has defined her childhood in relation to her male friends, often at the expense of her own identity and agency as a girl. Past the sexualization of Monse's body, tenacity, and tomboyish aesthetic, Olivia sees Monse for who she is and loves her, advising her to be loyal to herself and stop trying to please everyone but herself. Olivia, Monse realizes, is her first platonic girlfriend, an alliance built with mutual understanding, respect, and homosocial love indivisible by romances with boys, completing Monse's transformation from ingenue to multi-dimensional teenager. But when a rival gang member looking to murder Cesar guns down Olivia instead, Monse's only girlfriend dies, perforating the opportunity of girl companionship. Witnessing Olivia's death ensures Monse's girlhood is shaped by adultification and disenfranchisement, revealing the necessity of embodying labyrinthine subjectivities to survive adolescence.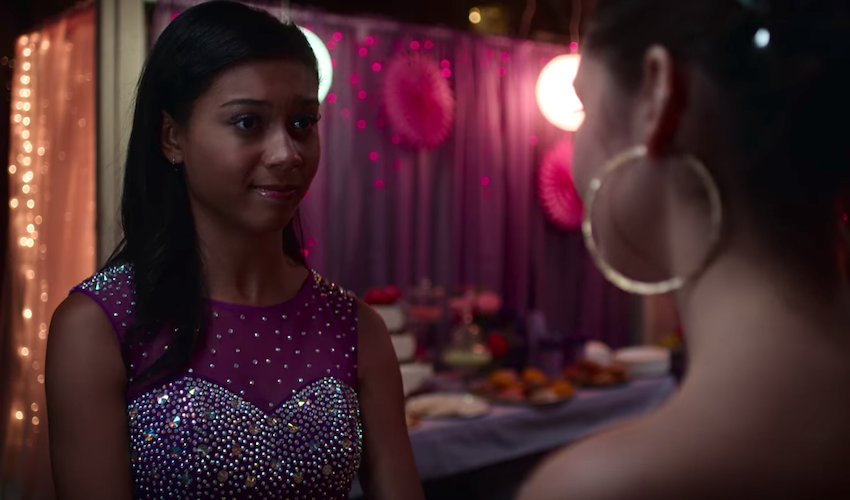 Monse and Olivia share a moment of teen girl friendship at Olivia's quinceañera
As the only girl among her friends, Monse experiences the quadruple disempowerments of working-class Afro-Latinx girlhood, deconstructing the ingenue trope's paradigmatic whiteness, class mobility, and lack of street-wise education. Monse's innocence and performance of girlhood catalyzes her emotional maturity as a teenager and eventual departure from Freeridge. Because Monse has lived a life of survival as an ethnoracialized teenager, she cannot return to the passivity, naïveté, and virginity embedded in the ingenue trope. Instead, she forges a new ingenuity: investing her social capital back into the community and chosen family she loves.
---
Image Credits:
(R to L) Jamal Turner, Monse Finnie, and Ruby Martinez realize their friend, Cesar Díaz, has been jumped into the Santos gang (author's screengrab)
Monse receives a gift from Cesar before she leaves for writing camp the summer before high school (author's screengrab)
Ruby slut-shames Monse after she reveals his crush on Olivia (author's screengrab)
The Core Four drinks beer while dreaming of high school parties and requited crushes (author's screengrab)
Monse and Olivia share a moment of teen girl friendship at Olivia's quinceañera (author's screengrab)
References:
Beltrán, M.C. (2004). 'Más macha: The new Latina action hero', in Y. Tasker (Ed.), Action and Adventure Cinema, London: Routledge, 186-200.
Berridge, S. (2013). Teen heroine TV: narrative complexity and sexual violence in female-fronted teen drama series. New Review of Film and Television Studies, 11(4), 477-496. https://doi.org/10.1080/17400309.2013.809565.
Burton, L. (2007). Childhood adultification in economically disadvantaged families: A conceptual model. Family Relations, 56(4), 329-345. https://doi.org/10.1111/j.1741-3729.2007.00463.x.
Cappello, N. (2017, June 23). Are we witnessing the death of Hollywood's ingenue trope?. LA Weekly. https://www.laweekly.com/are-we-witnessing-the-death-of-hollywoods-ingenue-trope/.
Castillo, M. (2020, February 26). TV has a new kind of heroine: The Latina Genius. The Los Angeles Times. https://www.latimes.com/entertainment-arts/tv/story/ 2020-02-26/netflix-expanding-universe-ashley-garcia-disney-diary-future-president.
Dobson, A.S., & Kanai, A. (2019), From "can-do" girls to insecure and angry: affective dissonances in young women's post-recessional media. Feminist Media Studies, 19(6), 771-786. https://doi.org/10.1080/14680777.2018.1546206.
Fregoso, R.L. (1995). Homegirls, cholas, and pachucas in cinema: Taking over the public sphere. California History, 74(3), 316-327.
Fregoso, R.L. (2007). Lupe Vélez: Queen of the B's. In M. Mendible (Ed.), From Bananas to Buttocks: The Latina Body in Popular Film and Culture. University of Texas Press, pp. 51-68.
Gonzalez, E., Iungerich, L., & Haft, J. (Producers). (2018–2021). On My Block. [Television series]. Netflix. https://www.netflix.com/title/80117809.
Halliday, A.S. (2018). Miley, what's good?: Nicki Minaj's Anaconda, Instagram reproductions, and viral memetic violence. Girlhood Studies, 11(3), 67-83. https://doi.org/10.3167/ghs.2018.11037.
Hirschman, C., Impett, E., & Schooler, D. (2006). Dis/embodied voices: What late-adolescent girls can teach us about objectification and sexuality. Sexuality Research & Social Policy: Journal of NSRC, 3(4), 8-20. https://doi.org/10.1525/srsp.2006.3.4.8.
Jones, N. (2008). Working 'the Code': On girls, gender, and inner-city violence. The Australian and New Zealand Journal of Criminology, 41(1), 63-83. https://doi.org/ 10.1375/acri.41.1.63.
Leon-Boys, D., & Valdivia, A. (2020). The location of US Latinidad: Stuck in the Middle, Disney, and the in between ethnicity. The Journal of Children and Media, 1-15. https://doi.org/10.1080/17482798.2020.1753790.
Mann, E.S. (2016). Latina girls, sexual agency, and the contradictions of neoliberalism. Sexuality Research and Social Policy, 13(4), 330-340. https://doi.org/10.1007/s13178-016-0237-x.
Tolentino, Jia. (2019), Trick Mirror: Reflections on Self-Delusion, Random House.
Warner, K.J. (2017, Winter). Plastic representation. Film Quarterly, 71(2). https://filmquarterly.org/2017/12/04/in-the-time-of-plastic-representation/.
Notes: