LAW AND ORDER AND TV CRIME: HOW DID WE GET HERE?
CATHERINE MARTIN / DENISON UNIVERSITY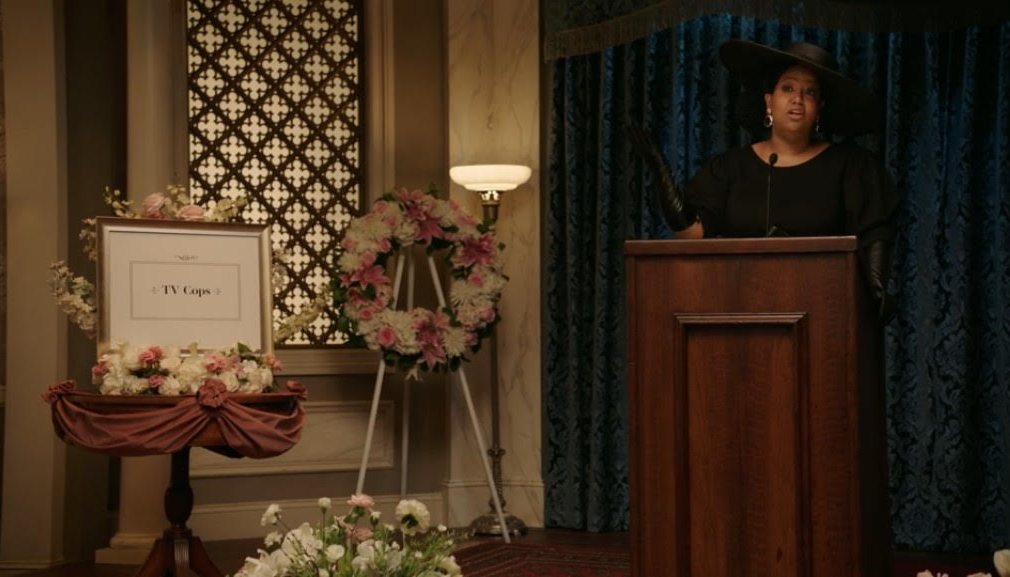 Natasha Rothwell eulogizes TV cops in Yearly Departed.
In Yearly Departed (Amazon, 2020), a comedy roast of the things we "lost" in 2020, writer and comedian Natasha Rothwell took the stage to eulogize TV cops. Her witty, heartbreaking chronicle of "the heroes, who only occasionally broke the rules…in the name of justice" highlighted how popular representations of police officers have helped sanitize, even legitimize the violence and human rights violations real American cops commit against minorities daily. Rothwell's roast came at the end of a year when other Black women, many of whom had been speaking out against police violence for years, were finally being listened to – at least by some. TV cops have yet to truly reform; one has only to look to CBS's prime-time lineup to find series like Blue Bloods (2012-present) framing the police as heroes holding the line against violent criminals, even as biased critics hamper their efforts to protect normal, law-abiding citizens.[1 ] COPS (1989-2020), one of the highest-profile offenders when it comes to glorifying police violence and denigrating criminal suspects, was briefly cancelled, but it returned to Fox News's streaming service, Fox Nation, on Oct. 1.[2 ] Still, 2020's protests did inspire a nation-wide reckoning over television crime shows' role in legitimating and the racist, patriarchal violence that underpins the law-and-order culture of modern policing.
In a period when new voices – especially those of women of color – are finally forcing their way into public conversations about policing and justice in the US, it is worth reconsidering how, exactly, the popular view of policing came to be dominated by such a narrow range of pro-police, mostly male voices. Scholars have explored moments of transition in this story. Kathleen Battles has shown how professionalizing police forces and early radio broadcasters came together in the 1930s to promote the police as high-tech crime solving professionals who spread a dragnet over the urban landscape. [3 ] Claudia Calhoun explores Dragnet's foundational role in enforcing audience identification by establishing its detective as a "collective protagonist" fighting crime in a realistic setting.[4 ] David Marc highlights the ways television self-censorship, augmented by the Red Scare, distanced TV crime shows from real world issues and shaped them into "comed[ies] of public safety," wherein the police, like Dudley Do-Right, are always sympathetic, always right, and always get their man…or woman. [5 ] This series takes up another post-WWII development: the point when the few women who had voices in popular crime series on radio were resolutely shut out of television crime dramas. With them went many stereotypically feminine values like empathy for criminals' circumstances, and understanding of women's issues.
The decade after WWII (1945-1955) was one of massive social and industrial change. American society was in the process of re-making itself. Through the late-1940s, a range of progressive and conservative groups debated how to define "the American Way."[6 ] At the same time, the major broadcast networks were transitioning their programming from radio to television and fighting back threats of censorship from vocal conservative groups and federal regulators.[7 ] It is no wonder, then, that network executives would seek to avoid controversy by cutting controversial representations from their programming, including women engaged in the decidedly "unfeminine" world of crime-fighting. Female detectives were the first to fall. Despite crime-fighting women's small, but popular presence on radio – Jack French counts 44 between 1932 and the mid-1950s – network program executives consistently dismissed independent TV producers' pitches for female detectives as "Good, but not good enough," or "propertys [sic] of doubtful value."[8 ] Significantly, the only two known 1950s female television detective series were Anna May Wong's long lost The Gallery of Madame Liu Tsong (1951), which aired on the short-lived DuMont network, and Beverly Garland's Decoy, which was syndicated to mostly independent stations beginning in 1957.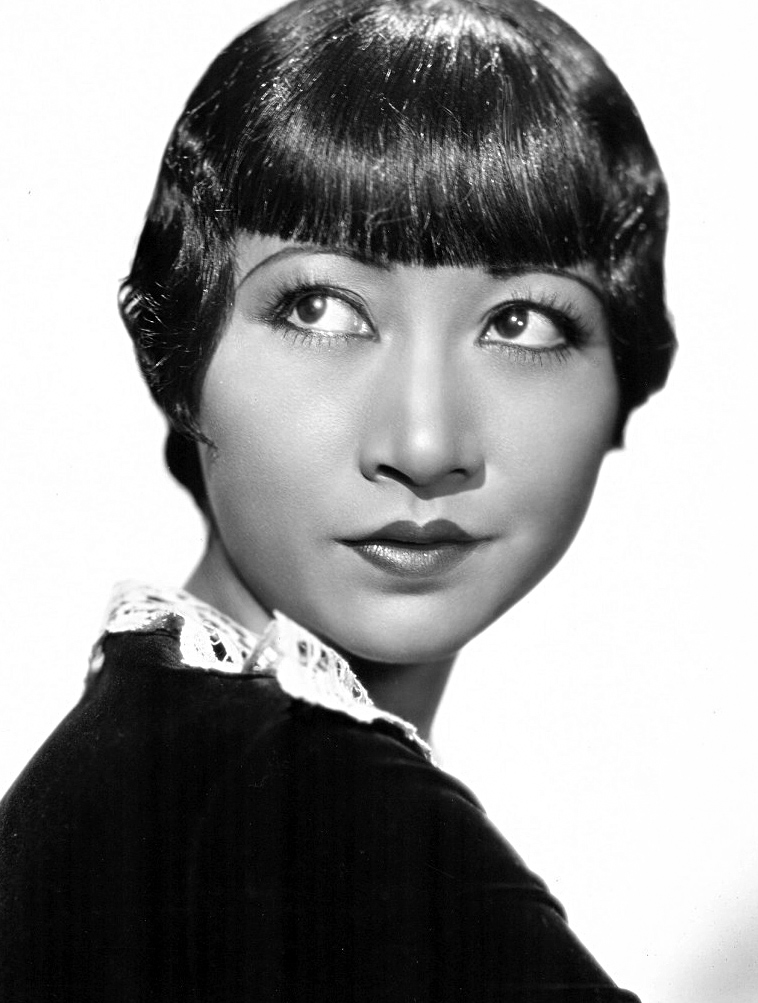 A Paramount publicity photo of Anna May Wong from c. 1935. Images from The Gallery of Madame Liu Tsong are not publicly available.
Other crime-curious women were also eliminated from TV crime dramas. Male detectives' female secretaries or girlfriends were largely written out of series that made the leap from radio to television. Among others, Richard Diamond, Private Detective's eponymous hero worked closely with girlfriend Helen Asher during his radio run (1949-1953), but was revised into a single, swinging ladies' man on television (1957-1960). This marked a significant shift in the way crime series producers imagined their audiences: where radio crime dramas like The Shadow (1937-1954) added sympathetic female characters to appeal to women listening at home, few early television crime dramas depicted women working outside the home in a positive light.[9 ]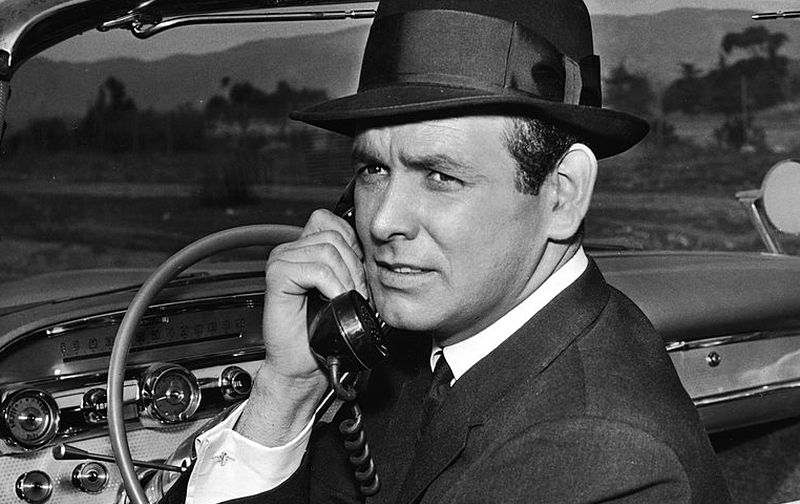 Dick Powell as the eponymous sleuth in Richard Diamond, Private Detective.
The longest-lasting group of crime-curious women were detectives'/detecting wives, an oft-forgotten group that ranged from women who simply accompanied their husbands on cases, to those who forced their husbands into investigations. Detecting wives were probably best positioned to effectuate actual change; because they went about public spaces with their husbands, they posed less direct challenge to gendered restrictions on women's behavior. Moreover, they were understood to have more direct influence on their husbands. As I argue next time, detecting wives' disputes with their husbands highlighted the differences between male and female knowledge and asserted women's right to speak in public on important matters like law-and-order and justice.
We can never know the actual impact the female detectives, secretaries, and detecting wives might have had on postwar crime TV, but their absence remains worth exploring. Building on Carol Stabile's analysis of the broadcast blacklist, this series argues that female detectives could have modeled a different relationship between law enforcement and citizens – one that made room for more stereotypically feminine values like empathy, compassion, and the chance for rehabilitation.[10 ] The (admittedly nascent) realization that cop shows can kill runs counter to popular understandings of media representation leading to progressive social change. While positive representations of homosexuality in series like Will & Grace and Glee are credited with expanding acceptance, and eventually political rights, to gay men and lesbians, crime series have resisted exploring police departments' broken relationships with their communities, much less alternative models of justice. Even more self-reflexive and/or progressive series like Brooklyn 99 (Fox, 2013-2018, NBC, 2019-2021) defend cops' impulsive violations of criminals' legal rights and demonize public defenders. Across the primetime schedule personally flawed and/or corrupt television cops are still depicted as ultimately committed to higher ideals of justice and social order. This disconnect between the way cops are figured in the mass mediated popular imagination and the way they are seen in so many minority communities has contributed to the extreme polarization between police reform activists and the reactionary groups that support the militarized police.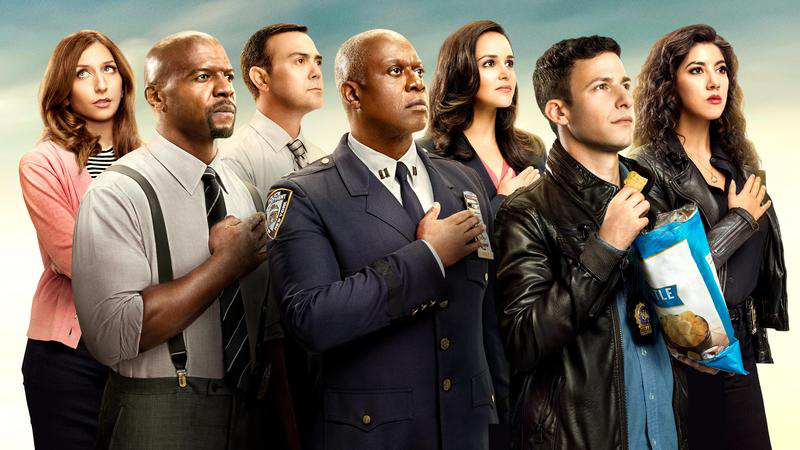 The cast of Brooklyn 99.
NEXT TIME ON…
If people remember detecting wives at all – and that is often a big if – they usually think of screwball comediennes like Myrna Loy, of The Thin Man (MGM 1934-1947), or maybe Gracie Allen, of Mr. & Mrs. North (MGM 1941). Across a total of seven films, both actresses portrayed active, zany wives who ran circles around their jovial, befuddled, and, especially in the later Thin Man films, dismissive husbands. Media historians like Katrina Glitre (2006) situate these comedic detecting wives within the broader context of 1930s screwball comedies, which dramatized post-19th Amendment debates over women's expanding rights and changing marital relationships, as battles of wits between equally matched heterosexual couples. They did not ultimately disrupt prevailing patriarchal assumptions about gendered social power, but screwball comedies did suggest a "cultural fascination with the possibility of sexual equality in [1930s] America."[11 ] This possibility was curtailed in post-World War II romantic comedy movies, including the final Thin Man films, which increasingly restricted Nora to domestic roles. However, it flourished in a different, more prolific site: the network radio crime sitcom.
---
Image Credits:
Natasha Rothwell eulogizes TV cops in Yearly Departed. (author's screen grab)
A Paramount publicity photo of Anna May Wong from c. 1935. Images from The Gallery of Madame Liu Tsong are not publicly available.
References: